10/3/2016
Tuesday, October 4, 2016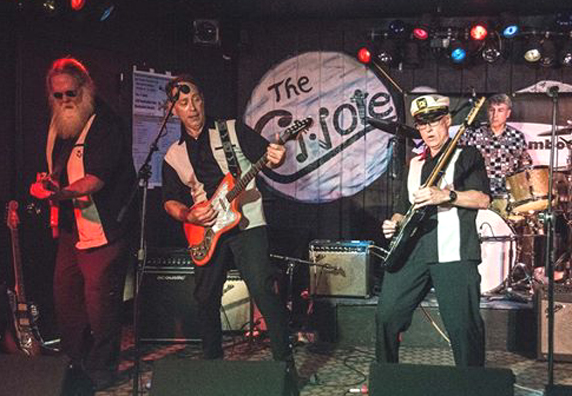 Beachcombovers
"gonna review rat beach party in three parts for the three days I's there EVERY band I saw was rock how you like it! So beware my bias, especially in critique of Giz-tars....walked into Ken Kaiser drumming with the Beachcombovers, with a Kenne klone on bass; highlight was Tommy White's solo on beatles "and I love her", VERY Nokie Edwards and Blowfish woulda dug it.
The Stigmatics: what a fucken band! I kept going "Stooges! DMZ!" all kindsa barre chords, James Williamson leads...Randall Lee Gibson drums great but he was a YOUNG'un when I discovered lead singer was in New Hampshire's The Nubs! it all began with "how do you know GG?". Manchester NH kennection and I heard a pretty wild tale about GG meeting Jerry Lee lewis! So imagine if the Jabbers were still sounding Stooge-ish, I DO recommend these guys for all Gizmos/Kenne fans, it's TOTALLY my style.
Hummingbird Syndicate would NEVER have me as a member; too pop, but we got Jon Macey, some Stompers, some PopGun but fucken Lynn Shipley from Amoebas in Chaos (Gulcher recording artists!) Great voice, great "sunshine pop" harmonies with another lady e.g. the Clique/Peppermint Trolley etc. total 1968...but then the Prince cover! sung by Lynn Shipley! ...my Amoebas WERE in Chaos!
Girl on Top, awesome as usual, good sound in this Bunratty's looking room. Dave Simmons totally has some Richie Blackmore/Jimmy Page influence on guitar and Karen DeBiasse singing "immigrant song"..."hey hey what CAN I do"?...
lastly Charlie don't surf, Kenne wears shorts, Scott Underwood "is a rock star"! (Jody Moore) and "oh my god he DOES look like Terry" (dactyl)...hearing the toons from first three Clash albums ALWAYS a treat, love this band, love these guys, love my free t-shirt! (PAYOLA!!!!!!!!!!!!!!!)".......

Wednesday, October 5, 2016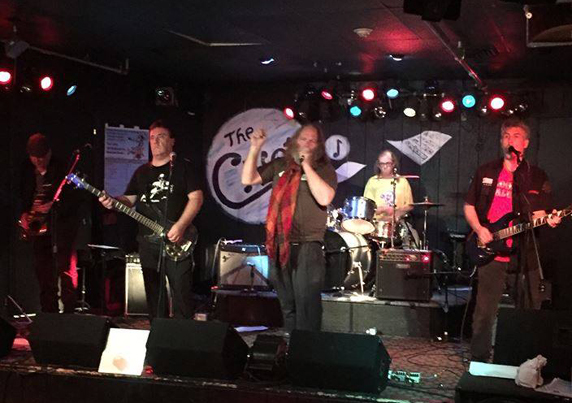 Hopelessly Obscure at the C Note
"Saturday 1 October Cub Koda would have been 68; MJ Quirk and I first jammed on EVERY song on Brownsville station YEAH album but club linehan-ago-go opened with heartbreakers "let's go", did some status quo/frank zappa/chuck berry for a bunch of Don Bosco alumni. in a bar at 2 pm! Slapback had an '80s Dale Bozzio/Missing Persons sound mixed with funk; singer was sister of the brother in Mercy whom were in GEAR on Varulven! (yikes! 13 degrees of the Count! My favourite: "what volume are you on?" re: COUNT ANTHOLIGIES!). mercy had a very projecting singer name Helene whom did "piece of my heart" justice, "white room" sang by guitarist, CCR's "fortunate son"...all my ole junior high 45s. there's a rat beach party facebook group with videos and I did some Leslie West leads with Climate Change. Playn' Janes was more classic rock, largely female combo whom rocked. the ghost of Lou Reed and Cub Koda woulda been proud doing Velvet Underground covers with Love and Flame (video by Jeremy Lander, whom worked at mystery train, Mass. Ave. and has Hello World on blue vinyl!). to quote Peter Goutzos, who is NO Fool (though he was in the Fools): "Kenne, you play the guitar like a motherfucker". I went into some Native American Jim Morrison rap about being a shaman and he GROKKED IT! supper at Schooner's, so I missed tsunami of sound, But will be seeing them at Atwoods on Oct 9. Cindy Daley band, another great singer doing Zeppelin covers. Pitch Black and fucken Mark Silva doing Jimmy Page note-for-note; a lotta damn good classic rock on a Saturday "pahty" day/night. Harlequin I must say sounds more than a little like Pretties For You-era Alice Cooper but Gee Julie and I DO NOT walk out on them! (their hotel room was two doors down from mine)...Moose and the Mudbugs began with the Korps crooning "Beth" to Mrs. Moose and watching Moose sing skyward reminded me of Fiddler on the roof....quite dramatic (this is a compliment!). Hopelessly Obscure closed, me wearing a Gee Julie glam-rock scarf; Roky meets David Johanson? (I DID do some David Jo vocals mostly coz of fatigue). Jeremy Lander videoed it also, so again, links, link sausage, Link Wray..., good to see these ole Boston rockers, one last real good quote: after Love and Flame ended, Michael Weddle said "let's have a moment for those Boston rockers whom have passed on". Gee Julie asked why this Gizmo "Cried Real Tears"; go to boston groupie news In Memorium page, 'Nuff Said, as my ole Marvel commix DID say!"....
Thursday, October 6, 2016
"watched Buffalo Bills demolish Patriots 16-0 in my hotel, then sauntered down to rat beach party, sea note, sunday, last day. Brian Young had done a Gizmos 3-fer on WMFO, "muff diving", "cavewoman" and one more. cf. eric pouille in france with jumper cables "Georgia skinheads must die", hopelessly obscure "twin cities of the mind" and gizmos "gonna beat you like a read headed stepchild". Bob Daley drummed like a pissed-off Patriots fan and Hixx's ballad was very Skynyrd whilst "get off my property' had a "space truckin'" riff; also got a cd of GREATEST HIXX and they ARE a mix of Gizmos/Black Oak and Mentors. Greg Allen's Fringe Religion open as a trio with Moose Savage playing some yardbirds-style harp and Greg playing in a Who/Neighbourhoods kinda way; good powerful pop. Litehouse had their swan song since George h. Perkins is playing "roll over Beethoven" backwards and telling Tchaikovsky the news as a classical clarinetist. Clara Wellon's "Best Bette" filmed a mockumentary; trust me, i was VERY flamboyant! bob leger band has ray boy fernandes lotsa cool '60s covers culminating in animals "don't bring me down". Billy Connors project has Billy Connors from Boize and Adam Sherman from private lightning on chimey Byrds-type guitar and adam doing fender Tele Jeff Beck leads. Rhythm section MJ Quirk and Ray Boy fernandes.a true supergroup! I was quite burnt and left after mike quirk...more Neon nights to come!"...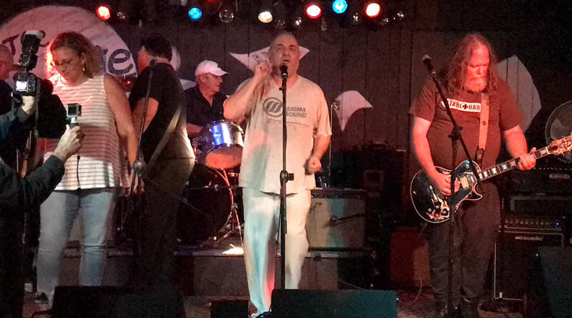 Kenne with Love and Flames

Friday, October 7, 2016

"on youtube. the deadly missile, 1958, has Wikipedia entry plus other sci-fi geekage. one actor went to T.H.E. CAT which was '66-'67 season, which= my dad in 'Nam. a missile from outer space circled earth, destroys Ottawa, canada but NYC saved..very ON THE BEACH. and it COULD happen here! but on a happier note, besides a Neon Night at out of the blue gallery, been offered one on veteran's day (11/11! it just SCREAMS Ken Kaiser!). and Friday 21 October= Fuzzbrains presents time beings/glider/hopelessly obscure at Ralph's in Worcester. otherwise hibernating and watching Cowsills videos and '50s sci-fi on youtube"..