10/13/2014
All Photos by Miss Lyn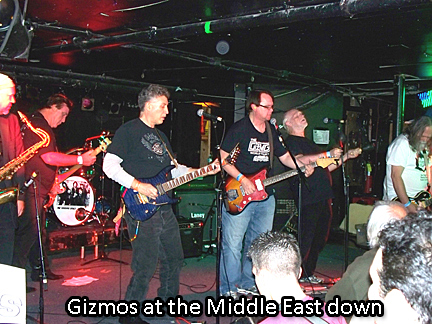 Sunday, October 5, 2014
Eddie Flowers Boston debut was an afternoon show at the Midway Cafe with a band of the Korps (Kenne/Kenny),MJ Quirk/Matt Burns (V!) rhythm section and john keegan on photos and sax. thanks to Nick Blakely of Pretty Flowers for booking the gig, Jillian Higgins behind the bar was a JP Doll (well, it aint NY, mofos!) and my notes are a t-shirt and cd! Wasted Luck were young german lads who had a Green Day sound and kinda knew who the Broken jug were; they were on tour with Didn't Planet (got a cd and they provided the backline, we are grateful and we aint pissants!) Didn't Planet had a power-pop sound and ended with a Who medley of "baba o'reilly"/"wont get fooled again" and "you are foregiven" and drummer had on a Who t-shirt. Rockabilly Yobs wuz a mix of MC5/crawlspace/gizmos/korps toons, met a dude from bloomington who was in wilkie south; got his card, more info later, wants to do interview. Wasted Luck, German lads agreed kaiser was der kaiser but i was der koenig ub Boston musik, or some pidgin german by me. next stop was to see the Cal Cali band at Tavern at the End of the World. eddie liked the kinks and velvet underground on the jukebox and Cal had Jetset guitarist and Yukiko from Tokyo Tramps . Yukiko was stellar singing "heatwave" and "tracks of my tears"; Al had a Lou Reed sound on his distorted guitar, there were Jetset toons, a Ramones medley and cool covers; Cal is kind of a Ringo type guy,so Ringo's "photograph" was a pefect "vehicle" for him. tonight Cal,Kenne/Eddie go to Midway Cafe for the Real Kids; saturday Gizmos on WFMU,we will call in to Crash Course for the Ravers WMFO, play Union Pool in Brooklyn,(saturday); sunday is pipeline middle east, monday is wierdo records and if i forgot to mention you, tuff shit, i'm old...."
Monday, Oct. 6, 2014
Cal Cali of Jetset drove the Rockabilly Yobs (Highland/Flowers) to midway cafe for real kids show. As Bald-a-more swept Dee-troit in the amerika first league,(Eddie: "as john waters overcame the MC5"), Jillian Higgins batted 1000 for her two Midway Cafe shows this weekend (Gizmos/Real Kids); and her release date orange Kenne record with "Fiasco", stanton park). MOTO had record release and i found out about Gizmos fans in Finland; they added a second guitar whose Best Bette is Jenny from Midnight Creeps! (who's doing an X cover band). catchy 1978 buzz punk/pop with smutty lyrics (Gizmos influence! they ALL stole from me!) and during a guitar string change break,got a GREAT Elvis Sun songs medley! (MEMPHIS! GONERFEST!); I told John Felice this was THE best Real Kids show i saw in 30 years = 1983 french tour highlights! Randall Gibson REALLY pounding those drums! I WONT review the music coz Francis Dimenno in Noise said about the album (ace of hearts) exactly as i would = Kinks meets Stones, basically. Eddie Flowers FINALLY seeing Real Kids, smiling beatifically and YES! there ARE photos since I am son of Gy. Sgt. Byron G. Highland USMC, head of motion picture dept. 3rd Mar. Div., documenting 'Nam; hey! let's document Boston rocknroll! laslty Skeleton Beats I did enjoy, good psych-o-billy, talked to singer Amy and told her i had previously enjoyed her "all this and more" cover...old school punk/a Rat/Cantone's vibe, glad Carl Biancucci of O. Rextasy sent us there on his recomendation!"......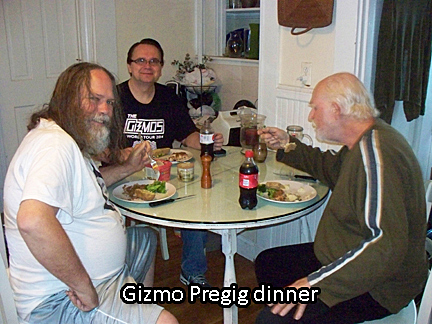 Tuesday Oct 7, 2014
a splendid supper with Steve Painter,12-cent donkey (Gulcher) whom i met at a Mr. Airplane Man show at Abbey lounge in 2001; he finally met Eddie Flowers who helped release his product plus dark sunny land (curent band) on Gulcher. we walked past Cantab down Mass. Ave. (wilie loco in reverse!) to wierdo records; angela sawyer wrote "steve norton and polly hansen are ancient ludwigs"; they miked all kindsa percussion, including playing an ancient Ludwig bass drum with a cover for a sauce pan; metal machine music meets angus macleish in Exploding Plastic Inevitable! a chance encounter with Miguel D'Amour practicing bog wa martial arts (Hopelessly Obscure on Throbbing Lobster and majestic and he DOES read this column! WHY????!!!!!!!!????) was a photo op for the hopelessly 12 cent obscure Gizmo donkies! (huh?) (Miguel, steve, stenson eddie, willie, waylon and me)...RECORD SCORE: $8 cd of 1996 reissue of first Small Faces album with Prime Movers "shake" which i originally bought 1971, german pressing at house of guitars, rochester ny); this cd also has extra tracks on a french e.p. ("Giz...Giz!!!"...drools Kim Kane of Slickee Boys) and "you need lovin'"..."way down inside...."...obviously,i was Tragically Hip at age 15 to reealise Planty stole from marriot who did this willie dixon toon)...GREAT fun, Rockabilly Yobs NEXT Monday (13 october) 8 pm and dont you mofos buy that $5 used cd of Love's forever changes! (some record geek DID buy an autographed Gizmos cd and other product; shoppe at WIERDO RECORDS,MASS.AVE.,Cambridge!)"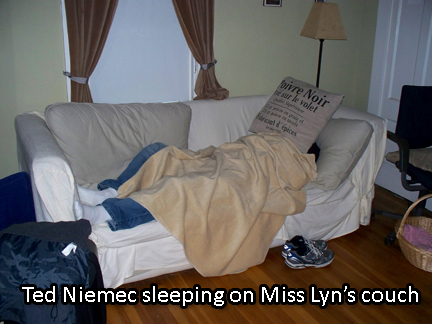 Wednesday Oct 8, 2014
a quiet night for the Rockabilly Yobs was supper at Punjabi Dhaba (as sang about on my Be More Flamboyant cd, stanton park records!) and also WEEI 850 AM had the National League baseball playoffs, nice to relax and listen to it and we'll see what tonight brings!"
Thursday Oct 9, 2014
WJIB 740 AM kinda went off the air during my nap on the day of Wodin, so flippin' through the dials got WMBR and Sarah J. about 3PM GORILLA GOT ME. "and that was the Gizmos with "human garabage disposal" and they're playing the Middle East Sunday, Pipeline! etc"...so i obvoiously rang her up "how was Gonerfest? see you sunday"...BUT Oedipus and WTBS 88.1 fm played O. Rex "califawnia gurls" in '76-'77!
then Middle East with Steve Painter of 12-cent donkey (GULCHER!) and Gee Julie discussing Henry Cow, prog rock and the Zeitgiest pirate radio station. Today after proclaimng to Eddie Flowers that "sure gonna miss her" by gary lewis and playboys was THE best record of 1965, Eddie notes "that easy-listening station you listen to" (that's WJIB 740 AM!);"the disc jockey has Captain Beefheart's speaking voice" (that's RIT alumni Bob Bittner, programme director of WADD, Brockport NY when i was high in school, class of '74!) not sure ole Bit would play Safe as Cow's Juice, though".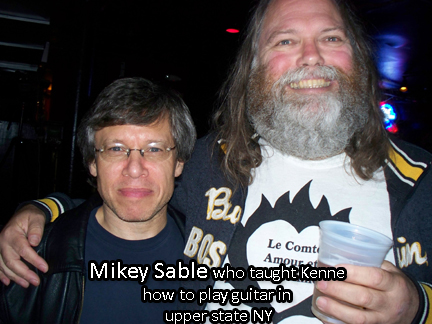 Friday Oct 10, 2014
As Mr. President (Ken Kaiser) had WJIB 740 AM tooned in in Air Force One (his plymouth satelite) and Perry Como sang "Glendora", we had a very excellent practice at saxist John Keegan's place. In case I dont write nuthin', saturday is WMFU, NJ, saturday night is Union Pool, in the hipster section of brooklyn, ny, sunday is middle east, pipeline show, monday is wierdo records. lettuce not forget Gizmos in columbus ohio, halloween and 1 november in cleveland. AND (contact me here) whence Eddie Flowers is "Circling L.A." (early '76, Marc Thor calls bloomington: "hey, i hear you guys are making a record"), Highland/Kaiser/Quirk/Burns & Keegan shall continue on as the Korps,so contact me for Future/Gigs right now....if you're willin' to pay the price!".....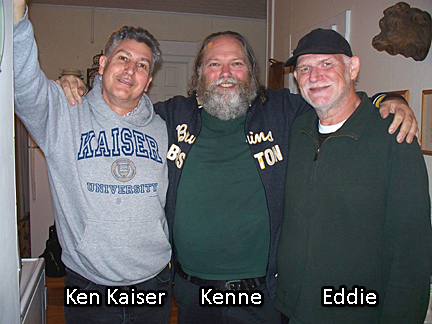 Saturday Oct 11, 2014
Fanzine convention redux with Carl Biancucci (O. Rextasy), Ken Highland (rock on) and Eddie Flowers (boogie!). went to Planet Records, i bought little richard on speciality cd, $5.99; chuck berry-after school session cd on chess $7.99; bo diddley/kenn highland is a gunslinger cd on checker $5.99 and carl found a $1 cd of chuck berry-the box set, disc one 1955-1958 (I lived in virginny!); you can NEVER have enuff Chuck Berry! just ask kenne kaiser! eddie found a brownsville station 45 of "leader of the gang"/"fast phyliss"-Cub Koda lives! where once was twisted village is now Armageddon shop, mostly metal/hardcore BUT cheap Lyres casettes also! lastly, onto supper at Charlie's Kitchen, which still does music on Monday; AND Eddie Flowers DID autograph a Crawlspace vinyl at Planet Records at our in-store apearance; now onto WMFU/Union Pool/Middle East/Wierdo records!)"....
Armageddon has lotsa ole hardcore notices, so notice: october 18th, cantab: KILL SLUG! "temptation 'bout to get me"..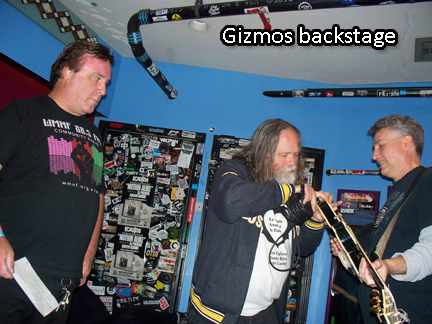 Sunday Oct 12, 2014
NYC was a whirlwind, but let's see; John Keegan drove us to WMFU, the MUFFS were in studio, met them, Tony Mann from She-Wolves and plays with Sylvain Sylvain and John County (drums) was there; lotsa great rock stories. great high-energy one hour set at WMFU plus an interview with Brian Turner, to be broadcast tuesday. ran to Union Pool, they had a taco food truck, ran into Milk Dick's drummer: "are you the Gizmos?" this young lady drummed in Maureen Tucker style for our opener Milk Dick, in that velvet undeground style. Lame Drivers had that Modern Lovers/Feelies sound and I used Jason's Marshall, another band i liked. autographed first and third Gizmos AND Jumper Cables "landmine" from a friend of Tony Mann. Pampers had a vocals/2 guitar/drums Cramps/Panther Burns style, I also enjoyed. Union Pool in williamsburg,brooklyn, VERY young kids, hipsters, all singing along to Gizmos songs; I did some James Brown moves during "Black to comm", GREAT band of Ken kaiser/mike quirk/matt burns/john keegan,"NY Punks" want a Korps reunion, so....lastly (and i type my thoughts REAL quick before press): stellar driving til 0530 by Mj Quirk playing Bloodrock and the first Leslie West album with "Blood of the Grubergers"....THAT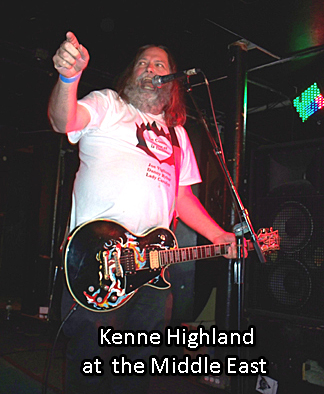 Monday Oct 13, 2014
"WMBR presents Pipeline #13!!! what a night! better'n my Brockport NY class of '74 high school reunion! Carrie Bradley was "you're that breeders lady,right?" (me singing "cannonball"!),solo ukelele,very nice! The Underachievers had great X-type harmonies between Priscilla o' clann macKenzie and Veronique. Kenny Chambers had three guitars doin' that Husker Du, Moving Targets sound. Stanton Park Records rocked with Voodoo Dolls (Dave Harrison totally as Wayne Kramer on lead!) and the Haunted "1-2-5" always a treat. The bags were rockIRONroll channeling Blue Cheer/Grand Funk/Black Sabbath. A Gizmos fan: "I never saw the Stooges or the MC5 but now i've seen the Gizmos"; that is Funhouse $3.49 october '71 all the way to High Time $1.27 june '73, all bought on Main Street, Brockport NY (via Dee-troit!) one last gig, Wierdo records tonight 8 pm, Ken/Ed/MJ quirk doin' rockabilly yobs toons c/o Gizmos:demos/rehearsals. what a great three weeks it'd been, Gizmos World Tour!".....