10/15/2018
Tuesday, October 9, 2018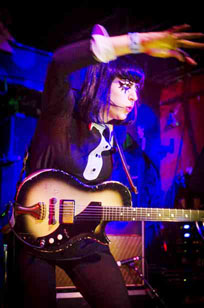 Jackets guitarist

"friday 5 october 18,middle east opened with the maxims; bruce hamel whom played bass on my gemini on a full moon cd described this hard-rock trio as "biker-rock" but then they ended with "down on the street": by stooges and i love both genres! The Jackets from switzerland had a guitarist with alice cooper makeup who made some shel talmy-produced dave davies/pete towenshend feedback whilst doing ballet poses and crowd surfin; the drummer is a Yank, knew rich coffee of gizmos when he was in unclaimed! nice folks or volk since they sprechen swiss-deutsch. Muck and Mires ALWAYS sound like the Knickerbockers at 78 rpm; i been watching evan shore since The Pets at jumping jack flash in 1985 when they sounded like the knack; amps cranked, jams kicked out AND melodies! lastly, the Woggles, whom i "discovered" in 1998 still doing sped-up blue-eyed soul, still excellent: alex chilton fronting the Sonics? glad i went support local music!!!"...

Wednesday, October 10, 2018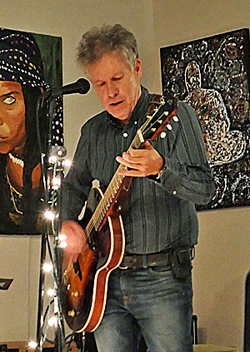 Frank Rowe
saturday 6 oct 18. what a busy day! Mad Painter practice, new bassist, things fitting in very well for 2 nov 18 in hull with harlequin, if you DONT need a dose of our early '70s madness. jammed on Beck's "i aint superstitious" and next practice we try Heep's "easy livin" and purple's "black knight"! (non-lp 45!). Met the Count near the regent theater, onto out of blue benefit. it's acrost from o'brien's and in same building as loony tunes records but no tyme to shop, walter noons had to sing his protest toons before me and Count. Count taped set, I played through p.a.; i know we did "i'm your captain", "sister ray" and "somebody to love'. Did QFO follow? this is mike quirk/sarah billinglsey covering UFO; this tribute thing IS gittin' outta hand but if yer a fAN, YER A fan, be interesting to hear them with full band. Blowfish DID cover this show, so without repeating: Frank Rowe was THE BEST bossa nova/jazz chords and witty Tom Lehrer-ics and "my little tarantula"; Jon Richman rubbing off? Cal Cali was good especially Dylan's "I want you", captain easychords on keyboards and Al on guitar. used Al's amp, plugged in the bradkey, grabbed an unrehearsed Mike Quirk and tossed Cal on djembe and (Blowfish video) did boxtops "cry like a baby" and stooges "down on the street" john lee hooker style. closing was a young lady doing '90s covers plus originals, a lot of alanis morisette....how'd Cal get her with us geezers? Cal Cali promises a spring event, I am THERE! ready to sit in chair and play delta blues again, that was fun!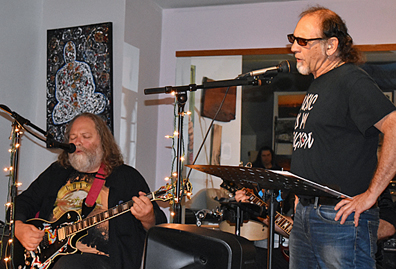 Kenne and Cal

Thursday, October 11, 2018

sunday 7 oct 18 was a day without music or work and seems EVERYBODY wanted to see a movie at coolidge corner cinema, so all but a star is born was sold out. 62-plus SENIOR discount and the word is: GAGA!!!!! yes i'm gaga over gaga! the country-rock band is willie nelson's son and they're damn good, but when gaga sits at a piano, dressed (for her) like plain jane (versus Sweet) doing gospel-inflected rock, it's fucken LAURA NYRO redux! between that and the standards lp with tony bennet she really CAN sing and cross genres. when her husband gets piss drunk the awards, Giroux-approved actions (and me) are cranking up "pretty woman" to link wray volume, then pissin' down his leg as he stumbled up to the stage and Gaga has to use her gown to cover him up; been there, done that! so for a "Lazy Sunday", I DO recomend the movie and since amy winehouse is dead, the soundtrack may as well be commercial lp of the year, for lack of competetion"

Friday, October 12, 2018

day of wodin 10 oct 18; a double practice: Hopelessly obscure, thursday 18 oct 18, chet's movie in gloucester and velvet underground cover band in wakefield 19 oct 18, friday, in wakefield with Cazbats. this is my LAST reminder on both, next is review/memories.....and i'd rather NOT drive a truck (Rick nelson,"garden party",'72, best year evah!"...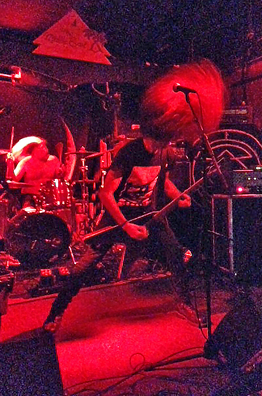 Bane

"day of THOR, 11 oct 18; middle east had a metal band from serbia...ok,i'm am curious (Georgia, USSR, not the south!). rainy, shitty halloween night and middle east east is PACKED with kids in sleeveless jackets with patches, lots of beards, tatoos...Transmanican MC? Heavy-set Goth gurls too...this was a death metal tour! Gee Julie came along, had fun, had been to german metal fest (WACKEN!!!)....Bane came out backs to audience, then did lotsa head banging and hair twirling, sounding like '80s metallica with cookie monster vocals. shirtless drummer. afterwards Julie and I bought a $10 cd of their set and Branislav (lead singer/guitar), very nice guy! smart too, he and Julie discussed cyrillic writing on a t-shirt and Serbs and Greeks both write in cyrillic! other merch tables had antlers and other camp pagan effects; death metal DOES give worship to WODIN! we dined, missed second band,but PANZERFAUST (a weapon used by...Afrika Korps? see, they ALL steal from us, whoo!!!!) put on QUITE a show! Bane's singer had moved from Serbia to MONTREAL and Panzer were also canadian. Now, to blow my mind...red, white and blue light show (my pictures suck) shirtless drummer again, guitar and bass faces are painted (did they stay over at Ken Kaiser's house?) but then a singer was on high rise (drums in front) dressed like iron maiden's mascot growling unitelligible god knows what, band was LOuder than God!!...imagine Black sabbath covering alice cooper's "black juju" on bvlue cheer's Vincebus eruptum as covered by Kill Slug....I'd get divorced also! Death metal fans are nice! one kid saw my sci-fi festival ball cap and i gave him all kindsa info on "the 'thon"....Bane and other bands had VINYL for sale,so glad these "niche" crowds have their collectors....it WAS a school night, missed headliner, but i saw what i wasnted to see: CANADIAN DEATH METAL! with nary a Giroux or a Boucher in the band!".......
| | |
| --- | --- |
| Kenne at Merch Table | with Branislav of Bane |