10/3/2016
Tuesday, October 11, 2016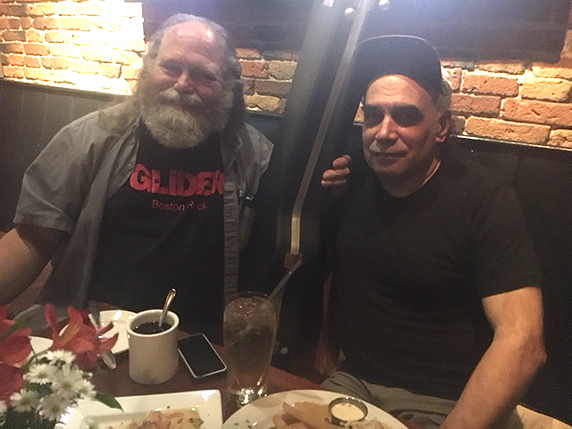 Kenne and Miguel D'Amore

"friday night before columbus weekend, out of the blue gallery; (Ken Kaiser and I played Cantone's that same weekend in 1980, new arrivals to town). Borrowed guitar and amp from Hopelessly Downtowners MIGUEL D'AMOUR, hangin' at phoenix landing watching the Sox lose with Miss Lyn, Gee Julie and Club linehan-a-go-go bassist joe "the mighty" quinn. walked acrost MASS AVE. and positive negative man did a duo of electric guitar and congas to which the Count (videotaping) agreed with me that it WAS Tyranosaurus Rex on Blue Thumb (they should cover "elemental child"!). due to some cancelations on this Neon Night debut, Club Linehan-agogo hammered out two sets, all from MJ Quirk's Bomp-list-like list of covers, highlights being Brownsville Station version of terry knight and the packs "love love love love love", MC5/Troggs "i want you/i want you right now" (metal mike saunders '80s idea!), a "empty heart"/"you're gonna miss me" mashup that Nancy Neon loved and "pushin' too hard" which I did 40 years ago on O. Rex cd (Gulcher). Musicians in crowd were the Downtowners (Jeff Kabot and Miguel D'Amour), whom i wanted to guest on "black to comm"; maybe next tyme)...plus Adam Sherman of Private Lightning and Ray Fernandes of atlantics whom stayed till my last bass pickup, toggle-switched, feedback-ridden Link Wray-cum-Pete Townshend power chord. More Neon Nights a-comin', MJ Quirk has calendar!"



Wednesday, October 12, 2016

after Gee Julie shopped at Haymarket and got to "Call any vegetable" (they even had "ICEBERG LETTUCE"!) we went to ahlington theatre to catch Seeds documentary. I told folks they were "predicatable"="figgers you'd be here!" There was almost a Psych-O-daisies reunion! The Seedlings opened up; this was Robin Lane's Chartbusters with Trick Wallace in the "radcliffe chair" (yessssssss.....)...Robin grew up in californy lissenin' to the Seeds so "pushin' too hard" was....better than O. rex's version! (on Gulcher!). Next, wicked rare/Hopelessly Obscure was the Seeds "rollin' machine" off the second album! Asa Brebner on slide! Sir Van Morrison's "I can only give you everything" (covered by Hopelessly Obscure '83!) also killer (Gee Julie took photos that night by way!) but closer was drummer Tim Jackson singing with Robin Lane on drums (!!!) for a "eve of destruction" singalong. Neil Norman of GNP crescendo records talked, GREAT documentary, found out Sky was a Mormon (the Marshes hail from Lynchburg, Virginny, then onto missoura, then salt lake city) and guitarist Jan Savage was a full-blooded Chippewa ("i like the indian; he's cute"-Gee Julie). A Q& A with Neil Norman after then $20 at merch table; a $5 comp with challengars/billy strange/neil norman ("he plays like mahavishnu"-Gee Julie) plus a Mister Bongo afro-cuban cd; since he didnt have change for a twenty, I got a Seeds t-shirt for $5! some good hagglin' at merch table, "I'm so Proud"...SO much more I could tell you 'bout this movie but youtube has a trailer, fucken Iggy is AWESOME! (a Seeds fan!), Miguel D'Amour and Chris Brood played like Jan Savage back in '83-'84, Neil Norman DID kenfirm that Daryl Hooper (keyboard bass before the Doors! Jim Morrrison only WISHED he had a band like the Seeds!) was "the Reincarnation of Beethoven" ("or that was the hype"-Neil Norman); Ken Kaiser on Hopelessly Obscure keyboards SHOULD have played same riff in different octaves back in '83, or did he?)...lastly, 1986, Gizmo Rich Coffee DID record with Sky Saxon, even co-wrote a toon (google it!), so when that Gizmos documentary comes out, Rich can remember playing with Krazee ken AND SKY SAXON (had a New England ancestor founded Ipswich Mass.; for Vulchur and DEAD PEOPLE FACTS: the Shore roots of Sky Saxon!")"

Thursday, October 13, 2016

"sunday of columbus weekend; tsunami of sound 4-6 pm at atwoods; wicked hopelessly rare AND obscure was "shut down volume two" to which i hollered: "that's got a drum solo!" gotta know your Beach Boys albums...after watching a couple episodes of ancient aliens at Groupie Towers II and walking to Mass. Ave. singing that gurl group classic "just-a walkin' in the rain", I caught Jay Allen's mess-around. He has rockers unplugged whom perform "in the round"; three songs each, like my ole T. Rex/O.Rex maxi-singles... so highlights I remember was Justine from Grand Theft Auto singing 3 dog night's "shambala" with her husband (Bags guitarist) then a mother/daughter duo of "Dead Flowers". Her daughter is 17, same age as me when I recorded O. Rex's Grand Funk-ish "Gimme Shelter" but this REAL Kid blows me away, doing Keith "note for note" as Solomon Gruberger woulda said. Ken Kaiser was hittin' them jazz chords HARD on his solo live debut (solo recording debut, of course, was "I love you laurie" engineered by Bob Both, whose engineering on James Brown's Polydor albums...Good GOD y'all!)..JUST to be like R. Stevie Moore, Kenny sang the WORDS about the "fishin' hole" to Andy Griffith theme; that standard "all of me" was from playing jazz with Dr. Saturn and the Men from Mars in college and that Hello World-zany sense of Richman-esque humour was there in covers of Pipkins "gimme that ding" and Focus "hocus pocus" (unplugged...on guitar...VERY studied, unlike me)...Mister Muck (Evan Shore) played an Epiphone with a volume knob and with Beatle boots and lil black cap, it was 1965 John Lennon unplugged! LOVE those Mersey chords...lastly, QUEST FOR TUNA, whom played my 30th birthday, unplugged trio of Jay Allen, Evan and Justine doin' "Toaster Oven" unplugged like "Sonic Reducer". Jay Allen unplugged also fun, though I DO demand Ed Moose Savage solo kazoo like 1982 20 ashford street halloween party"....

Friday, October 14, 2016

columbus holiday Ken and Gee Julie saw Snowden movie at Kendall Cinema; I used to guard the NSA, wrote a lot of Hello World on guard duty but THEY already know that...Snowden at boot camp Fort Benning Georgia, Gee Julie asked if I did all that (crawling under barb wire, "love in the middle of a firefight") and two lifetymes ago yes (60 minus 40) but not now! Also, if you REALLY wanna know "The Marines, Him", when Snowden walks past Marine guard with data in rubic's cube....I coulda been that guard! Who knows how many Commies went past my post as I'm beating out a Bo Diddley rhythm on "do the touch"....let me Finnish with Future Gigs/right now..(if you're willing to pay the price!): friday 21 october, ralph's worcester, hopelessly obscure/time beings/cal cali....MJ Quirk has all the Nancy Neon dates at out of the blue/cantab...MJ Quirk birthday "1970" and "virginia plain" tossed about as covers since BOTH stooges/roxy had a MacKay on sax played like John Keegan...should KEN spend his birthday at Harper's Ferry watching UFO/Saxon?....lastly, Ken Kaiser through my cousin Martha Hull..."Max Bialastock has died, price of album now $6"...if this is so, that's Robert Goldstein of the Look, played on "till the end of the day" on Music to kill by and the Look usedta cover "virginia plain"...if he IS indeed dead, to be buried in a pine box before sundown, kadish by Ed "Moose" Savage kazoo playing taps"....