10/20/2014
All Photos by Miss Lyn
Tuesday, October 14, 2014
Columbus Day holiday ended Gizmos World Tour,so let me think of notices i have worth mentioning. Weirdo Records, Mass. Ave., Angela Sawyer note: "Cryostasium is Thor Malliet and Cody Mallet";"AMBIENT METAL". Highland/Eddie Flowers/Mike Quirk played stripped down (UNLIKE Roxy Shake) as guitar/bass/percussion, kinda like Stooges at Newbury Comics in-store, Scott Asheton beating on a garbage can. Highland/Quirk opened with Grand Funk/Amboy Dukes/Stooges numbers, then Eddie came in with Gizmos/Crawlspace/Rockabilly Yobs numbers. audience members were from 12 cent donkey/psych--o-diasies/hopelessly obscure/johnny and the jumper cables, you know who you are, "I Love Everybody" (Second Winter!) I usually hollered out which guitar player i was ripping off, so my hendrix "back from the storm" riff in "human garbage disposal" was according to Carl Biancucci, a Robin Trower lick, but I'm NOT "too rolling stoned", I'm as straight-edge as the Nuge and at Middle East Sunday Chuck Warner, Throbbing Lobster said he could "see it in your eyes" (Harry Z., Popgun "you have that 1000 yard stare of a Marine"). But enuff about me! well wait...Future/Projects here right now: maybe Miguel D'Amour will use Quirk/Burns rhythm section for his Venutians garage band who I HOPE play at Weirdo; Highland/Quirk recording at Legerland in Waltham (BROOKLYNS!); and other gigs with: Burlesque Gizmos fans! we spent our Weirdo records pay (thank you Angela Sawyer!) on nekkid wimmen!!!! Roxy Shake stopped by (great Mikey Shake Gizmos review too on his blog!) and her burlesque troupe is a common third Monday maybe at Midway Cafe; photos by John Doherty! Met many young Gizmos fans and usually a band plays! met the dj and between sets he played "Amerika First"! so, despite, having Eddie Flowers "Circling L.A." (marc Thor!), the Keegan Korps with Matt and Mike will soldier on in Boston jumpin' on top for Gizmania..y'know it's a tuff job being both Elvis AND Col. Tom Parker"
Wednesday, Oct. 15, 2014
with Gizmos World East Coast tour Finnish (MOTO told me that some band in Finland had Gizmos logo on coat, so I am FAR from FINNished!) life is back to abnormal, lissenin' to Big Joe Williams and John Lee Hooker, "Killing Bigfoot" on Coast to Coast, WJIB played a muzak version of "Garden Party" and ran into James Straight who sez see the Bowie exhibit in Sweet Home Chicago! looks like a Gizmos photo op (Eddie to Ken with my obsession with posing for photos: "this isn't Rock Scene ca. '73/'74"! But it IS coz "My Head's in '73" and look what Mick Rock shot with camera and I'm sure Tony Mann who drums with Sylvain knows his name and I've seen his)......
Thursday Oct 16, 2014
a quiet non-rock night, which, at my age, am diggin'! I had got the Cream remasters on cd at CHEAPO RECORDS, so playing along to "sleepy tyme tyme" doin' Clapton leads on ACOUSTIC builds up hand strength for tremolo. then supper at "Punjabi Dhaba" (on my Be More Flamboyant cd on stanton park) with Gee Julie; then WEEI 850 AM and Mean Ole Frisco won! WRKO 680 AM had Wall Street Journal this morn and Kansas City in World Series; the presenter said he didnt know whether to play Fats Domino or Muddy Waters version, but he put Muddy Waters version on twitter! first Gizmos e.p. photo was Sunday 4 april 76 highland Indianan that's Muddy's birthday near Chicago and I AM in love with Ken Highland and think he's beautiful! whooooo!!!!! (Penniman wise and 275 pounds foolish!) lastly JUST for Ken Kaiser, WJIB 740 AM, tried learning "seattle" by Bobby Sherman but TOO MANY FUCKEN CHORDS!!!!! How dare he"....
WMFU has been playing "gimme shelter" by O. Rex at LEAST ten tymes now (Brian Turner is The Selector). story on that: lead-off track on O. Rex cd, available from Gulcher OR Carl Biancucci (autographed!) (contact him on FB) and was a pre-Alice Cooper, Madison Square Garden gig (attended by me, Sol Gruberger, johnny jumper cable and Sylvain's drummer, Tony Mann!) jam of me and the Gruberger Brothers, who were my rhythm section on said track. 17 year old Ken Highland tryin' to be Mark Farner ala the MSG/IN CONCERT concert i went to 26 dec 72 with a Scorpio Queen whom I respected More. I am obviously aping the SURVIVAL version and this is totally DEE-TROIT: Farner guitar and FUNHOUSE vocals! (bought $3.49 october '71,vince's record store, main street, brockport NY!) I appreciate the airplay and when I had Something/Anything and Todd's teen band playing "Money" was afraid my high school recordings would come back and haunt me/bite me in the ass".....
Friday Oct 17, 2014
due to back to work fatigue, it was "Radio Radio"; WEEI heard Ishikawa cinch it for Mean Ole Frisco for World series and my facebook friend Leigh Stephens of Blue Cheer roots for them! "Doctor PLEASE!";WRKO had talk of spirits and "go to your nearest spiritualist church", maybe the only thing besides Geezer's Garage, Granite Rail that I miss about Quincy; and lastly,to avoid right-wing ranting on WRKO (yeah, yeah "amerika first","talkin' loud and sayin' NUTHIN"" from Rush on down, both Limbaugh AND the band!): WJIB plays "NY NY"! DEAD PEOPLE FACT!: Nathan Kaiser and Max Gruberger, who grandsons were in afrika korps, were on 172nd street (maybe) and Brooklyn in 1930-1940 census vs. my grandfather and cuzzin Spencer William Blodgett, dairy farmy, Clarkson NY; yes we all, during the Depression were "NY PUNK"!(s)!and speaking of Brockport, NY, when Bob Bittner was programme di-rector of WADD, Brockport NY on land once owned by my barlow uncles, he played Terry Stafford's "Suspicion" in 1971 (before I bought FUNHOUSE!) and he probably played same 45 this morning! Gee Julie phoned in this morning, lissenin' to WHRB and Mahivishnu, she loves jazz and her kinda exact words were "fuck WJIB"; "I love her still, I always will"-Lyres.
Saturday Oct 18, 2014
met Gee Julie at 1369 coffee house, Inman square, and got my tenth coffee free, so here are some random musings: picked up Weekly Dig and they have young hipsters going to "dive" bars; "528 comm. ave.;I only been in town since 2011"...child, you were at the RAT! have mercy...Lily Pad had bands dressed up for Halloween, so DC folks: a Minor Threat tribute band!?! but we opted for Ipsum Lorum and without giving you a book report, suffice that Nik Cohn's Rock from the beginning is in the window! bought in Brockport NY early 1970,8th grade maybe, taught me 'bout the "roots" of rock and wild men like Jerry Lee/Little Richard whom were my deceased dad's age...I always did need better male role models as a young "pumpin' to playboy" teen! WRCA 1330 Am was rockin': Tube Talk mentioned the German radio brand Telefeunken which my dad had and i lissened to beatles/cream/janis lps on; rockin' after dark,peter sheinfield played a 1951 lucky milligan (?) cut that was jumpin' and the country show spotlight was Merle Haggard! (on my fadin' battery Coal Miner's daughter lil radio!) PLUS Coast to Coast had the influence of Satan on rock music= Kill Slug at Cantab at midnight, see you there!"...
Sunday Oct 19, 2014
after work stopped at Grooves in union square, somerville;99 cent cds were some UK '50s Ktel releases and for a VERY happy Gee Julie, a reissue of reginald KENNETH I am a flamobyant Aries Dwight Goodbye yeller brick road. lissened to Cream remasters of Disraeli Gears/Wheels of Fire. then Cantab: David Carradine and Witchking were RI death-metal bands with cookie monster/Tasmanian Devil vocals. Hirudinea had more Sabbath chords, I liked 'em. But Kill Slug...1981 underground, allston, Arthur Freedman and I were the ONLY people in the room for the Sickness and Larry Lifeless and Big Daddy STILL kick ass! two guitarists playing through Marshalls had that Tony Iommi sound, but Big Daddy - what a drummer! lookin' like Hunter S. Thompson meets Spirit's drummer, but doin' a lot of Bill Ward. and Larry Lifeless, PIL vocals, Zeppelin t-shirt and sleep wear and Crocs, these guys been wowin' me for 30 years! The sound was a lot like that Taang album (THE followup to Masters of Reality!) enough raving maybe, but since Real Kids lately are awesome, let's not forget the late great Mark Giroux DID say "must be something in the water" since John Felice/Big Daddy/Jon Richman all hail from Wethersfield/Natick.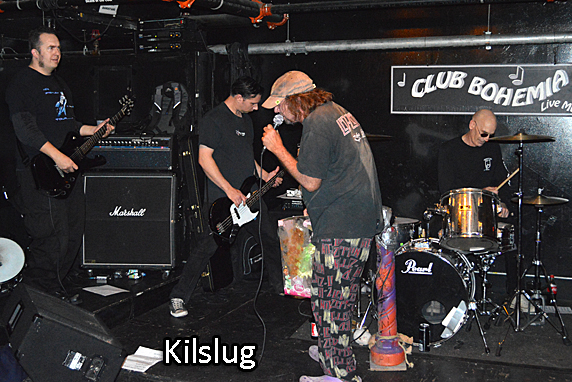 Radio Radio: Coast to Coast sez "hybrids" (1/2 alien/1/2 human) "appear normal, usually bout 5' 10""; Gee Julie DID have a query 'bout that! Her other comment: "Death metal on saturday night and sunday morning you're lissenin; to Skippy White gospel!" I merely grunted and drank coffee, then tooned into Country oldies on WJIB; Captain Bittner-heart played "thanks a lot" by Johnny Cash, wrote by Charlie Rich, 1959,SUN which = GONER RECORDS! (Sun records for sale there!) quite a variety of music lissenin' For Your Pleasure, let's see Miguel D' Amour follow all THAT!!!!!".....