10/22/2018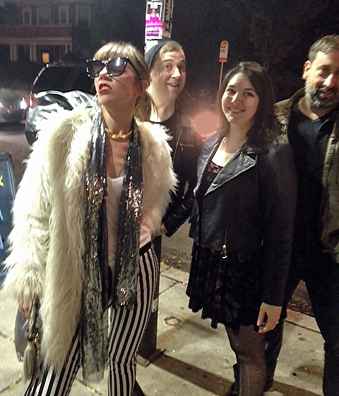 The Gala on Highland

Monday, October 15, 2018 "day of saturn 13 oct 18; Kenne on the MTA! go to davis square, take 88 bus down HIGHLAND,it drops you by ONCE. like Keith Beauniece, "I got up, got down and got what i want" by running into The GALA on HIGHLAND and they do aim to play MJ Quirk's birthday party, which is febraury. turns out Mike knows the guitarist from Southie so I go "what the fuck am i doin' here! problem solved! "communication breakdown"....then i did the Irish gudbye (t'jayne!) as charles hanson was rockin' with tom baker and snakes but NOT before another great GALA set. MJ Quirk did a minute of video but all my favourite '70s influences there (except for me and mad painter rockin' uriah heep's "easy livin'"!) and i remember stooges 31 dec 73 NYC (Kiss opening); singer doin' Iggy-cum-James Brown moves in red stilletos, drivin' rhythm section, NO guitar solos guitarist (cf. Townsend and 1976 J. Ramones childe harolde DC oct 76) plus Farfisa compact DID do "planet claire" lick but Iggy-ish energy of singer balanced by when saw Scott Thurston do Jerry Lee lewis glissandos with stooges that new year's eve...guitar/keyboard combo VITAL! Gala has nice merch table and I got a FREE Gala guitar pic, t-shirts, vinyl 45, cassettes...what year IS this? They also had played Geno's in portland maine 35 years after Tiger Bomb was dancin' to Hopelessly Obscure (I didnt know Chris PLAYED til the next year)....Gala is young, why else can they play portland, drive like Maine-iacs back and then do Once? (well 2014 Gizmos, NYC saturday then middle east sunday but fuck! was i tired!)...caught my Highland Ave bus right as "Rastamon Vibrations" were outside the club, Peter Tosh dream came true, mon: "LEGALISE IT!" "Foot hurt, mon"-Bob Marley. "you have to go through h'agoney"- Toots Hibbert sharing spliff with 19 year old Ken Highland WIUS before i saw Who with Keith Moon sunday 30 nov 75".....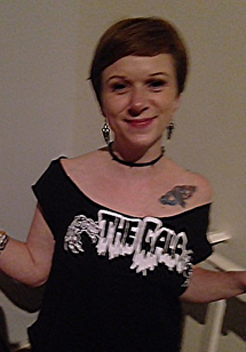 Robin- Gala Merch Girl
Tuesday, October 16, 2018
"Sonntag 14 october 18 mad painter practice for 2 nov 18, c note hull. listen to mad painter (full album) on youtube. Ross Jackson of sabbtah cover band AFTER FOREVER playing bass this gig, he and Flynn Young dynamic rhythm section of "easy living" (Uriah Heep) and "black night" (Deep Purple), Ken hensley/John Lord played on organ by alex gitlin of course. I've been offered a job playing Russian music in brooklyn with Alex and Flynn and a chanteuse name Anastasiya plus bass and sax, Berklee guys; more on that as it progresses but A5 is that combo. after kickass practice, Sox and patriots at common ground, Mass ave ahlington and I was recognized by a KH at large reader! (please friend me, forgot name!) His wife even passed by and said "hey,you're that writer!" I am neither Jack Kerouac nor Leo Giroux Jr,but mabe Lawrence Ferling Gizmo"..
Wednesday, October 17, 2018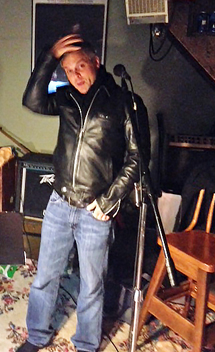 Gene Dante in studio

Montag ides of october 18; I beleive MJ Quirk is calling velvet underground cover band WHITE HEAT but DONT quote me! personel: Highland/Q-guitars, the mighty quinn on bass; al hendry-drums, john keegan-sax, Lady Carolyn's mutti ist von Munich, so DNA-wise, das ist Nico! (SO happy to sprechen bavarian Deutsch mit der Frau Caroline!). Special guest at practice: GENE DANTE! outside the Midway during Gene/Gala, a few weeks back, "when's your next gig" small talk (with small pay, usually!) Gene lives one town over from Wakefield inn! So i nearly shit, like GG Allin onstage, when Keegan goes "oh yeah Gene Dante's coming about nine'. First songs played: Rich Coffee: "when elecectricity comes to arkansas"-highland, indiana oct 75;"louie louie"-O rex 3 june 73; Ken kaiser: "blitzkrieg bop" friday 11 feb 77; MJ quirk: "pills" sunday 4 june 95; jody moore: "be my baby"-july 91; Gene Dante: "waiting for the man"! THIS is what happen to the teenage dream! I sang "white light white heat", gene and caroline on vocals. a Bowie fest COULD have gotten out of control with "queen bitch" and "boys keep swinging'; suffice to say, Gene sings Bowie like i sing Iggy, so if they ever do a remake of velvet goldmine.....I DID learn hunky dory/ziggy album outta this big-ass chord book in '73, so the Q is hip to doin' Ziggy, me as Ronno of course....and, this JUST in! sat 3 nov 18, club bohemia reopens! with cal cali and mister airplane, so Cal says friday 16 Nov greek american political club/MISS LYN BIRTHDAY with punk "tribute bands" (write some new fucken songs, folks!!!!!), union sqaure,somerville....and the gigs, like the Bread album, MANNA from heaven".

Thursday, October 18, 2018

day of Wodin,17 oct 18; hopelessly obscure practice for chet's movie, gloucester Mass AND John Keegan's birthday party! John made a video of Hopelessly Obscure doing "rain of death" and MJ Quirk's "no sleep til geno's" in the Red Barn ("curse you red barn!") Trying to get gigs in Boston/worcester/portland maine with tiger balm/performers/kid gulliver but also avalable for others so DO contract ME and say "Kenne Highland, we're tired of you being a sideman in cover bands like your idol Jimi, we want you up front and more beautiful than Little Richard or Gene Dante!"....let's see how far that gets me; though I've been "nabbed" to sing lead on uruah heep's 'easy livin'", mad painter,hull 2 nov 18. My dad was Byron,so David Byron Highland and keyboards: Ken H(ensley)!"....


Friday, October 19, 2018

"Thor's Day, 18 oct 18. chet's last call movie up gloucester, movie thee-ate-er (Cape Ann Cinerma) above mystery train records; great room with couches that you can jump from couch to couch on! So the Vitale brothers did a top notch job, folks clapped when I said "i dont give a shit what you call it, it's still the boston garden" plus Xanna Dont mentioned how I said sunday 13 april 87 chet's bar how she had THE hair to sing country music, as adoring as I was of her B-52; "jailbait janet' used in a sequence on underage kids at club. lotsa posters/memorablia/memories/80s....DO see this movie! Hopelesly Obscure and Classic Ruins did their "greatest hits" for people like willie loco/terrydactyl/lisa from corilla daville/rachel from psych-o-daisies/pete taylor from toby dammit; sandy beach from jordan's half transplants/cal cali-jetset; sound by will hunt angry young bees! Gen e. talia there in all her glory plus Georgianne skinheads must die! (we did "kilebasa" instead). food/booze/money....fuck! we were the Gizmos or the Real Kids in memphis or france or atlanta! what a great tyme, great people, great place; raving coz someone "DOES remember laughter?!?!"....see y'all sunday in arlington!".....(more photos on my Facebook page!!)
| | |
| --- | --- |
| Willie and Ken Kaiser | Ken, Frank, Kathy |
| Carl Biancucci | Gen E. Talia |