10/23/2017
Monday, October 16, 2017

saturday 14 october ted turner's classic movies starring his ex-wife Hanoi Jane (GG Allin's ma's cuzzin) but "my head's in '73"-STEELYARD BLUES. ok fashions appliances and cars look like...'73! of course but it was the soundtrack album I never bought that I dig! '73 was UK glam-rock and '60s garage-rock so listening to Mike Bloomfield in '69 was something I didnt do in '73 but he plays some GREAT guitar on this soundtrack. glad to see him reunite with Paul Butterfield, still dig East-West. glad to see him reunite with Nick Gravenites, i'm a stone-cold Electric Flag fan ca. late '69! But my FAVOURITE moment in this film is Hanoi Jane plays a 78 rpm record, Bloomer and Butter jammin' on some good blues and the Bessie Smith vocal is by MARIA MULDAUR! This album was wicked cheap the year I was at IU (bloomington indiana) ca. 75; I regret not turning onto it till now! Maybe I was kept alive for ONLY that reason!"....

Tuesday, October 17, 2017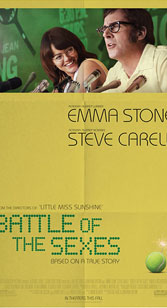 sunday ides of october 17, two pm, fenway movie house: "winner by elimintation" was: Battle of the Sexes! 20 sept 73, maybe me, alan baase, john pusteri all in printing class, spencerport NY and I was doing rock on 37 asking my readers to remember 1966 garage rock; but yes i kinda remember this tennis match even if i didnt start partyin' til halloween '73 (where my head still is!). ok, so diggin' pay phones, landlines, '70s fashions, Bobby Riggs over-the- top "be more flamboyant" but my favourite scene was billie jean king and her hairdresser crusin' down "ventura highway" in some kinda SS 396, cherry red crankin' up elton's "rocket man"....yes that COULD have been '73! when george harrison's "what is life" (APPLE!) comes on that was maybe a '71 "oldie".....Gee Julie saw this the previous week, so Apace in Time (great ten years after album from THEN) = me see this whilst she yoga'd so DO go see it, great movie, i only see first run movies coz i get cheap tickets at work AND hey! points! next tyme i might get a free small POPCORN!!! ("gotta be a mother for me"....James Brown, produced by Bob Both....whaa!!!!!! Good God!)"....

Wednesday, October 18, 2017

still watching anna german, but episode six is 1964! (youtube). living in commie poland, she gets discovered by an italian producer that wants her to sing in San Remo. again check out youtube for 1964 fashions and shirley bassey "goldfinger" type singers; this was all a true tail! funniest moment is in Roma, dressed in commie Polish drab, the italian designers doll up Anna who says "I may as well be naked!" or some such....remember, 1964, manasass virginny was still fightin' the civil war, so watching this in english subtitles plus russian/geman/italian voice overs....I AM hearing voices!"....

Thursday, October 19, 2017

so i was watching on youtube Despres de la tribulacio in catalan subtitles but english speaking; turns out it was a buncha preachers debunking book of revelations doomsday preaching. the culprit: Cyrus scofield, Yankee stock, born michigan...hmmm.....sounds like dads side....and the answer is: scofield and my great-grandmother Highland both descend from John Youngs (wikipedia) born 1598 reydon, england died 24 feb 1672 southhold ny ("I'm a long island puritan/and i dont take shit from Quakers"...)...."was a puritan minister who founded southold NY"...."all this and more" and no wonder the Yankees beat the astros last night! (of course family tree dna DID say my DNA was safe in houston after the hurricane.....wouldnt want it to be like bladerunner 2039 or whatever it was".....

"before "finding" God and writing a "pick and choose" Bible, scofield also was a civil war deserter, a two-tymer, a drunk....and my FAVOURITE COUSIN!"....

Friday, October 20, 2017

"also on youtube, 1996: Der Alte wir werden ihn lynchen, 1996. in german, obviously, no subtitles, a murder mystery, a young Kleenkut kid says to his granny; "Oma! Bitte!" (granny please versus Blue cheer's "doctor please" to be playing 0700 EVERY morning for herr Kaiser!) but then kid goes out gets himself shot. and who solves it? DER ALTE! which means "the old fox". a lot of these series on youtube but dd we see it in Amerika, First? Nein!!!!! the old fox is a "senior" detective that solves crimes; my uncle/cuzzin Howard SPencer Blodgett liked Andy Griffith (versus adny shernoff!) as Matlock and dick van dyke did some old detective role....wikipedia in either Deutsch or Anglais compares him to inspector Closseau, SO.....tyme for the kenz to kover "pink panther theme" Ventures style!".......