10/29/2018
Monday, October 22, 2018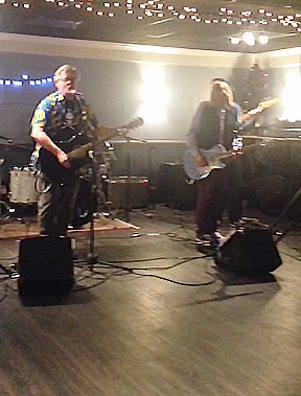 The Legendary Cazbats

Frigga's day 19 0ct 18. commuter rail to wakefield mass,then 137 bus to Lakeside Inn, wakefield mass. the legendary cazbats had offered us this gig and we basically played a lounge in a hotel (in wakefield!). Cazbats are excellent, backing up a feller of the "woodstock generation" on songs from 1966 (e.g. "you aint goin nowhere"; Bob Roos on guitar doing Jimmy Miller-era Keith country licks, though he claims he's stealing from Mick taylor); Bob and bassist are in stigmatics/fighting fish AND cazbats. drummer Dan McCarty I met in Downbeat Five (him) and lastly was in the knockups. White Light, I beleive, is what MJ Quirk calls his lou reed cover band; costumes first! Q as oscar the grouch; Lady caroline wore witches hat and brought her grandbabies: "go oma, go oma, go oma go!" and John Keegan as the Phantom; Joe Quinn on bass with curly hair and a ball cap; Al hendry and i "normal". I used a Bob Roos amp and a RATT fuzzbox that "sounds like 1968" or better yet "the sound of a guitar having it's guts squeezed out for 2:28; in other words Truth/Beck Ola y'all know how I play....Gene Dante lit up the room with "sweet jane" as i tried to channel Highland/Wagner (good double leads by the Q! been tryin' to get him to do that since 1995!)....I never thought a hotel bar full of "normal" people would dig velvet underground covers! But, coast to coast listeners, the ghost of Linda Garreau Highland was present as it looked from a 90s Highland party! (michelle manisalco/ethan gould/dave erikson/2000 joe browns!). lastly, due to garish barbarella like furniture in lobby, John Keegan did an Interview-worthy photo shoot of the "Be More flamboyant" Gene Dante and I was privy (where my mind is) to the Gene Genealogy of Gene Dante! Lady Caroline's daughter-in-law is Gene Dante's cousins! (Italian surnames flowing freely, but NO italian surnames that i'm akin by marriage equal Gene so we AINT kin, but i love him like a brother). What DID flip my wig is his cuzzin was bassist in strawberry alarm clock! Gene been to City of Angels; HAS played the whiskey-ago-go and his cuzzin's neighbour is mick garson, whom was on aldaddin sane (keyboards). I am a Lad Insane but between the Q and the Gene, Hello World! but look out for us being Gene's Spiders From Melrose and me trottin' out my Mick Ronson licks....."wham bam thank you PAM!!".

Tuesday, October 23, 2018
Kenne, Keegan and friend

"SATURN'S DAY 20 oct 18, john keegan's 60th birthday midway cafe 1600-2000 hours. I was a victim of (shuttle) busing on orange line so missed jiblantos set and during Crunchtime, I held court on washington street and reminded everyone "hey it's NOT my fucken birthday!" even birthday boy John Keegan handed me HIS plate, "here kenne you wanna finish this" as the ghost of Moose Gruberger sang "Human Garbage Disposal" with the Korps! (wait, is this "The people in me")....Got a Crunchtime t-shirt and now that the Hopelessly Obscure are movie stars, tryin' to hustle gigs so THANK YOU JOHN SURETTE for that halloween Jacques gig as Crunchtime is Brigands guitarist and charlie dont surf Mick Jones guitarist! A supergroup worthy of Johnny Winter And Rick Zehringer/Gang War (Kramer/Genzale) or Chuck and Bo: Two Great Guitars! i thought i heard dogmatics "sister serena" BUT as I kenpose new toons for next Korps album, Stop Calling me Lenny told of us a tale of "I didnt want to be Chet's plumber". I already have an e.p.s worth of toons basd on the Vitale Brothers (together they are one made man) Chet's last call movie. when John Keegan joined stop calling me frank for double sax THAT was my riff ("Goo Goo Muck" in G, double sax attack! kinda like Swimming Pool Q's "ratbait" 45). Stop calling me frank excellent pub rock as usual,"Ubangi Stomp" that ole "yaller Sun record from Nashville"....front row seat for Black Souls. THIS was their best lineup (I told Kim Ackland so and for her to sing in Alice Highland, she should contact Mike Quirk, the Q-ordinatror!). vocals, male/female: Charlie and Inez Foxx/Mickey and sylvia/rufus and carla thomas/marvin and tammi if they were singin' in church down south....I've fucken played pentecostal music in da hood, this IS blue eyed soul! But you cant forget the Motor City! Tony Kacynski (flynn young, mad painter drummer, take note: figures on a beach! i'll plug Flynn's tape of Boutique later GREAT 80s synth pop like Miss Lyn heard in '81 on sundays at spit); Tony has kinda a Nugent (different politics tho!) Byrdland but for this combo all i heard was Jim McCarty (my facebook friend!) in Detroit Wheels! "sock it to me baby" indeed....or "Jen E. talia take a ride" (SHOULD I cover it and put her on as the picture sleeve?!?!?!??!?! WICKED FUCKEN RARE!!!!!)....lastly MY ole rhythm section in Black Souls; lettuce say I paired Carl Biancucci on basas and Matt Burns on drums after a valentines day in '87, post-Rat (also lettuce say we were all "dating" three roomates; GIRLS GONE WILD!). Rat balcony, Grand Funk and Cream covers maybe; early 2000, drunk off my ass abbey lounge, holding onto the bar, Carl: "need a bassist?"; THIS rhythm section was on Be More Flamboyant, a stanton park cd LOVED by handsome Dick manitoba as much as i loved dictators go gurl krazee)...SO to review carl and matt; Carl played only 1000 notes vs. 5000, sounding very James Jamerson on these soul classics; maybe Tony brought the Motor City to where this was a Detroit Cobras level show! (Somerville Snakes?) laslty Matt Burns NEVER overplays, so on the soul was Al jakcson,Booker T. some parts of Be More flamboyant was forays of me doin' r&b before i played gospel (Ray Charles in reverse!)...KEEP THIS LINEUP! everything jelled, now have Stiv tell Iggy to pass the peanut butter, I need to put it on the 29 avenue W Gruberger house matzo crackers, I'm fucken starvin'!!!!! or we can go out for Passover Pizza, which IS a new korps song!"....

Wednesday, October 24, 2018

"Sonntag 21 oct 18: Mad Painter practice, I sang uriah heep's 'easy livin'", reminder that we play c-note hull mass 10 pm friday 2 march 18. afterwards me, keyboards Alex Gitlin and drummer Flynn young met Gee Julie and many more at regent thee-ate-er screening of the chet's document-Terry. Many lines from that movie WILL be songs on next Highland/kaiser album ("I have many names....Kenny Kaiser....Mister President....Broom stick"....)....Randy Black was the band after, george Hall from archbishops enema fetish added some GREAT spacey sounds on his Strat; I'd like to see MORE of this guitar duo! Dogmatics were TOTAL "boozy/brawly Chet's rock" (Richard Cromonic, sweet po-tate-o,RIP called johnny and jumper cables "boozy/brawly rat rock", i think) but with abundance of Chuck Berry licks, I DO notice the resemblance between them and Club Linehan-ago-go! lastly, Bim ska la bim did a VERY upbeat ska set; where in the Grand Funk WAS I in '83? oh,yeah, kinda a garage-rock fascist (Lover!)....nowadays, my musical taste is as expansive as my size 40 pants! (not that homegurl Lydia Lunch would NEED lunch or wanna get in mah paints")...Dan Vitale (if you sewed together the Vitale Brothers like the Thing with Two Heads, you'd have ONE made man and one Celt! "Theme from an imaginary Sci-Fi Movie"; is that our title?!) thrust the mike into my pie hole after doing a ska pink floyd "the lunatic is in the grass" and I belted out "shakin' all over"; Ed moose Savage DID say "those are quite some pipes you got Kenne", but, at Father's Two, one drunken Sunday, Mike Crowley (RIP) and XANNA DONT (who WAS there,"Kenne Highland said i should sing country") gave ME singing lessons, Jumper cables era, thus "kielbasa", SO, just returning the favour, kinda.....Hail mary was there, tryin' to name the out-of-towners BUT Every Picture Tells a Story Dont it! (of which i took NONE but plenty circulating on facebook!). boys from nowhere 16 Nov North Shore BUT doin' Velvets covers Greek american social club, somerville, the Gee Julie-Miss Lyn double birthday party!".....

Thursday, October 25, 2018

"Flynn Young, mad Painter drummer, has a "solo project" called BOUTIQUE (facebook page). Flynn says "I have a three song cd (also on youtube!) with "dont ever change","beautiful dancer" and "self control". "Boutique is...Robin Rouge (that's me) (flynn young dressed like New Romantic)-synths, drum machines, production; Ethan Dominic Rosario does vocal on track one; steven Jones-vocals (tracks 2 and 3). did some research and ethan is a high school kid in lawrence, maybe (Miss Lyn tied to garbage can) and Steven Jones is NOT the bloke in Sex Pistols but another British bloke who is "waving at you"; a bit on convo,eh? I didnt have a funny haircut back in '82 and I was oblivious to Figures on a Beach but goddam! if the Stray Cats revived 1958 and eddie cochran, Boutique is SO 1982! breathy vocals, syntrh-popping sounds ANd commercial potential! "self control", the laura Branigan song'; lp released 1 april 84; 2 apr 84 i drank a pitcher AND a shot at Johnny D's, Allston,mass., thank you rick paige, went to his house with my cuzzin Miss Lyn and puked in hallway with Miss Lyn as Tazmanian DEVIL "Kenne,Here I am still cleaning up your fucking PUKE!!!!!" (no I think you have that wrong Kenne...it was at The Neats house...or maybe it was both! LOL!!ed) ....oh to be 28 again? Musically, June '84, "she's my best bette" was out on throbbing lobster; Plan 9 had me recite a poem at Rat for their live lp June '84 and johnny and jumper cables made a drunken debut at jumping jack flash sept 84. Meanwhile Laura Branigan had a hit with "self control", as i got drunk and vomited like the "Ig Morrison" wannabe i wanted to be (Alpo's words! with HONOUR i remember!). But up to 2018 versus 1983, DO go to Heroes, maybe it's Sonia? 18 plus 10 pm,'80s music, I wanna slip DJ Chis Ewan (Figures on Beach keyboardist AND sci-fi marathon attendee.....synth pop and sci-fi? Bowie influence?)....and DO "like" Boutique, as I do!"....


Friday, October 26, 2018

listing where i aim to be at large next week. halloween, day of Wodin, 31 oct 18, Heroes at middle east i think, DJ Chris Ewan (Figures on a beach) spinning '80s music, got my Phil oakey hairdo ready!; friday 2 nov 18, c-note, hull mass: climate change/ Mad painter (10 pm of which i play), the gravedancers, then stigmatics; QUITE an eclectic bill, I must say!;lastly, Cal cali presents at club bohemia mister airplane man; support cal, support mickey bliss, i love the airplane Moms, if you DONT support this shit it WILL disappear. I actually feel better and more active or should I listen to Let's Active or should I go and BE Where the Action Is! ("I'm in love with mark lindsay and think he's beautiful and will PUNCH you if you draw a mustache on him") (Kenne, you are never gonna let me live that down I See- ed) .....