10/30/2017
Monday, October 23, 2017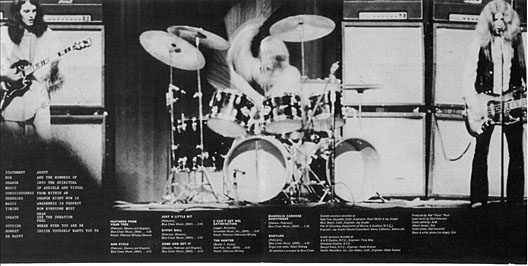 Blue Cheer & amps
"friday 20 october 17 was thinking about Blue Cheer and discovered you could friend Leigh Stephens on facebook. the next morn he friended me! dudes, early 1968 came home from sixth grade, saw Blue Cheer and their 43 amplifiers onstage and two years later i had a guitar! sadly bassist dickie peterson could have died from "rocknroll lifestyle" but leigh seems to live Kleenkut, wife, border collie, symphony (with border collie! a LOT of photos of Blue Cheer's dog, man.....)...this DID start a GREAT thread on my facebook wall so here's some "fans": Boby Bear has an autographed Vincebus eruptum album and craig willis bell says x-blank-x are gonna cover "summertime blues" b-side "out of focus"! Ken Kaiser COULD friend Leigh Stephens and say "your #1 fan usedta blast Blue Cheer when we lived together at 0700"....hey what do you think 0500 reveille was like in Parris island? we werent allowed to lissen to music! only learned how to fucken kill people!!!!! music DOES soothe the savage beast!"
Tuesday, October 24, 2017
Blue Cheer, who sampled. 1986. Hose. "down by the river" sampled "gypsy ball" b-side of "just a little bit" (the joy of outside/inside is it's both 1968 blue cheer 45s a-side/b-side in order!). who were Hose? Rick Rubin, Def Jam engineer on guitar STEALING that "gypsy ball" riff better'n i stole "feathers from your tree" from facebook friend Leigh Stephens for "do the touch" off hello world, engineered by James Brown's polydor producer. wikipedia: "Hose, influnced by san francsico's Flipper";who were black sabbath/blue cheer redux! drummer Joel Horne MIGHT be a sibling to Lady Kensington/Tiger Beat but only Geets Romo knows for sure! (these fucken nom d' plumes....).....So back in that mid-80s/party with Kill Slug/lissen to Flipper era (WITH Ken Kaiser), I would surely have dug Hose and sampling Blue Cheer note-for-note eight years after me....why? coz Rick Rubin is seven plus seven is years younger!".....
Wednesday, October 25, 2017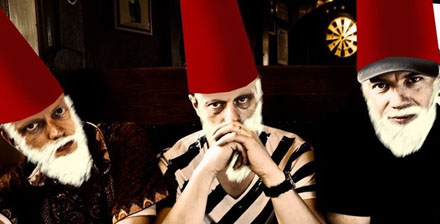 Malk de Koijn

"the only other folks sampled Blue Cheer was Malk De Koijn "sneglzilla" with "sun cycle" from 2002. ok so Korps sampled the a-side "feathers from your tree" for "do the touch" but this Danish rap group sampled the b-side! you mostly hear Paul Whaley's drums but when De La Soul sampled Grand Funk's 'sin's a good man's brother" you hear Don and Mel and a damn gud beat is that! (also check out roxbury's own Planet Patrol samplin Kraftwerk!). I rabidly turnt Gee Julie onto this quicker'n metal Mike Saunders raving about European dance 45s he'd gotten (we'd been collecting so long we keep "discovering" new genres) and Gee Julie DOES like (on facebook!) this Danish rap group dressed up like garden gnoms or is it coz my two per cent Viking DNA is comin' through? Ken Kaiser SHOULD remember Janaury '78, palladium ramones/runaways/suicide; former two influences on afrika and korps albums but the Kenz album should sample Blue Cheer, dress like garden gnomes and keep playing even as ramones fans boo you off stage".....

Thursday, October 26, 2017

"1100 Wodin's day 25 october; my phone beeps and it's my Huff Post app that Fats Domino died! ok, now recorded for Gizstory. In junior whils Bob "Bear' Richert was at SUNY Brockport NY ('69-'70) I had a bunch of ABC-paramount albums from a record club;liner notes: "if someone says a phrase like "aint that a shame", i write a song about it". ARF ARF studios march '76, willie loco keyboards on hopelessly obscure ep DID say "oh just like Fats Domino";WA blew my cover! Ken Kaiser tells me I owe his mother royalties coz SHE told a marine buddy of ours; "you're mad at the world". Lettuce praise Sir Paul (Saint Paul died in a car crash, lisssen to your Terry Knight 45s!) so lettuce say early '68, diggin' "lady madonna" which Fats DID cover; Sir Paul always apoing r&b guys (R. Penniman on "long tall sally"/"i'm down"...wow!). Some Dead People facts: Fats was a loosiana Creole ("French/African"), where his parents share cropped is a historical site, they spoke the French at home! and in the 1800s name was DOMINEAUX. whilst station at Ft Meade MD fall '77, elvis had just died, Fats did an oldies concert in baltimore, place was PACKED and when he sang "blueberry hill"....well, folks knew it from Happy Days. RIP Fats, same weight as me but only five foot five ("what the hell, what the heck"...oh that's five foot one....)....and WHY in the Grand Funk are Jerry Lee and Lil Richard STILL alive!?!?!? talk about beatin' the odds....course ole Jerry Lee was ALREADY his own cuzzin afore he married his second cuzzin once removed"...

Friday, October 27, 2017

"sat 21 oct 17, AXS tv eye on me in the afternoon: Woodstock the directors cut! played along with EVERY toon on Gee Julie's Epiphone acoustic. couple news songs: Janis doing "work me lord" (nick gravenites toon on Kozmic Blues) and Airplane doing "uncle sam blues", a song that was Hopelessly Obscure to me! Jorma sang it and it ended up on first Hot Tuna album; basically this is Jorma singing a "traditional" blues, Grace Slick sittin' on sidelines just doin' her Scorpio stare. I was on an Airplane forum on line on phone on tube this morn and Airplane geek says he talked to Jorma and he learnt "uncle sam blues" from Snooks eaglin. also a bukka white version about being called up to korea, Jorma and woodstock of course meant getting your 'Nam draft notice man....like bummer man....ok enuff on those fucken hippies coz fucken SLY was IT!!! More research and the Stone family of clann Stewart was a Pentcost family so it's obvious the influence of Pentencostilism on r&b etc. Sly was energetic, played good harp, keyboards but i gotta give his brother Freddie some: Freddie was steady on them chords then him and bassist Larry Graham doin' a duck-walk-cum-Temptations walk totally in-sync....in my younger days when i could dance better than James Brown, I wouda been steppin' right along with 'em! speaking of young me (fuck woodstock and those fucken hippies! altamont was better!), there's a Jody Moore video c/o Billy Ruane c/o wayne valdez August 90 when i lived on mission hill with mark darling giroux of johnny and the jumper cables live at middle east "hey Ken hog? remember how it USED to be?" well it is! david laing dogmeat in Oz contacting Carl Biancucci (whom Gee Julie, in a gruberger moment, mistook for Ken Kaiser!) talkin' 'bout live cables album plus some studio tracks with William Spence Alexander on piano! "give me my flowers while i'm livin'"-slim and the supreme angels coz the ghost of Grubergers past wants me to do one last record with Carl and WA before I join that O. Rex reunion in the sky and Ken Kaiser gets cramps in his legs from dancing on my grave".....