10/31/2022
Monday, Oct. 24, 2022

"Sonntag 23 October 2022. grabbing a coffee at tatte on Cow path lane (Mass. Ave. in the 1630s) the lil punkette said I looked like game of Thrones author! (true!) Then commiting further sin, I saw ye movie on ye Sabbath. senior harvard film archive membership I used my third freebie, five dollars after. 2022 The African Desperate played.

A MFA student, Afro-amerikaner, orange hair and tattoos, parties after graduation; filmed at Bard College (alma mater of Steely AND Dan!). basically she parties/does hallucinogens/ dances to techo/electronica etc passes out and vomits before heading home to Chicago. college aint changed much siince the 60s! Psychedlic lighting somewhere between The trip and/or a Warhol film. in the end; a movie worth seeing and worth walking back to Inman Square a mile in the rain!"..

Tuesday, Oct. 25, 2022

Monntag 24 October 2022. harvard film archives $5 senior membership. 7 pm. silent Georgian films from Stalin era and 1930 Salt for Svanetia was excelent with live piano accompaniment.

very remote USSR location with NO roads and no salt; VERY backwards/brutal etc but Socialisim will save them! (I'm actually a Groucho marxist; see Firesign Thee-ate-er). They did a DNA test on theese "Ozarks"-type folks and J-2 ancient Greece most common in males; after an avalanche there's a funeral and wikpedia says that would be a Georgian orthodox priest who favours me onstage with mad painter! there is NO mechanization so 90 years ago it was medieival or before living; Gee Julie "obsessed' over this movie so it was NOT a lemon! (and five bucks...Hooots man! a rebate from when ma's ancestor Thomas Blogget in 1638 sold 33 Dunster to Elder Edmund Frost "for the foundation of harvard'. "Gimme back my"....LAND (that i stole from "dizzy Miss Lizzie" Warren!)"......


Wednesday, Oct. 26, 2022

"Monntag 24 October 2022 eight pm. SECOND Georgian silent film with music was Nail in the Boot.

Soldier tries to deliver message whilst his comrades on disabled troop train but he becomes crippled because of a nail in his defective boot. has a trial and "The Message" (like the rap song) is shoddy manufacturing of the Proletariat is to blame (they were a good band recording at radio beat; no shoddy product there!). Finally ALL the comrades admit they are to blame. Gee Julie said I was snoring and missed half the movie. hey five dollar double feature; in '76 "califawnia gurls" cali me and my fellow marines could watch QUADRUPLE feature Kung Fu movie for less than that!".......

Thursday, Oct. 27, 2022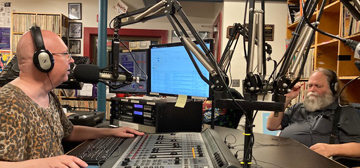 Andrew Wilson & Kenne

day of Wodin 26 Oct 2022. mad painter live on WMFO, Mikey Dee on the Town. tribute: Joel Simches of Smuggler for excellent production; and Andrew Wilson too!Alex Gitlin on keys and vocals, Gee Julie really belting it out also. Al nahbedian on steady/tasteful guitar (but wait till happy the Clown play Sonntag with Lucretia's Daggers!). Joel thought he heard elements of jack casadt, jefferson Airplane in my playing (well, "it's no secret"!) ANND Noel redding! complemnted well by Al hendry's Mitch Miller style jazz-rock drums. All in all a good tyme,as per usual, for me sicne PeeCocks 1992 john Boucher (RIP) on bass!".... Photos by Gee Julie!

Friday, Oct. 28, 2022

"freitag 28 octber 2022. future/Gigs right now...if you're willin to pay the price! from mad Painter facebook: 'tune in and listen live 7 pm monday 7 nov 2022. mad painter live at Boston wave Radio, online event". (here is the FB page for links!-ed) day of WODIN! 9 nov 2022 kenne highland's air force rehearses for studio! Fire helmets optional! (Ma and brin Wilson descend from hester mahieu of mayflower, a french-speaking Belgian! BGN exclusive : beached Whale is kin to beach Boys! Skip gates is elated; Skip james:x "im so glad". david gates; "it dont make a fuck to me". I got my own album to do!"..

Saturday, Oct. 29, 2022

EXTRA! "freitag morgen 28 October 2022. 39 degrees and waiting for the bus to (Miles) davis Square. wikitree has family trees for rocknroll hall of fame members. when he was first reported dead, i found mary Lewis born 1690, husband of Jonathon Lewis (Jerry lee's ancestor) in Collington Hundred, maryland route 197 which goes north into thesouth laurel, maryland.Collington Road, where my mcbee ancestors also had a plantation is about 25 miles south of Fort Meade maryland where I was station "76-'78. So this morning, with Jerry lee As i lay dying, I re-confirmed that mary Lewis second husband was Humphrey beckett, whose daughter married Brock McBee, ancestor of me and Glen Buxton of Alice Cooper. THUS, as i found this 'there are no coincidences" info, Coast to Coast listeners, Jerry Lee is jammin' with Glen Buxton! AND Preacher jack! "Jerry Lee told me once, precher; always love the Lord ...and also as many beautfiul wimmen as possible'; es[ecially if ye's cuzzins! Rocknroll heaven; Mitch Cerulli at saint peter's gate and one Helluva good band!".......