10/26/2015
Sunday October 25, 2015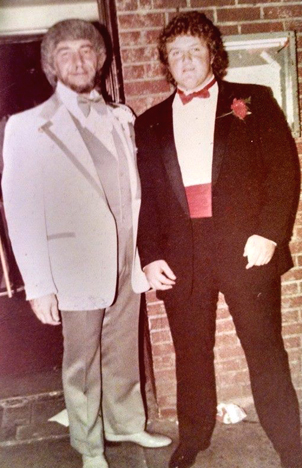 Bryan Stoker and Mitch
Photo: Courtesy of Joanne Stoker D'andrea
got a facebook reminder that Sunday 25 October is/was Bryan Stoker from The Rat's birthday; i HAD heard rumours and yes this loveable bouncer is indeed RIP; i wrote "say hi to mitch for me"; what else IS inevitable besides 15 april?
but on a HAPPIER note, the Midway is fastly becoming THE Rat/cantone's/abbey lounge of good ole rocknroll and last night's bill was aweseome! Gee Julie in a fake fur coat and I saw Rick Berlin-the waiter at doyle's and then caught Apollo Blue, a punk-blues rockabilly yobs-cum-flat duo jets trio whom we liked. from Worcester, the Sonomatics, doing garage/surf, but as tight as the Saturday 20 march 76 Gizmos (first e.p.); what HAVE I wrought? "tainted love" sounding like 1976 Gizmos; after I went "yes, yes, yes, yes, YES!", Tony Kaczynski said "that's the Kenne Highland stamp of approval!" when I dig ya, I LOVE IT TO DEATH!!! But Black Souls have NO Kenne Highland influence, but let me rave on dunkin' donuts and Good Vibrations: "2120 Michigan avenue"; ok, Cam Acklandhas 12x5; Kim Ackland is fastly becoming THE #1 blue-eyed soul singer in Boston (wasn't it Jordan Valentine that played with the Prime Movers Keith Moon aka Dennis McCarthy?); besides flamboyant soulful moves, the rasp of the voice and the red hair = Glasgow's own LULU! (Tony Kaczynski playing the Jimmy Page parts) AND 1976 MARTHA HULL, when the Slickee Boys were covering Downliners Sect/rockin' Vickers (SO, cam collection=kim kane/kim=Martha hull, tony Kaczynski= marshall keith on lead!) Lighthouse= a VERY solid base to add all this frosting! Tony also did a 24 bar (?) one-note solo in the Dr. Feelgood version of "I'm a hog for you"=12 notes of same note that Clapton did on my 25-cent copy of For your love on "a certain gurl"....I could rave more, but maybe my favourite band besides micelf, of course....and MOTO's songs are so damn catchy, Beatle melodies at ramones speed=Buzzcocks, we hated to leave at 0100 but we were parked in Doyle's lot and they were closing AND I didn't want to miss Coast to Coast! plus WEEI had FOUR football games on so I got to hear the 0930 buffalo bills loss to Jacksonville on a lil mono AM radio..psyched for RoKenne tonight with Triple Thick at midway!!!!".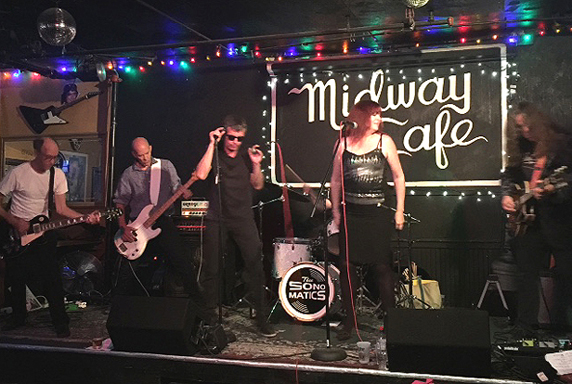 Black Souls
Photo: Gee Julie
Monday October 26, 2015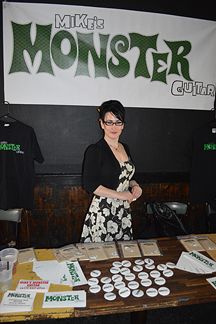 Monster Mike Guitars

a great SUNDAY night of rock at midway: Hambone Skinny open, this is mr and mrs. Skinny Mike of monster mike's guitars, mass. ave. doin' the white stripes/mr. airplane man/rockabilly yobs/scissormen guitar-drums duo (puttin' Carl Biancucci out of work, those mamsers!) and Mike was in open A and open D tuning for the RL Burnside and such songs or as I said "it all sounds like "mean town blues' off'n Johnny winter and live!" standard tooning for Fleetwood mac's "green manalishi"! The Itchees has singer Ty Jesso who spins at soul-elu-jah (saw Plan 9 at a record convention earlier in the day!); this guy LOVES records and has a Black Soul/blue-eyed soul singer fronting a two-guitar/bass/drums quintet. The Others 'cant stand this love goodbye", "teenage head"; I call it Relics-era DMZ garage-soul and they DID open for the Sonics! Pat Todd has lazy cowgurls and knew Gizmos Rich and Eddie and I bought Gee Julie a cd! the only label I like, Mabel...is BLACK LABEL! but "cow-punk", ok, hate that fucken term BUT this Hoosier who saw john cougar in a lou reed glam band called Trash crosses exile on main street/first skynyrd/2014 Gizmos AND country music into a boozy, brawly, rootsy mash making a record I wished I'd made! Pat to ken: 'well, maybe we'll do something with the Gizmos in L.A."..."just give me something to believe in"! Jim Seery was wicked sick so Triple Thick grabbed Itchies drummer who is married Jennie from Midnight Creeps! Me: "y'all married to hurricane Jennie...but yew aint met Hurrica kenne!" so I sang with triple thick and itchies drummer roky's "don't slander me"/"white faces"/"I dream of demons" THEN a Ken and Metal Mike '80s "oldie": "I want you" (troggs) into "I want you right now" (MC5) and jams were kicked out like doin' "black to comm' in hull with tony kacynski! full moon and Vietnamese coffee got me down on one knee ala James Brown and my projection was c/o Robert Plant (?) (!)...no video so unless you were there...all around agreement was, like Frank Lima playin' drums at the 1972 beach boys soundcheck: let's "Do it again""!"......

Tuesday October 27, 2015

a lil BYRD tole me that there is audio of me as Roky after I followed Pat Todd/Ty Jesso/Hambone Skinny; and been REALLY diggin' my $10 pat todd cd "a dolls/mc5/stooges hybrid mixed with exile on main street"...hmm...sounds like latest Gizmos vinyl! Pat from Vincennes, indiana "two hours from John Cougar's hometown of Bloomington", which is WRONG coz he's from Seymour...after I did the "I want you right now' medley, i DID get off-stage, shake Pat's hand, get in hand and holler out Jerry Lee-style "can John Cougar do it like this!" "He Smiled Sweetly" (stones reference)".
Pat Todd and the Rank Outsiders
Photo: Gee Julie
Wednesday October 28, 2015
a very fruitful alice highland practice and hoping a Black Soul shall add harmony to our 20 November cantab gig; the rest of this Masonic lodge meeting entailed tales of Richard Nolan's demise (third rail/afrika korps/thundertrain/the destroyed sunday 21 aug 77, cantone's!) AND...Laura Nyro's booty! (what goes on in Masonic lodges in Melrose...should stay in Melrose!)"
Thursday October 29, 2015
VERY fruitful practice for the Korps gig at Jacques and discussion of THE NEXT RECORD; maybe our next recording session will have "the wisdom of Solomon", "i'll be brooding over you (ye Ode to Lady Kensington)" and a Ken Kaiser HAWAIIAIN surf instrumental. sadly, learnt that James Conant, who did the james record with LaPeste backing him up (I think) had died! all the more reason to see me live while you can and offer more shows, of course!"..
Friday October 30, 2015
"james conant died of pancreatic cancer", this was Wednesday practice; facebook puts him at Tuesday=when keegan told me about nick rowlin; "forgetting" my guitar and GREAT oldies set list! "give me my flowers while I'm livin'"!
The Korps live at Jacques 30 October 15: jailbait janet/winner by elimination/best bette/cavewoman/amerika first/kiss of a rat/twin cities/rain of death/don't get fresh with me/that's cool/designs on you/nobody's gurl/the progression/under my wheels; The Korps IS back, more gigs to come!"
Saturday October 31, 2015
JACQUES rocks! Charlie don't surf did lotsa EARLY clash, terry-dactyl clone as joe strummer, drummer had a Mick Jones hat! REALLY good stuff, lemme tell you! Brigands blew my mind doing ole '70s Boston covers like La Peste/outlets/real kids etc. with corolla de ville's bassist being VERY precise on Alpo's bas parts! ("a north shore gurl gonna love you forever!" I got TWO hugs, one from patsy budgen and "this one's from Gaye Hathaway; she loves you!" who couldnt?) The Courters had a bassist dressed as Jesus Christ and a guitarist dressed as General MacArthur! Ken Kaiser and I agreed they were somewhere between the Destroyed and the Dark, but they actually started by doing SONICS covers! a good young band, we'll be doin' more gigs soon! Gizmos east coast tour 2015 I got Ken Kaiser on guitar, john keegan-sax and mike quirk/matt burns as rhythm section; usin' this for a Kenne band inbetween Gizmos World Tours (and THAT is why john surette contacted me for this gig! thanks again!) opening with "jailbait janet" and "here's a song I wrote in '76 and I'm here to make John Surette feel old!" the Kaiser/Gulcher discography then "under my wheels", THEN MC5's "black to comm" where MJ Quirk sang "radar love" with these Paul Stanley platforms and I did a lot of James Brown/TAMI show moves (always helps to wear stockings at Jacques even if they are support stockings!) and bits of Small Faces "you need lovin'" (got a german music fur alles small faces album august '71 along with my first amp at house of guitars!). so lotsa good networking "like" all the bands we played with and Henry of triple thick sent me an MP-3 of me as Roky, it IS releaseable, rest of triple thick set is good too! so catch them! catch EVERY band live since so many folks on Live at the Rat are dyin' off! as james brown said in some james brown in Africa movie: "folks ask about best of james brown;but the BEST is yet to come!" just substitute Kenne Highland in there...wah!!!!!!! oood god!!!!!!!".....
Sunday November 1, 2015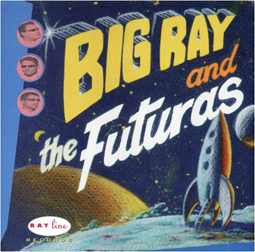 Big Ray and the Futuras

Big Ray and the Futuras drummer had a party at his house in Lincoln and it really IS "a scr-eam", knight armour, cobwebs, tiki collectibles; Paul Wilson's funk band played (Marvin Gaye's "let's get it on" sung perfectly by "Thor", who lied there and had a Superman cape English mastiff name Brutus, who was quite cute). Belmont High: we had silver star and jukebox angels, alice highland guitarist mike lyons, big ray drummer Paul Wilson AND everyone at party went to high school with Jon-Claude Van Damme cantab bouncer Ritchie Santos! tryin' to bring Belmont boys party to Cantab to play with; ALICE HIGHLAND! on sing-a-longs (do we ever need Black Souls harmonies!) was Gee Julie and Paul Wilson, sharing a top hat with me, though as "Paul Ghoul-son" he looked more like alice than me! my "costume" was DONT GIVE A FUCK DYNASTY, but that's how ah is 3666 days of year! set list with me talkin' 'bout albums, b-sides and "18" on TORONTO radio in '71: long way to go/be my lover (elvis bump and grind at end!),school's/Dwight frye/muscle of love/18/desperado/caught in a dream/nice guy/is it my body/under my wheels. though fastly approaching 60, i was divin' into crowd gittin' in their face like GG allin at a hardcore show; I told Gee Julie THIS is how I "de-Taz-I-fy"! then (her): "your like clark KENt!" my answer (as always!): "just like your beloved Reginald KENNETH Dwight"! they been doin' this party 18 years and I like it, but a Cooper band without a Halloween gig is like an irish band without a 17 march gig! taking bookings NOW, this idea (dreamt up by joe coughlin (RIP) at rat in '90s!) is still NOT boring, so book ALL my bands, contact me, yeeyeemgt., where you're not just another puppet!"....