11/10/2014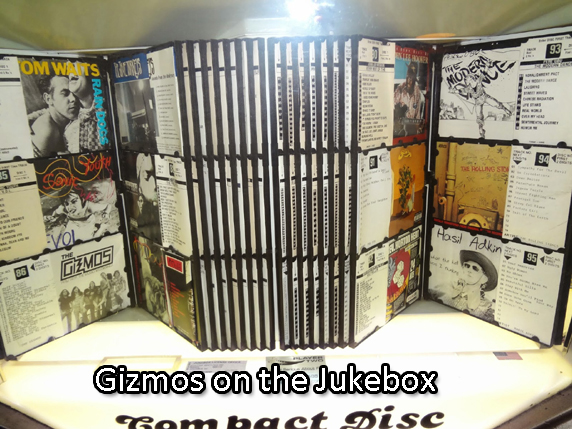 Monday, Nov. 3, 2014
what a GREAT Gizmos World Tour! left Wednesday after work, caught game 7 of world series at south station, tavern in square, read a book on Zodiac Killer from 0100 Thursday til Columbus, Ohio 1030 pm or later, Mr. Gene Mullet pickin' me up. stayed with Stephanie Dean in Columbus, Ohio, she had a GREAT Fugs book; Friday i tested her $20 Starcaster guitar playing along with first Seeds album. Checked into hotel, then rest of the Hoosier Gizmos arrived. met a fellow from the Not Quite ('80s Connecticut garage band), saw the Gizmos on the jukebox, saw Tommy Shannon from cheater slicks and Pizza the Hutt spun ole '70s glam records! she hung in L.A. with some dude from Germs, played "fields of regret' off Cooper's Pretties for you "this is my mom's copy?" Me: "how old's yer ma?";"Born too late '58"; me: "i'm in love with your Mom!" and she spins that Vom toon PLUS "hello new york" by silverhead (which sounds like "NY punK"!). during Gizmos set, Rich Coffee and i went into the crowd soloing like the MC5. if i have my way, we'll return to Columbus with Cheater Slicks and one of Rheagan Buchannon's bands!"...
Left Columbus for Cleveland but DID call into WMFO, Crash Course for the Ravers who said "cleveland rocks" and it does! The theater we played reminded me of (photos) of the Grande Ballroom, so I had my MC5 fantasy Mojo working, in "My Mind's Eye", a record store we played at unplugged (Crosby/Stills/Nash and MURPHY (that's Sam from Deezen, who is THE best guitar tech ever for a Gizmo like me!) then back to a VERY packed theatre, lotsa photos; i fell asleep til it was tyme for the show coz I'm old! BUT the dj played Sonics "shot down" and Mitch Ryder's "rather go to jail", so I was ready to rock. kids were slam-dancin', but then slow-danced during "ballade of the Gizmos". our final toon was "final solution" coz our bassist was Craig Bell from Rocket From the Tombs, a Cleveland band that broke up November '75, Gizmos formed Friday 5 December 75 in Bloomington. speaking of that era, Raspberries riffs were played at sound check coz I was in Cleveland! Bim from Obnox joined us for "pumpin' to playboy" and "final solution". so lemme mention the band of course: five originals: me, Ted Niemiec, Rich Coffee, Eddie Flowers, Dave Medlocke and our collusion/collision with Deezen: Sam Murphy-guitar; Craig (rocket tombs pedigree) Bell on bass and Kelsey Simpson on guitar AND drums, runnin' with the big dawgs and also fulfilling my velvet underground fantasy as the Mo Tucker of the band (I have employed many female drummers JUST to be Mo clones and "Gay Hathaway oughta be my mommA"! )(ORANGE Kenne Highland album on Stanton Park -release 1988 maybe with "Fiasco")). great people, great rockin', back to Days Inn, Cleveland....".... checked out of the Days Inn, we all went our separate ways til thanksgiving in Chicago. ate at a diner then walked to the bus and met Ashley Pool! she DID say "aren't you in the Gizmos"? but without her I'd Must of got lost to the bus station! (she was up front as were many people, I been trying to "friend" them all in case'n we go back, I love my fans! (Gloria Stavers oughta be my publicist! "I'm gonna be a teenage idol" off my ole elton john 8-track!) watched the Browns game at bus station (when in Cleveland...), read a book on Attica riots (our manager Marvin Goldstein and i both like true-crime!) on a 6 pm til 0635 NYC bus. Met Gee Julie in NYC for breakfast at Westway Diner on 9th street (that's 43rd and 9th, not 53rd and 3rd!). 0800 bus to Boston, now ready to "mellow down easy" and plenty of good boston rock this weekend coming up, so til then....kisses to you all!".....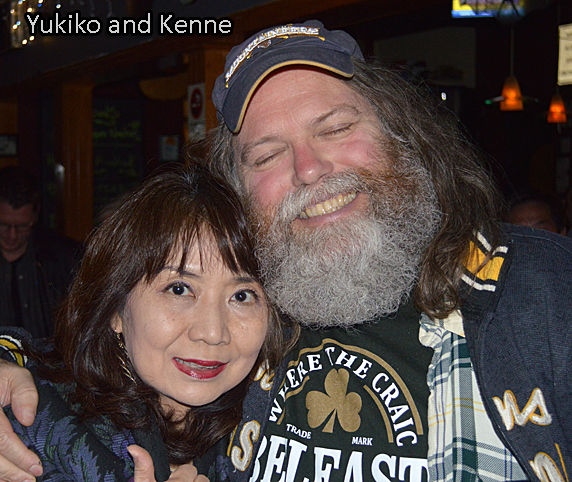 Tuesday, Nov. 4, 2014
"I'm so glad" to be back in Boston doing mundane Monday thangs; caught Claire Danes in Homeland, good conspiracy tv eye on cable; monday night football on WEEI (Indianapolis won coz THAT is the Gizmos team!);Gee Julie played silverhead's "hello new york" in reverse (coz she loves that "Dirty water"?) and called me 0100 and i cranked up WRKO and said "lissen what's on!" being Coast to Coast AM and George Noory! speaking of radio, hanging in Columbus, Ohio in hotel room with Gene Mullet and at first i declared Columbus radio a wasteland (SO bad we were lissenin' to some sports talk show about Kobe Bryant and n-word and...."wake me shake me" when it's over!)....BUT, as I told Bim from Obnox up in Cleveland, I DID find a GREAT gospel station and heard the Davis Sisters doin' "i'm on the right road now"; I was at Baptist choir practice the night Michael Jackson died learnin' this glorious song! Bim was "killin' me with tribute" on how much the Gizmos rocked and i tole him 'bout hearin' gospel on sat-dee morn and he said "Testify!" more reasons i like this chap...and after cleveland set, found a half-decent oldies station with Supremes "you keep me hangin' on"; Dave Medlocke drew the short straw and was "doomed" to bunk with me.."Kenne, can we turn off the radio now?"...hey man, I'm a MassHole! (since 1980): "RADIO ON!!!!!!!!!"....
Wednesday, Nov. 5, 2014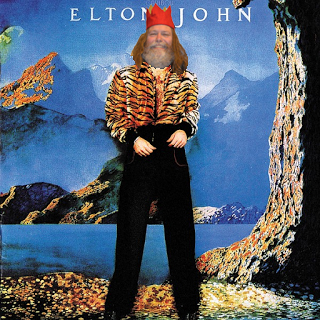 Besides being the flip side to "walk on the wild side", "Perfect Day" = vacation in Boston!!!! so the most rocknroll excitement was getting off the 87 bus in union square, somerville and going to GROOVES (another plug for this fine record store). did i buy the Nick Cave and the Bad Seeds live box set or the Cure cd? HELL NO!!! I found Bowie's Hunky Dory wicked cheap and ironically got that in June '72 for subscribing to Fusion magazine (address was on beacon street, ironically, Boston!) AND for Gee Julie, "my favourite gal", there was some wicked cheap Elton John the classic years cds, so, in precise Modern Lovers order; all UK pressing: Lady Samantha (b-sides of 45s NOT on albums!), Tumbleweed Connection, Madman acrost the water (a 10th grade favourite of me and ALAN BAASE, RIP, as we did Rock On fanzine) and Don't shoot me, I play a Farfisa or a Vox Continental/keyboard player (which I had back in Head's in '73 on 8-track! THE last Elton record I ever bought and let's not fergit my 99-cent Silver Metre 8-track (Greece NY town mall) where my Facebook friend Leigh Stephens does HEAVY versions of "60 years on" and other first US Elton album on UNI cuts). I tole Gee Julie, "this-n-a ticket t' Brockport NY via Gizmos/Chicago is yer birthday present, so dinna fergit" and she was "Happier than a Porpoise Mouth"/Arkansas Razorback in shit and Elton cds are FINE fodder for drivin' to WA/Kids/Eaters in beverly saturday! ; Elton and i both Aries AND Gene Dante at greek-american social club union square somerville saturday 22 november, he emailed Gee Julie PERSONALLY; elton/kenne/gene, three guys who DONT need to "Be More Flamboyant"!"....
Thursday, Nov. 6, 2014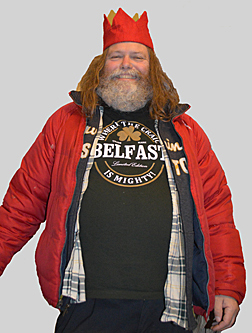 after lissenin' to my Hunky Dory cd (that's Grooves in Union Square, Somerville: "I just came off tour";"what band";"The Gizmos!";"oh, you played the Middle East": SHOPPE THERE! SUPPORT CAPITALISM!), met Gee Julie at 1369 coffee house and ran into John A. DeMasi III, commercial diver, who is as handy and intelligent as Mark Giroux/Bob White and more hyper than a 1977 Kenne Highland! Conversation ranged from Boston scene, Indian artifacts in Truro, Lyres at Middle east 14 November, Cal Cali (yikes!), jammin' with Sylvain Sylvain, US Navy (yes, we're vets), scuba-mask and snorkel: "I aint jivin'!" and Zeitgeist radio, Abbey Lounge and Portuguese food in Gloucester, Mass. (and Diving School, but I'm afraid, as a landlubber, we're into two different kinds of divin' or maybe not)...."Kenne Highland, I been lookin' in car trunks for you!" well, goin' to high school with Springa (SSD) (yikes!) toss in Maliah Rage, boston rehearsal studios on harrison avenue in '80s, the Bradford Hotel, Bow Wow Wow and lastly (BGN exclusive): The Tubes were at altamont! ok, yeah, y'all went to woodstock, but who went to ALTAMONT?! better movie too; ok, as my Marvel Comics in 1967 said "enuff said"! and Hulk was THE first punk-rocker; hated everybody, torn clothes...1963, I could really relate! (Tales to astonish, i think...maybe i should quit rocknroll and go back to COMIC BOOKS!)".......
Max Gizmo wrote an overview of King Kenne's kareer in Italian in Mimetics fanzine (LIKE it on Facebook!) "Grazi" and "prego" exchanged on my wall. also read Rich Coffee's rants and raves about this Gizmos tour coz he actually lissens to the bands! I'm too busy socializing and "I flit from shoppe to shoppe just like an Iron Butterfly"...well, not EXACTLY a dedicated follower of fashion (Gee Julie dresses me funny!"..
Friday, Nov. 7, 2014
look for RICH COFFEE to interview Kenne Highland for Rich's Rants and Raves; he's known me since october '75, age 19 and 1/2;yikes!"
Saturday, Nov. 8, 2014
a GREAT night of rock at Sally O' Brien's again: the Last Ones were the FIRST ones (Blowfish joke) and lefty bassist Kevin Mahoney, Hofner bass, was in Quincy's own Incinerators, who played CANTONE's "he sounds like every bassist on those garage comps"-Blowfish. Garage was the style with Ric Corracio on keyboard and tambourine and Dan MacCormack on guitar (both ex-Lyres, yeah, yeah, yeah) and Richee Johnson was in Baby's Arm drumming when Afrika Korps played cantone's 19 nov 77. BUT Ric would switch to guitar and i caught a Lou Reed vibe. with Billy Connors to my right and Ric onstage, it was THE BOISE, more Live at the Rat rock recorded same week as O. Rex! (which is why i bow to the Rat bands; O. Rex SUCKED!!!!). More scene veterans with Sean Wolf Wortis (Third Estate, edible rex, billerica, '91 with JOHNNY AND THE JUMPER CABLES!) and Asa Brebner teaming up; Sean, when in Slide, always had that Little Feat feel and Asa on slide; By (Lowell) George, it was damn gud! Ducky Carlisle on drums, i think he was from Syracuse NY's 1-4-5 but he DID produce Kenne Highland on a full moon (Dino records). Asa sang a few numbers including dedicating "Jack's on drugs" to Phil Haynen, Dawgs, RIP (and Hopelessly Obscure opened for Dawgs in Worcester '83!) Cal Cali Band getting tighter, opening with Lou Reed's "I cant stand it";with Yukiko singing Jetset Ramones toon, there's a touch of Shonen Knife! and Yukiko singing "Heatwave" was awesome as usual...ok, me and MJ Quirk are Yukiko fans, tuff shit... lastly Tsunami of Sound had gold lame jackets, flame lamps, REALLY good players and "we're gonna test you, here's a song by the Astronauts"; me: "they were from Boulder, Colorado"(AOK with the astronauts, RCA, 49 cents, Greece NY town mall, where i bought my terry knight and the pack reflections album!);guitarist: "and they didn't surf either". BUT piece-de-resistance was Herb Alpert's "spanish flea" which was dating game theme and the lads did a big mwahhh kiss at the end, all four, hands to lips blowing a kiss in gold lame..."Be more flamboyant"? nope, they got it! but no go-go dancer! maybe next tyme".....
Sunday, Nov. 8, 2014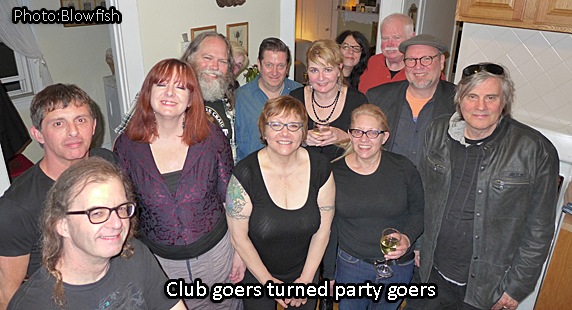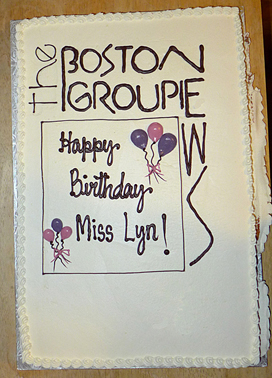 a negative turnt into a positive last night;"Bummerama" on cancelation of Willie Loco/Nervous Eaters/Real Kids gig at the Spotlight Tavern up in Beverly, MA BUT Miss Lyn had a birthday/Rat reunion party! ok, I'm in living room watching MC5 documentary, A True Testimonial or whatever it's called, mofos, Jimmy Harold that owned the Rat was there and told tales that I recorded in the Twin Reels of My Mind, so when I'm spittin' ter-baccy outside my west virginia tray-ler, age 69, channeling Hasil Highland, y'all will hear MY version of How the Rat Was Won! Rick of Harte, Ace of Hearts records, discussing the MC5 with the Ace of Highlands. lemme be KJ Wachtel and mention musicians there: ME...Cam from Prime Movers, Matt from V, John Keegan who DID play sax on Gizmos cover of "Black to Comm", Cal Cali from Jetset and let's NOT forget Kim Ackland, blue-eyed soul chanteuse! (git yer waders on, Samuel Murphy of Deezen really DID work on a dairy farm as a lad and betwixt my grandfather Blodgett bein' a dairy farmer, we are WELL acquanted with BULLSHIT!!!!! hahahahahahha!) oh yes Blowfish in the New Wave took a photo of a Kim Ackland cake with the BGN logo. ok, that's my SOBER remembrance, "Every Picture tells a story" and I believe there's a photo of the ole GasHouse Gang....though I didn't hear "all kindsa gurls" there was "All kindsa Food" and sure, it was Miss Lyn's birthday BUT I and I got leftovers and Gee "Cavewoman" Julie has fed her "Human Garbage Disposal" well...MAYBE this'll make print: Roy Sludge, FREE, Midway Cafe, 530 pm sunday!".