11/05/2018
Monday, November 5, 2018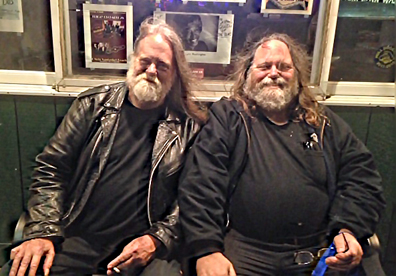 J. Bruce Scott, Kenne
"friday 2 nov 18, rat beach party hull, mass. musical quotes for this review c/o alex gitlin, keyboards, mad painter. these monthly gigs are a michael weddle fundraiser for Hull High; wouldnt you rather have YOUR kids playin' music vs. gunnin' and knifin'? alex thought the Hull High Big Band resembled a Roy Wood orchestra; forgot EXACTLY what the reference was exactly, but Roy Wood comparisons; yes! climate change had mike weddle and matt gilbert (Harlequin) on guitars plus a drummer and my twin brother J. Bruce, clann Scott, lap steel. Gitlin: "spacey like hawkwind" or some such. usually they sound like san francisco psychedlic folk so hearing a UK psych comparison was: Unique! (put two record collectors in same room, each hears different thing!). we had to switch the 10 pm set with Gravedancers, so Matt Gilbert and bassist Reno grabbed Al hendry (who was NOT drumming; he came to see mad painter!) and Tull's "new day yesterday' was superb. Then I figgered, like when keith Moon got up with the DETOURS, age 19: "give flynn young a chance!" everyone was wowed at this young lad doing gravedancers hard rock SOUND UNHEARD for a couple toons, then Al hendry returned. J. Bruce Scott and I had a Roky Erickon look a like contest too.
Mad Painter got videoed by stigmatics Bob Roos and it was everything i like about the band/album (see previous review); Alex Gitlin has that Hammond sound circa 1968 ("I once sent a tape of one of my songs to Goldy McJohn of steppenwolf whom i friended on facebook"; I friended him too!), Flynn Young drummed up a storm with the new Romantic look and folks declared i was a "monster" on bass (reason: Alex Gitlin HAS been to the ancestral gruberger home in Lvov, Poland/Ukraine! Ghost of Jay Gruberger past?); lastly Stigmatics were the most rat rockin', I heard real kids, Alex heard "melodic punk like the Motors or Bram Tchaikovsky"; Alex and i DID agree on power-pop as "label", I know what kinda fuzzbox Bob roos uses so the solos were nice and piercing. Gee Julie and I got into Stigmatics covering "Born to Lose" (which i translated into "Born Giroux"!). Lastly,the acomplish mission: Michael Wheddle loved mad Painter, they "passed the audition" (dont worry i quotes Lennon on Let it be, onstage with my "clever" wit) AND even Flynn Young's dad, whom videoed mad Painter set like a very proud poppa, Dave malone was bass in silver star and jukebox angels. HE (Dave) even felt like playing again! SO....they have a father/son band thang at rat beach party....maybe I'll do a kenne set with a father/son rhythm section?"....
Tuesday, November 6, 2018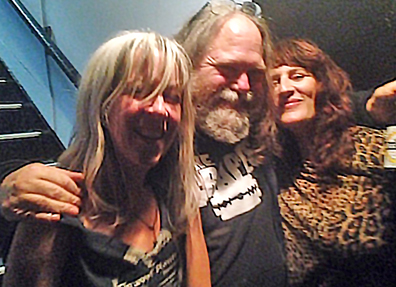 Mr. Airplane Man and Kenne

saturday 3 nov 18, a spectacular! alice highland practice, gonna kick ass sat 17 nov 18 midway cafe 4-8 pm. Mike Lyons/Glen Buxton (Best guy evah!) joined me in supporting Cal Cali/Micky Bliss/Club Bohemia. Jean Claude Van Damme doppelganger bouncer whom attended Belmont High just like Best Guy Evah! and Silver Stah gave us the Belmont High discount as long as we didnt disclose that Michael Bivins of new edition was bussed in there (Margo Thunder went to madison park). after New Edition "hit it big" ($1.27 royalty check) he did drop out....but you're not reading this here! Glider lost their bass player but regained Yukiko!!!! When she saw Kiss in Tokyo 2 april 77 (Johnny barnes/DMZ-Rat!) her all gurl (pre-Shonen Knife! no surviving tapes!) band had one lady into Kiss, another into Bay City Rollers and she was a Queen fan.....Ken Fowley coulda turnt them into Japan's next Runaways! "Meanwhile back in the states" she DID take a bass clinic with Tim Bogert of vanilla fudge and cactus and I DID discuss Beck/Bogert and Appice (why not Fuji?) live in Japan on youtube (hmmmm, as if if i need 13 more bands.....)....let me rave about mister airplane man quick: Margaret had finger picks on all five right hand fingers so it was Delta Blues as played by Freddie Kruger! Tara's BEST drum roll echoed Love's "7 plus 7 is" and, like years ago, moody garage ballads, left-hand cymbal, right hand Farfisa! i took photos with them. Let me say with captain easychords on keyboards,"wooly bully" and "96 tears" were awesome! Cal cali has a punk-rock cover night Greek american club,somerville,but no bassist,so i, having played bass the previous night in Hull with Mad Painter,v olunteered my bass skills for Ramones cover seet (guitar with Mike Quirk's Velvets, so I open for...me!)...Al "Iommi" (1985 hair at Johnny D's, Jetset and I was on guitar with Jordan and half-transplants! Cal Cali is Rick Paige and Jordan Kratz's fault!) gonna let me use his Beatle bass, so my Dee Dee chops will sound like....Hello World!!!! practice sunday 12 nov 18. Mike lyons (best guy evah!) said Airplane Man was as loud as any metal concert he'd ever attended; this discussed in his "low slung Thunderwing" (2004 Thunderbird "Boss Hoss"! "Hey ladies he's single!" the anti-John Lennon Sullivan show message)....great night with Mick Lyons best summed up Silver Stah style: WICKED FUCKEN SICK!".....

Wednesday, November 7, 2018

"sunday 4 nov 18. auditioned for A-5, anastasiya eduardovna's band, she being "from Moscow". I didnt make the grade but did play with some excellent Berklee cats on sax and bass plus alex gitlin (keyboards) and Flynn Young (drums). as you all know I cant play slow or pick intricately but on a "rocker", the sax player and I did a Mick Taylor/Bobby Keyes tradeoff, even tho i'm closer in style to Keef (e.g. Club Linehan-a-go-go!). there was also a funky number where i channelled a Jimi riff of electric ladyland. A-5 has played a lot of those "Russian Nights" at Middle east, so since Curiosity killed the George, DO go see them at middle east 15 dec 18, with a guitarist that is not Kenne Highland (Berklee MUST have a "whizz kid" that talks "theory" vs Beserkly Professor Solomon Gruberger with "I know who they're ripping off!"). I have also discovered, this day of Wodin, that both the Cantab (930 pm) and Plough (1030 pm) have blues jams! when I played with Love and Flame, drummer Robin Baltimore (whom played with Blowfish in '78!) told me a lot of the ole r&b guys STILL there despite demise of little joe cook. been a spell since i been there; thinking of it shirley!"...

Thursday, November 8, 2018

"day of wodin 7 nov 18. dad's ancestor william spencer was town clerk Newtowne mass 1630s; now I'm "clark" of cambridge music scene 400 years later almost! Supper at Casa Portugal, got WAY too full for blues jams at cantab or plough and stars BUT let's give a shoutout to the lilypad! I passsed by there, 730 pm $7 cover, jazz combo; piano/upright bass/drums/sax; kinda "hey beat mon" Kerouac/Coltrane kinda....REAL nice....may go back again....1030 pm Jimmy Tingle was FREE trying out new material, Lily Pad. I went past springfield street, mexican restraunt near parking lot, Ding Ho comedy started right there, all those local Boston comedy legends....But instead i listened to coast to coast AM YOUTUBE "RERUNS" then, WAJR, Morgantown west virginny, 0300,George Noory's guest on coast to coast was a guy writin' about whitey bulger! had written previous tomes on irish mafia; if i REALLY wanted to use my Coast to Coast app, I'd pull out my phone...as was, this was very interesting, very local and I SWEAR George Noory had an "ant" in fitchburg, mass or somewhere close like that....even when "I'm only sleepin'" (Miss Lyn's Beatles butcher album), I'm still KEN HIGHLAND AT LARGE!"....

Friday, November 9, 2018

"Before I havin' a wild weekend like dave clark five, Future/Gigs right now if you're willing to pay the price! friday 16 october 18, greek club, bow street somerville, i play ramones bass with cal cali and ostrich guitar with mj quirk lou reed cover band. dont ask me set tymes; get yer ass there all the bands are good! aint no bands in boston worth jackshit less i'm in it! saturday 17 nov 18, midway cafe 4-8 pm hixxgiving and alice highland will be covering Love it to Death, THEN Killer, so unless you were my lil sister coverin' "Ballad of dwight fry" in my room back in '73 (OR O. rex doing same,sunday 3 june 73)...."yeah yeah yeah" (great b-side!), I been singin' alice for a spell.....so see there and the clubs I'm hittin' this weekend.....promo WILL happen! MacLaren....me favourite Sex Pistol!"......