11/7/2016
Monday, November 7, 2016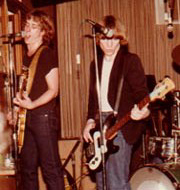 Real Kids

"Friday night 4 nov 16, WRCA 1330 AM was rockin' 'round 9 pm; first off, a Spanish language oldies show leading off with Connie Francis "who's sorry now", then 11 pm, country oldies, somewhere in my golden slumber I swear I heard Hank Williams, then "'Round Midnight" Danny Stiles played some Stan Kenton. But what I REALLY got into was hearing the Spanish dj playing The Association's "never my love" (announcing them oldies in Spanish!) and I was diggin' on the keyboard solo. it's Larry Knechtel from the Wrecking Crew! among many other (and there IS a website) sessions, he played bass/keyboards on; read 1972's Cretinous Contentions for my piece on BREAD, but other fact: he played bass on "mister tambourine man"! SO, a retraction from boston groupie news: IN his lifetime I DID tell Alpo how the bass on "common at noon" sounded like Chris Hillman ("did you really write that I sounded like Chris Hillman"? Alan DID read these pages whilst alive)...so, ok, ONLY once, I.M. Wrong! the bass on "common at noon" sounds like Larry Knechtel from Bread!! yea! the fucken influences of BREAD on the Real Kids! cf. the sadness of "diary" and "common at noon"! lester bangs (his ancestors came over in the ANNE with Highland, Moore and Kaiser!) was also a big Bread fan, pages of Creem, and walled lake Michigan not TOO far away from where all the Highlands are buried in south lyon, Michigan! something to drink Stroh's over"....

Thursday, November 10, 2016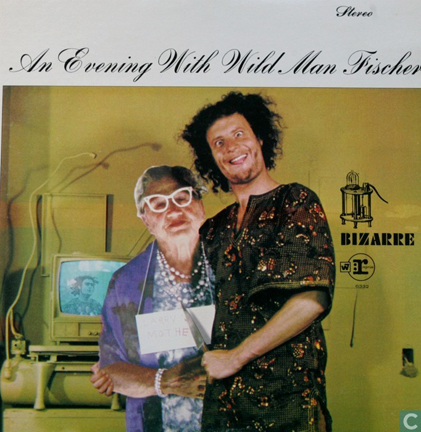 "whilst everyone was at Real Kids at midway café Saturday 5 nov 16, Ken and Gee Julie decided to hibernate and lissen to WRKO 680 AM, Dale Lawrence dj. "you got what it takes" dave clark five followed by troggs "I can't control micelf";45s I woulda played "in my room" '73, 8452 ridge road, brockport NY. my lil AM radio ONLY played one channel, so I finally got to hear Bill Wyman's bass on "let's spend the night together" and it sounds like Dee Dee Ramone! other goodies: "ramblin' gamblin' man" (Bob Seger in mono!), "just like romeo and Juliet"-the reflections! and what seems like a Buchannon and Goodman cut-in record about Barry Goldwater and the 1964 election. to explain a cut-in record, ever since, back in '73, TOM TABER turnt me onto "earth versus the flying saucers, parts one and two", you could say a phrase "straight-faced" and the answer would be a song and I DO habitually do it! Though Gee Julie, whilst driving will burst into odd, repeated ditties, so this morn I played AN EVENING WITH WILD MAN FISCHER for her and "Light dawns over Marblehead": "it's Moose and the Mudbugs!" it's on youtube, give it a lisssen again, to quote L. Reed, "my mind split open" which=THE FOOLS and Count's LOVE AND FLAME Saturday 3 December 16 in Hull, guess I'll be rockin' them Lou toons agin".....
Friday, November 11, 2016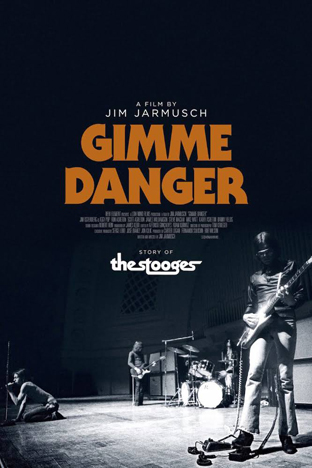 "Sunday 6 Nov 16 finally caught Jim Jarmush Gimme Danger at Kendall cinema. Stooges documentary and truthfully, after they broke up the FIRST tyme ('71?) they woulda been legendary, but, like the Gizmos, another great Midwestern band including ANOTHER son of a Marine vet ala the Asheton brothers, there were further lineups. without preaching to the Choir (or listening to "It's cold outside"!), the early years photos are the best, Iggy's trailer, the Asheton's Marine dad (they covered "she's my best bette" in dark carnival!), Iggy talkin' 'bout playing blues on Chicago's south side (the rockabilly yobs were there in '74! "there are no coincidences" and parallel lives!), playing with Iguanas (whom recorded in same Detroit studio John Lee Hooker recorded "boogie chillun"), drumming in the Prime Movers (I thought that was Dennis McCarthy?), recording first album with John Cale and then fucken FUNHOUSE....I bought the eleketra albums THREE lifetymes ago, age 15, 1971, Brockport NY...AND, to keep current, whilst Gee Julie was voting for Hillary (now we'll NEVER know the truth about Area 51 "flying saucers rocknroll"!), I was asleep in the Gizmobile lissenin' to a ten minute version of "Funhouse" on youtube on I-phone/MC-5...let's not fergit Cincinnati 1970, allegedly STIV BATORS passed him the peanut butter. and lastly, Ig sez the MC5 gave him an "are you with us or against us" speech and he chose to do somersault's 'round the room...I would too if I could...RIP Leonard Cohen, obit SHALL be coming, just as lengthy!"....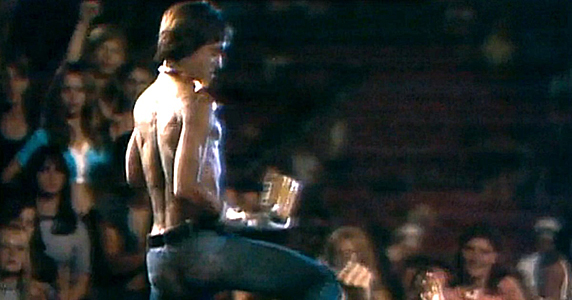 Iggy Pop with Peanut Butter