11/14/2022
Monday, Nov. 7, 2022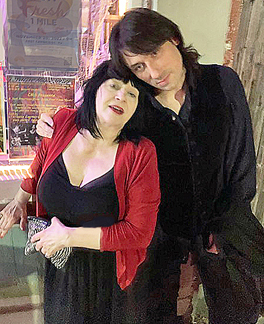 Lydia Lunch & Joseph Keckler

"Sonntag 6 Nov 2022; My Lunch with Lydia at Lily pad with a "Gemini on a Full Moon". Me, Gee Julie and Lydia chatting "down on the street"; i had fiddy years of Rah-chester Gizstory to discuss, anecdotes which I'll toss in on "slow" daze. let us first praise Joseph Keckler whom sang operatically in fluent Itlalian aND German whilst running a screen with subtitles; funny stuff about being a Goth etc. Closer of "I put a spell on you" was SPOOKtacular, gothy et al. Hey! like him on Facebook or like Bono "I will follow"; he even went to Iggy Pop's alma mater where my grandfather's second cuzzin coached football! As for Lydia Lunch, she is still very intense doing spoken word; hey, Gulcher interviewed patti Smith sonntag 14 march 76 bloomington indiana but make mine Lydia! (who did grow up 18 and 15 miles due east of me in brockport NY respectiviely!). Miss Lyn did photos et al and our favourite bit was about her screaming "post traumatic stress disaorder!". fINAL POEM was about her twin cuzzins whom owned Empire Comix (next to House of Guitars); dont worry my FINAL words to her at the Druid whlst gee Julie got book autgraph was "how are they kind to you?' (their mothers were sisters! ok, maybe i'll stop being Skip Gates and be Skip james)......altogther a GREAT night and next tyme she appear, my arsch goin'; i dont spend twenty bux on not too many people! Hoots mon!"........Miss Lyn was there too and she wrote a review you can read it here.

Tuesday, Nov. 8, 2022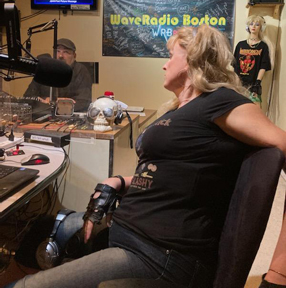 Ash Bottoms & 80's mannequin

Monntag 7 sept 2022. two weeks before hog brothers RETURN to this show it's mad painter! Ash Bottoms (sent me friend request; great lady!) hosts WRBrocks.com . facebook: wave radio boston rocks.

That mannequin is '80s metal-chick HOT! it must be "Glendora"'s grandaughter!

Littleton, mass is 8.2 miles south of where mine and Miss Lyn's mutual ancestor John Nutting was beheaded and head put on pole by Indians in Groton, King Phillip's War. The beauty of this place (near a record store!) is they DONT have to follow FCC guidelines, so show disintegrated into Sex Pistols on Howard Stern with Gee Julie as Robin. A short set from which Alex Gitlin is STILL high and once I know the rest of that computer stuff, will tell ya.

til then: 22 Nov 2022 tune in 7-9 pm for Jesse and the Hog Brothers!".......

Wednesday, Nov. 9, 2022

"day of Wodin 9 November 2022. ok let's copy down the newz on that KH/Gizmos podcast. "Undergroundopolis" is the name on my wall see the eddie Flowers interview. airing 16 Nov at midnight (see captain easychord internatianal pop thang at 11 pm at P.A.'s or whatever it is same night). 'on spotify, amazon, google ;podcasts, anchor etc," "anchor.fm".Like 'em on Facebook too! miss Lyn was cc'd in this; to me, is all skata (thus the links I had to go and find as usual-ed) (and i DO speak greek!). Lastly, to promote Jesse and the Hog Brothers, Sunday 20 Nov 2022, midway afternoon show is they and the Monday next: Hogg Bros and ASh Bottoms! Jamaica plain to littleton, gonna be some Hoosier hysteria in massachusetts!".....

Thursday, Nov. 10, 2022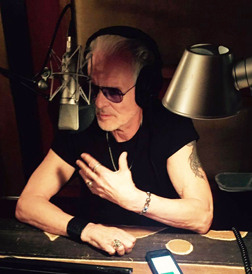 Michael DesBarres

'day of Thor 10 Nov 2022 Marine Corps birthday. Dinorecords.net wants to me contact Michael DesBarre of Silverhead to send him Howl of the She-Wolf since he DID play "I'll show them who's Mod" off Flamboyant. (actually, in the '80s Dave bass, gROVELLORS DRUMMER (stanton park records) actually said "aint that a shame" and then I became "The Fat man" (yeah,yeah,yeah)....Ok, DONE since Dino DOES read this column. folks SHOULD friend Michael Desbarre, seems like nice guy AND, fuggin' Silverhead....where DO you think Cheetah Chrome got "girl with meat in mouth" from? ("what is "more than your mouth could hold"? Punk rock jeopardy!") ... (Actually I have to correct you on that one Kenneth. The Dead Boys' "Caught with the Meat in Your Mouth" was written about a party after their first gig at the Rat when one of them found one of the girls at the party in the bathroom giving head to someone when she was supposed to be with one of the Dead Boys. I can't remember her name, but this is a true story, Stiv told!!!-ed)

Friday, Nov. 11, 2022

"Freitag 11 Nov 2022. ok let's do the kenne kalendar so I dont forget my Future/Gigs. celebrate Miss Lyn's birthday with mad painter Thor's Day 11/17/22 at Middle East. Sonntag 5 march 2023 at the Burren i sing "I'm in Love" off Asa volume two (ordering info). saturnalia 8 April 2023 is michael wheddle tribute at C-Note in Hull.

And now to rave about last night's KH Air Force practice for the studio. Grand Funk locks galore ("Happy together" like Grand Funk's "Heartbreaker"!), A GRAND fUNK RIFF with quicksilver messenger service guitar (first album: music to Paint by; second album: Music to TRIP By!). I was toid my blues songs sounded like canned heat (Bob 'the bear" Highland!). On "the family' a buncha Jimi hendrix chords. "The Old man Bladder bLUES'; WAIT'LL YOU hear THAT! (funny blues).or Zappa plays da blooze via the Gizmos! lastly, ridin' with drummer Al hendry lissenin' to mad painter on WMFO "kenne, i hear a Tull riff'...me: "Bouree" off Stand Up, Venezuelan copy at In your ear one dollar in '80s!"...Let that punta Putin blow up the world, I'll be fiddlin' while Moscow burns".....