11/17/2014
Monday, Nov. 10, 2014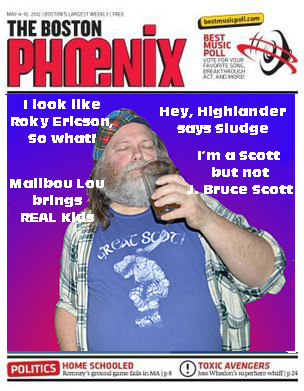 thanks ALWAYS to Roy Sludge for Facebook invites; as GG allin's cuzzin, without the Phoenix for listin's, I don' know whether to shit or go blind! Mr. Sludge greets me at the Midway Cafe door with "Highlander!", so his noble presence acknowledge; being KJ Wachtel and droppin' names ("Ken, this isnt rock scene 1973!"-eddie flowers!) there were two members of Bosley, Lenny Lashley's Bartender of One at the bar and Jim Foley, friend of Tiny Tim and Tiny Ken ("Kenne, you're Boston's answer to Roky Erikson!" and I Foley agree!) (the Kynyards and my dad have mutual Rhineland-Pfaltz ancestry, my family tree DNA thang puts me as "proto-Germanic"/"Anglo-Saxon"...either way, horned helmets, long beards, barbaric behaviour...2014 BC!)
the 411 is Roy Sludge has the second Sunday 630-830 pm and since he left Lizard Lounge i have missed him! Jim Scoppa on guitar and Johnny Sciassha on bass and Ernest Tubb toons,"drivin' nails in my coffin",all good honky-tonk...the Midway pug dawg wuz runnin' 'round, Malibu Lou brought his children who danced to that evil rockabilly (must notta been Baptists) (on the Sabbath, no less!) and my quip to Tiny Foley: "look; it's REAL Kids!" ok, haha, bad joke, drink some more....O'Doul's! (and duel!)
Lastly, the "Peter Wolf" of J.Geils tribute Monkey Island, mistook me for Beachcomovers J. Bruce Scott (my dad's Knotts ancestor has a Scott ancestor from Aberdeen...'tis not a gene pool, it's a bluidy POND!) "Peter Wolf" (NOT Sean Wolf Wortis!) told me, in a wicked townie accent, how "be-faw I did this Geils band, I was in a Cure covah band"...ok, ghost of Joe Coughlin inhabiting Midway, bowels churning after discovering GG Allin has Blodgett ancestor; there's "maw"!: Cure-influence band was Result of Anxiety and talk was of the Cure at great Woods,1987 Maybe ("i was still in high school") my notes say "The Kiss" if that is a Cure song, I am Shirley KNOTT the expert texpert on this...the end product: go see Roy Sludge every second sunday, go tonight to Midway Cafe for those Gizmos-lovin' burlesque (Roxy Shake!) lasses and drink nyquil and pass out in your black clothes lissenin' to the Cure! I gotta do an interview with Rich Coffee for rich's rants and raves"....
Tuesday, Nov. 11, 2014
Gee Julie and I ended up at Midway Cafe/Dinah DeVille/Wanksgiving burlesque; stayed til closing and here's my plan and dates, I should only live so long: Saturday 6 December is X-blank-X from Cleveland; Sunday (second Sunday!) is Roy Sludge and second monday (8 december!) is the next Dinah/Roxy Shake thang. these gals ARE Gizmos fans and Roxy Shake took a photo of me autographing the dj's Killed By Death comp with "amerika first";" excuse me, can I geek out for a second?" shades of 18 year old Ken Highland havin' Jim Dandy sign the WIUS tipsheet and ah am from Brockport, Arkansas! yessss......Mikey Shake wants to interview, Lenny Lashley, the Balerma Brother (no relation to the "Bewlay Brothers" on my Hunky Dory cd bought from Grooves, union square, somerville!), Jim Foley and his buddy ALL thanked me for my service (USMC founded 10 nov 1775, tun tavern, philadelphia, I was in a tavern with punk-rock burlesque and i fought in the Punk-rock revolution of 1776 PLUS there were 16 Tiddds (my granny 8 generations back) on Lexington Green on Patriot's day; despite my great-grandmother Highland's Loyalist ancestors, I DO have a right to sing "amerika first" for 41 cents domestic royalties first quarter 2014 BMI. lastly, the dj, in the Pizza the Hutt Columbus, Ohio Gizmos fan '70s vein: how 'about playing VINYL and "sufragette city" into "all kindsa gurls"? (Star rhythm release b/w "common at noon"!) plus the Rocky Fellers on an oldies comp and everyone was dancing, lotsa "oldies"...so the second MONDAY every month, Midway, git yer ass there and....well, y'all might see sum ass, that's a fact! Joe Coughlin beams down beatifically on it ALLL.....
Wednesday, Nov. 12, 2014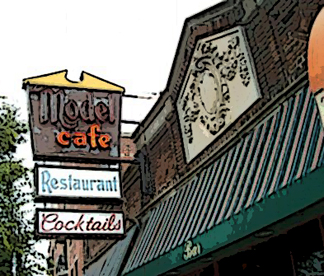 somehow got a Facebook invite to Model Café, allston for the second Tuesday "Rock'n'Roll Social" kinda started by Carmelita, WAAF. JUST to NOT be politically correct (and even drinking an O'Doul's on Veteran's day, I, a former marine, was cussin' like a sailor with innuendos that COULDA been Gizmos toons!), there was a lot of the "n...word"; NETWORKING! cue up the Sonics "the hustler" as I went from my Fat Elvis period to Colonel Tom Parker! wicked nice people; best gurl on the planet: Gee Julie! ("c'mon crank them Elton cds! that's yer birthday present!" )(Grooves records in somerville,$1.99:cheap!).
A Gizmo walks into a bar, runs into Joe Fagan of Slow Children, sittin' on my bar stool meeting Dave Crespo. talkin' to Des of Replicant Rubbers ("Kenne,noone remembers that name"...me: "I DO! REJECTED by Throbbing Lobster!") and in walks the COUNT! plenty of news; "Joe, who you suin' now?"; Joe Vig: "the Mayor" (only tellin' it like it is and I am a LIFETYME guest with Joe Vig, "killin' me with tribute" about labour Day 2014, cantab, "18" and "Kenne, you were note-for-note Lou Reed on "sister ray"; from a guy who filmed me meeting L. reed at Mass. Ave. Tower, i'll take it! i have a cd of the demo that got the deal, Joe Vig's Pop Explosion volume 4 on Gulcher's "sister label",Varulven,we're all Lou Reed "freaks!"
oh, yeah, Des conversation; i have a BGN column kinda phone-in on his station of "what's happening" maybe Monday AFTER the weekend (I can hear it now: "sylvain and that Sex Pistol for $20 acoustic? fergit it! I'm way too pocky fur thet, laddie!") got friended by Marian Ferro, a VERY nice lady whom wrote for the Beat (should i mention AJ Wachtel...no, she's a nice lady DESPITE him! just call me Hedda Highland!) (this is reading like Jayne County's column in rock scene, read by me, seymour library, state street, brockport ny '75,then...ouch! drop that name!...ouch! did meet Jayne in 1990-whatever)....so (card) rock under the radar with marian ferro! Tuesday 6-8pm,www.live365.com/stations/WCAC (leaving cards for BGN's Perry White; I, Clark Ken, am what the ladies call The Man of Steel! like Dolemite!)
Lastly, despite Dinah Deville's burlesque on second Monday at Midway, this social is second TUESDAY at Model put on by Tracy Stark (WZBC)...punchline: I went from Stark Naked to Tracy Stark, who was clothed; cue up Stark Naked and the Car Thieves! (Rita and Lolita ain't EVEN funny; put a bag o'er my head, it's the unknown Kenne! "I never know WHAT Kenne is saying"_Joe Fagan on double guitar with me on youtube on James Straight's cover of "jean genie"!)".....
Thursday, Nov. 13, 2014
after Dinah DeVille Stark naked and Tracy Stark NOT naked, tyme for a quiet night with Gee Julie and everything else ain't none yo' bid'ness (Salt and Pepa, yo! oops, rap references in the BGN, Miss Lyn gonna sho' cut dem out!). disc three of 30 years of Funk, Grand Funk has the 1974 hits which= my senior year Brockport High school PLUS hitch-hiking to Bloomington, Indiana, gittin' rides from truckers and "shinin' on" and "someone saved Reginald KENNETH's life" on AM radio, tinny speaker, American trucks! WBZ talk radio Boston has Dan Ray or some dude BUT they talked to the Brattle book shop owner, ken whatever the fuck (as long as it's Ken, I live in a Kenne world, man! like the Joe (coughlin) news! all about Joe! his Spirit has a Got A Line On Me, Babe!) wuz talkin' 'bout Kerouac; in DRACUT they found a teletype roll of On the Road manuscript and it's in a museum or sumpin'. coast to coast Am had how autistic kids were magical/enchanted or something; I wuz half-awake, maybe it said they were fucken space aliens....I LOVE this show! as for WJIB (coz Ken Kaiser DEMANDED it!), Charlie Rich's "the most beautiful gurl" wuz prolly on AM radio in '73 back when me and Big Al Baase were doin' rock on with grand funk/stooges (michigan bands!) on cover, so this toon reminds me of good ole Big Al (RIP,1978)"....
Friday, Nov. 14, 2014
I'm so Tired", I fell asleep as the Buffalo Bills lost AGAIN; "somebody give me a Cream Ale"- steve miller band "livin' in the USA", an 8452 ridge road, brockport NY album I had about '71,pre-Funhouse. veteran's day at north station, near the Garden (there's "the clinic", Macy's Parade!): "hey, the Veterans are gittin' dosed first today". "it's my life and it's my wife"....
Dr. Tony Evans,WEZE AM, religous programming, Gee Julie enduring me preaching over morning coffee; the book of Joseph and "Detour to Destiny", now lemme tell YOU! I just came out of a bad decade, suicidal gurlfriend who finally did IT, Badfinger-style, Pete Ham etc. BUT she died for our sins so's the Gizmos could go on tour! (even if, ironically, she has same birthday as our Deezen drummer Kelsy Simpson!) SO, my message from a Houston preacher IS, God got you on a detour, to your DESTINY and this IS the Gizmos gig in chicago thanksgiving weekend for which i DO give thanks and I DID have "in-cestors" there; as Bim from Obnox sez" :TESTIFY!" (he enjoyed the Gizmos cleveland gig and i tole him "man,i heard the Davis Singers singing "on the right road now" this morning in columbus; THAT's why we wuz good! whoooo!" answer: "Testify!"
and lastly before i head to Lyres at Middle East; WJIB DID play elton john's "your song" (told Mikey Shake that we and Gee Julie lissen to her Elton cds ALL the tyme in the Gizmobile); learnt the chords and did Silvre Metre cover this? (had a 99 cent 8-track back in early '70s high school, bought at Greece NY town mall, where I bought early '72,"bang a gong"/"raw ramp"!)"......
Saturday, Nov. 15, 2014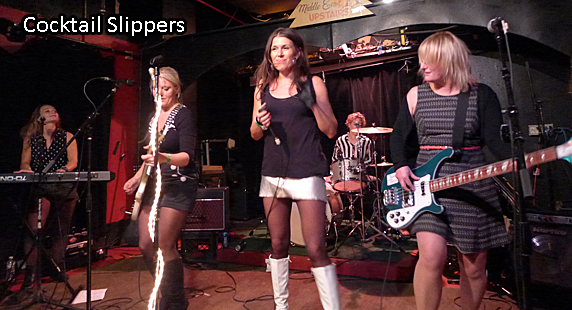 what a GREAT night of music at Middle East last night! Met Gee Julie at 1369 coffee house, Elton John cranked in Gizmobile ("elderberry wine",b-side of "crocodile rock" and i DID have the Don't shoot me album on 8-track early '73!), parkin' a bitch, missed Triple Thick. The Usual Suspects, including Brett Milano, in crowd ("hey, last tyme I was here, I saw the Gizmos!"). The Connection from Portsmouth NH, new favourite band! this is a Lil Steven garage night thang and these guys are a total Miriam Linna type band: I heard (influences) the kama Sutra Flaming Groovies, a lotta Chuck Berry chords, a lil Saints, 1983 Prime Movers (Moulty 45 straight-up garage), a lil Ramones but the "clincher": "Let it rock",a chuck berry chestnut i first heard on my $1 shadows of knight lp (Facebook friends with Jim Sohns and Jerry McGeorge!) with the Wally Bryson clone in the 1971 Keith Richard t-shirt playin' and singin' like...John Felice! ok, if that sell ya, then you need "rock-n-roll soul"! (lissened to side 3 of 30 years of Funk and played along with Mark Farner!) AND (Gee Julie quote): "look,it's lil baby ELton on keyboards!" (he had a strong voice too and boogie-woogie stylings). Cocktail Slippers from Oslo, Norway; all-female Vikings and quotes from crowd: "I feel like i'm in a bad '80s movie" (yes! Brattle theatre!);"that guitarist has a Belinda Carlisle thing happening" (she was also running in stilettos when it came tyme to load out; can any regular dude do that?) Gee Julie: "look it's Marcia Brady on keyboards!" ok, so gurl-group New Wave sound, guitarist sang kinda Debby Harry, otherwise Go Gos-kinda,"let's spend the night together" was a cool common cover, these ladies CAN sing good harmonies BUT, the seller for me was the Deep Purple version of "Hush" that had Dennis o' the clan Donald dancin' like Cantone's '78, guitarist had great moves, drummer was doin' some Ian Paice, bass throbbin' and fucken Marcia Brady playin' like Jon Lord! man, I was happier'n a Nomad in Oslo!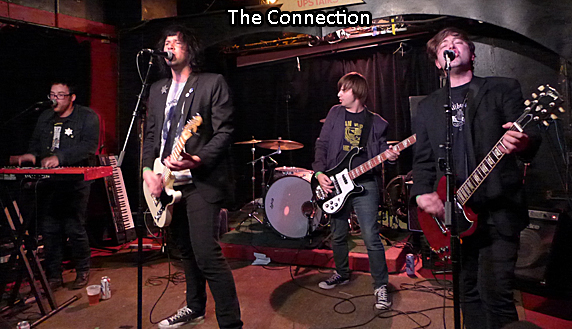 Lyres up to 1983 strength, haven't seen 'em since they opened for roky erikson (whom i met on that particular 13th), new bassist, good harmonies, Steve Aquino plays pretty bluesy, but also tossed in some Yardbirds and Byrds raga-rock and a red Tele, REAL good player. Paul Murphy always solid Bob Bennett of Sonics meets Pistol Allen. Jeff Connolly battlin' laryngitis but singing very blue-eyed soul into TWO microphones, with shades like animals on shindig r&b festival thing (youtube!) did i hear the Seeds "tripmaker"? some new songs, all good and the "hits", "dont give it up now"/"How do you know", "I really want you right now"/"help you ann" and new colony Six "i confess". Nice hangin' with Go-Go Gomez and Dont Shoot Jeff, He's Only the I dont do digital keyboard player OR (this morning's toons in ride, yo, as I sez to Gee Julie: FUCK RAP! LET'S CRANK ELTON JOHN!": Madman acrost the Water! or in my case, Palid Man..."....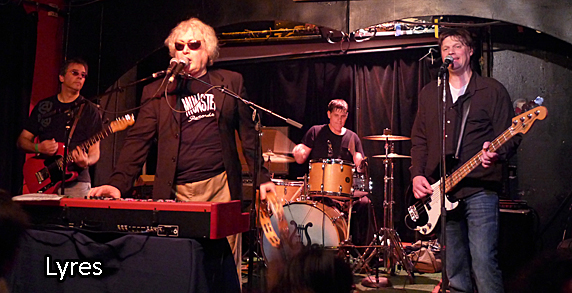 Sunday, Nov. 16, 2014
lissened to Alabama-Missippi state game yesterday but after Lyres wuz tired from work, so missed Thalia Zedek at Midway AND Margaret from Mr. Airplane Man at Plough AND Handymen at Plough!
lemme plug some quick shows here: Wednesday is an all-female Queen tribute band at Bella Luna, JP FREE, All Cramped Up dinah deville/roxy shake/Gizmos fans! (we got a t-shirt request from Mexico City!) at middle east thursday, Ten Foot Polecats at Plough Friday and Saturday italian-american club in Watertown is SONG NIGHT, kind of an all-star jam performance with me and some Alice Highland folk doin' grand funk's "sin's a good man's brother". last tyme I wuz there wuz two Alice Highlanders and Gee Julie's cuzzin, who drummed for 2 Million BC! (YES! i saw them at the rat!) and lastly, Brattle Theater,7 pm, rat docu-men-terry and maybe Gee Julie will play that great Celtic album PLAIDman acrost the water!"....