11/19/2018
Monday, November 128, 2018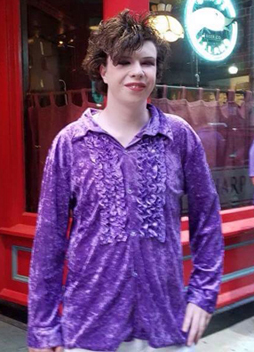 New Romantic Flynn Young

"Freitag 9 Nov 18: So Flynn Young of Mad painter/A5 and I decide to check out DJ Chris's XMortis which basically is Man Ray in Middle East downstairs. Folks SHOULD support his efforts, that's for those that bitch and moan about the "tired-ass dying scene". You just gotta look for it! As I descended into Dante's Inferno, the New Romantic Flynn Young aka Robin Rouge of Boutique was already up on the stage dancing and like Gene Gene the dancing machine, I timed him: three fucken hours! Lotsa Hubba Hubba costumes and quite a few priests, Upside Down Cross etc.. oh those devilish kids! Flynn and I visited DJ Chris at booth. My final point (there IS one!) is Flynn requested by Visage: "The Damned Dont Cry". released 1 march 82 on polydor, not much of a hit here but good ole Flynn Young knows a Hopelessly Obsure toon! (He's like teenage Dave Bass re: '60s garage only it's '80s synth-pop). Visage was a Steve Strange/Midge Ure New Romantics thang; the song was GREAT! Flynn on middle east stage playing "air synth" mesmerised.....So, 1 march 82...I SURELY awoke Ken kaiser to the sounds of Blue Cheer and 13 march 82, Hopelessly Obscure and the Accidents at Cantones,ending with JB bartlett (RIP, MIAs first drummer) doing a version of "My generastion" with carl biancucci on bass and Ken Kaiser jumping HIGHER than Pete Townshend coz he had a better guitar (the same Ovation Ace Frehley played in '73?)...and THAT was the last song in This Mortal Coil that I played with JB, who "died before he got old"....I KNOW you'll see Flynn Young as a Heroes regular, I have a gig THIS Friday and subsequent months...well, contact me, my legs need circulation and I hate the fuckin' gym, just as much as Moto sings "I hate my fuckin job""..

Tuesday, November 13, 2018

saturday 10 nov 18; USMC founded in Tun Tavern, Philly, so I was in a tavern, sally o' brien's, somerville! a personal invite c/o messenger from eddie barese, stop calling me frank drummer DOES help! (grazi for all past and future gigs, paisan!). latest "discovery", thanks to Justine of Unclean for hippin' me with info: Kris Rogers! singer/keyboards (electric piano?), guitar/bass/drums and what a voice! First i thought it was early 70s Guess Who where Burton Cummings channeled Steven Stills but fucken Sir reginald KENNETH Dwight (Aries) doin' b-side of "your song" and out Russelling Leon Russell: "take me to the pilot"! BETTER than elton on BBC but Ben E. King's version (youtube): "if ya didnt have soul you wouldnt be in here!" (I need to go to Soul-le-lu-jah and dance off a few kilos). stop calling me frank never cease to satisfy ("she just satisfies"-wicked rare Jimmy Page solo 45!). I hear echoes of earl vince and the valiants and 1983 barrance whitfield's Savages and even club linehan-ago-go! (I-Iv-Vs and sax solos?) Good stuff! Muck and the Mires, I been watching Evan Pet since 1985 jumping jack flash; he he got a marhall in '86, and like Nuge sings "Crank it up! play it louder than hell"....my copy of Nugent's Free for All, bought at Fort Mead Md px and passed onto the Gruberger Brothers. earlier, I had on BBC-2, "these were the hits for 10 Nov 64!"; "we're through" by the Holies; Muck chords! Since I DO usually watch the lead guitarists, a Brian Jones teardrop whatever guitar that sounded like Dave Davies doin' Yardbirds licks on Rave Up album! (or did Jimmy Page play Jeff beck's parts)....to quote lene lovich "Neuropathy will be the death of me" and I had alice highland practrice at noon, so "bodies....need....rest....."...

Wednesday, November 14, 2018

veteran day 2018; 100 years ago my grandaddy McBee was in an ordnance division 53rd pioneer meuse argonne;11/11! I had alice highland practice noon-2 pm then got to brattle theater for 630 pm and Buy Me Boston/Brian Coleman etc. slide show of various ads, lotsa ole rat rockers (it felt like punk rock retirement home of OUR greatest generation!), vintage footage of human sexual response/mission of burma/bob marley/kiss 108...five hours i was THE last one out! Good panel discussion BUT I only got one bitch which is lack of people of colour, despite a "mixed" panel. One brutha was a journalist (sorry missed name) but Brian Coleman saw a hip hop show at Tower and this future journalist couldnt go coz he was on detention! (also shopped at Looney Toons and read the Noise!). David Bieber's Phoenix archives runneth over, Blowfish representin' boston Groupie News BUT he was sittin' next to Prince charles alexander of city beat band, virgin records ,toured europe etc. now a Berklee professor and more credits than even I can list! Whilst geeking on r&b, I met Russ Gershon of Sex Execs who knew who i was ("wasted days and wasted nights") but I DID find out that Prince charles and bishop john borders WERE in energetics 1974-1976 but NOT on the "rainy days and mondays" 45; maurice Starr tales (a BOOK!), and just basically the Boston funk scene in da hood which ran concurrent to the Rat scene. again, I could rap ALL NIGHT about City Beat Band (cf.ed by some to Gap band which i as jamin' on last night!) but Charles usedta get backstage at ALL the shows at the Sugar Shack; parliament-funadelic etc (coz he's born april 2?) but "Prince threw the gauntlet DOWN!" (Blowfish sitting next to him). "He woudnt let NOBODY backstage and we're like 'who is THIS?" Micelf, again,i was chillin' in marine barracks charleston SC with a brutha who went to high school with Sugar Ray Leonard and he played me an 8-track; "yeah, man, this is Prince"....1979 or so? (Miss Lyn at the SPACE! she missed the Cure at the undergrounsd april 1980 coz she was in a trailer in SC!). So, before Prince "wowed" everyone, Purple Rain, metro '84, underwear and raincoat, Prince Charles was ALREADY modeling underwear onstage and playing some funky good music! (vintage ads from brian coleman gonna blow yo' mind, didnt I?). you can google all kindsa Prince Charles quotes ("I hated "rapper's delight" when it came out; why would someone vilify Nile Roger's bassline",I semi-quote)....Glad i went but wait!!! there'll be MORE!!!! I held the Brattle guy HOSTAGE demanding more shiowing of old ads/footage! Magnus Johnstone went to his GRAVE with Boston's hip-hop scene and 'Lecco's 'lemma and willie loco DONATED those cassettes to UMASS, so".

Thursday, November 15, 2018

montag 12 nov 18,GLIDER practice, ramones cover band. Cal Cali's mother Gina is a punk rocker and Cal cooked a nice supper for us all. Al "Iommi" and captain easychords (guitar/keyboards) showed up and it was Toys in the attic! (we practice in the attic). Ramones covers were fun and i either covered them with O. Rex in '76 (Gulcher cd) or the korps at kaiser stadium,friday 11 feb 77 (NO tape EVER made!). True to form, I made dee Dee Ramone sound like Jay Gruberger so Glider sounds even MORE like 1977 Afrika Korps (which is why i like them!). Future/Gigs,we'll see, but fun had by all! (now watch Cal cut and paste this and it goes viral; as the Who say at the end of "Happy jack" 45; "I saw ya!"

Friday, November 16, 2018 day of Wodin 14 nov 18. Velvet undeground cover band practice and MJ Quirk and i reviewed Future/Gigs in his car as Lil Steven played yardbirds Little games album. So Cazbats are offering a gig at Pete's grille quincy (Clash cover band Charlie Dont Surf are playing RAG'S BAR in Quincy next month; Miss Lyn's cat owns a bar? serving milk...in a dirty glass!) plus alice highland up Lowell (Hearing Room?) and in February MJ Quirk birthday, pm show Midway....tho the 80s funk i been lissenin' to,I'll probably be listening to PM dawn! (should I PLAY funky or smell funky? editor? - I think you do bothKenne!!-ed)....lastly, on way home, bassist Joe Quinn had me "under his wheels", 50s sirius radio or whatever....'you were mine" by the Fireflies! I had the Art Laboe oldies but goodies, original sound album but my stepbrother had it on 8-track! whatever volume it was....something to geek out on next week as I have NO gigs BUT: tuesdy-trash night, brattle; Wodin: airplane man, atwoods!;Friday: some dance club, I'm sure and saturday after thanksgiving: FABLE GRAZER at midway afternoon show!!!!! mark Drinkwater was kind enuff to show up at Velvets cover band up Lowell, so if I take the 42 bus from Roscoe's in Dudley (MANY great Roxbury soul acts played there!) I can get to Midway next saturday afternoon......I need to sample Fable Grazer for my next rap record!!!!!!!.