11/25/2019
Monday, November 18, 2019

Sunday 11-17-19 (Russian revolution, comrade!) and "diggin' through crates" (actually box) came across The Best of the Music machine (1984), a Rhino reissue. Reasons I bought this was I once owned three Music machine 45s: ('73 or so): "talk talk" b/w "come on in"; "The People In Me' b/w "Masculine Intuition" and "Double Yellow Line" b/w "Absolutely Positively" and this cassette even lists the 45s matrix number PLUS what the b-sides were! (Miss Lyn's birthday present: record collector FACTS!). I remember the O. Rex boys sittin' around digging Solomon Gruberger's 45 of "talk talk" back about '73 and I even saw Moving Parts cover it at Cantones in '78 (coz major record collector ERIK LINGREN was in band!). I always dug the Doors-y flip "come on in" but in '66, the Doors may still have been Rick and the Ravens! Richie Unterberger bonniwell which is Sean Boniwell (singer) interview part one, basically Doors and Iron Butterfly DID lissen to Music machine and lissenin' to this cassette, I can hear Boniwell's vocal influence on Doug Ingle. since In-a-gadda-da-vida was '68,it's more like Music machine into early Doors into Iron Butterfly's HEAVY album. And since Lee Dorman (Butterfly bassist) got Black Oak Arkansas signed, when Boniwell sings "all raht!" in "talk talk"....roots of JIM DANDY!!!! Tho more research puts Boniwell as a cross between Sky SAxon and Mick Jagger; in fact Seeds, like Music machine and Doors, used keyboard bass - no bass player....hey it was all Once Upon a Time In LA! Great casette tho and they all wore BLACK!!!!".....

Tuesday, November 19, 2019

"Montag 18 Nov 19. club linehan-a go-go practice for saturday night in Quincy, which when you read this, has already happened! Future/Gigs are saturday 21 december 19 in quincy (private Geezer party but contact me for details!) plus Mj Quirk's birthday 9 Feb 20 at Midway Cafe. A set list was drawn up, but always good to go for Future/Songs! Mike Quirk, growing up with rhythm section of Joe Quinn (bass) and Kevin Linehan (drums) were REALLY into the Blues brothers back about '79. Evolution of a song; "Messin' with the Kid",Blues Brothers, MJ Quirk DID know Rory Gallagher had done a version (1972 live album that I ended up buying on 8-track care of a Solomon Gruberger cassette tape of his VINYL!). BUT John Kay and Sparrow/Early Steppenwolf...about '69 when I was discovering the blues....maybe John Kay and Sparrow summer '69,my first blooze album...either way, same music BUT "Tighten up your wig" so THAT is how I hear the song. MJ Quirk also declared Some Girls was his favourite Stones lp, maybe (mine is/was Out of our Heads). lady Caroline still wanting to cover Human Sexual Response, as was I and thank GOD John Keegan wrote down a ten song set list, which, fatiguedly, I've already forgot....coffee onstage Saturday night 11 pm!".....


Wednesday, November 20, 2019

"Til Tuesday 19 Nov 19. "A Hard's Day Night" workin' "Eight DAys a week" but I spent my ole drinkin' money at Grooves record store. 13 items, $29 maybe, $2 per! like them on facebook! issue of MOJO Nov 19 with cd with hawkwind! Three lps; George Jones Singin' the Blues on mercury! Bermuda Strollers 73, caribbean music on homemade label (i.e. looks like Music to Kill By graphics). The Dynamic Superiors album! (they played the Sugar Shack, singer was "Sweet" Tony Washington, whom in 1975 did NOT need to "Be More Flamboyant"! (youtube). a fats Waller cassette. and THESE 45s: Lee Andrews and the Hearts; "I Had a Dream"-raiders with Facebook friend mark Lindsay; Blood Sweat and Tears 'and when i die" b/w "sometime in winter", somber song by my facebook friend Steve katz; Jerry Lee Lewis on Smash (country) "let's talk about us" b/w "to make love sweeter for you"; "searchin" b/w "youngblood"- Coasters; a ramsey Lewis 45 and under "Latin 45s", i been buying Portuguese picture sleeves coz THIS is ground zero for it! Quite a good score, says I and all my RECORD COLLECTING readers WILL agree! Or, as our editor usually queries: "Kenne what ARE you doing up there?"".......


Thursday, November 21, 2019

day of Wodin, 20 Nov 19, my cuzzin Jody Moore's birthday and I did NOT act Pilgrim! (more like Pilgrim Thee-ate-er! LIKE Dirty old Boston). After dining at Bronwyn (After Bathing at Baxter's?) Ken and Gee Julie caught last half of Heavy Leather Topless dance Party. Since they sit on the couch and promote upcoming shows, I shall do same. TunducKUNT: The Jynx Merlot Birthday Show. Sunday 9 pm 24 Nov 19. JACQUES 9PM. "be more flamboyant!". Stacy/DC won the female arm wrestlin' on show. LIKE: BAWD-Boston Arm Wrestling Dames on facebook! The John Waters in me encourages this! lastly, Stigmatics have new drummer, he rocks. Pete MacCormack was wearing Red Star Real Kids album t-shirt and playing a Richenbacker....hey I was there at Cantones in '77! You guys GOT it! No Heavy Leather show next week, goddam Pilgrims, but after swimming with manatees, day of Wodin 4 Dec 19, but "I cant say baby where i'll be in a year".....
BAWD ladies with Sleazegrinder on HLTDP

Friday, November 22, 2019

day of Thor, 21 Nov 19. Ken and gee Julie attended cycling with Mayhem and Venom at the Jungle. i FINALLY made it there since GLiDER practice CAN get in the way, though if i could clone micelf like that Scottish sheep OR William ruane III, that WOULD be "da fucken ballz!" (Schmel herbie Hind). This is normally on the day of Thor, 6pm-8pm, except Thanksgiving coz the twins will be back 'ome in Livonia, Michigan, where is buried Dad's belfast-born stepdad and third wife (his second wife was my paternal grandmother, buried by herself in South Lyon, home of William LeVise Jr. ("sock it to me baby"!) in a cemetary near a trailer park when you cross GRAND TRUNK Railway). "What It Is" (a fantastic Screamin' Jay hawkins album with "constipation Blues"!) (youtube) is on the floor in front of the stage is four exercise bicycles (known now as "the house bike"). Mayhem and venom are like a goddam human jukebox, one twin on acoustic guitar, another on congas ala Tyrannosaurus Rex. "Cherry Bomb" by Runaways was a treat, unplugged and I enjoyed "elanore rigby" and "hard day's night" with their "blood harmonies" (that's when folks is kin and harmony blends natural-like). last but not least ken and Gee Julie even rode the bikes and I cant remember EVERY song the twins did but it was damn good! Lotsa good stuff at the jungle, open mikes, blues jams etc. in case you feel that urge to perform.....oh wait....NO ONE is quite Kenne Highland! ("Kenne! get off the stage! Thundertrain needs to go on"; Afrika Korps live at cantones 21 august 77;wonder if Mach Bell wrote about THAT in his book?")......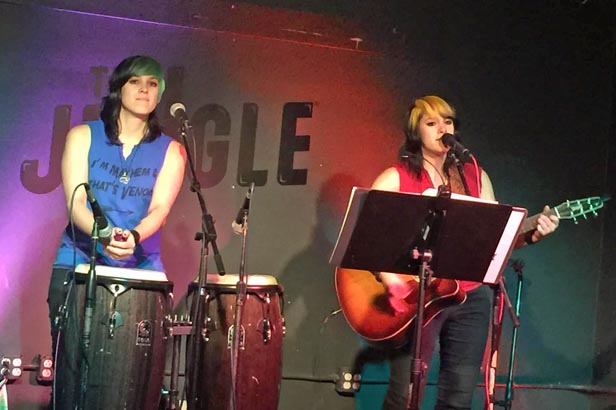 Venom and Mayhem
Saturday, November 23, 2019
'saturday 23 nov 19, waking up 0600 or so to WMBR, 88 rewind. reading a Top 40 list from WESL, east saint Louis,3 Aug 73. This was east Saint Louis version of WILD, all KINDSA good soul records like the carpenters "Yesterday Once More"! (I WAS shocked but ole KC could damn sho sing!). I may have been reviewing Weer An American band (gold vinyl!) in Beyond Our Control but Rene Sampson was spinnin' this kinda r&b at the Other Side! "Soul Makoussa" is "da fucken ballz" (Schmel herbie Hind!) AND wired on coffee, tracked down FINALLY Sly's "if you want me to stay": B-D-G-F# or I-III-VI-V if you're Ken kaiser who WILL notice the similarities of this progression in "Sunny",Kiss's "Strange Ways" and of course "Amerika First" (shit, man, I thought i was stealin' a Kiss riff; it's SLY, muthafucka!). #1 song which I've heard endless tymes at the Sunday cantab jam was marvin Gaye's "let's get it on" and he and I both born 'round Chocolate City 2 April! Only I went home to a trailer....next week: a disco countdown! Now lemme run down what I think is happening and sending event links: thanksgiving eve, easy Ed at brass Union! Outpost 186 thursday 12 Dec 19, Holiday Party! AND new Year's Eve, I'm doing Club Bohemia like it was the kirkland Days (call from Micky Bliss, there was a cancellation). 8 pm: SHAWN DEIDRE! 9 pm; Club Linehan-ago-go! 10 pm: Micky Bliss wants Classic Ruins, waiting to hear. 11 pm; The Fightin' Fish! ball comes down, everbody kisses each other then I jam out with new supergroup til 0130....40 years ago i passed out at frank Rowe's apartment with a cat on my chest, so i promise to be more exciting!!!!! and/or....flamboyant!!!!"....