11/26/2018
Monday, November 19, 2018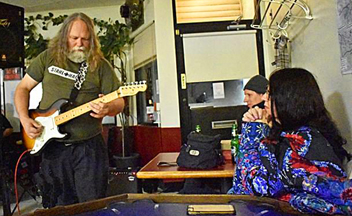 Kenne playing for Gee Julie at The Greek
Freitag 16 Nov 18. since admission was MacFree at 6 pm, Ken and Gee Julie paid respects to Justine and Unclean at sally o' brien's. enjoyed a country/roots-rock band with Tad Overbaugh and whatever, elements of the band/byrds/Scruffy the Cat: we got a new Brinsley Swartz around! Cal Cali setting up drums at Greek american political club Bow street,Gee Julie ingratiated herself with the "club" saying where her grandfolks was born; kinda like an irish bar ,only OPA! Mythos beer was drank by the Xenis and Glider went on doing Ramones covers, Cal and i at rhythm section (me doing zoom bass meaning Grand Funk meets Kiss, BOTH live albums from 70s), captain easychords on keys and Al "Iommi" on guitar. QFO went on next; Sara Billinglsey sings clear but I told her she needs to project the vocals and emphasize the visuals (you can hear my big ass boomin' voice AND high harmony captain easychords on "too hot to handle"). finally it was velvets underground tribute; club linehan-ago-go plus lady Caroline as Nico,i used Al's Fender Bullet, i think. there IS video, Blowfish paid HIS $5 and got a show ("pale blue eyes" as bluegrass was INSANE", played by Krazee ken! Al also said I sang like leon Russell on "white light white heat"....shit I should tackle "delta lady" next!) Great fun had by all, tho sally o'brien's had the filled out show, but GLAD to see a healthy club life, scene aint dead, yea yea yea and "does anyone remember laughter?"; FUN was had! Blowfish, another satisfied customer!)
Tuesday, November 20, 2018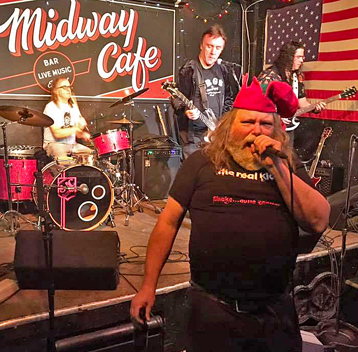 Alice Highland
day of saturn 17 Nov 18, Miss Lyn has Sgt pepper birthday and I'm off to 4 pm Alice Highland at Midway Hixxgiving. Adding Herr John Hess of Awakening Stick ist wunderbar! I really thought i was listening to Love it to Death! Mike Lyons, best guy evah, REALLY learnt the Glen Buxton parts....."Kenne, I'd really like to see Alice Highland"...well, mofos, make me a gig offer michael J quirk cant refuse! 'nuff said, stan lee, RIP, dont make me change from the Incredible Bulk to incredible Hulk....Sex Zombies from Philly-area NJ had lotsa sex jokes;hey, I was in the Gizmos, glad i set a good mature example for young punks of today! Hixx ALWAYS good, mix Kins they's ashamed of with the gizmos and some Black oak arkansas and...they all stole from me and JIM DANDY!!!!!!! Mach Kennedy and Screwcart very 1971; Iggy/Funhouse singing with Cactus One Way or Another! (swap Iggy for Rusty Day...hey, it's all Dee-troit!) and Dee-troit (five generations of Highlands!) was why i went to sally o' brien's and saw Tony kacynski/Chris ewan/Rik Rolski play togerther for first tyme since 1991 (I met my cuzzin Linda Garreau Highand at midway, Jumper cables gig, sunday 29 dec 91). setlist (which Tony HAS posted) was like early '80s WMBR Brekakfast of champions only this "corn-fed synth-pop" was in dee-troit then NOT at Spit on landsdone street! (though after moving here, Tony said Seymour Stein CALLED him at the Rat, thus signed to Sire...Kenny Rotten sings "Seymour Stein!" to the toon of "EMI!")....THE most important thing is Rik's lovely wife (Deborak Young Rolski) i aint met DID videos, they're wicked pissah (these guys ARE from boston now!) and they even did a Cure song for Miss Lyn on her birthday! "oh dear what can i do/Miss Lyn wears black and I listen to the blues/tell me oh what kin ah do")....BUT the REAL fun (it's like On the Road MINUS your wheels) was the El Potro, Mexican restaurant in union sqaua lot of folks had fine voices, lyrics in Spanish up top, the hostess sang a song of "amor" to me ('when ah say amor, i'm amor, A M O R" sung MOST Johansenly!)....then folks were DANCING!!! I surreally watched it, then got to my garrett with Dick Whitington's cat and listened to Coast to Coast, dee-troit native George Noory
| | |
| --- | --- |
| AMOR!! | AMOR!! |
Wednesday, November 21, 2018
sonntag 18 nov 18, Herbie, of Gizmos "cavewoman" fame turns 60 as a grandfather, and i went crawling to quest for tuna reunion at plough and stars at 530 pm. Jay Allen ALWAYS sounded like Jay Allen and Triple Thick Mitch said "this is Jay's Gizmos!". sense of humour there mixed with Afrika Korps-cum-ramones: Mark Pet, bassist on guitar, Unclean Justine-guitarist on bass and "Evan Pet" (aka mister Muck) on 1977-era Ken Kaiser "kaiser rolls" drumming. Triple Thick Mitch then suggested we go to tavern at end of world, Natalie Flanagan has been wanting folks to go to open mike. There was a guy doin' Van Morrison tunes, couple other fellas, then natalie "twisted my arm" to play. "pale bluegrass eyes' ("insane!" said Blowfish,BGN),"if drinkin dont kill me" (george jones) and stooges 'down on the street" done Jr. Kimbrough style. Triple Thick Mitch did a John Prine sounding set with an obscure Tom Waits toon,another fellow did "reason to beleive",natalie did "under the bridge" off her LET cd which i love! coz it echoes velvet underground's "ocean"....a GREAT tyme,great food,EVERY Sunday and Nat even offered me a 4-6 pm matinee show. IF i do one,I wanna have special guest stars kinda like "i'm a-pickin' and i'm a-grinnin'', Roy clark/buck owens. More info as it comes!!!
| | |
| --- | --- |
| Jay Allen & Evan Muck | Kenne & Jim Boticcelli |
Friday, November 23, 2018 what better way to spend my cuzzin Jody Moore's birthday (Tues 20 Nov 18) than Trash Night at the Brattle theater. Tonight's Turkey: CYBORG 2! Angelina Jolie's first movie, age 18, 10th rate Bladerunner rip-off. She's a love robot, her and her "human" have a soft core porn-ish love scene that made my puritan ancestors blush; I mean, Angelina Jolie boobage?!?!?!? Why that's disgraceful! The pillory to all those heathens, I say! College idiots were hollering out shit like it was Rocky Horror....glad to see that Brattle had a line to concession going UP the stairs! "give them money/that's what they want!" (Barrett Strong). Since the Puritan church doesnt rule Newtowne, it was next, with Gee Julie, off to ye Charlies (that Cavalier; behead him!) Tavern for The People Karaoke! (facebook and web page dot com etc). They been doin' this since 2003 and anybody that lists "David Fuckin Bowie" in their song list is "all right in MY baby's book". drunkass college kids, no place to sit, blonde gurls with NO booty singin' rap and/or Motown; a tatooed punk gurl did Iron Maiden....I was KENservative, I chose marvin gaye (born 2 april!) "Doggone" coz "stubborn kinda fellow" (my THEME) werent there....so many folk there it took from 10 til 1145 for my "spot"! But again fun....I played on youtube to gee Julie marvin's version (I got to sing with the Funk Brothers! and I probably DID smell funky! maybe i'll see John FUNKE spin some night!), but my phrasing is closer to MARK LINDSAY on Raiders' Here they Come album; so if you draw a beard and mustache on MY photo on Gizmos: Here They Come! e.p., Miss Lyn will surely punch you....and THAT about wraps up my week, keep sending out those invites to me, I feel SO at home in a noisy bar fucken SOBER!!! Drunken idiots more fun than Lifetime tv on Thanksgiving!