11/28/2022
Monday, Nov. 21, 2022

Freitag 18 November 2022. after dining at macchu Picchu, attended international pop overthrow at Union tavern. Six bands! Ten bucks! i mostly had come to see the Hummingbord Syndicate, having played "Hanky Panky" at Cantone's with John Macey October 1978. There were a lot of Rickenbachers ringing in all the bands and John McGuinn Macey was no diffrent. Killer rhythm section with Stiv Stomper Gilligan on five string bass and Clark Dark on drums, whom I;d done a Dylan tribute with. Guitarist and keyboards good, but what really should out was Amoebas In Chaos Lynn Shipley channeling K D arling Kelly Knapp on some lead vocals. Just to push some Gulcher product, Lynn says her Hoosier releases are not on Gulcher reissues and "I wonder where bob's living?" (answer; Gizmanager/Mogul Bob Richert runs Gulcher records out of orlando Florida). Smitt E Smitty, Figures on a Beach, supplied drum set and he 'loved' my comment of "A gizmo and a Figure on a beach watching an Amoeboa in Choas onstage. "The Midwest can be alright".

Stigmatics headlined and played to MORE people than "The Night Before" at Middle East AND, my dear reader Sandy Summer WILL be happy to know Bob Whitelock of the Lines drummed this gig also, BUT watch him be David Lee Roth in Everybody wants some,Van halen cover band that actually makes MONEY!). LASTLY, met Dmy Syracsue homeboy Anklin Dave, Red on red distributer; good people!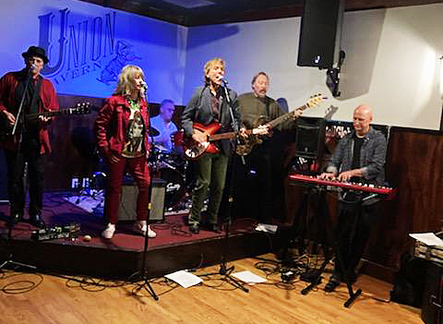 Hummingbird Syndicate
Fun nite! 19 years of IPOP! 66 plus 19= 83 and hope i live long enuff to see Moore!"......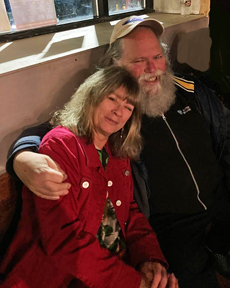 Kenne & Lynne Shipley

Tuesday, Nov. 22, 2022

"saturday 19 Nov 2022. After work, gee Julie and I essen und essen at Bronwyn, then "Run to the Jungle" to see Crow Follow STARRING John Keegan, BGN!).
Crow Follow Keegan
& Agent Judy

Crow Follow Tim Sprague and CJ Coracella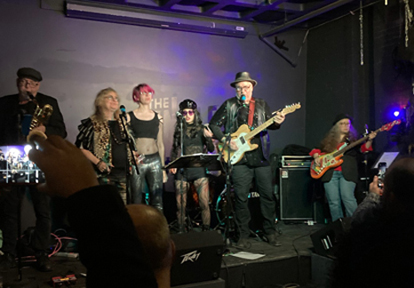 Crow Follow with Friends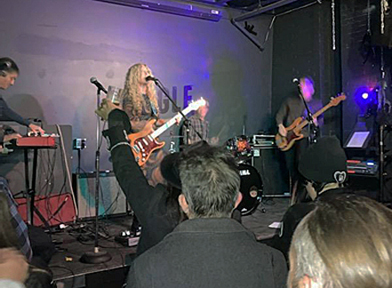 Emily Grogan Band
Shawn Devlin of Big World (whom i played with at the Underground Til Tuesday 9 Sept 80) said: "this sounds like Morphine! Beefhheart! Tom Waits!"; he was right! ok, that done, I ran into All Kindsa Folks, All kindsa Folks from the good ole Ronald Reagan days of 1980-1988 Boston Rock. Emily Inky Spoon Grogan tried to photo-bomb a photo; "I tried to tell her/sshe's too young" b/w "come back when you grow up girl". oik, photos: Fred Nazarro Turbines (to whom I gave a "WAH HEY!" in me Irish whispher), Kelly Knapp, Bristols, Ad Frank- Miles Dethmuffin, Big World AND even Stormstress!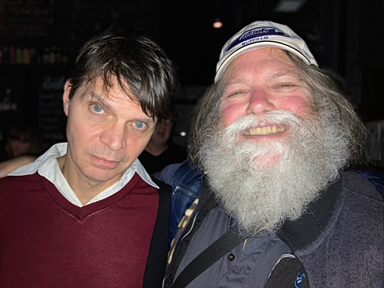 Ad Frank & Kenne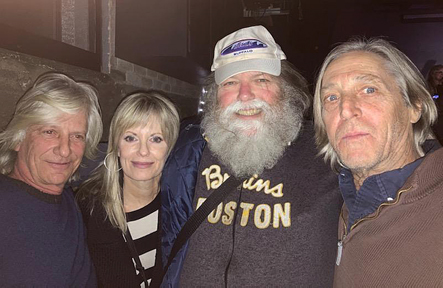 Fred N, Kelly K. Kenne, Shawn D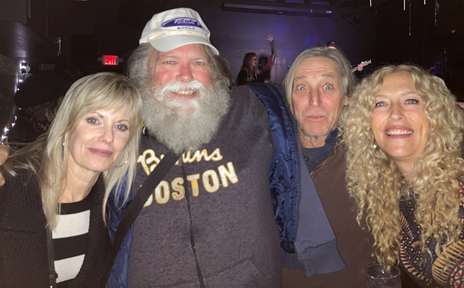 Kelly, Kenne, Shawn and Emily Grogan
A good tyme had by all, I forgot who played; cantone's circa 1978 where I'd be socialising in the front room even if it was Thrills/La Peste or nervous Eaters ($3!)".......
Wednesday, Nov. 23, 2022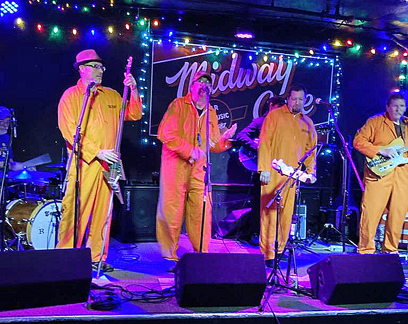 Jesse and The Hogg Brohters
"Sonntag 20 Nov 2022. Jesse and the Hog brothers at Midway cafe six pm.
Rob Lyon whom did Gizmos podcast and I went to the pizza/sub place next door; i got a sub and coke ten bucks and he did the two slice special and though a fan of "Human Garbage Disposal" I DIDNT eat the leftover crusts.
this Lexington kentucky punk country band came out in orange jumpsuits and opened with my sixth cuzzin GG Allin's "hangin out with Jim". Rob plays a two string upright bass tuned to E and A; Holy Morphine! The guitar/bass/drums is your basic johny Cash but Jesse Braintree has bizarre Gizmo-cum-Zappa lyrics and also plays kazoo. (I DID autograph Rob's Gizmos releases; Jesse: "The Gizmos are like an obsession to me")But dudes...Kenne Hogg! gits out in the crowd dancin' with some gal (photo) and plays a lil toy piano that has a hogs. head.
great guys returning in April/May and yes Jesse wants I and I to play Boston/Portland. What else can top this? Asa Brebner's birthday with Ash Bottoms! (Mon 21 Nov 2022). A damn fun afternoon; I got half a notion to go visit Losiville Kaintuck "ridin' the dawg"! (that means tking the Greyhound for y'all massholes".......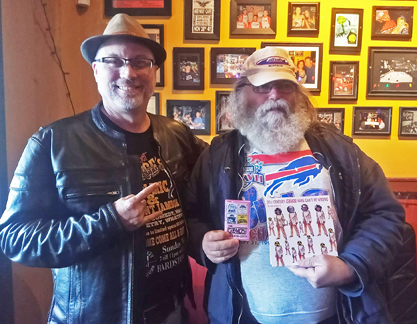 Kenne and Rob Lyon with Gizmos products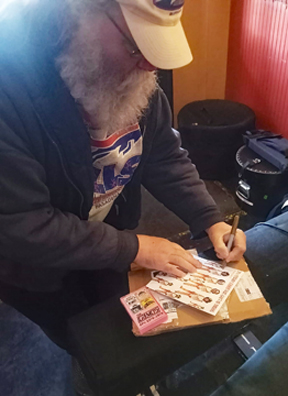 Kenne autographing Gizmos products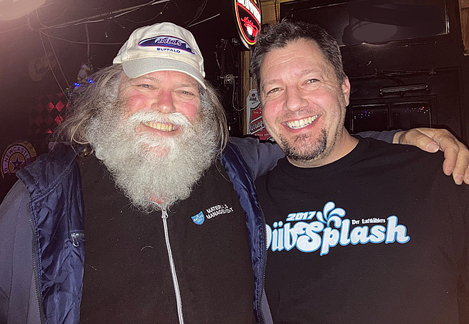 Kenne and Ken Hogg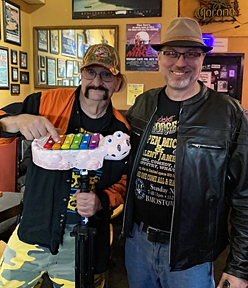 A couple of Hoggs and their piano!!
Thursday, Nov. 24, 2022
Kenne ate a lotta turkey
Friday, Nov. 25, 2022
"Schwarz Freitag 25 Nov 2022. Got this from Dave, Classic Ruins drummer, who ALSo is dinorecords.net recording artist. (from my notes; HIGHLANDglyphics!) "I am booking the Raven in Worcester (like 'em on facebook!) first Friday each month. 2 december 2022 is Jonee earthquake/ the Bickersons/The Ballbusters (ALWAYS play with a Worcester band!). The raven has pro stage, pro sound, great club". GOOD to hear of a LIVE Worcestrer club versus "Dead Boston Club". I'm still booked for studio saturday 17 dec 2022. as ole Porky Pig (sez "That's all ya moddafolkers!"......