9/9/2021
Sunday, November 21, 2021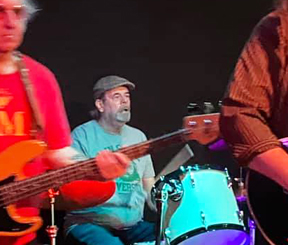 Get Well Al Hendry!!!!!

"day of Thor 18 Nov 22 Five pm. Drummer Al Hendry in hospital! get well soon! He did text that it wasn't "Joe Vig", cockney slang for COVID. Alex Gitlin, mad painter DID text that Sunderland Mass O's Bar was ok about a rain date SO, it is the will of Allah. it's not 1977 at cantones anymore and Miss Lyn's birthday WAS DRAG BINGO!!!! Gee Julie and I crashed out listening to KLASIKAL MUZIK von Hamburg Deutschland. soothing the savage beast. had a bit of a holiday 'such a holiday"! Coast to Coast AM had a fellow calling in about death of Moody Blues drummer and pointed out how "Question" had "Pinball Wizard" power chords! I thought that "early 1970" (Ringo b-side) before I had even played my first power chords! Freitag; 19 Nov 22. 1510 Am WMEX GREAT afternoon oldies but "Peace Frog" by the Doors? An ALBUM cut off Morrison Hotel...retirement... me in rockin' chair lissenin to the Doors in AM mono, radio on! Saturday 20 Nov 21; my mayflower cuzzin Jody Moore turns a certain age (doesn't look bad for 400!) and had a gig! YAY! Ken and gee Julie listened to WAJR 740 AM Morgantown west virginny; Mountaineers won; dad's distant cuzzin Fielding Youst played for them. Then we switched over to classic bluegrass and THEN! 6 PM Zommer radio 740 AM Toronto six pm had a British Invasion Hour. The "usual suspects' plus "Alfie" by Cilla Black and I DID learn the chords to "ferry cross the mersey' by Gerry and pacemakers. Brockport NY/Holliston mass., either way: GREAT TOONS!"......

Monday, November 22, 2021

"Sonntag 21 Nov 22. FIVE solid hours of musik von der Plough and Stars; where DO I begin? It was truly a 70-plus Rat reunion of sort, those "Alta kaka Rockas' I haven't sat shiva's headband for YET! First half was the usual Mess Around; Justine's Black Threads did a country version of "Chains" "by the Cookies"; that's my niece! (original artists!) Justine on bass and Tom Baker as Keef as Mach Bell did 'around and around" (Thundetrain with Afrika Korps 21 aug 77 cantones!) and "not fade away" proving he did INDEED buy the first two Stones albums, doing lead-off tracks on each! Folks bought BOTH Mach Bell books (and YOU can buy 'em here!!); like that alien and THOROUGHLY enjoyed the Biggie Ratt chapter! I know Jay Allen sang "Jolene" and Robin lane was excellent. The latter half was Asa Brebner's 68 IF party, Mrs larry Newman bein' merch lady as copies of Asa volume one sold. Jesus may-a got pissed off and turnt over the merch tables in the temple but besides the fact that "money makes the world go 'round", "life is a cabaret" GELDT IST GUT und Free enterprise and true sailing is dead, I turnt not one merch table over; otherwise you'd say "Jesus Christ Highland!" (had a cuzzin drank sherry, thought he were jesus; found this out at grandma's outhouse about '65; think he's bin committed since...)...I saw members of Big World/ The Vouts/The Vandals and even a GG Allin model! Who performed? Larry Newman was Captain manyhands on every song and we hope captain Easychord took photos! Limbo Race (he means Randy Black - ed), Chillun of Paradise (he means Linda Viens-ed), Robin Lane closed the show...oh yeah, my bit: I sang Asa's "I'm in love" with Gee Julie, Larry on guitar, John Keegan on sax, MacGregor "My race is royal" McGehee on bass and Tim Jackson of Chartbusters on some kinda wooden beat box; TRULY the band Time SHOULD forget! Archbishop Enema Fetish, Ross Phasor...Billy Connors of Boize had a Ad Hoch (versus Ad Boc or Ad Frank) band with even MJ Quirk out of retirement on guitar AND John Keegan on sax...ok memory fading..best part: Ken and Gee Julie got to Allston to Spike's Junkyard Dawgs! It wasn't Nathan's; musta been from a LOWER authority"....



Tuesday, November 23, 2021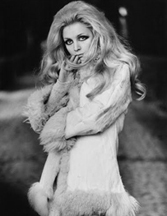 Patty Pravo

"Montagg 22 Nov 21. https://secondhandsongs.com.artist and that artist is Italian singer Patty Pravo! (slow newz day...)...there was a 1967 45 of "Se perdo te" also on a 1968 album title Patty parvo. "Se perdo le' translates into "The Time has Come" by PP Arnold on Immediate (June 1967), there's a youtube of that splendid Immediate British label 45 on a TURNTABLE. Whilst lissening to Bats in the belfry WMBR 88.1 FM last night, I googled all the important info...Discogs says "The Time has Come" is "soul", so patty Pravo sings "soul' song in Italian; Ti Amo! This 45 for PP Arnold wasn't as big a hit as her next 45, singing cat Stevens "first cut is the deepest" (1967) and after all THOSE Hopelessly Obscure record COLLEACTOR facts I DO need a bromo, geets Romo! (or wuz it coz I "called any vejtable last night"? Ted Templeman? From Ted Templeman to producing Van Highland!"......

Wednesday, November 24, 2021

"day of Wodin 24 Nov 21. Turner classic movies 0500-0600. The Split. October 1968; maybe I bought Beatles revolver then, two years late. I don't remember it playing the Strand Thee-ate-er, Brockport NY but at age 12,I couldn't get into an R-rated movie tl age 13 (big for my age and that WAS the topless scene in Alice's restaurant). it's a football player Jim Brown "crime' film and his co-horts are McHale and Oscar Madison among others (trailer on youtube) BUT, as soundtrack geek and it being slow BGN newz day, the Quincy Jones soundtrack ON YOUTUBE is excellent! there's a Capitol records 45 by Lou rawls "The Split"; "It's just a game, Love" versions by Arthur Prysock/Clydie King and Billy Preston (I didn't hear "don't let me down"/ "get back' til the next year!) ….there's a Film Score Monthly Silver Age classics cd release 29 June 2009 on discogs, $18.07 OR lissen to youtube! Just great soul/ jazz soundtrack music!".....

Friday, November 26, 2021

"Freitag 26 Nov 21. 0746 The Scene with Bevis Frond WMBT 88.1 fm. they played " the doors of perception" by dave Pike; fuzz bass and echoes sax; kinda like Kenne Highland's Air Force playing the Newburyport Brewing Company on Boxing Day! This caught my attention and: The Doors of perception has a Wikipedia page! 'live album by American (first!) jazz vibraphonist Dave Pike recorded 28 Sept 66 (Dad was on way to "Nam never to return) at the Village gate, New Netherlands and produced by herbie mann. (no kin to Aimmee). "this is the Pike version of an acid experiment "; so true from cut I heard on ole WTBS! Some stellar 'jazz cats blowin'" (Kerouac on steroids!) but let's dig that fuzz bass: Chuck Israels! Wikipedia discography: sideman with Cecil Taylor, Eric Dolphy, even Judy Collins! (The Judy Collins Concert (1964) and Fifth album (1965); "both sides now" released October 1968 on Elektra whom were also recording MC5's "kick out the jams" 31 Oct 68 Grande Ballroom Detroit, a mile from where my father had lived ("but Kenne you've always had that Detroit thing"; A Resolved White descendant off mayflower, cuzzins to Grace Slick!). either way "hey beat mon", I gotta check out more of dese jazz Katz (und jammer!)"......

Saturday, November 27, 2021

"Saturday 27 Nov 21; Jimi is 79 man....(I get ALL kindsa Jimi info on my phone...yeah...)..ok, tonight, or as you read it "that was only yesterday" (Spooky Tooth) Mad Painter/Captain Easychord was at Middle east bakery. I have a gig a month next three months. Boxing day ole chap (26 dec 21) Mad painter/kenne highland's air force Newburyport brewing company. Freitag 14 jan 22 cantab: Hixx/Johny Plankton/ "Highland Air Force". early February, mad painter road trip to my great-grandmother highland's ancestral Dutch colony of Kingston NY (ye olde Dutch graveyard has mutual ancestor of I and my favourite "flip the" Byrd, David Van Cortland Crosby! (attitude alone! Fired from Byrds couldn't keep mouth shut!)...so 2022 lookin' good! ("is there hope for the future....sad bells of rhymeny")"....