11/30/2015
Monday November 23, 2015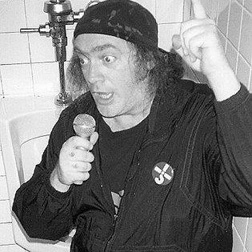 Joe Coughlin

my dad's grandfather Byron Grant Highland (my 6th cuzzin!) born 22 Nov 1886 Salem Michigan "the day john kennedy died" so 0245 coast to coast AM, more Kennedy conspiracy and "we're going to have an interview with Lee Harvey Oswald's Marine roommate"...joke: what if they interviewed L/Cpl. Donal M. Buckley, USMC about me and Ken Kaiser and the NSA? hey, it was a rainy night: "kicks just keep gettin' harder to find"!".

two more items: Golly McCry von Deutschland to record an acoustic album with twink of pink fairies...joe coughlin memorial on 14 may 16 this year, Jack Bruce's birthday, so GUESS where I got this fact (it's also jeff connolly's birthday also, but Joe's actual real birthday was somewhere during that week)...either way, y'all come! and Saturday 2 april 16, BOTH shows at midway, my birthday is 3-7 pm...


Tuesday November 24, 2015

Ken and Gee Julie at the gym ("at the rat"? "at the zoo"? "at the hop"?), her rowin', me on bike watchin' Criminal Minds and the beginning of Bills-Pats 0-0, which ended in 20-13, Pats....so at 0300 on coast to coast AM, I was REALLY gittin' into Thelma Houston's 'don't leave me this way"...released 2 December 76 (two months after O. Rex?) and in the movie Looking for Mister Goodbar, which I saw with our editor/my cuzzin in '70s...love the bumper music! also Psychedelic Furs "love my way" june 1982; at that tyme I was writin' 13th floor elevators-inspired Hopelessly Obscure garage toons like "thalia's song"...interesting subject was the fellow who spoke for Billy Meeir of Deutschland, who had a UFO encounter in 1958 and many of the prophecies the aliens told him have came to pass! and the CALLERS called in right after Richard Butler"

Wednesday November 25, 2015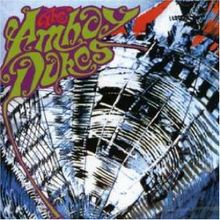 Amboy Dukes

I been digging that first November '67 amboy dukes album on mainstream; 3 interesting covers by Mr. Nugent: "it's not true" off who's my generation album (MC5 were simultaneously covering "I don't mind" off same);"I feel free" off fresh cream and them's "baby please don't go" which Van the Man took from a john lee hooker toon "don't go baby", which IS on youtube! I been coverin' "baby please don't go" almost since I got NUGGETS fall '74, so since I don't really OWN this $50 album, it IS on youtube! journey to center of mind (second) one of my dee-troit cuzzins turnt me onto in '73 when me Ulster grandpa wuz watchin' Watergate and last tyme I saw dad's mother alive (Osmonds were at Cobo hall! august '73!)"...

there's an I remember scorgie's site and one remembrance was from a Rochester garage-r "hired at record theater in Gates Ny (Lou GRAMMatico's hometown!) by JOHN PUSATERI", whom alan baase and I went to high school with, printing our rock on fanzine...they were all playin' punk records in the store etc.;I mean Rochester might be "provincial" compared to Boston but there was that Scorgie's contingent; and there's a photo at a wedding of a 1986 Judd Williams! (curly hair!) good reading!".

Thursday November 26, 2015

gobble gobble gobble

Friday , November 27, 2015

fireking opened the flaming groovies show at brighton music hall superbly; "if cheap trick were from dee-troit" like I always say! their last toon referenced the Flaming Groovies (one of tony kacynski's favourite bands!) and had a drone ending where he started singing "age of aquarius"! they gained a few more fans: STALK THEM! the Connection from Rochester NH had a Wally Bryson clone singing a Bay city rollers toon like Joey Ramone, though Bomp lister Perry Adler said "I thought they were gonna go into "personality crisis" on the first song!". adny shernoff was mentioned in conjunction with a record and "let it rock" made me thrive on I-IV-V!"....

The Connection, Muck and the Mires, Chris Wilson of Flaming Groovies
Muck and the Mires wore black and white outfits, did a sped-up "just like romeo and Juliet" and Miss Lyn pointed out a Jackie Gleason reference in the Beau Brummels-cum-Ramones "one of these days"! there was an "ein, zwei, drei, fur" and a Who ending....stealin' from the Korps again, they all did....flamin' groovies opened with "feel a whole lot better" and it was mostly Byrds/Beatles/Stones covers all night; Chris Wilson didn't have a tuner or spare guitar so bass player had to tell tales, and I DO like stories: "I'm 69, been doin' this band 50 years" etc. "what a shame" from rolling stones now was riffed on; Cyril Jordan was playing a clear Dan Armstrong guitar. SHOULD mention me and my old high school mate John J. Pusateri (VERY happy to hear "slow death" which steals it 's chorus from "refrigerator rappin'"!)and Gee Julie were hangin'; encore I believe was "shake some action"/ "jumpin' jack flash"(sounding like Stones 1969 in SF on my Liver than you'll ever be bootleg!) and finally: "Teenage Head" as covered by Johnny Black and micelf in MANY a Cables show. was this show worth $25? hell fucken yeah! and if ISIS wanted to kill off the Boston rock scene we were ALL there, plenty of photos, old friends/new friends/old enemies/new enemies
Saturday November 28, 2015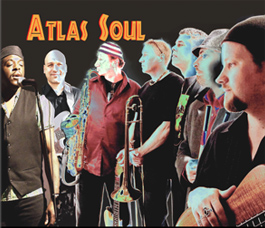 Atlas Soul

Atlas Soul at the Burren: I been followin' Jacques Pardo since the 1990s at Kirkland as Cosmos Factor; Linda Garreau Highland II and I were world music geeks, as is Gee Julie; I guess Miss Lyn is a Blow Up the World geek? (as am I! "let's have a war"!) so atlas soul started out of a sunday jam with Jacques and a buncha Morrocans do "Moroccan Rai" (Linda II went to Anthony's function room, now cuisine, won Rai tickets off WZBC, only non-north Africans in room!) this octet is two guitars/bass/drums/sax/trumpet/vocals/conga; soundcheck was TOTAL 1975 Bloomington, Indiana (before Gizmos and punk; BIG funk town!); War/Santana/James Brown sounds from early '70s funk records. the singer was VERY flamboyant, talkin' 'bout wearin' James Brown's shoes (youtube footage of him rappin'; nice guy, very charismatic!), he could sing smooth like Tower of Power and rap like Gil Scott-Heron, also played djembe and there was some Afro-Pop. a 400 pound Bear (bigger'n ME!) was up and dancin', along with some spastic white hippie dancing (Miss Lyn glad she WASNT there!) and two IRRegular Dudes that woulda got kicked out of Backstreet in Bloomington, indiana ca. '76)...I had "ants in my pants and I need to dance", so imagine Les Variations playing "the crunge" with a High Masakela trumpet solo and ReeBop on congas (a promo album from united artists and Greg Shaw for me and Alan baase in the rock on! days!)...a Terry Kath guitar solo (spent $8 on my "date" for Chicago at IU December '75!) and even echoes of Syracuse, NY's The Seven all ending with some James Brown body language on how to end a song! was I taking notes for Future/Gigs right now? but "walk this way" has the joint JUMPIN' WAY the fuck better than Aerosmith '75 (I first heard it in Rochester NY April '75, thought it was kinda a funky James Brown thing but atlas soul has a black singer who sings like Tallerico only WISHES he did and when Jacques Pardo (sax) and a lil Asian guy (trumpet) jump into the audience and start WALKIN' and RIFFIN" on the "walk this way" accents: "you cant sit down"! Mon ami Jacques Pardo very happy to see me, had not seen them since they played French cultural center a few years back; I had drank wine and was on a cane but even THAT helped me move, but these mofos TORE THE ROOF THE BURREN!"....

Sunday November 29, 2015

fatigue got to me and couldn't stay awake for The Forz at hard rock café, though at 1pm, WRCA had their classic country show and I heard Loretty Lynn sing "you're lookin' at country";0300, coast to coast had bumper music of ZZ Top's "sharp dressed man", i think (either way, Billy Gibbons at 0300 puts ME on the "99th floor"!)...somehow I tuned into 1510 AM WMEX and woke up to conservative "comedienne" (she just doesn't know it!) Michele McPhee with a news bite: John Gotti and la Gizmo Nostra says to ISIS: "bring it on! we'll take care-a ya"! after readin' Sammy the Bull's biography, there IS hope for World Peace! (as espoused at Atlas Soul gigs!) WJIB country memories had carl perkins doin' "blue suede shoes" and I reminded Gee Julie she went to Sun Records AND saw the Gizmo at Gonerfest (Gulcher cd!) ALL in one day...so to CLOSE out THIS week's column, I have TWO gigs next week:

THE KORPS, midway café 8 pm, tuesday 8 December

and

ALICE HIGHLAND 8 pm, thursday, 10 December,cantab...

after that no gigs FOR SURE and like 1975, writin' is ok, but once I got a taste of recording and live gigs in '76-'77...so remember,YOU want Kenne Highland on YOUR bill at ANY show before he turns 60!.