8/1/2022
Monday, Nov. 28, 2022

Sonntag 27 Nov 2022. Jimi woulda been 80. 0500-0700 after coast to coast Am, the darker side on WHRB. Lotsa good rap/hip-hop PLUS lotsa songs from Rhino release of What It Is! funky soul and rare grooves 1967-1977 so this is the GREAT stuff. But, of the cuts played, what REALLY caught my ear Ananda Shankar doing a very funky "Jumpin Jack Flash"! This is ravi's nephew, this Nora Jones cuzzin and in 1970 he released an album on reprise with a 45 of "Jumpin jack Flash" b/w "Light my fire"! youtube video and co-producer was my facebook friend james Lowe of Electric Prunes! i guess I DID "have too much to dream last night".....

Tuesday, Nov. 29, 2022

"Monntag 28 Nov 2022. And what 2020 SOMERVILLE GROOVES purchase is stuck weekly on my turntable this week? The Holyridge Strings play the Hits of Simon and garfunkel. $1.99, rainbow Capital label! went to discogs, this is a 1968 release, meaning you have muzak versions from sounds of silence to bookends albums (which i bought through Columbia record club in '69). In '68 (No questions with 67!) I bought, through capital record club, Holyridge strings doing the beatles. BUt "the tymes they were a changing!" Muzak versions of Gizmo and garfunkel in '68 versus the 22 Nov 68 release of the white album; "Baby, I;m so square (I don' care!)"....

Wednesday, Nov. 30, 2022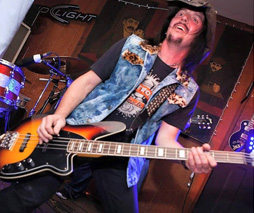 Buckshot George

day of Woden 30 november 2022. also saint andrew's day in scotland. 1100 listening to Sun ra on jazz spectrum: "tomorrow we start our orgy season'. looked at program guide: Lou reed orgy! that was Ida may; as for Ida may,west virginny: check out the vid of Buckshot George doin' "Burn down the trailer park"! being Virginia born, in a trailer, I Love it to Death! On FOUR string bass ("Gimme back my ForeStrings!") is Rob Lyon of jesse and the Hogg Brothers and owner of Gizmo the Cat (like felix, shudder to think about his bag of Trix!). Visually, it's obviously a parody 0f trailer life (and filmed in Ken'sTucky!) and musically, since in janaury '76 I was listening to the ted Nugent album with "Motor city madhouse" and Lynyrd Skynyrd's Gimme back my bullets; SO pissed off and sober i joined the marines that month!

I call this song Lynyrd Gizmo; again if I'd recorded in january '76 vs. 20 march 76. Chords aere I-VI-V ala "great white buffalo" or 'working for the stanton park"; they even have a Miss Ruby Starr in tyhe vocals! (well i DID interview Black Oak arkansas in Lousiville kain-tuck Ju-lie '74 after I et 'at a macdonald's in tenesse"....Thus band rocks in a nashville Poontang kinda way! (Blair was Gizmos fan, i hear; RE-intervoiew Stenson eddie floweres for podcast!). More music from these folks please! Southern Fried Highand-Hixx humour"......

Thursday, Dec. 1, 2022

"day of Thor 1 december 2022. 0400. bumper music for Coast to Coast AM WRKO 680 AM. "Superstar" by the Carpenters! IN AM mono! firstly a 1969 Delaney and Bonnie b-side, Carpenters released 12 August 71; wasnt i looking for Kinks penpals then in Circus magazine? looking at the carrpenters 45s and yes in `1969 i DID hear their soft-rock "ticket to ride" years before the vanilla Fudge cover! (though i love both bands). Dig THIS: close to you/only just begun/for all we know/ THEN "rainy days and mondays" THEN the despressing "Superstar" ("dont you remember you told me you loved me baby"....)....could Morrisey or the Cure be ANY more depressing?!?!?!? fucken Karen Carpenter WINS the "Manic depression" prize! died 4 feb 83, knowing that 9 days later at radiobeat studios, she KNEW I'd be recording "She's my best bette" which appeaered on Nobody gets on the Guest list (Throbbing lobster). (discogs says five for sale $12.05! Majestic e.p. is $7.29 Arf Arf e.p. is $6.71). "and now open lines with Rick mcCallum Ghosthunting in Scotland" thanks for waking me up Karen!".......

Friday, Dec. 2, 2022

"Freitag 2 dec 2022. today either 66 amd 2/3 or four months til 67 OR three months and four til social security which equals 2 august 2019; when WAS that 999 gig? (October 28, 2019-ed) ok, Kenne's calendar! saturday 3 december. audition new johnny and jumper cables drummer (Cables On Tour Secretly; reunion? Big masonic secret; shhhhhhh)...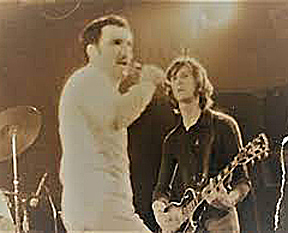 RARE photo of Blowfish on guitar (w/The Count)

THE COUNT tells me he found a recording live at paradise, auguste phenoemon 2 dec 78 (holy shit mon! today's date) with BLOWFISH on guitar; 1978 Count was fun; Gizmos played cantone's, I sang "johnny B Goode" with preston wayne AND played "hanky panky' with Jon macey at cantone's (HIGHLIGHT of our careers!) and Blowfish taught me chords to "be my baby" which i used in Pee-cocks...it's on some fuggin soundclock, search and LISTEN!; saturday 17 dec, KH air force record with Mr peabody down the street from John Proctor's house (accused of witchcraft, second wife was a Miss Lyn ancestor) and LASLTY: captain easychord at a Portland maine MAINE MARINERS hockey game 30 December, says Lt larry Newman.Ma' s grandmere was a Veiulleux and wikipedia lists Stephane Veilleux as canadian ice hockey player AND "isnt it ironic ", alananis morisette that, like captain Tom depres easychord there IS a Simon Depres, ice hockey defenceman? "a guy like Tom must be real lucky/ to find a girl like you that loves to play hockey".......