12/7/2015
Monday November 30, 2015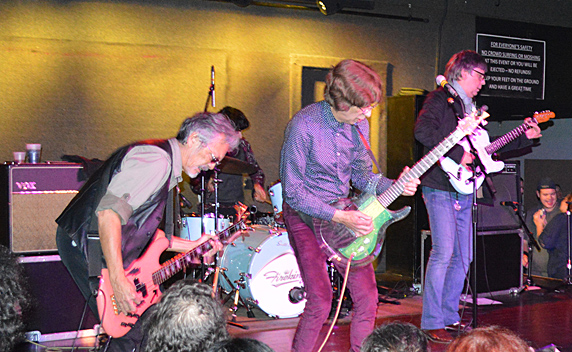 Flaming Groovies at BMH

sunday is ALWAYS a good day for a Brattle theater double feature, where one sees Angela Sawyer of Weirdo Records; she ran into my ole bassist Bruce Hamel (Gemini on a full moon) shopping for RECORDS at stereo jack's and he said the flaming groovies "was a good show"...so, film noir it is for December (followed by wim wenders!); 530 pm had black angel, 2 august 1946 (Ma was about to enter 11th grade at Brockport NY High School but her world and mine in 1972 two different Byrds); a nightclub singer is murdered and she made a 78! there's also rotary phones, gloves on wimmen, guys in suits etc. and piano/singer nightclub act! Phantom Lady from 17 Feb 1944, when my dad turnt ten that month has a mysterious lady in a flamboyant hat (ALSO worn in a nightclub act by Carmen Miranda's sister!) plus a drummer who "hand-synchs" (?) to Gene Krupa and takes a lady to a "jam session" with "hootch" and "hey, wanna jive?" (these cats were wailin' too!) hint: the killer was in mutiny on the bounty! WWII mighta been ragin', ass WWIII and these films were a nice escape from reality!"


Tuesday December 1, 2015



Moby Grape

marvin p. Goldstein looking for 2016 Gizmos World Tour gigs; he and I agree Richard Manitoba has chutzpah touring Europe, so unless some home-grown white terrorist takes me out in a Midwest cornfield;"retreat hell! we just got here!" (course, all them disgruntled white guys DO favour me; if they smoked dope, drank Genesee beer and lissened to RAW POWER on vinyl, wouldn't be no war!)...I was in the mood for Moby Grape's album album (finger cover!) and "Fall on You" was a Moby Grape b-side; anyway, during Pete Lost's solo in "rain of death", I AM playing "fall on you"...bassist Bob Mosley joined marines after this Grape classic and I joined marines after first Gizmos! which leads into Tuesday 8 dec midway 8 pm, THE KORPS, the midway, whilst rocket from the tombs is at brighton music hall same night; Thursday 10 dec 15 cantab 8 pm-alice highland and 9 pm-Butterscott! see y'all there!"

Wednesday December 2, 2015

decided to lissen to first Black Sheep album on Capital on youtube; a 1974 album recorded after they played Brockport NY High school December 1973...I had FORGOT they covered "woman" by Free! (their live set basically WAS Free Live)...so I researched this toon and it was on the second Free album, which I read a review of in rolling stone ca. 1970;wikipedia (DONATE!) also says three dog night covered it on the it ain't easy album (last one I bought), sung by...Cory Wells (RIP) of Buffalo NY! two soulful singers from Rochester/buffalo covering the VERY soulful Paul Rodgers! one more fact ("I got a million of 'em!"): "I'll be creepin'" off same second Free album (on some A&M comp I had with somebody in a chicken suit) was also covered by, again, three dog night, on the Naturally album, where, Naturally, I lost ALL respect for them with "joy to the world"...so: covering Free songs= "underground" band;"Joy to the world"-the teenyboppers bought it and I wouldn't be caught DEAD lissenin' to it! (this same opnion woulda been told to John J. Pusateri ca. '72-'73 with the innocuous question of: "well, Ken, what did you think of....?" I still say thumbs up: humble pie's smokin' and "not that thrilled" over Elton's GudBuy yaller brick road!"..

Thursday December 3, 2015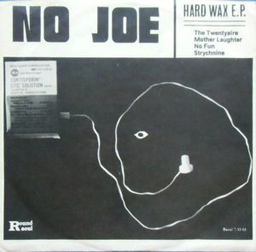 No Joe

Jeremy Cargill of ugly things wrote me about No Joe and the hardwax e.p.; first I was sgt. Schultz ("I know NOTHING"!) then "it had Chris Thompson of afrika korps"...that was a flashback so (stifle that yawn!) some Chris Thompson Gizstory! early 1977 there were exactly TWO punk bands in DC, slickee boys and the Look; the Look covered roxy music/Eno, were a little more art-rock than slickees, but Cleveland had dead boys/pere ubu and Bloomington had gizmos/MX-80. Solomon gruberger decided to have the look backup my cuzzin Martha Hull (I descend from the Fairfield Ct. Hulls) on music to kill by, so that's chris Thompson. their singer left (the Look), so I saw PATRICIA RAGAN fronting the Look lookin' like Blondie in mid '77 (?) fall '77, bassist howard wuelfing in slickee boys, guitar Robert Goldstein in urban verbs (with talking heads brother) and so chris Thompson then in Tiny Desk Units, who were kinda Urban Verbs, jr. (they have a website, there's google books on DC if you enter chris Thompson's name, i was there, it happened, it's Gizstory)...after they closed down marine barracks, ft. meade, md., fall '78, I missed out on No Joe in '79 coz I was station Charleston, SC. Chris drummed in this band and mark Hoback fronted, had a label in falls church, virginny and THE NURSES were on his label (Howard Wuelfing post-slickees, saw their debut! very velvet underground!) round Raoul wa the label also had no-wave the chumps...so since I WASNT there in '79, missed out on No Joe, Bad Brains and the rise of hardcore; i was only there for chapter one of Mark Jenkins book, but what a chapter!"......

Friday , December 4, 2015

got a three-fer o' facts: ("well, look out" as Iggy sez right before he lites into "loose"):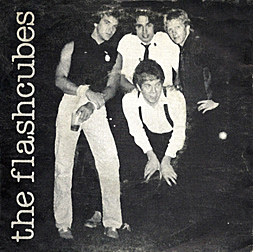 The Flashcubes

Ida May: Syracuse's the flashcubes first gig was Thursday 1 September 77 opening with beatles "hold me tight"; afrika korps debuted cantone's, boston the week before sunday 21 august 77 BUT two nights after flashcubes debut, I was singing "Gloria" or some-such at cantone's with Baby's Arm (for those wondering why it took me and "Paul.4.5." (Paul Armstrong, 1.4.5) so long to meet ('84);

Item B: danny stiles, vicar of vintage vinyl, WRCA 1330 AM, midnight maybe, RIP, but LOVE him snuggled in my warm ancient MacBheath tartan blanket c/o Gee Julie: "this is a 78 by Ed Townsend, "for your love"!" yes, he played a 78 from 1958! Wikipedia: Corporal Ed Townsend got a Purple Heart as a Marine in Korea in 1951! my dad went over in '53 (motor transport; drivin' a truck like elvis!) not sure if they met...Ed later helped write "let's get it on" and marvin gaye born DC APRIL 2, me born northern Virginia 17 years later, but I think marvin was in the air force;

item C: gave $10 to the flaming groovies guy to give to muck for Gee Julie birthday present (the other is 300 pounds of heavenly joy!) muck and the mires dial m for muck cd. dave clark five vocals, bubblegum arrangements (they're louder, heavier in concert) and a couple of "I see you"/"8 miles high" Byrds 12-string solos that I enjoyed; this WILL get heavy rotation at WKEN, pirate station operatin' from Da Hood, yo! and I'm Straight Outta Brockport...and my pants sag too! (all the mo' bettah for the world to kiss my ass!!!!)"...

Saturday December 5, 2015

ok, here's 12 hours of "radio, radio":

9 pm; country oldies WRCA, eddie Arnold; "what's he doin' in MY world" and I didn't do a LICK of housework; spotlight on Dottie West!

midnight, same channel, electric comedy hour and they played an Andy Griffith clip;

0222 or thereabouts I switch to coast to coast AM and George Noory was talkin' 'bout fishin' in a lake, age 14 (1964) and a 3-foot high turtle-type Nessie-type/Champ critter disturbed the waters...so this is kinda Dearborn, michigan where dad's stepfather worked, but I remember 1964 in manassas, virginny and my grandfather went home to Belfast (1920 immigration) with my grandmother (roots in county Tyrone) so he did NOT see this critter!

sippin' some Gee Julie coffee and lissenin' to ALBERT O. on WUMB and bob Dylan's 'talkin' WWIII blues" STILL as funny as summer '69 lissenin' to my MONO $1.88 freewheelin' bob Dylan album on Julie highland's aqua close-and-play (GREAT mono sound!) Bob as Woody: "went and knocked on his door...fired a shotgun at me...musta thought ah wuz a communist"...highway 61 revisited is albert's Saturday morn show, good folk/folk-rock/psychedelic, his late '60s FM roots showin' (meanin' the GOOD stuff!);LIKE: tim buckley's "chase the blues away"? I was Happy/Sad to hear it!".....

"ROCHESTER BOY MAKES BIG!!! (not me); andy babiuk (chesterfield kings) wrote a beatle gear book and RINGO gave it a plug! gonna be some Gennesee drank in Fairport NY tonight; jest down the canal from Brockport, of course, where andy's fine store that I haven't been to, is! and whatever the fuck band he's in now, drummer is clem burke of blondie and Elliot Easton from the Cars!". (That would be the Empty Hearts- ed.)

whilst reading the zero game by brad Meltzer (Washington DC govt./conspiracy/thriller), lissened to Jimmy Jay 6-9 pm, WMEX 1510 AM. between ads for the WMEX GOOD GUYS and arnie woo-woo Ginsburg, Jimmy was interviewin' James Maravelle of MERCY, whose 1969 hit was "love can make you happy'! back then Jimmy was a dj in orange, mass., tried to get Mercy to play, they couldn't, got KRAZEE ELEPHANT! I only wish it were"yesterday once more"! it was lil Richard's 83rd birthday, but Jimmy (sounds like a TRUE southern gentleman!) said "mah daddy's 103!" chords to "love will make you happy"- D to G: verse;D/G/A chorus; on Gee Julie's Ephiphone acoustic worked out a "sunday morning"/"pale blue eyes" arrangement! not that I haven't "Lou'd" an oldie before!"

Sunday December 6, 2015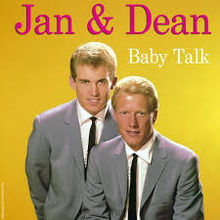 Baby Talk - Jan and Dean

notes for rest of jimmy james show: "baby talk"- jan and dean! "make the world go away"-eddy Arnold! (second tyme on TWO difrent AM stations in same DAY and NO housework was done!); "sweet soul music"-Arthur conolly; "little things"-bobby Goldsborough; BB King and Trade Martin! I mean, fuck! BB King on AM radio!?!?!? (not since "thrill is gone" when I was in 8th grade after Woodstock!); jimmy talks to a deadhead with 2000 dead cds and "Not fade away", DEAD on AM radio?; a lotta doo-wop, a lil before my tyme (which begins with british invasion); an interview with Merilee Rush! Jimmy: "WMEX made "angel of the morning" a hit!"; love the "J'e'taime" "louie Louie" lick; serge gainsborugh meets the Kingsmen!; Steam's "nannana-hey-hey-my-my and into the black" or whatever it is..loved that album cover of 'em in steam bath!

NEXT WEEK (Saturday 12 December 16, 7pm): interview with Bruce Arnold of Orpheus! (I think he's my facebook friend)...1969's "cant find the tyme" on WMEX AM!

ok, so I was a lil too tired for Midway Christmas party; this and Gee Julie's homemade pizza and a good thriller= HOT FUN IN THE WINTERTYME! (Sly can wear the Stewart tartan lads! is he cuzzin to heather stewart? mike stewart of the Brigands? nay...ROD STEWART!!!!! "wake up Maggie, i aint got shit to say to you""......

KEN'S KODA: Tuesday 8 December 16, 8 pm, the KORPS at the MIDWAY!

Thursday 10 DECEMBER 16, 8 pm, ALICE HIGHLAND at Cantab! PLEASE offer this ole geezer more gigs or i'll stay inside with the AM...radio on!"...