12/9/2019
Sunday, December 1, 2019

"saturday 30 Nov 19. I walked into WMFO and Brian Young was playing Stooges "Funhouse" on Crash Course for the ravers, so we were off to a good start. My purpose there was to promote shows and play a half hour set and that was accomplish. Just so i DONT forget December's gigs are:
Busker's Night outpost 186, cambridge thursday 12 dec 19;
Geezer's christmas party in west Quincy, saturday 21 dec 19, club linehan-ago-go at 11 pm;
mad painter on crash course for the ravers, saturday 28 Dec 19 and
Lou's Year's Eve Club Bohemia, FREE concert! with Leon Rich/Frank Rowe/Club Linehan-ago-go/Love and Flame/Kenne Highland/Andy Pratt.

Tim Carroll from Gizmos Mach II liked the songs I sang (my oldies), nice to hear, I love his country stuff! brian played Kenne records in his computer so Gizmos-demos and rehearsals and Afrika Korps-live at cantones were played. Mad painter's "The Letter" was played at 222 PM! Gee Julie made an appearance coz her cousin Sabbath Drums was doing his Deep Purple tribute STORMBRINGER in Putnam Ct. as Brian played studio version of my theme "Lazy". Lettuce KNOTT fergit GLiDER was played (I'm on bass) and Cal Cali lissenin' from F.L.A. You can lissen on the archives maybe, but I dont "grok' all this computer stuff. After Brian "ripped" copies of Hopelessly Obscure live at maverick's 15 april 83 plus Radiobeat sessions (thank you Pep Lester!) PLUS Mad Painter, so DO request all the above. After Brian drove me to Grooves-Somerville whose facebook said "come buy today before the snow comes!" so I bought 13 items and ran into Rui from Heavy Leather Topless Dance party intern. This kid is hip! He'd bought a vintage jacket from High Energy Vintage, corner of School Street near Market Basket and he DID ponder whether to buy Trout Mask Replica, which, ironically, I first heard through Pep Lester! I told the lad i was into Beefheart at his age; "is there hope for the future.....the sad bells of rhymney".....".....

Monday, December 2, 2019

Sunday Morning Coming Down", WHRB usually has the Darker Side but is ORGY season! WHRB. programming>program-s... has program guide. Download Current Guide (PDF) . 0500-1100; Klezmore 2: Klezmore. Harvard kids in a Yiddish class playing really old 1920s 78s (ethic music of that ilk is "da fockin' ballz"- Schmel Herbie Hind and his electric oud! ). But THE "Winner By Elimination" and I didnt catch the artist was an even MORE Yiddish Alan Sherman-type doing "16 Tons" but instead of the coal mine, "I owe my soul to the delicatessen store"! So much fucken Yiddish (which I understood!) sounded like a three-way with Ed "Moose" Savage/Ken Kaiser/Jay Gruberger (hmm...".7 plus 7 is?" a minion!). How funny was this? I think a rhyme of "gefilte fish" and "briss" was in there....another song, love song, quite nice about a "sheine madel"; if they're anything like Abraham Lopes daughter's portraits in the synagogue down Newport way..."I got a date with a vampire gurl tonight"!"....

Tuesday, December 3, 2019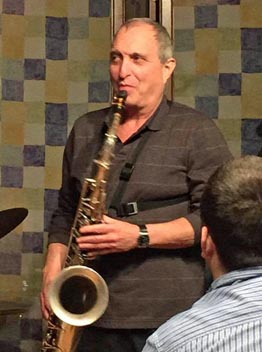 George Garzone

Monntag 2 Dec 19. Ken and Gee Julie at "Punjabi dhaba" (a song on my Be More Flamboyant cd! (stanton park)) and I been wantin' for a spell to catch Jerry Bergonzi (played with dave Brubeck!) Quartet 830 pm, lily pad, inman square. Due to Brockport NY early '70s snow, which I was at home with, Jerry cancelled and George Garzone (wikipedia AND The Fringe) was there sax, bass, drums. An almost 40 minute compostion was named "There's Snow Place Like Home". Will Slates was on the ole bull fiddle and on drums Luther Gray. an interesting cat. bostonglobe.com/arts/music/luther-gray. also on facebook. Reader's digest version: From DC, started out as hardcore drummer! following Idle Threats and Bad Brains, whom Kim Kane of Slickee Boys turnt me onto AND Luther "likes" Salad days, DC punk documntary STARRING PATRICA RAGAN!!! whom introduced me to that scene oct '76, ramones at Childe Harolde. Lawnmover is Luther's "punk-jazz" Boston band AND, on Facebook, he "likes" the Washington Redskins! DIDNT talk to him coz at the bar was Zack facco http://zackfacco.net. Conversation started with what jazz lp playing (John Coltrane's Ascension which basically was concurrent with Rubber Soul but there were NO Pharoah Sanders solos on THAT album!). Then "actully I'm a rock musician". I "came out of the closet" and we know Micky Bliss/Johnny Odd et al. Zach played in Absinthe Rose (with Johnny Strangeman perhaps) but friday 13 Dec at sally o'brien's he's in Tiny Pink Instruments. They play.....tiny pink instruments! After that, like a sober Dylan Thomas, i "walked gently into that dark night" and probably Welshed on some of my debts (my father descends from a Daffyydd, born Wales, died Kenton Delaware, Revolutionary War soldier, so dont me me aim my musket at yo' ass"......


Wednesday, December 4, 2019

Til Tuesday 3 dec 19. Club Linehan-ago-go practice night so let's squeeze in news and gigs. saturday 21 dec 19 Greedy Geezer's Christmas Party in west Quincy. WMFO wednesday 5 Feb 20. Mike Quirk's birthday party 9 feb 20 midway cafe. My "when I'm 64" birthday thursday 2 april 20 Cantab? My illedgible notes (before I fell off my practice stool, but I "walked it off" and THAT is why Buffalo Bills are #2 right now!), I know we did ten "rock Christmas" songs; nice embellishments, kinda Velvet Underground on Lady Caroline singing Pretenders "500 miles" or whatever is; it's the darlene Love (?) song she EXCELLS on! Ok, one note (before we cover "Help me i'm falling"): "Christmas in Jail" (my kinda song!) by the Youngsters,1956. Colorradio.com youngsters has ALL Kindsa record collector info but guess they were a '50s doo-wop band BUT the song has country "that'll be the day" chord progression. "let's face it, let's face it now...the Giz cant make it with gurls!" and dial 999 coz Mj Quirk has OUTobscured me on one of my favourite genres! though i guess Asleep at the wheel covered it. John Keegan did NOT do a 40 minute sax solo, though he, like Thundertrain, got "So Excited" over Monday night with the Fringe at Lily Pad. bassist Joe Quinn did fantastic even if drummer kevin Linehan was in In absentia, de-o. Joe was designated Kenne driver to the ole Union Square, Somerville Dunkin Donuts and all in all, a great practice!".....


Thursday, December 5, 2019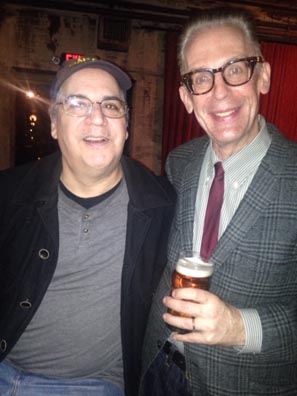 Captain Easy Chord & Easy Ed

day of Wodin 4 dec 19. SCAT and Heavy Leather Topless Dance Party. Murder Moment was about Natalie Wood and late '81, I did a lot of radiobeat sessions (ONLY on holiday weekends; needed Monday to sober up!) available on Five Beers Ahead of his Tyme (Stanton Park; 500 copies pressed!). caught Mother Iron Horse and if you were listening to first Dust lp and/or Sabbath's Masters of Reality this band is for you! Big-ass orange vintage amps sludge up that sound, cookie monster vocals too. Vanyaland>2019/05/17>studio-5... "what Studio 52 says: stoner/doom rock quartet Mother Iron Horse have put their stamp on Witch City"....during the "stoned-out looks from the crowd" interview, Ken McIntyre (host and fucken GENIUS!) asks: 'where are you playing?"..."oh Allston"....21 and 28 Dec 19 are gigs, one is O'Brien's: GO! (if you loved Dust's "from a dry camel"). After Schmel herbie Hind left Andy Excuse dubs of Gemini on a full moon/Be More flamboyant to learn for Lou Year's eve, captain easychord and I went to catch Primitive sounds, Brass Union and Dj easy Ed. "just like romeo and juliet"-the reflections was played, I saw a 45 versus my cassette of Bill Deal and Rhondels "what kind of fool do you think i am" and also maybe Bo Diddley's "Ooh baby"....the Captain and ed began talking records (let's not forget Sir Douglas Quinet "she's about a mover"!) and it was "Rain Men! Hallelujah!"....another great fun night, I THINK next week is Todd Purple and THOR'SDAY (same night as Busker Night and happy the clown in Inman Square!),DJ Easy Ed at bella Luna/Milky Way, J.P.....rememeber, Brian Young WMFO might read the BGN calendar but the KENNE KALENDAR, off the beaten path and more cryptic and obscure".....

Friday, December 6, 2019

"day of Thor AND Lil Richard birthday (both of whom i worship!) 5 dec 19. Supper at S and S square men's bar, then cross the street, get to the other side to lilypad for Liv Greene/Kaiti Jones/Lindsay Foot. place was packed! Young folksingers; Liv works at passim, said Kaiti, whom I did catch. I liked her songs and she had lotsa fake ending and good guitar picking. But what stuck in my mind was a song about "paying attention" (ADD!!!) and folks would talk and (title) :"sorry, I was daydreaming" (I do it too!) LAST line and then she stops cold (paraphrasing): "sorry,i wasnt listening/ too busy (stop!) writing eulogy'....cats in the fucken cradle!!! yes she has product, on facebook, reminded me of '90s VH-1 folk like Jewel, but that WAS listenable....dont worry I'm not going soft on you: FRiday night is Doom Metal at the Cantab!".....

Saturday, December 7, 2019

"Freitag 6 dec 19. shopping at Cheapo records. 13 items $23. read my facebook wall or....$1 copy of Something New by the Beatles MONO, rainbow Capital label, "slow down" b/w "matchbox", as they cover the '50s, were MADE for mono! Heavy vinyl too...this Beatlemaniac must be a granny by now...12 45s. "summertime blues"-who. "i'm yours"-ike and tina turner. "Mouth murderer" tanto Metro (dancehall reggae,mon! it's Cambrixton! western front, mon!). from the sun records box: "cinamon girl" by the gentrys. From the Stax box; "Tribute to a King' (otis redding) by william bell. "a ray of hope' and "any dance'll do"-both rascals. Sly's "hot fun in the sumertime" radio station promo copy! faado de on tem e de ho je aldredo marceneiro. Fernando Farinha. Favricado em Portugal....sure, laying in the soul 45s box....Fado is Portuguese blues like rebetika is Greek blues! Gerry Mulligan seven inch, five songs compact lp! re-read keroauc's On the Road, that's how i got hip to gerry Mulligan "hey beat mon!" (maroon beret). and lastly $4 for "Jesus is a soul man" by otis Williams; of The Charms, but by '69, he, like Zimmerman "went country"! recording in Nashville and Stop was Pete Drake's label; i got hip to him in '69 coz I had Zim's "I'll be your baby tonight"!(posibbly THE last 45 I bought in the '60s!).....ok, where MIGHT I be next week: wednesday next 11 dec 19,Todd Purple djs, Primitive Sounds, Brass Union. day of Thor,12 dec 19; leon rich at outpost with buskers 8-11 pm, then over to Lilypad 1030 pm for Happy the Clown! Friday the 13th, december: Zack facco plays SAlly O' brien's with Tiny Pink Instruments as they play....Tiny Pink instruments! Zappa crap-pa! anything avant-wierd or belonging on Bizarre/Straight OR resembling the Shaggs; my kind music!