12/10/2018
Monday, December 3, 2018
Thor's Day 29 nov 18. read that slade's bar and grille facebook page! So karaoke. Oxtail and two sides was the food special this day; as Buju Bonton of Jamaica proclaims "I am de greatest lover in de islands!" (check out his reggae, soon to come out of jail, drug charges, sadly). Thor's Day is usually Throwback Thursday or Caribbean Thursday but let me say some of these ladies singing had VERY fine voices, which I KNOW they had sang in church, though covering 90s hits by eraka badhu, babyface (he's also a Kenneth, and believe me, I got the ladies swooning over me ollsa!) and Beyonce. I took a gander at the REAL old school on the machine like Ray charles, marvin Gaye, Little Richard but drunken versions of Selena's disco medley and/or New Edition toons were more the "norm". Either way, a GREAT tyme and like they say in "thin line between love and hate": "are ya hongry?" (then she capped his cheatin', comb your hair before you take out the garbage, lyin' dogass! like Koko Taylor sang: "NEVER trust a man!").....

Tuesday, December 4, 2018

Friday 30 dec 18. ritchie rich and 24 karat funk "postpone" as facebook announcement said, but since Joe Viglione "likes" About Tyme Band, I'll give ANYTHING a shot once....Gee Julie did meet me and Friday's special IS those chicken wings, meat falling off the bone plus two sides. soundcheck was a few measures of "car Wash" so i was ready to re-enlist,buy a Ford Fiasco and guard the NSA again PLUS be station in SC and live in a trailer married to mah cuzzin! These folk DO play upstairs at the Cantab (bands are ALWAYS jammin up there!) so imagine driving Boston to Charleston SC in '79 in a green Ford whatever it was (that was the Sadie Hawkins edtion Ford Pinto that was later rear-ended but did not blow up-ed) and THAT was the setlist. Facebook; about "about tyme is a 5 piece band that specializes in Funk/R&0``b/soul/soft jazz/blues, and OLD SCHOOL dance music" all of which is in some of my father's DNA. Jennifer Lynn Stevens is vocals, doing a two-step in silver high heels; MY feet were hurting just thinking about it! singing three sets too! (I'd never last....) Donna Summer/Michael Jackson/ Aretha etc. ! Karl A. bryan Jr on SAX; damn GOOD! A berklee guy i've seen at cantab. Discogs.artist. 166273-Karl - Bryan "Jamaican saxophonist born in 1937" records dating back to 1964! could be his dad "ska is here to stay" on SEP records 1964! But my MAIN man is leader/drummer Mike Reid. Newark NJ (home of the kaiser cigar!) '73,then Berklee after I "liked" the page said "hey next tyme you come down the show, I'll say hi"...i like that! Folks that act like Kenne Highland... BUT, I went "Stone Cold Krazee" during the funky beat of the JBs "pass the peas" (a 45 i had the once); Jennifer Lynn sang the HELL outta "band of gold" (three chords! will the Kenz do it!) and GEE JULIE took a photo of me on the dance floor during James Brown's "Sex machine". This band DID NOT get fined cozthere were NO mistakes! Their "circuit": Foxwoods/Yotel down by southie/Cathay Pacific north quincy/ pete's grille, quincy/ slades and the south coast. Fun was had and THAT is what I'm ALL about; like they say in church "leave your troubles and the devil outside the door!""

Wednesday, December 5, 2018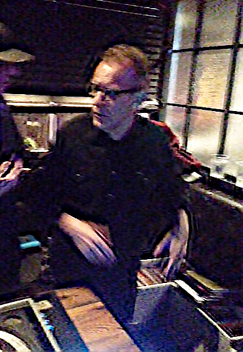 John Funke

saturday 1 dec 18, FINALLY made it to Soul-le-lu-jah at Sinclair; smaller, more crowded, drunken coeds (leaders of TOMORROW!) but John Funke has an audience! He dances on chairs, goes into crowd, plays air guitar...AND "No Sugar Tonight" (Guess Who b-side to "American Woman" done by Shirelles in '71! (Shirkey allston reeves, what a singer!) Soul Train reruns of jackson five/sly/chambers brothers...Ty Jesso of Providence's mighty garage band The Fabulous itchies also spun good r and b BUT on MY request will bring his boxes of mod and garage 45s 'that you'll really like" (Itchies opened for the Sonics, so you know where Ty coming from)...lastly, soundman Mark Davis was there dancin' and told me ty played the MC5's "lookin' at you" (b/w "tonight"!) 45 AND THE kids loved it! I did meet and friend some of them later, they were either drunk and/or friendly and i caught a 12:59 bus, turned into pumpkin, hey hey Cinderella....AND Jimmy Boticelli says soul le lu jah at Sinclair New Year's Eve....a DEFINITIVE possibilty! (watching them cue up 45s like i learned in TV/radio occupations in trade school '73-'74)""..



Thursday, December 6, 2018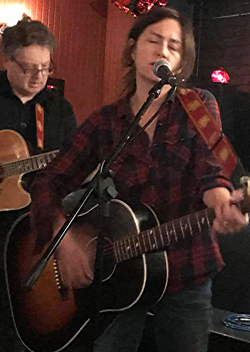 Natalie on her birthday!

sunday 2 dec 18; open mike at tavern at end of world = Natalie flanagan's birthday! I made it in tyme for punk rock jamboree; stooges and velvet underground songs performed ones that are in MY repetoire. Open mike: Frank Rowe "the Johnny Cash of Boston rock" (baritone voice? not my quote) was awesome as usual as was I since 19 nov 77 cantone's. I played FOREVER, bluegrass, LouGrass, George Jones, MC5's "american ruse" and since Kathy Chapman (photo on my orange stanton park album) was my "muse" : "twin cities of the mind" and "rain of death". We had guys who worked with ken Kaiser; Captain Easychords and last but not least Gary Montello doing a BeBop Deluxe toon and Vikki Porter with her "Joni Mitchell chords" (Mitch Murphy quote). Triple Thick Mitch and I have the matinee 5-7 pm slot sunday 6 Jan 19 AND: it's Babs O'brien's birthday! janice Clougherty on tambourine/maraccas! (Bo Diddley had the Dutchess)...Ken and Mitch will do some songs, I ENCOURAGE folks to get up and sing the REAL words to songs I can play and lastly even John Keegan is gonna toot on a song or two! dont make me light the firy cross but HELLO WORLD: this open mike is EVERY Sunday, so even if you catch Jay Allen's messaround at Plough, come to KEN HIGHLAND's mess around at tavern (we're both Aries so I DEMAND solo Jay Allen!) LASTLY, a Wizzard/a true star, Natalie Flanagan gained new fans with Janice and Babs (they were there when I got there and there when I left!). Natalie with a Bringing it all back home backing band (minus drummer Kenneth Buttrey) doing fukern Dylan's "visions of Johanna"....a Nobel prize winning performance! Folks were facebooking me "how long you hanging": read my fucken LIPPS, Inc.! 617-803-1289, text or like Deacon Soul used to say on his sunday morn gospel program WILD "call me, call me, call me!""

Friday, December 7, 2018

"a tuesday jazz jam at La Fabrica,Mass Ave. near Middle East. Like the Zombies, "He's Not There" BUT Lee Lundy was on bass; what a versatile player! Blues with the Kenne Highland Experience at Cantab (where I did a reverse Jimi with a rhythm section of colour!); plus funk with Ritchie Rich and now jazz, reading charts of standards! A Jay Gruberger-approved bassist. trumpet and sax. jazz guitar and drums. all varying ages probably students and teachers. As I entered the hostess was singing "Cry Me a River", got to end of verse and from stage: "I'll be with you in a minute!" (Natalie Flanagan, as Wonder Woman, tends bar, fetches food, runs p.a. and runs open mike on Sunday,making ME tired!)...Gee Julie joined me later, loved the food, sang along with "standards" (I cant see me singing at this jam, but i love the music!). LOTS of different activites at the bar, filling a void needed. e.g. Ryles jazz club closed; a Wally's level jazz jam on Mass. Ave Cambrige versus acrost the river (MTA DOES hit all these places and they're early, like supper time). So I'd go again and some Sir Cecil history : www.billcopelandmusicnews.com >sir-cecil has inteview . Someone's band - rare vinyl lp to be re-released! selling on ebay for $1800! Cecil grew up in London, knew Ginger Baker the lp is on Deram AND youtube. (psyedelic-blues-rock, my favourite from that era!). $51.27 gets you A Story b/w Give it to me (written by Cecil James, the SINGER, not drummer of the band) (sings damn good too; i've jammed on "get back" with him at cantab!) 14 August 70 release. (I bought Miles Davis Bitches Brew 4 July 70; EIGHTH GRADQE,Miss Lyn!). Interviews say Cecil came to States in '76 and 20 years later I'm playing mama Kin's small room with him and the legendary Keith Beauniece! (practiced RIGHT where Miss Lyn's living room table is! mama kin: Rock Steady drum beats during Stooges "down on the street"!).. Glad to see him again, I know where to find him Sunday and Tuesday!"....