9/9/2021
Monday, December 06, 2021

"every day is a Saturday 4 dec 21. Mad painter practice for Boxing Day (26 December) up Newburyport Brewing Company. TOTAL "Head's in '73" cover choices by keyboardist Alex Gitlin: "chirpy chipy cheep cheep' (Solomon Gruberger added that to a 1972 mix tape and my then-tween sister/cuzzin liked it); "Gudbuy T' Jane"- Slade (I had a slade songbook but on bass I was TOTALLY Jay Gruberger!) (that night: "Kenne, Jay was a good bass player but he was INSANE!"- Miss Lyn) Lastly, as Carl Biancucci would remember from O. rextasy, "Circle of hands" by "Uriah Heap (of shit)"; metal Mike Saunders ("trust me I like Pat Benatar"; "If you're a five, metal Mike is a seven"- Solomon april '74) turnt me onto the Heep; Sol and Dave mason "we just disagree"). Schmel herbie Hind was da ballz playing the songs perfect and Al Hendry (now, WELL Hendry! as in still alive AND well) nailed the drum bits...Mad painter schedule amping up, like them on facebook for facts I forgot!"....

Tuesday, December 07, 2021

Dienstag und Pearl harbor Day 7 dec 2021. 0600. turner classic movies (just like when I was in a trailer in the Korps in south Carolina!). The Deep Six. world war two drama. 15 January 58. All star cast BUT! to me, the star is Ross S. Bagdasarian as private Aaron Slobodjian (Private? He's "In the Navy": SEAMAN!). He drives his shipmates nutz playing Armenian music on 78s and makin' more Armenian references than ANY Schmel Herbie Hind in practice. BEST scene: They get liberty in san Francisco and he says; "I got a lotta kissin cuzzins at the Armenian Social Club"! The cook of the ship is a big fella and says: "what kinda food they got?" Slob says "Rice pilaf and shish-kabob!" Cook: "rice pilaf and shish-kabob / outta my way!" Then he gets onstage to announces to these Armenian ladies whom you would "sur" ("Love") about his shipmates and holy Jan and Dean! "two girls for every boy"! Sadly, Slob gets killed AND kamikaze attack destroys his record player with smashed 78 rpm vinyl on the deck ("that's the floor to you civilian maggots!"). SO whom was bagdasarian? David Seville! Chipmunks! "Witch doctor' recorded two weeks before this movie came out 1 Jan 58, released 1 apr 58 BUT when , in 1964, everyone was Beatlemaniaing, I was in Manassas Virginny pretending it was 1864 (Frank Vahue, mon onc, mort second battle of manassas; his mother spoke the French, but in Civil War Rochester, he enlisted to preserve State of the Union coz "doncha wanna be on the winning side"?). One final aside; I KNOW I had that Christmas Chipmunks album in '64, tho four years later I DID buy meet the Beatles. Notice on that Christmas song how Alvin is kinda like Kenne. "Alvin....Alvin...KENNE!!!!…." "ok"".....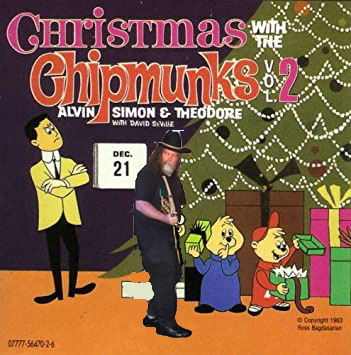 Wednesday, December 08, 2021

"Sonntag 5 dec 21. had German brunch at Bronwyn and had been getting notices from the Jungle about Sunday brunch gigs. Spoke with booking agent and they are from 1100-2 pm. SO go see Captain Easychord sonntag 2 jan 22, try the brunch etc. That Chelsea Curve residency in December looks good too!"

Friday, December 10, 2021

"Freitag 10 dec 21. WMBR 88.1 FM. Bevis Frond plays my distant cuzzin captain Beefheart AND The Police "Fall out" with Henri Padovani (from Corsica!) on guitar! He was in The Police January 1977 (Afrika Korps records "I'm a happy person") to Aug 77 (Afrika Korps live at cantones 21 aug 77). GREAT fast guitar like Tyranny and Mutation Blue Oyster Cult playing "sonic reducer"; Sting sings high AND fast! "Fall Out" recorded 12 feb 77 (Ken Kaiser records harmonies on "Make her know"!) and released 1 May 77 (Ken Kaiser records "Wild Mouse' on Mother's Day!). As the Afrika Korps was winding down, the first Mr Robin lane joins on guitar (he'd played on Eric Burdon Love IS album) and by October 1978 Police/Axe/Rat as I handed Sting a copy of "Ich Liebe Du laurie"-Kenny NOT Roalnd (Schlagers) Kaiser, two different bands The Police and The Korps....and henri went the way of Tommy Bonham and Solomon Gruberger! The Police has million sellers and the Korps had a million records in ken Kaiser's cellar'....

Saturday, December 11, 2021

"Saturday 11 dec 21. today let's check again https://secondhandsongs.com all "performance: with a little help from my friends by patty pravo"....ok it's on youtube and it's a unique arrangement; 'she's leaving home" harpsicord, "penny lane; trumpet, then the Joe Cocker arrangement with vocals on chorus only! Sgt Pepper 1 july 67, patty's Concerto per patty 1969 album seems to have pre-dated first Joe Cocker album! (recorded in '68 tho). Wikipedia in Italian! I translate this that she is backed up by the Primitives. "Genere; beat, freakbeat:." "storia del gruppo" ("Ballad del Gizmos?"). The guitarist really DOES ape the Jimmy Page/Joe Cocker solo: my kinda 1969 heavy AND "batterista Average White band' (check out "pick up the pieces" b-side "cut the cake" purchased at Somerville grooves!) Robbie McIntosh! "Italia da Glasgow"; also, since I figgered WAS hisself "morira nel 1974 per overdose da sostanze stupefacenti" ("O.D.ed on life itself!"). Lastly, because Patty HAD done a Aphrodite's Child cover, NO pulling wool over Alex Gitlin's eyes (like SOME Kinks groupies: "you wouldn't know her' but he did!) and let's see, news: Jungle the FRiday next 17 dec Linda bean and Gene dante ('90s Kirkland bands, being frigate and Jet Velvet Trash and I get high with a lil help from Toots Hibbert,mon!) plus Boxing Day, old chap, mad painter and Kenne Highland Air Force (a TRUE supergroup!) at Newburyport Brewing Company and I gotta get ready for my WMFO interview, so this IS the week that wasn't!"....