12/14/2020
Monday, December 7, 2020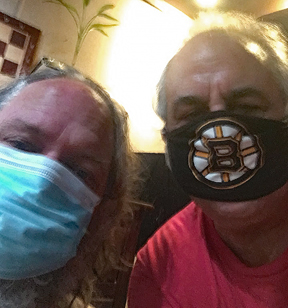 Ken'n'Larry masked in studio

Saturday 5 dec 20 Lowell Street Studio, micelf and Lt. Larry Newman did basics demos for three songs. We have about four guitars on local poet Christina Angell's song about "Billy Ruane"; vocals by Gee Julie echo grace Slick on that Jefferson Airplane b-side "Lather" which (youtube) was done on Smothers Brothers Show AND played a LOT summer '68 on WCMF Rochester NY (two years before Bob Bittner of WJIB started there). Another, "Insult to Injury" crosses Sir Lord Comic with the Clash's version of "Police and Thieves", mon. Vocal made up on spot! I could do a 1000 reggae records mon! All I gotta do is talk! lastly, coz it's out of my range (though girl group the orchids DID do a version!) off Kinks Size (American pressing, first!) was the "I've got that feeling" which, overdubbed fuzzed out guitar sounds like Jeff Beck going surfin, but turning "over under sideways down" and "wiping out". To be on my youtube channel soon. I already have next months session booked; just need to pick an "e.p.'s worth of tunes"! Stigmatics in there next month too! Psycho...others...the new RadioBeat! that's Lowell Street Studios! Tom Hamilton who did my orange Stanton park album


Tuesday, December 8, 2020

Friday 4 Dec 20. 806 PM. von Aybike Celik Ozbey von Istanbul Turkey. on youtube.. "First video from the new album. No More Mr Pinhead!!". That's Reptilians From Andromeda- No More Ms. Pinhead. (did she trans-gender the title? say it in "Broken English"!). I was walking from Salem train to Lt. Newman's vehicle blasting this before recording session at Lowell Street, Lil Richard's birthday. Keeping the "Dum Dum Boys" as (ball and) pivot men, imagine Niagara Detroit, in Constantinople, fronting the Stooges via the Dead Boys! How CAN a band so Turk sound so Midwest?! Great rhythm section and as a Giz-tarist, "Doctor' Tolga Ozbey ("tolga" means 'war helmet") and you'll need one as the Ottoman Empire runs amok Searching and Destroying with downward guitar strokes echoing Cheetah Chrome and BOTH Stooges guitarists! (hey, we'll even toss in Bill Cheatham, and Howe!). Stellar stuff rivalled only by that Stooges live at Goose lake album.


Wednesday, December 9, 2020

day of Wodin 9 Dec 20. 0430 or so, Coast to Coast AM. guest: Chuck Gunderson whom wrote a Beatles book Some Fun Tonight. Some Fun Tonight has facebook page and he says "i'll be a guest with George Noory on Coast to Coast AM!". Talking about Beatles 1964-1966 North American, First, tours and John ono Lennon, whom had died forty years ago the previous day (I was watching Monday Night football with ken Kaiser). Of interest was a caller from Hollywood, Maryland whom said they burnt Beatles "records and tapes" there (only open reel tapes in 1966 but Beatles fans are STILL on that magical Mystery Tour!). That part of southern Maryland I hadn't been to, though James Knott, my father and Mr. Roper's di-rect ancestor had died in Saint Mary's county Maryland in 1653. For those who "believe in reincarnation" and "there are no coincidences". Steve Garland (RIP) filmed me singing "jailbait janet" with Slickee Boys in waldorf Maryland (my "driver" was Grin's drummer). Waldorf to Hollywood Maryland is 29.3 miles northeast (waldorf is) and Link Wray did a Polydor album in a three-track reconverted chicken coop in Accoceek Maryland; I DID sing with Slickees in same county Link Wray recorded in. Again, rural SOUTHERN Maryland, they WOULD burn Beatles records. NO Gizmos records harmed in these bonfires!"

Thursday, December 10, 2020

day of Thor 10 Dec 20. Through the Remains bassist, I found Eden's Children's guitarist on facebook! Told him I got first guitar Christmas 1970 and next month got Eden's Children album $1.97 Big N store, Brockport NY.

LOVED all the Cream/Hendrix influence. Fall 1978, got second album Sure Looks Real at a Framingham mass. charity shoppe. "Richard Lee" (SHAM SHAMACH!) basically gave me some encouraging words ala "keep on playing" etc. Four lifetymes ago but 14 year old me "Happier than a Porpoise Mouth"!"


Friday, December 11, 2020

Friday on my mind. 11 Dec 20. 0415 or so. Coast to Coast AM and I wake up to Christian Slater talkin' 'bout Charlie Manson. a caller, from some research, could be Gary Stromberg, who has a facebook page; was/is in LA Music scene since '60s etc. he says he dodged a bullet telling manson "your songs are good but they need strings and orchestra'; and Charlie bought it! It was terry melcher and Beach Boys he was pissed off at...Schmel herbie Hind, ALSO a Coastie like Billy Gibbons/John Fogerty (ZZR? CCTop?) posted a "manson alert" on my wall PLUS seems Gary Stromberg did a 11 Sept 67 session (Manson got out of jail 21 march 67) and they played "Look at your game Girl". to quote Schmel: "on coast 2 coast 2nite a guy played a clip of a shy nervous manson playing songs 4 a record guy, he was really goofy and nerdy b4 the gov turned him in2 a madman via lsd mind control experiments" (clown GIZMO-ji!). Gizmos had played Detroit, I was stuck in ohio waitin' for Boston train and heard about THAT book summer 2019, phone and headphones...train from Chicago was late but I got to google MK Ultra! And book was in Harvard Coop. lastly, from the era, bumper music IN MONO on my radio was Byrds "eight miles high"....TRIPfucked Again!"


Saturday, December 12, 2020

Every Day is a Saturday" 12 Dec 20. Let's lead off with Schmel herbie Hind, wayland Groupie News: "beatles manson bee gees a la coast 2 coast is rockin this week" (clown Giz-moji). Translated from the original Giz-menian Dead Scrolls, that meant about 0400 or so this morn I heard discussion on Barry Gibb driving across some train tracks and that "scratch-scratch" guitar begat "Jive Talkin'' via Pops Staples! I even, in "Golden Slumbers" caught a disco Bee gees tune and sounded good on mono radio! never did catch what "Holiday" was about...("Hi, we have Linda from Somerville on the line what would YOU like to discuss about the Bee gees"? - what on earth does the line "Can't think what I just said" mean???-ed). And, as I lissen to Grecian Echoes WNTN 1550 AM on my I-phone/MC-5, Lowell Street will be ROCKIN'! (folks need me as their "under assistant east coast promo man" ("lookin' real cool in mah seersucker suit"....)...Sunday 13 Dec 20 Alex Gitlin of mad painter going into Lowell Street studios to record solo piano. 26 dec 20 Sir Alex john (keyboards) plus me on bass and Al Hendry on drums recording a couple Alex piano ballads ala Sir reginald Kenneth 11-17-70 album (piano/drums/bass). "There are no coincedences! Drummer Al born 11-17 also! THEN I heard from Pete Stigmatic (HIS best bette/ "Scorpio Queen' born 11-17!) and the first three Sundays in january I been asked to produce the Stigmatics at Lowell Street! They want Phil Spector, they get FILLED SPINCHTER! THAT and more Zappa-esque jokes into the new year/ "Into the Sun"!