12/20/2021
Tuesday, December 14, 2021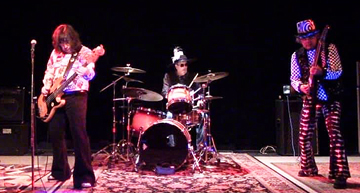 Mad Painter video - no Kenne that night

"Saturday 11 april 21. A lot of Mad Painter news and follow them on facebook. A video was shot, same place as was the Thigh Scrapers. An interview with Brian Young was done AND "cavewoman' by Gizmos was played! (1976, staying power!) . Blowfish did a BGN write-up, so like Derek and the Dominos I will "tell the truth": my bass influences besides jay Gruberger on Afrika Korps Live at Cantones 21 aug 77 (Gulcher), James Jamerson of Morown only used ONE finger to play all his melodic bass lines and LASTLY: Larry Graham playing with Sly using thumb and KEN KAISER pointed out how his bass line in "Dance to the Music" sounded like"At the Rat" (which Jay and I DID play live at Cantone's, same Gulcher disc)….laslly, mad Painter/Kenne Highland Air Force at Newburyport Brewing Company Boxng Day (26 dec 21) and as for mad painter sounding like the Gizmo Dog Band: maybe, but we're ButterNOT versus Butterscott whom "intro the outro' QUITE well!' ("and now...Adolf Highland on vibraphone"...a WCMF Rochester NY FM radio early '70s fave!")".....

Wednesday, December 15, 2021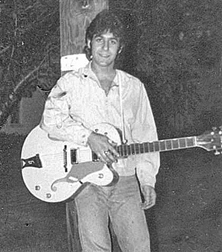 Larry with his Gretsch

"Dienstag 14 dec 21. It's WHRB orgy season again and lovin' it! Monntag was Amy Weinhaus orgy; VERY soulful vocal on "heard it through the grapevine"; maybe my favourite! Dienstag wust Sun Ra orgy and now I see why MC5/Stooges listened to his free jazz; an influence on Kenne Highland's Air Force WHICH bassist Larry Newman (KNOWN to buy a gretsch guitar from Cub Koda!) says "Very Detroit. sounds like Destroy all Monsters" (at least it wasn't the Gizmo Dog band though I HAVE gotten Mothers of Invention KEN- pear- is sons)> THIS day of WODIN! Ira Gershwin orgy! Ella Fitzgerald/ Judy Garland/ Lorna Luft; great toons too of course! Six pm day of Wodin before practice: Le Rap! French rap orgy! Played whilst waiting for l'homme, Monsieur Des Pres, le capitaine easychord!"......

Thursday, December 16, 2021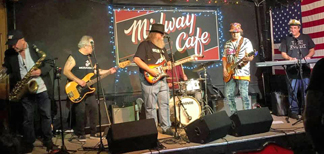 Highland Airforce

"day of Wodin ides of December 21. 6 pm. WHRB French rap orgy. Dig this genre! Smoother music than gangsta rap, very melodious and the French language just rollin' off the tongue; lotsa youtube and facebook presence. Where have I been with this style? Kenne Highland Air Force practice; it's been a couple months since Pete's in Quincy (John Keegan puts date on set list). The "usual" set and "usual' suspects: me/Keegan/ Schmel Herbie Hind-guitar; Captain Easychord-keys; Larry Newman-bass and Al Hendry-drums. New/old stuff: Stooges "down on the street" done John Lee Hooker style, John Keegan sings Velvet Underground "what goes on"; a Larry idea BUT John sang it in Club Linehan-a-go-go! But in keeping with the Sun Ra/Ken Ra Arkestra, my neighbours have a free library and I picked up a very ancient Hebraic hymnal book from, as Larry tells me the whole mushpooka (spelling), a VERY conservative Needham, mass congregation (He was Reformed; I'm Reform School) hymnal kinda like the Church of England Book of Common Prayer. Reading left to right, I read a page of a hymn as the Air Force squeaked and squawked free jazz in the background; think MC5's "Starship" OR Stooges "L.A. Blues". Jay gruberger smiling from his GRAVE about this mishegas! AND I can even, from this holy book, recite a Kadish! My new stage prop! Brother Lieb's Traveling Salvation Show!"......

Friday, December 17, 2021

Freitag! Bevis Frond on the radio. WMBR. go to archives read the playlist or join Facebook group (Carl Biancucci of O. rextasy comments!). 0742: "oi'm goang t' ply a rather scrahtchy 45 uv Siouxsie and the Banshees 1980 "happy House'; picked up guitar and in the key of E: "burnt out freaks blow your mind/ I don't want nuthin to do with your kind"...Gizmos recorded "Amerika First" Friday 8 april 77; "happy house' released march 1980 when, in mah South Carolina Trailer park (pre-Hixx!) it was "c'mon Gizmo, let's ply "free burd"" (NOT hangin' with no brown bread!). 7 March 80 and Dad's granddaddy Wilbert McBee born 7 march 1866 basnetssville west virginny; had Kenfederate kin on the Youst side. Married a Yankee's daughter. Cybil War! 0750 The Fraternity of Man: "oh no I don't believe it", written by Frank Zappa on the 1968 "don't bogart me" album. A lot of Little feat/Mothers/Beefheart alumni but Wikipedia says "psychedelic leads were played by Warren klein" and DONT I want Kenne's Air Force to Steal This Sound! (Highland quotes Hoffman!). 0756. "Food Fight' by the Village People! "thur comp'nee musta said "hey listen to Devo, this is woot's 'appenin'" and by Jove, it 'tis! "Food Fight" was the June 1981 b-side of "five o'clock in the morning". renaissance was their seventh studio album release June 1981 (wiki) "more new-wave influenced sound and less of an emphasis on disco"; check it out! And to think August '81 I was in Reading Pennsylvania (Taylor Swift born 13 dec 89 west reading, PA.) negotiating that Afrika Korps reunion which DID come out on New Rose"...…..

Saturday, December 18, 2021

"Freitag 18 Dec 21. 6 pm or so. walked into Gene Dante at Jungle, band sounding ace! (supreme). added a lady backup singer whom was quite good. New songs! New record! One song had a "Heroes" riff, another a "Rebel rebel" riff. I DID see Bowie's Midnight Special fall '73 (reviewed in beyond our control) and Gene's performance had that kinda vibe. Great band, great show. Ditto Chelsea Curve! I saw Suzi Quatro open for the Dolls April '74 (O. rextasy review?) and Linda Bean ist Kleiner Suzi! Otherwise the band sounds like the first two jam albums played at 78..."I did that man and saw Link Wray mon...h'agony and the h'ectasy!"...Discussions WERE made about how was the Cantab doing as this Chelsea Curve residency wants to move there, so NOT missing a beat (hey, I drummed in O. rex! ONE drum lesson from Solomon Grubeger on sunday 3 june 73 and me whining "let's play "louie louie"; Rockin' Blewz!") I volunteered my Air Force for this mission of opening. Afterward talking with Gene Dante, he, whom DOES NOT need to "Be More Flamboyant" LOVES Chelsea/Gene and Kenne at cantab! BUT, as I listen to www. bluesradio. Greece, a blues radio station "Ath ens", let me list the upcoming shows: Mad painter/Kenne Highland Air Force- 26 Dec 21, Newburyport Brewing Company; a cricket page I get from Oz says there's Boxing Day cricket in "the land down under"...those Aussies EXEMPT from this gig as they should drink an oil can of ale and watch cricket on the Sunday with that lil Gecko on tv! Start your new Year at the Jungle brunch sunday 2 jan 22 (!) with captain easychord! 1100-2 pm. and lastly, Elvis Bowie's birthday, Saturday 8 jan 22, though I have mad painter practice, DO go to Midway and watch Larry Newman's Preservation band! Kinks/British invasion and I used to see the band listed on that Bunratty's concert board back in the 1900s! he also says the American Who ARE the Who, so Kinks/Who...shit! goddam! git off yo' ass and go, mofo!".....
| | | |
| --- | --- | --- |
| | Linda BP - Chelsea Curve | Gene Dante |