12/21/2020
Monday, December 14, 2020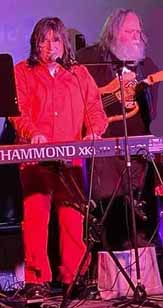 Kenne'n'Alex

S-A-T-U-R-D-A-Y Night!" 12 Dec 20. Ida May. at Café Crepe or
whatever it is in Davis Square, Somerville, discussed producing Stigmatics with Pete MacCormack whom said Randall Lee Gibson IV recommended Kenneth E Highland the first to produce; "he has an encyclopedic knowledge"; Randall been knowin' that since Throbbin Lobster! Pete wants "record" (eight songs) to sound like "the Real Kids...or the Saints"....ok, that was when I was recording Music to Stig By by the Stigmatic Korps...took a bus to Mad Painter practice. Sonntag was Alex Gitlin (keys) and Al Hendry drums (Attila album anyone? or
Lee Michaels, y'know what my mean? Drummer Frosty was 300 pounds!). My next Lowell Street recording session with Mad Painter is Al/Ken and Al, piano/bass/drums. Classical influenced ballad crossing Aphrodite's Child with, as Solomon gruberger (RIP) called them "Procol Bore-um". Al Hendry did some snare break that was SO BJ Wilson, I was "Copping" Chris's bass lines! This real Giz gonna be "Busy Man" in the 13th month of last year! (that's called January; just as Gizmas is "next week"


Tuesday, December 15, 2020

Monntag 14 dec 20. I heard the 45 "Bellbottoms" by Jon Spencer Blues Explosion (14 Feb 95 release date) in movie Baby Driver (?) and loved it. Shopping at Somerville Grooves, saw the Orange album (12 Oct 94 release date; I was banned from Kirkland Café 1 Apr 94) for TWO BUCKS! Gizmonics: even if I bought the 45 and rest of album was filler, "such a deal!". Happily, album is not. I have toyed, in Rockabilly Yobs (1976), of idea of "punk blues" i.e. Iggy plays the blues BUT you get "L.A. Blues" vocals and off-kilter Captain Beefheart (my distant cuzzin!) angular blues patterns circa Trout Mask Replica. Descending from three of the four Spencer brothers whom emigrated to New England/Harvard Square ca. 1632 COULD Jon Spencer and I be kin? (I stayed up til 10 pm working on this!). Find-a-grave lists a Spencer born 1785 in Hanover NH, so post- Revolutionary War migration is possible...plus he screams his name in an Iggy-cum-Beefheart way in every song! Love your music, but get a DNA test mofo with your Ole/Matador records royalties!"....

Wednesday, December 16, 2020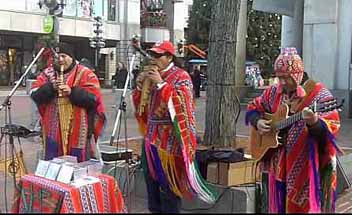 Remember these guys in the 90s?

Til Tuesday Ides of December 2020. Listened to a fiddy cent cassette by Peru Andes: Condor. Folklore Americano. Couldn't find merda on the internet except for a 02139 central Square post office box, When it comes to traditional Peruvian music, Inca Son has a strong and facebook presence. SOMEHOW I think they had TWO Andean bands in Harvard Square playing back in the '90s. Either way, they use the traditional pipes AND a guitar-like instrument with armadillo shell! Lotsa Wikipedia info on trad Peru music BUT when Gizmo and Garfunkel did "El Condor Pasa", reckon Paul Simon was diggin' it too! (first four songs BOTH sides Bridge Over Polluted Waters were released as 45s making that album, like Magical Mystery Tour, TWO e.p.'s worth of material!). Either way, happy with my purchase, instrumental music good to read by"

Thursday, December 17, 2020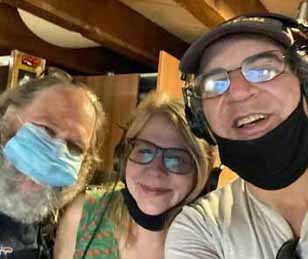 In studio w/Kenne and Gee Julie

day of Wodin sweet lil 16 2020. Lowell Street Studios sent Mad Painter's "Love is Gold" down to me. Call Alex Gitlin, Elton Gitlin! When he sings with Gee Julie it's "don't go breakin my heart", but he had some kinda synth/strings thang which, along with Al Hendry's superb Philly 45s played at the Other Side drumming, coulda be NOT FREE of "Philadelphia freedom". I try to do one-finger james jamerson Motown bass on this (since in 1940, dad's father and his WIFE lived one street over from Motown Museum in Dee-troit, so is in my DNA); Gee Julie also does an "oo-la-la,oo-la-la" in the middle eight taken from "you wont see me'; in effect it's mid-70s Elton (Sir Reginald KENNETH) but it aint PLASTIC soul, trust me! and that's only ONE track on the mad painter album!
(though we "better get our skates on" to equal Reptilians From Andromeda!)".

Friday, December 18, 2020

day of Thor 17 dec 20. Got a text from Lowell Street studios yesterday and soon, the Kenne Highland youtube channel (13 subscribers!) will have three songs from my last demo recording session of Lt Larry Newman, Nikki and the Corvettes (BOMP) and Gee Julie of Mad Painter. Looking forward to hearing it micelf, agin!".


Saturday, December 19, 2020

Friday on my mind 18 Dec 20. Dug out, from Somerville Grooves, my five dollar mono copy of The Shout- Les McCann Ltd., Pacific Jazz. His live 1960 third album. Perfect for relaxing (beatnik jazz) or reading Kerouac; I made it through side one, slept (COAST TO COAST AM 740 WRKO! 0100-0500!), then whilst watching Petticoat Junction, same tyme as Schmel Herbie Hind (there ARE no coincidences if we're texting on Facebook at zero-drank-30!), Lowell Street put on youtube "Billy Ruane" ("Gee Julie nails it as a vocalist"-Captain Easychord, plus "I've got that feeling' (Kinks kover done surf) and "Insult to Injury" (me channeling Sir Lord Comic AND singing Sonics "Psycho" reggae style mon! "dot is h'agony to listen to": Toots Maytal Sunday 30 Nov 75, Bloomington Indiana). I still have 13 (!) SUBSCRIBERS on my youtube channel but now have NINE videos, so check out, leave comments I AM NOT GONE (buy the Asa cd from Larry Newman and Saint Gregory would SHAW like the fact that a Gizmo and a Nikki and the Corvettes recording! Gang War? more like (James) Gang; BANG!). Mad Painter practice tonight for the studio! "if you wanna play the right fuckin notes go play with the Detroit symphony orchestra!"- Cub Koda 9 July 74. "rock and roll is better than music!" AND Cub acting out Andre Williams "Jailbait" for the O. rex boys who two years later...."there are no coincidences!".....