12/22/2014
Monday, Dec 15, 2014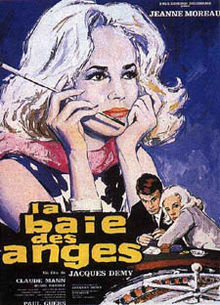 things to do whilst having bad head cold: La Baie des Anges, jacques demy 1963, Jeanne Moreau's is bleache-blonde like Dad's second Mrs. Highland and a compulsive gambler; 7 pm harvard film archives, i may go see it AGAIN this week! my usual WRCA 1330 AM shows (see website for schedule!) plus Coast to Coast AM WRKO; supper at Charlie's Kitchen and first Modern Lovers and first Pretenders on cd-spinn - great Music To Eat By! Sickness IS a blessing: ALICE COOPER has a show on WZLX, he played "ballroom blitz" by The Sweet, then did some trivia ("Humphrey Bogart and Princess Dianna are seventh cousins, but I'm sure they've never kissed";Alice as Highland!; THEN into Mountain's "nantucket sleighride"!!! (maybe I was Corky Laing in '74 on an O. Rex recording with the Gruberger Brothers (RIP), whom I know woulda freaked out in a moonage daydream over this; mostly you hear "misisppi queen" NOT that i mind THAT neither!). Sunday was Worldwide Monkee Day but I wasnt Monkee-ing around, but stayed mostly inside with my usual WRCA gospel AND WJIB classic country on sunday morn; Bob Bittner played a 1966 Jim Reeves RECORD with surface noise on a TURNTABLE and MENTIONED it! (Peter Sheinfeld Rockin' at night, friday night, Gee Julie made some mention about me liking "sockhop music";"that IS rock-n-roll" sez the Coasters!). indoor movies whilst sick; The Invisible Invaders (1959), John Agar, a few steps above Plan 9,and go to Video Underground, washington street, near Midway for Giroux-approved video needs! all i remember of last night before "Golden Slumbers" was watching some 1947 Heddy Lamar film on youtube....tyme for THIS Bear to hibernate! regret missing the Real Kids, but fighting laryngitis and wanna sing at captain PJ benefit saturday 27 december! without my vocals sounding like wild man PJ".....
Wednesday, Dec 17, 2014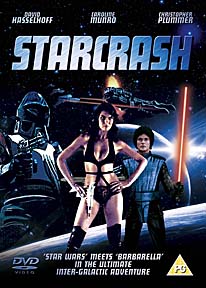 I feel REFRESHED and can tell y'all about Trash Night 2014, $7, Brattle Theater in hah-vud square; Starcrash (1979 ) is a "grade Z" eye-talian version of Star Wars, endorsed by Jeremy Cargill of Ugly Things and Jay Dobis Natick-via-ISTANBUL (doin' Turkish pysch comps!): Pepe Lester introduce me to Jay as "the guy that turnt Jon Richman onto the velvet underground". ok, so make this spaghetti western cheap-o Star Wars knock-off, like those "sword and sandle" classics i loved 50 years ago in manassas, virginny; badly-dubbed english too, of course! Gee Julie had NO interest in seeing scantily-clad eye-tallion wimmen but i sho did! Her operative question: "did they shave?" and since i did sleep through half the movie (earthy, crunchy cold pills, man)...the answer is: nary a hair seems out of place! (use of "nary" copped from Meltzer's Gizmos Line Her Nodes, as is half my writin' style;"nodes" was from Al Kooper's I stand Alone, columbia record club 1969, when i delivered papers in 6 feet of Buffalo NY snow!) (take everything i say, divide it in half, thet's thuh truth....ok, so 'twas only 3 foot of snow, it 'twas...where's me Jameson?....)....
Thursday, Dec 18, 2014
since Gee Julie and I are RABID WJIB lisseners, here's a couple-a oldies BOB BITTNER played and it aint even winter yet, but this Bear is hibernatin'!: "Chevy Van"-sammy johns,starts in A-suspended, what I call TOMMY (rock opry) chords. check THIS week: wednesday 30 april 75, embassy in Saigon falls to Ho Ci Minh (sumbtich wuz better off workin' at the Parker House!) and my paternal grandmother/7th cuzzin Maxine Highland McCutcheon dies thursday 1 may 75,"Panic in Detroit", coz her onliest son had gave his life for a LOSING war (Dad was my seventh cuzzin, onct removed). (editor's note: WAIT! Kenne are you saying your father was your 7th cousin once removed???) maybe I wuz in Dee-troit for funeral then BUT saturday 3 may 75, has "Chevy Van" peaking at #5 billboard charts, which meant it was somewhere in my unconcious spring '75, still stuck in Brockport, NY, spinning my wheels, gittin' stoned, lissenin' to Sabbath, praying for Gizmos/Sex Pistols to make rock ROLL again...also, this morn i LOVED the Handymen's version at Plough and Stars of "let the sun shine in" AND, if you strum the B to F# with wicked downstrokes, toss in the G and D, it's ALMOST "Sonic Reducer"! 2015 Korps kover?!?!?!?!?!?!??!"........
Friday, Dec 19, 2014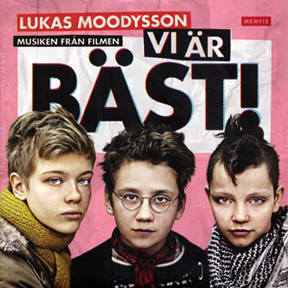 2 for One Tuesday at video underground, washington street, jamaica plain and Gee Julie picked out a couple-a Svedish films! (Sator approved!). one was a Bergman (not watch yet, me the video) and other is Vi Ar Bast! (We are the Best!) Stockholm 1982 and these Svedes are about five years out-of-date, but is still quaint "coming of age" (cf. Stand By Me) story of three 7th graders trying to form a "punk" band (in my tyme woulda been a "psychedelic/san francisco" band since that was the '68'69 "rage" or were power trios the vogue? i was NOT playing age 12; 14, yes). this girl punk-band sounds somewhere between O. Rex/Shaggs/Slits, cute impotetence, charming (all kinsda adjectives, all kindsa adjectives)..."Hate the Sport" is a hit and a boy band they hook up with has another "hit" about "fuck reagan/fuck breznev"....more info on di-rector and his wife plus the soundtrack; good Swedish "old-school' pink! The Vikings were the original "dont give a fuck" punk-rockers, it's in their DNA (mine = proto-germanic = PRE-Viking, so there!)...."....