12/24/2018
Monday, December 17, 2018
sunday 9 dec 18. tavern at end of world. Martin-Morell, a neat and a Del Fuego and toss in Dave Fredette of Strangehold and we got a supergroup! VERY Neats sounding, of course, good guitar inter-play. After Eric Martin, when I gave him the Love references said "yeah we COULD play Love's Forever Changes". a damn fine album and a damn fine influence. The blue - eyed soul of "didnt i blow your mind this tyme" equals I might TRY to sing with soul but Eric Martin is THE, man! So folk-rock, Philly soul, Neats ....if this AINT a good band, I'll eat my macBheath tam o' shanter wi ' haggis! open mike had great sets by Natalie Flanagan/ Jay Allen / Kenne Higlhland .....but fucken Eric Martin! probably the best since i saw neats cover bad Company's 'shootin' star" at channel in '90s maybe?.......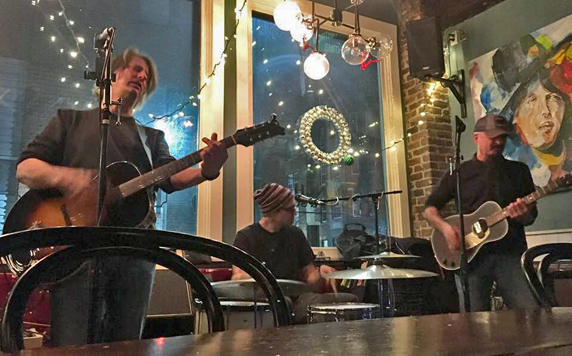 Martin, Morell, Fredette
Tuesday, December 18, 2018
Thor's Day, 13 dec 18. invite from Leon Rich (guitar with Anderson Mar, RIP) for a open-mike "busker" event 8-11 pm at Outpost 186! (THE final outpost of fringe music!). walked in Leon was singing standards (Frank Sinatra etal) at an upright piano! and doing trumpet noises with his lips! (a third instrument he plays!). Christmas carols and cookies and crackers and meat and cheese....back to the music! Captain Easychords (he and I are in Cal Cali's Glider, so cut and paste this Cal!) did Zimmerman's "she belongs to me" upright piano.....as good as Nelson's dad! (but Ma had their grandfather's foxtrot 78s so down in virginny, HEIGHT of Beatlemania, Ma's teaching me how to dance to Ozzie Nelson foxtrot 78s! THEN I saw james brown on where the action is...)...in "keeping with the holiday spirit (2 per cent of my Scandinaivan DNA says: WORSHIP WODIN! on Wodin's day of course!): Hank Williams" "never get out of this world alive" (a 78 i bought at stereo jack's, Mass. Ave) and "if drinkin' dont kill me"; if i knew "daddy's drinkin' up our christmas" ida sang that! Captain Easychords and I at Tavern Sunday last were discussing the Seeds so I sang my picture sleeve 45 of "cant seem to make you mine" ("owww!"). some other good folk muscians, a cover of "Fever"....oh wait! me, Leon Rich and the Captain ("yeah!!!!!! MENTAL!"....easychords, not PJ) doin' "Hey Jude", Leon on piano, me and the captain singing into mike and me on off-beat tambourine....that DAMN sure de-gruntled me for work next day!"
Wednesday, December 19, 2018
Friday 14 Dec 18. Ken and Gee Julie explore "options" (a favourite word of my distant cuzin Linda garreau Highland) . Curiosity killing the George (so Miss Lyn was the lady in the BLACK hat guiding me to urban Rat punk scene after i left the wilds of chocolate city?) ended up at Mad Monkfish (formerly Thelonius Monkfish!) . always wanted to catch Yoko Miwa Trio and ten dollar cover was THE cheapest around Central Square if you compare. Claustenhaller fake beer and sushi; hmmm.....not quite my ole white trash Father's Two diet of piss draft and ten cent hotdogs....So, a nice venue and let me praise Yoko Miwa with upright bass and drums. seems she came from Kobe but now teaches and that right hand was gliding all over the place! Willie Loco does the Thelonius Monk chords; Yoko reminds me of errol gardner's concert by the sea; back when i bought On the Road in late '69 (two years before Funhouse!) and borried every '50s jazz lp at Seymour public library (usedta carry rock scene and Wayne County's column! dallas Georgia had LESS stoplights than brockport NY but it was become a "Fool for the Citr"!!)...Yoko and trio have friended me; mayhap i shall return like general MacArthur and investigate more 7-10 pm jazz suppers after work (STILL not retired, STILL disgruntled and it's a Moto toon! "I hate my fuckin job"- SO Buzzcockian!).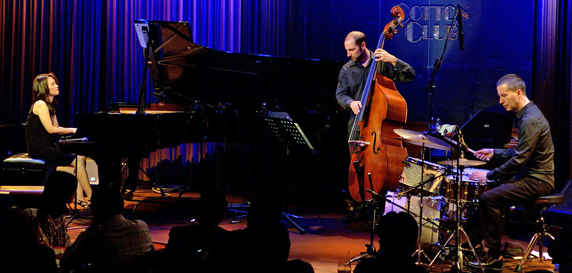 Yoko Miwa Trio

Thursday, December 20, 2018

also friday 14 dec 18 was over to Groupie Towers II and my eighth cuzzin or so Miss Lyn sez: "Kenne, y'all wanna watch the Allins on showtime?" Now the Allins is sixth cuzzin t'mah ma, "yankee by blood, yankee by birth" (John Lincoln Wright) and lemme tell you Joe Coughlin'd be happier'n shit coz he turnt me onto Jessco and the wild wonderful Whites of west virginny! log cabins, trailer parks, GG's ma IS cuzzin to THOSE Fondas and like a redneck Barbarella "if they keep messin' with Kevin's grave, i'll get my gun and shoot 'em in the ass!" Did I grow up in brockport, New Hampshire? Say what you want, my sixth cuzzin GG died young like my 8th cuzzin Elvis (ancestry app) but brother/my sixth cuzzin Merle DOES do a Colonel Tom Parker in the merchandising dept. I only majoured in business at Brockport High, Sir Mick Jagger went to London school of economics. and thank God Merle's a packrat historian coza lot of the photos i saw, I've seen on his site. In the end, they really DO miss their son/brother and also good to see Jabber Rob Basso, whom I FiNALLY met AFTER Wayne Kramer passed me by in front of the Paradise...so watch the movie or why aint it and Hated a double bill? kind of documentarys on BOTH Allin brothers........

Friday, December 21, 2018 saturday ides of decembrists, 2018. bought a $10 ghetto blaster from central square goodwill plus $17 worth of gospel music cassettes from Cheapo records with a dog-eared Aerosmith bio tossed in free! caught A-5 at Russian music night middle east; Alex Gitlin and Flynn Young from Mad painter did this Middle east up gig; very polished jazz muscians, good singer whom sang in Russian. Plans for New Year plus Future/Gigs: January 2019 mad painter auditions new guitarist

(I'm on Jay Gruberger bass). Doin' Nat Flan's Sunday open mike 730 pm EVERY Sunday, so meet me there. Babs O'Brien birthday is sunday 6 Jan 19 tavern end of world 5-7 ken and Triple Thick Mitch play for two hours and YOU are the special guests! percussion/ background vocals; like a hootenanny or a gospel revival! (SO happy I have reverend Cleophus Robinson on cassette!) tuesday 8 jan 19 VAT (Fable Grazer folks ) have a sword swallowing circus act opening! I jam with Mark Drinkwater at 1130 pm....one chord for half hour? ravi shankar at monterey? Thor's Day 10 jan 19 , 8-11 pm Leon Rich does his busker event Outpost hampshire street. Club Bohemia Cantab open again and Cazbats offering club linehan-ago-go dates. Could even be in a Johnny and Jumper cables reunion! (I now work with drummer Tommy Bull!) see you in the clubs unless this Bear is hibernating listening to cassette comps of Smoky Robinson and readin' about Aerosmith drummers down the Sugar Shack hanging with Chubby and the Turnpikes! (became tavares but I AM chubby!)".