12/26/2016
Monday, December 19, 2016

when one has Brockport, NY weather in Boston, it may as well be 1971...but instead of Circus magazine penpals and my radio shack turntable/8-track/cassette, I have the I phone Five to "Kick out the jams"! so, friday 16 dec 16 and Saturday morn 17 dec 16, Ken and Gee Julie watched a Masterpiece theater of Moll Flanders with a Martha Hull looking Moll. Gee Julie went to a Zeitgeist Gallery reunion and since we had Minnesota weather became an "Acton Woman". Micelf, Lir were too crowded so I watched Louisville basketball and 'ad shepherd's pie and soda bread at McGreevey's next door...a gud noit fur a pub crawl it were! lil AM radio was ROCKIN": WMEX played a Rascals toon and I googled Gene Cornish, Rascals guitarist from Rochester; I shall rave on further about him

BUT on yotube his RIVAL band The Tempests did "Rockin' Rochester USA" on the Chase label in 1960...lyrics online too! Coast to Coast AM had some weird topics: Bigfoot/UFO in LEOMINSTER Mass., but it relates to the Bridgewater triangle, a whole 'NOTHER topic! also Jesus being descended from Cleopatra and the Knights Templars knew about it…remember, I hear this stuff like Son of Flubber! heard some Beijing pop on WILD which is now ALL Chinese programming; I liked the Asian chanel AZN when I lived in quincy which usedta be the international channel when I lived in Somerville! WRCA kinda not broadcasting but Skippy White is on WZBR Dedham 1410 AM! Bob Bittner's country memories (LIKE WJIB, I COMMAND you!) had KENNE Rogers "reuben james"; Mickey Jones was drummer and HE replaced Levon Helm in the Hawks BUT 17 may 66 when Dylan was "heckled" in Manchester...usually people holler "JUDAS"! when I go acoustic! and off sunday fer an irish breakfast at LIR hangin' with the Gooners Manchester City 2-Arsenal 1. Being a Man of Kent, I gotta be a Gooner. Fenway to see new Will Smith movie (next one playing); very surreal but HELEN MIRREN! Gee Julie got back to taown and it was ABC, australian broadcasting system, northern TAZMANIA...a news flash on road markers that warn the "tizzy devils" not to cross into the road..quite a "fie-tal-ity" wi' em...and coffee this morn in my electric eels mug and radio Taz 'ad a bloke talkin' 'bout what Australian wine to drink on the veranda as the family plays backyard cricket! toim to lea' the coldt and go to Tazmania, oi say...and bleedin' Roo thinks 'e's the craown jewels (Summer of the Seventeenth Doll ernest borgnine film)".....

Tuesday, December 20, 2016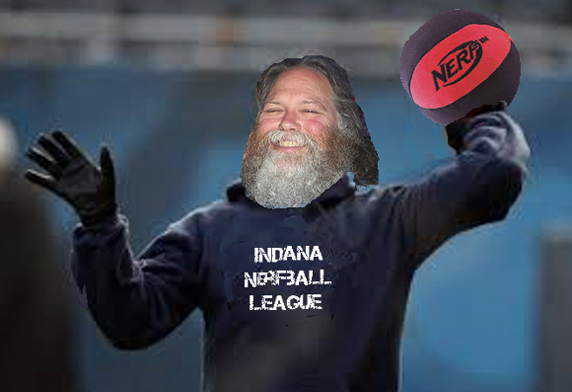 Kenne playing Nerfball
two jokes whilst drinking me coffee out of an Electric Eels cup, Gee Julie had x-blank-x, John D. Morton for brekkie each morn: her sister's grandson was getting a Buffalo Bills football for Christmas; "Kenne they actually THROW the ball around outside" me: "hey I usedta play football"; Gee: "I cant even imagine you throwing a NERFBALL"...ok, Alice Kramden to my Jackie Gleason ....and onto the ABC, Australian broadcasting corporation, it was already Tuesday night instead of Tuesday morn, but they reviewed the new Will Smith movie that I saw sunday after arsenal lost to Man City. "weeth Helen Mirren and Kiera Knightly ply-ing Death and Love, pie-pil 'ave loikened it to a Christmas Tale"...bluidy well roit! Dickens did live near Byron's Grant ancestor (me da bein' Byron Grant Highland) back in ole Kent...it's also THE lowest box office of Will Smith, Variety panned it but I liked it, a feel good movie. though the "ghosts" were a theatre troup doing "street theatre" and "gaslighting". Sharon jones and dap kings and dave van ronk in soundtrack, i believe. and watching the dominos fall is as surreal as the Belgian movie Mannequin Pis...ok, that's my bluidy review, then Gee Julie told me the loits were goan go out in Tazmania this night....good to know what's goin' on in ole Tazzie!".....
Thursday, December 22, 2016
| | |
| --- | --- |
| | |
"drinkin' my Dunkin' Donuts ("it's like rocket fuel"-willie loco before he recorded "shoot that girl" with hopelessly obscure), today's topic is: REXIT! kinda like Brexit only from Rochester NY. since I both LIKE the Count and also LIKE to count like the Count on Sesame Street (photos side by side), let's make that in precise Modern Lovers order record collecting list: 1) Gene Cornish, Ben Franklin High School '62, moved to NY in '64 to join Joey Dee and Starliters, then Young Rascals, though check out his early '60s Rochester 45s; 2) Wendy O. Williams seems to have dropped out of Webster NY in '65, went to Colorado, then ended up in NYC in '76 3) Louis Grammatico Gates '68, Black Sheep played Brockport High December '73 but early '76 he moves to NYC with Black Sheep's blessing and I hear Foreignor 45s on jukebox at Fort Meade Maryland, Foreignor outselling any record I ever made with Ken Kaiser 4) Lydia Koch ran away from home age 14=1973, meets Suicide "needs lunch" and COUNT V, (lead singer KENN!): KENNE HIGHLAND! graduates Brockport High '74 decides NOT to make REXIT to Brooklyn NY and join O. Rex for reasons ONLY Ken Kaiser knows and instead moves to Bloomington Indiana, Gizmos, yeah, yeah, yeah...coz I heard "people got to be free" on WRKO Saturday last, I was googlin' Gene Cornish facts, so his Joey Dee/NYC move= my Gizmos/Midwest move and EVEN despite the Young Rascals playing the Choo Choo Club in Garfield NJ, no record I ever did with Teaneck's own Ken Kaiser, sold as many copies...reasons: Gene had a better guitar than me! (that big ole Gretsch with thick strings; lil steven interview; also "I was from whitebread Rochester NY, I didn't know anything about Wilson Pickett") Good God y'all!"......

Friday, December 23, 2016

"well, a Gizmas present for y'all would be 13 Jan 17 out of the blue gallery, club linehan-a-go-go and a Kaiser-less Kenne band. 1 jan 2000, Kenne Highland Clan opened the Kirkland café with "pills", rhythm section MJ Quirk and James matthew Burns! add John Keegan and my only comment for set list; "pick ANY 13 songs YOU like from Gizmos to Be More flamboyant coz y'all have played them ALL". 13 Jan 83, meet Captain PJ exit 13 Worcester mass. Unattached/Hopelessly Obscure (one ex-Gizmo per band!) and lastly: run that clip of me singing "at the rat" with the Boom Boom Band for willie loco's 70th! Trump's president, get over it, let's rock like Richard Nixon's still in office! (WHICH I DO!)"....