12/30/2019
Monday, December 23, 2019
saturday 21 dec 19. Geezer's Garage Night quincy mass. Got off an 8 pm bus to the tune of Joey Fingers (did a Tom Waits song). bayou Boy Orchestra lots of fun zydeco. Doug MacDonald's stream of conscious lyrics and Bo Diddley guitar and Patty Short's locomotive drum beats always fun. Tokyo tramps did an excellent Christmas blues song then MJ Quirk woke me up with "it's showtime!". I have set list here. "(Christmas) Please Come Home". Phil Spector song and Lady Caroline really projects for me and Mike Quirk on guitar and Joe Quinn on bass and Kevin Linehan on drums and John Keegan on sax. "Christmas in Jail" i did rockabilly licks. "Rockin' around the christmas tree" was more rockabilly. "Santa Claus" was Pacific Northwest "Have Love will travel" (naming riffs and styles i stole from for Giztar player). Human Sexual Response "Glass Pinecones" and Rich Gilbert knows we did it! (powers of Facebook). Q did lick and I stuck to "communications breakdown"/"paranoid" fifth chord hangin' heavy on low E string (OR "aint nuthin' to do"-Dead Boys and yes! Page/Iommi/Chrome as giztar influences!). "2000 Miles" is Pretenders song again sang by lady Caroline magnificently. I did kind of a velvets 'sunday morning" type of folk picking on this. "santa claus is back in town". I dont remember playing this! Senior moment..... "Christmas Time to say I love you" done bluesy by Tokyo Tramps and rocked up by CLAGG with drummer Kevin Linehan singing. "Drummer Boy" WMBR had hendrix's version playing Friday last maybe and I surely had fun with toggle switch on this plus Jimi pull-offs with left hand and not touching guitar with right (dont worry I stole it ALL from Live at Monterey!). "Run Rudolph Run" is Chuck Berry via Keith Richard maybe now Miss Lyn grok (Stranger in a Strange land-Robert Heinlein) what I be saying. "Heatmiser" is from the Giz whom Stole Gizmas with verses sang like lady Caroline/Q and John Keegan. I just did some weird bendy Jeff Beck licks. In CLAGG I DO use all my tricks. A surprise encore of Bay City Rollers "saturday Night" which I want to vote INTO the set. A perfect pop song written by a gaggle of Glaswegians! Riding back with John keegan we appraised 1995 Jerry Garcia on his Grateful Dead Sirius radio....My favourite Dead: PIGPEN!!!!!"......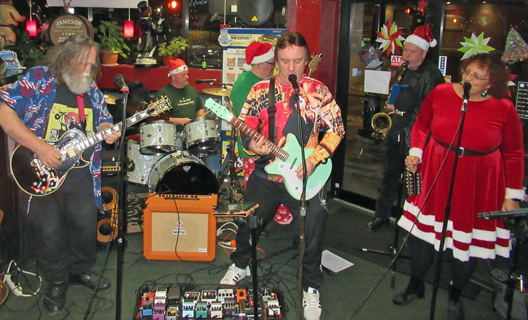 CLAGG at Geezer's Garage Night

Tuesday, December 24, 2019

Til Tuesday Gizmas Eve. Listening to my four cassette four dollar Allman Brothers box set and for first tyme heard The Second Coming. Dicky Betts and Barry Oakley had a pre-Allmans band (the brothers were in the Hourglass plus there are recordings of them doing Yardbirds covers and looking like Chesterfield Kings) The Second Coming. They did a 45: Cream's "I feel free" (better than Amboy Dukes version: wait'll you hear the solo!) b/w Jefferson Airplane's "She Has Funny Cars" ("Somebody to Love" flip side) . What is superb is Dickie and his ex-wife channeling Marty Balin/ Grace Slick plus she plays a hell of a Hammond sounding organ too! (think Moving Sidewalks). Then during Coast to Coast AM about 0300, in MONO! bumper music was "Strawberry Fields Forever", in my slumber enjoying George's guitar and Ringo's drum rolls. lastly, stopped by the harvard Coop before work and there's a whole big-ole CSNY history just came out. Chapter one puts a date on it: 14 Feb 68 in L.A. Crosby/Stills/Young go to see the Hollies. "should we steal him for the band", him being Graham Nash. Some NEW facts to me, Graham, working-class mancunian, did "King Midas in reverse" and Hollies psychedelic albums (which I scored off Solomon Gruberger circa '73) "because I wanted to be the beatles". You can tell he was chafing being in a Top 40 band etc. Hmmmm.....I'm still listening to the same music I was fiddy years ago. maybe I'll lock micelf in room with Quicksilver album and paint and listen to the maharishi".....



Wednesday, December 25, 2019

Merry Gizmas!!!


Thursday, December 26, 2019

"Gizmas. Listened to my four cassette Allman Brothers box set and read Rolling Stone....oh wait I did that Back in '72. After supping at Punjabi Dhaba I tuned into WMBR and caught six hours of Rick Biskit Roth on WMBR and he just published his playlist. Hey when I tuned in "25th Century Quaker" by Captain Beefheart off of Mirror man! A 1972 album I probably got mailorder for two dollars. OH! cant forget Psycho Family Marathon (sic) with Psych-o-Mother-in Law on cable! Other than that."bodies.....need......rest..."....

Friday, December 27, 2019

day of Thor 26 dec 19. My "supagroup" of MJ Quirk and Schmel herbie Hind on double lead guitar, Larry Newman- bass and captain easychord- keyboards plus me and Gee Julie singing had a splendid practice for Lou's New Eve Cantab. Admission free but "the price of one admission is your mind!". saturday 6 jan 20 I also play lead giz tar with Club Linehan-a-go-go, also cantab. More gigs to come and Happy Lou Year's!"....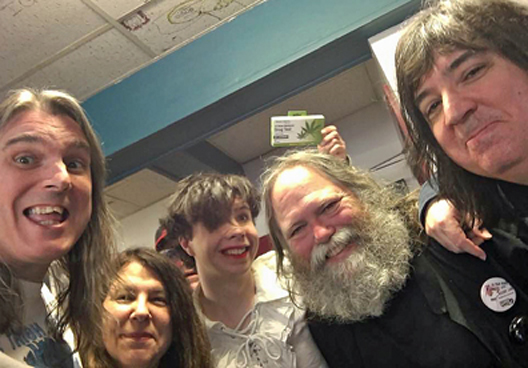 Mad Painter with Brian Young
Sunday, December 29, 2019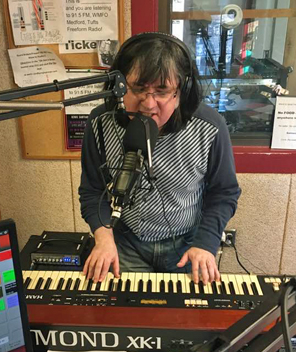 Alex Gitlin at WMFO

Saturnalia 28 dec 19. mad painter live on Brian Young show. Alex Gitlin- vocals. Flynn Young (House of Glamour radio show!) - drums. Me-bass and vocals. Debut of: Al Prince (you've seen him in Jetset!) - guitar and Gee Julie Driscoll on vocals! Set went well with Brian loving it and an invite to come back in six months (is it coz I play Uriah Heep's "easy livin'" whilst Alex beats the Jon Lord (Deep Purple melody) out of the Hammond?). Year ended on a good note and like a later Byrds album we Further Along. 2020 goals are to record plus Friday 10 Jan 20 is at Club Bohemia plus Sunday 8 March 20 at Jungle and a 10 pm set at Club Bohemia (FREE!) for my "when i'm 64" birthday. My 1997 birthday Flynn's dad played bass in Silver Star and Jukebox Angels so maybe "Lightning Strikes Twice (in the same place)". flip side of Move's "Brontosaurus" maybe from an O. Rex level cassette recording in 1972 via Solomon Gruberger whom always taped we cool music. Then we met and formed a band. GHOSTS OF GRUBERGERS PAST! Looks like Kenz Kaiser had dropped off Afrika Korps Music to Kill By plus Live at Cantones and Korps Hello World so they blessed our performance! Or was it the kabala from their uncle (Oscar's brother already!) Fiefel Gruberger aka Phillip Berg? "Tomorrow Never Knows"........