12/31/2018
Monday, December 24, 2018
sunday 16 dec 18. tavern at end of world 5-7 pm. the brooklyns. a lil bit country, a lil bit rock and rol,l but mostly Delaney and Bonnie; i always thought Mo Kavanaugh sang like Bonnie Tyler and even on "Dead Flowers" cover is noticeable. Tom Leger sings other half of songs, again a bit of Delaney Bramlett in vocals, a good thing. Followed by open mike. I had Mo Brooklyn and her sister harmonize on my usual George Jones toons, but it was (Mo) bandied about "angel from montgomery"; to me, a Bonnie Raitt song wrote by John Prine ("sam stone" got 1972 airplay on WCMF rochester NY). The sisters "blood harmonies" woulda rivaled the Everly Brothers at the end of their cover of "let it be me". Now since ALL is akin to each other, I usedta play middle east bakery with John Boucher and wife who sang 'angel from montgomery" and onct i played bakery with "Bucky Bear", a very proud Scottish- American with clann Lamont tatooed on arm. His trio of toons: the John Lincoln Wright toon about his grandfather with line "yankee by birth/yankee by blood" (I think about Ma's dad Spencer William Blodgett since that applies to him, even before DNA tests); then a Silly Wizard toon with same chord patterns as "if drinkin' dont kill me" and then a Jesse Winchester toon and Jesse Winchester and John Prine both WCMF airplay though by then i was diggin' Stooges/ MC5. Natalie told me her lineups: "no band" for sunday 30 december, so extra long open mike and sunday 6 Jan 19 5-7 pm, Krazee ken and Triple Thick Mitch followed by open mike AND babs O' brien's birthday! see y'all then!"
Tuesday, December 25, 2018
Merry Christmas!!
Wednesday, December 26, 2018
day of Wodin, 19 december 18. a good club linehan-ago-go practice then bassist Joe Quinn dropped me to the brass union, union square, somerville. when my cuzzin Linda garreau Highland was alive in '90s, we'd go celebrate Bastille Day at Elephant walk, but, like my triple George Harrison record All Things Must Pass. BUT! there's a dj wednesday (and other nights!) 10 pm and I chanced on easy ed playing a lot of British Invasion - sounding VINYL 45s only I couldnt identify these Hopelessly Obscure 45s. a couple of young punk/goth ladies were dancing the boogaloo, but I was devouring a $15 hamburger. If I was a Gruberger, I either wouldnt have spent the money or else ate off other people's plates".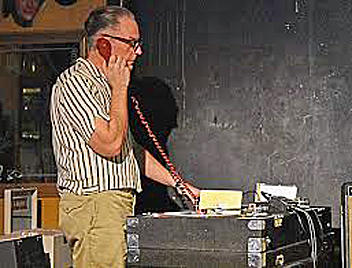 DJ Easy Ed
Thursday, December 27, 2018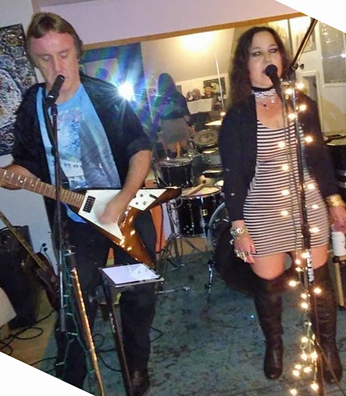 QFO

friday 21 dec 18. playing a 'private party" quincy mass i got there JUSTIN TYME for QFO, UFO tribute band with MJ Quirk/sarah billingsley, sounding tighter each gig; "gotta keep on pushin'!" (Human Beinz via Plan Nine). the "usual suspects" were all good (hint: Granite Street cafe refugees playing in a "Hopelessly Obscure" location) and Tokyo Tramps doin' "Black magic Woman" would be hard to follow but club linehan-ago-go did five, maybe Christmas songs even though i "dont believe in christmas" (Ma called me on that day her Puritan ancestors banned reminding me my Scarlet A father married his bitch second wife Christmas Eve EXACTLY one year to the fucken DAY after he falsified divorce records...tho the next Christmas was his LAST Christmas in 'Nam...Christmas was usually pretty bleak around the Highland house; I shoulda wore black and had a Cure Christmas of Big Bobby Smith duetting with Xanna Wynette on "D-I-V-O-R-C-E"!)....so on a HAPPIER note (no one gives a shit why i play da blooze!) Lady Caroline was superb on the Darlene Love Christmas song and MJ Quirk did the Elvis one plus "run rudolph run", the ole Chuck Berry chestnut and the "shot of rhythm and blues" appended by John Keegan on sax, Joe Quinn-bass and Kevin Linehan-drums (I must say he and lady Caroline harmonize together quite well!). besides some velvet Underground covers, the Sonics "santa claus" was superb; a Richard Berry song that you can do "louie louie" chords and "have love will travel" riff . since this was year's end CLAGG gig (I'll list my solo performances later; that's "Kenne: play solo i cant hear you!")...2019 (five year anniversary?) has cantab 1 feb 19 and midway 9 feb 19, matinee, MJ QUIRK Birthday.....come on down see us! we even sound like we been playing together five years! (I think i'm wright on said date,otherwise, flyin' high like my cuzzins the Wright Brothers, DONT make me whip out.....my ancestry "we're related" app and "show it to ya" ("Highland; keep your PHONE in your pants!")"...

Friday, December 28, 2018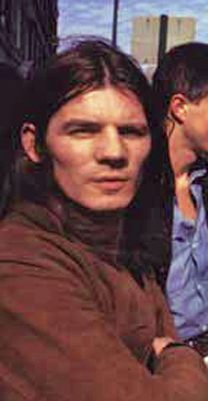 Partick Fleming
friday 28 dec 18. just got news that Patrick Fleming passed away. Besides seeing him at brattle theater in Warhol's Chelsea Girls, this Cork ireland native kept goin on to me about "paddy mcginty's pig" (trad irish toon, it was...)...One drunk as shit saint patrick's at kirkland cafe, Kenne's clan and friends sang a buncha ole Irish toons BUT faith and beforra....have ye EVER sang "Paddy McGinty's Pig' wi' a Warhol superstar? Edie Sedgewick was too much of a WASP (and kin to Ma!), but this DID fit into Dad's side o' the family...as i type this, Hugo Duncan playin' his Irish country show BBC radio Belfast and when I take the LOW road to Scotland, Paerig and Coinneach will sing "in heaven there IS beer!
Lemme list my solo Gizmo gigs. sunday 30 dec 18 natalie flanagan has NO band at tavern at end of world, so gonna be endless open mike. here's a week's notice for ya: sunday 6 june 19 5-7 pm Ken and Mitch Murphy and friends for BABS O'Brien's birthday! (Janice Clougherty on percussion!). Tuesday 8 jan 19, elvis birthday, midway; those Fable Grazer's have some sword swallowing circus act at midway; i have 1130 pm slot, jammin' with VAT and mark drinkwater of fable grazer! lastly thursday 10 jan 19,Leon Rich is doin' his buskin open mike outpost 186 8-11 pm i believe. More gigs comin' but this'll do ya! oh, and I AM friends with Eddie Kent, who sold me a pair of Beatle boots in 1980, seasons greetings to him DO friend him! (you can see him in Stones "waitin' for a friend" video)"....