The Late Riser's Club 35th Anniversary
Radio
September 24, 2012
The Late Risers' Club 35th Anniversary party lived up to all its expectations. The LRC fans sold out the club about 10:30 and were treated was great music and food. Where else would a radio show have a celebration except at Radio? It seems so obvious when you think about it.
Between 8 and 9 the station people had a pre-party. Food from City Girl (one of my favorite places) and Emma's Pizza and more was plentiful and the overflow was available for the people coming in afterwards. One notable guest was Greg Reibman one of the original Late Risers from 1977 (now the head of the Newton Chamber of Commerce...so in the Chamber of Commerce and in the Boston Groupie News - does that seem wrong? ) was there with Cindy Bailen. It was good to see Albert O now of WBCN HD because he hasn't been out that much these days. It's always a pleasure to see Peter Gates who was a LRC producer, Natalie and Sue Safton a LRC fill-in through the years. Joanie Lindstrom and all the current LRC people were there of course.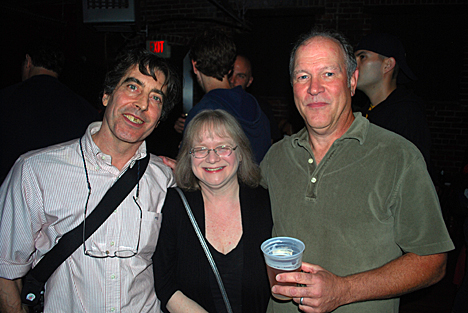 LRCers Peter Gates, Natalie and Albert O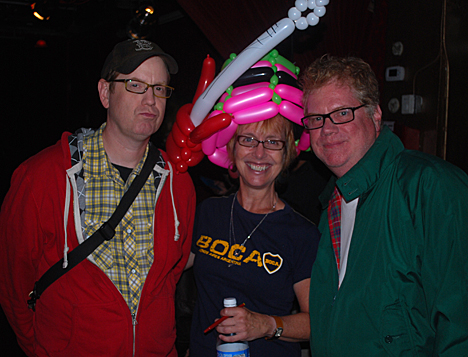 Eric Law, Joanie with the photo op of the night and Richie Parsons
People received a mock LRC membership card when they came in. The originals were used about 1982 or so. It looked like the bar was busy all night. There was some free beer and they made a Joanie Lindstrom drink. Down stairs was a guy making balloon hats and whatever else you can make with balloons. Then the first crisis came when one of the first band members was hung up at another gig down the street. That delayed the live music till about 10:20, not good but everyone hung in there and they were rewarded because when The Shirt Lifters (members of Spitzz and The Tampoffs) cranked up they were tremendous. They had five singers doing punk songs through the years. This reflected the LRC's programing all week which was playing songs the LRC have featured through their (and punk's) 35 year history.
The set sort of went like this......
Troy from Razors in the Night
Troy covered the OI by Cockney Rejects, Blitz and 4 Skins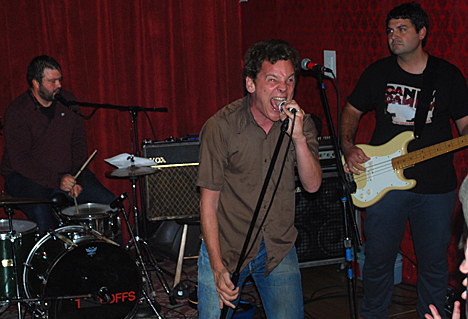 Tom of Spitzz
storted with Members-Solitary Confinement
and Feederz-Jesus Entering from the Rear.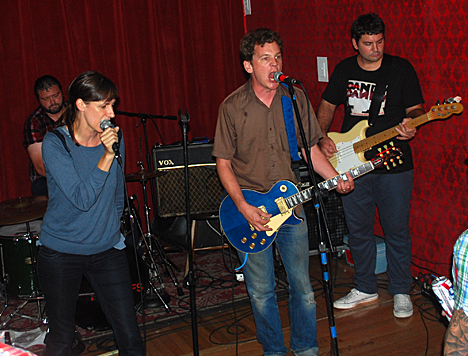 Victoria from Spitzz
sang Classix Nouveaux-Guilty (it was fantastic) and Au Pairs - You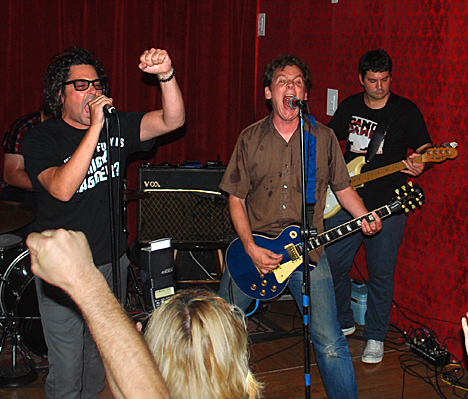 Tommy From the Dirty Truckers
blasted Husker Du-Something I Learned Today, Bags-Spread It Around and Replacements-Kids Don't Follow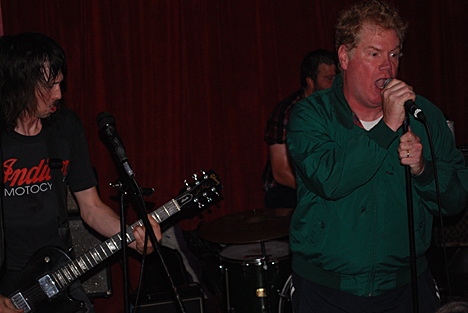 Richie Parsons
did the early punk with Axe-3 Chord Rock, Eaters- Get Stuffed,
Dead Boys-Ain't Nothin to Do and Diodes-Child Star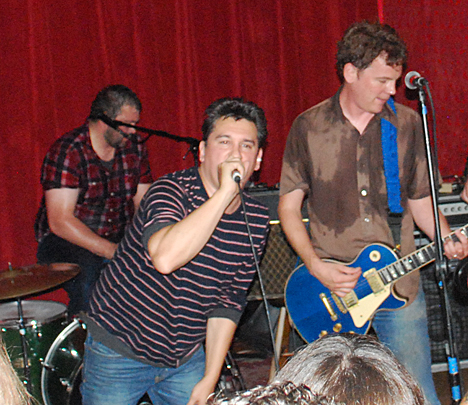 Kurt of the Konks
did more early punk with Adverts-One Chord Wonder, Boys-First Time, Lurkers ,Zero Boys - New Generation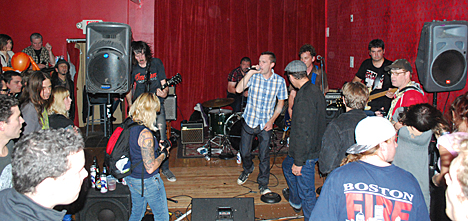 Paul Delano of Mung
did Naked Raygun-Rat Patrol, Circle Jerks-Wild in the Streets and BLV-Dead Wrong
Each singer came up with fresh energy and the band matched it and then exceeded them in sweat. I forgot how much Tom of Spitzz brings to the stage both as a guitar player and leader.
During Paul's set a mosh pit opened up as it seemed to be on the verge a few times. After Paul Delano ended the band was walking off when someone started to play Sex Bomb, an extended jam started. It was a very cool moment. Sex Bomb was the song that the LRC used to have a contest back in 1983 but no room here for that story.
During all this they had films going on downstairs by Arthur Freedman. It didn't take long to realize the treasure chest that Arthur has. New and old, every club, amazing list of bands - it goes on and on. This is great stuff. Harvard will have all this material but it's a treat to be able to see this now. Later he gave a showing of the LRC documentary.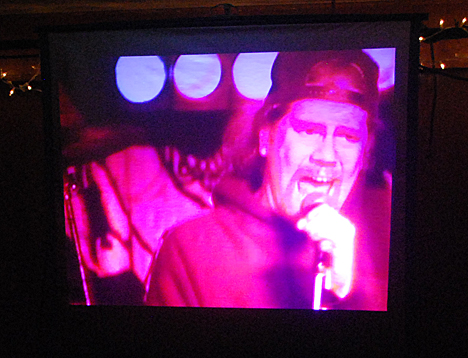 One of Freedman's film showing Richie Parsons
during his days with Band 19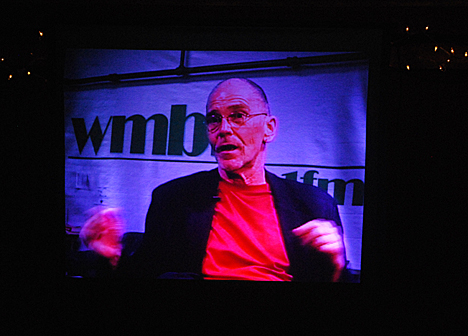 Thom Lane shown from the LRC documentary.
Thom started the whole thing in 1977.
Meanwhile back upstairs Cocked 'n Loaded was tearing up the place with metal cover tunes. Cocked 'n Loaded is getting popular with the success of their live act and tonight they made some more fans. Kyle the lead singer was roaming the crowd while the juggernaut of a band blasted molten metal. They kept everybody there right to the end.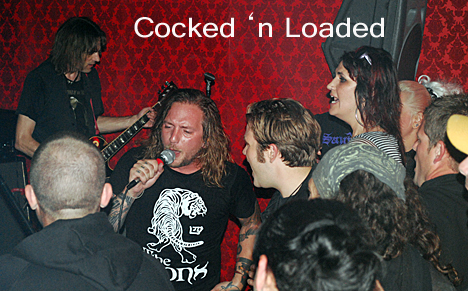 Even after the gig at almost 1 o'clock people were hanging outside.
The LRC is an amazingly long lived phenomenon. Almost nothing else in Boston punk has lasted like them. A few musicians and a few bands have been around as long but most have not been active without a hiatus. The rotating DJ's has been the element that worked for their longevity. Personally I'd be lost without the show myself. Others feel the same: the crowd came out for them on this night. (The 30th Anniversary was wild as well.)
Dedicated fans Julie and Tony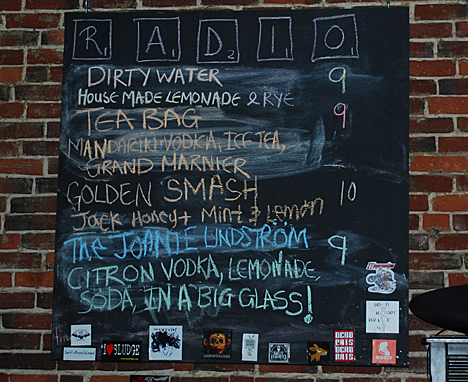 The Joanie Lindstrom drink on the board .
Congrats to the LRC. Joanie did a lot of work getting things together and got many thanks from the stage and the rest of the DJ's are a hard working group. We know these things are mostly work and little thanks, well you get some thanks from us at the BGN at least and the appreciative crowd said it with their presence and music loving party spirit.
---
home | interviews | photos | features |BGN issue list | reviews
links | contact us
Copyright © 2012 Paul Lovell. All rights reserved.