John Nikolai / Third Rail / Classic Ruins
3/5/05 All Asia / The Kirkland / The Abbey
Aja and all black and white pictures are by John Nikolai.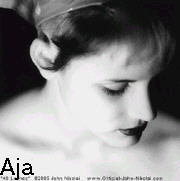 Yes my friends it was a night out on the town for the BGN on Saturday, March 5th. Lots going on in this berg that night and we set out to have some fun, hear some music and more!! First up for the night was John Nikolai's 'All Aja Show' at All Asia Café in Central Square, Cambridge.
John's a fabulous photographer who covers many different realms…he's known as Punk magazine's photographer…did a show a couple years ago called Never Mind Nostalgia: The Last Photo Exhibit on Punk Rock, Parts 1 & 2…featuring awesome photos of punk legends like Stiv, Jayne County, Johnny Rotten Lydon, Joe Strummer, Souixie Souix and Budge etc…but he's also has captured others who are revolutionaries and visionaries…scientists and philosophers, architects and artists…as well as 'devastingly beautiful women" and animals (his Dogs of Cuba series is heartbreaking and I'm STILL waiting for the Yawning Cats Show!!!). I love John's scope, I love the feeling I get from his work; that he cares about the world, about making a difference, about things gone awry and things that are fun…I also love that he is strongly influenced by film noir, it shows up in many of his photos.

Now, Aja…she's a cutie to be sure and John has captured her beauty as well as her naughty side …sharing her with the world, presenting her in many versions of being a bad kitty, a 1930's Hollywood starlet /heartbreaker with a twist and a punked out little princess…this is a great show because John sees so much more than just the pretty face and is such a great photographer that he doesn't just capture her, he portrays her and manipulates his medium to share his feelings about his latest obsession.
Here's two pictures.... Noir Blatant... Siamese Twin Sister
This night's band for the reception show was LiveSexAct, a combo sporting lots of dyed hair, make up and feather boas, as well as sex and gender issues. Besides some cool originals, they did their own electro-punk versions of stuff like Welcome to the Jungle/Guns n' Roses, I've Got You Under My Skin/Cole Porter, Total Eclipse of the Heart/ Bonnie Tyler, Pour Some Sugar On Me/ Def Leppard. Whew, what a combination huh? Well, lead singer Alexplosive says of their interesting cover choices: "We like to give them something they already know - whether its a hair metal ballad, an 80's pop hit, or the current most overplayed song on the radio - and twist it around into something they'll never forget." Oh yeah!!




Live Sex Act
Photo by Tommy White




Aja and john Nicholai
Photo By Tommy White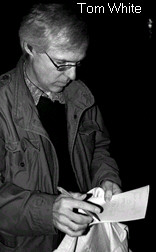 Also on hand to see the show were T. Max of The Noise, his girlfriend Liz Rawls, Axe's Tommy White and Thundertrain/Mach V's Cowboy Mach Bell.
T & Liz approached Mach and I with a copy of the latest Metronome (local music newspaper). T opened it to a centerfold pic of The Joe Perry Project resplendent in all their 1980's rock n roll finery!! WOW!! There was our pal Cowboy Mach Bell, the lead singer, in a ripped up leopard print belly-T, tiger striped headband and hip huggin' leather pants and lots of other rock.n.roll acoutrements. Whew!! T. Max respectfully asked for an autograph, I couldn't stop myself from rubbin' the exposed belly in the photo and Mach was breakin' out in a cold sweat. Laughing nervously, he asked if that was something T had saved from way back when. "No! It just came out. There's a pile over by the door!" said T much to Mach's…um, surprise, to say the least. We all grabbed copies to save for future reference and Mach's was relieved to move on to the next subject…the even more interesting story of T. Max's colonoscopy!! Oh yeah!
As you may have seen in the latest issue of The Noise , T. Max recently printed his super clean colon pics for all to see! We four poured over the pics and talked about the procedure and the preparation for it. T Max says the doctors told him he was the only person who ever proclaim "Hey guys, this was fun!!" he enjoyed all the details and was eager to share them with us that night though, dear reader, I will spare you any further reading on said subject.
Next up was the very first reunion gig of Boston's Legendary Third Rail. So we drove on over to The Kirkland Café and walked in to Third Rail's first song of the set. And yes folks, this band IS legendary!! Richard Nolan was in Boston, making Velvet's inspired music way back when in 1975 and was instrumental in helping to form the whole Boston punk/alternative scene!!
Here's a little history lesson: a mortician by day, always dressed in black and signature, super dark aviator sunglasses, and always surrounded by really cute young boys, enigmatic Nolan was an interesting character on the scene back in the day. He was also the person who got The Neighborhoods together! Basically Richard Nolan IS/WAS Third Rail so over the years between 1974 and 1980-something there were many, many version of Third Rail, TEN to be exact.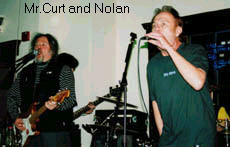 This new version is a combo from the first and the last versions. Gary Soprano, from the very first version, Mr Curt Niahersy who was in a couple in the middle, Michael 'Dog" Powers & David Birmingham, from the very last version and newcomer Marty White on bass.
With three seasoned, ultra-talented guitarists (Mr. Curt, Powers & Soprano) this band is powerful!! These guitarists know how to work together and stay out each other's way. They create a solid foundation for the drama in Richard's lyrics and Lou Reed/Bryan Ferry style of vocal delivery.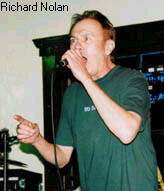 I was surprised that they are doing NEW Nolan songs and you know, the guy still has it!! The new songs are very smart, memorable and capture the old style really well!! But of course we were all waiting for the old Third Rail classics and they did 'em: A New Life, Who Are You, Track Dog, Didn't Mind, It's Over Now. They didn't do Rondy Rush, to everyone's chagrin, but Richard promises it will show up in a set in the near future. They ended their set with another oldie, Take That and Richard walked off the stage, came over to our table, kissed me on the cheek and walked out the door into the freezing cold night. We were all wondering what the hell was going on, we wanted MORE but he never came back!!
I'm goin' to more Third Rail gigs that's for sure, these guys know how to rock, have for years now, still do, and are planning lots more gigs in the next few months.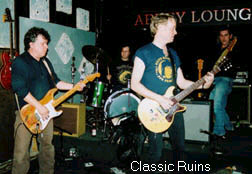 Now, the night was still young and we had one more stop to make so it was on to the Abbey for the Classic Ruins Record Release Party. Seems a couple of years ago Carl Biancucci got an email from a guy named Pierpaolo of Rave Up Records, in far off Italy. This guy LOVED The Ruins and wanted to get some of the music out for folks to hear, and he wanted to do it on old-fashioned vinyl.
Finally the awesome new album Room Starts Spinning has been released in a limited edition! And you get some of Frank Rowe's best stuff on this disc: Geraldine I Need Money, Can't Spell Romance, Nyquil Stinger as well as a cover of Lyres' Jeff Connolly's How Do You Know.
This album has the songs recorded by all the various versions of Classic Ruins and that brings me to another history lesson: there were basically two versions of Classic Ruins , the original which was Frank Rowe, Kevin Glasheen (drums), Billie Borgioli (rhythm guitar) and Randall(bass). Randall left and Frank went through a number bass players including Jonathan Paley, who appears on the cover of this album. He finally found Carl Biancucci, and come on, once you've found a bass player like Carl Biancucci you need look no further. So then there was the second version: Frank Rowe, Billie Borgioli, Perry Nardone and Carl Biancucci.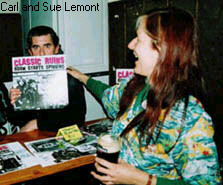 There was a damned good crowd at the Abbey for the show, Lynn Ciulla, Terry Brenner, Brian Mosher, Mach Bell, Vikki Six, Jimmy Birmingham, Mike Quirk, Michele Meadows were seen among the crowd. Mach Bell got up and did a song with the band, Perry Nardone was also there and got up for a song too.
Also on the bill were Aloud...click for pic and Heap...click for pic who did great sets as well. OH! and the Room Starts Spinning record-cover refrigerator magnets, made by yours truly, were a big hit too!! And Carl said "Well, its really flattering that so many people came out to help celebrate the disc…and that's pretty good for a bunch of old pricks like us!".
So my friends it was a very good evening and we are more than happy to have shared it with you!
You can check out John Nikolai's work on is site: http://www.official-john-nikolai.com/
You can check out more info on LiveSexAct on http://www.livesexact.net/home.html
There's no Third Rail site but check back soon for a Richard Nolan Interview and if you're in the Boston area check the papers, or our own News Section, for an up-coming show!
If you want to buy the Classic Ruins album you can go to http://www.petrosh.it/raveup/index1.htm.
---
home | interviews | photos | features |BGN issue list | reviews
links | contact us
Copyright © 2005 Paul Lovell. All rights reserved.