The BGN News Archive
January 3, 2010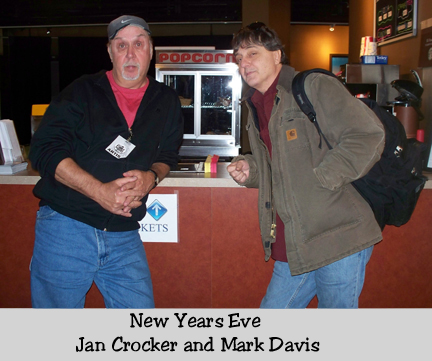 Alright, here it is 2011....Happy New Year to all......
We headed over to the First Night festivities to check out Jan Crocker's showing of his various videos. It was so great to see the videos on a big screen and hear the music LOUD!! Unfortunately the DVD player broke about an hour into it and we were told the show was over. Luckily they got a replacement player and did continue with the later shows; Jan says there was a great turn out for those shows. I'd love to have the opportunity to see them again!!!
We even got out the day before New Years Eve at the TT the Bears night called "Dry Run to New Years Eve Party". It was a very low key night with a bunch of shoe gazing bands. We didn't know any of the groups but they weren't bad at all. There were some nice moody tunes with no actual rockin' within miles but that's not what they were trying to do.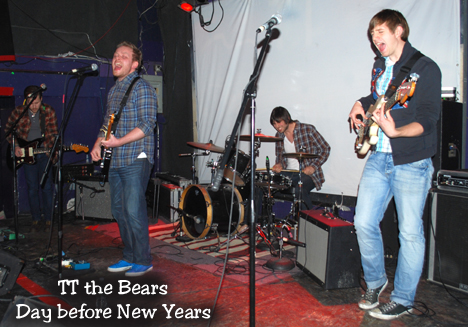 Lyres are at TT's in January 7th along with HHR, Cradle to the Grave and the Satin Kittens......At Church, on the 7th, there is also a benefit show for the Leukemia and Lymphoma Society with an excellent line-up: Acaro, Razors In The Night, Buried In Leather and Tijuana Sweetheart and there will also be tons of Raffles and Giveaways!! Sounds like an excellent night and an excellent cause!!
......also on the 7th is Fox Pass at The BeachComber in Quincy MA. They go on at 9pm.
And on the Saturday the 8th Eric Martin & The Illyrians are at The Plough..... and over on Cambridge Street at Atwood's Tavern they have guitarist extraordinaire Tony Savarino and Axemunkee
Another line up that could be very interesting is at O'Brien's on Friday, January 14th is The F.U's with Rampant Decay and a special set with Rico Petroleum with Psycho!!
next night; on Saturday the 15th is the Noise's 30th Anniversary show at Precinct with a great line up: The Coffin Lids, Sprained Ankles, JJ + The Cuban Heels, Jay Allen and The Archcriminals and Corolla Deville
Also on the 14th, over at The Cantab downstairs is Classic Ruins with special guests The Fagettes, this is the new band for Ryan Major, who was the guitarist for Red Invasion, so go check 'em out!!
Thursday January 27th has a good show over at PA's Lounge with The 7Cs, Hello Ninja, Tail & Litehouse....

Pretty much guaranteed to be an incredible show; on January 29 is The Konks, The Tampoffs, Tunnel of Love and Triple Thick at Great Scotts ....wow that is one hell of a line up and I think this may very well be The Konks final show......a sad thought!!
Hey keep in touch huh?? click click click