The BGN News Archive
January 4, 2010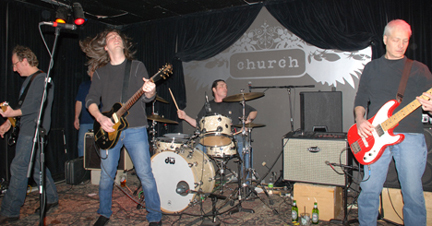 Well at least one of us, as in Blowfish, made it out to the Neats show at Church on Tuesday Dec 29th...
Blowie says:
A club full of people knew this was too good to miss, even on a freezing Tuesday night. The Neats did not disappoint, they cranked up and sounded perfect. Below is a link to photos and some more details on the night. Also, we are posting our interview with the band back in 1981. It's all about the Neats this week.
And we have created a whole page (Neats' Show Church ) of commentary and photos for you...CLICK
Also make sure to read our Neats Interview from the Boston Groupie News # 29, December 1981....CLICK.
More sad news to mention as well...the most wonderful Dan Salzmann...who was bass player in numerous very cool bands in early Boston scene, has recently passed away from a heart attack in Paris. Dan was The Maps, Art Yard, The Flies and Christmas...then he took off to NYC and then to Paris where he became a filmmaker (here's his site Fabulous Films for Now People And was in a really awesome band The Binoculars as well!!! Dan was such a cool guy and I am sure still was judging by his output on-line. Amazing person, I had such a crush on him back then because he was smart, funny and so talented and a great guy...RIP Dan !!!!
Now...we head into the new year...let's hope this is a truly happy healthy and excellent one for everyone!! This Friday, January 8th at Church you can find The Hudson Falcons, Joe Coffee, Welch Boys, Refuse Resist and The Damaged...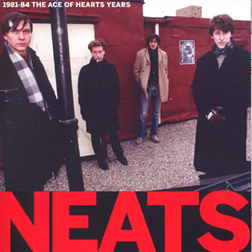 The Neats new compilation CD
on Ace of Hearts.

Also on Friday the 8th, at Harper's Ferry there's a good show with Sasquatch and the Sick-a-Billiys, The Acro-Brats and The Resurrectionists...
And Saturday Jan 9th at Precinct in Union Sq Somerville is Sidewalk Driver and Watts...
And next Friday Jan 15th the Beantown Boozehounds with Ten Pints In, The Tin Thistles, and Bottles Of Sorrow are at the Beachcomber in Quincy...
And in town at O'Brien's in Allston, on the 18th, is a show worth checking out...Continental (this is Rick Barton's newest band) and Bombsquad Larry (the long overdue offspring of former FreeZe bass player, Pete Soszynski) and Frank Booth's Car...
And if you didn't get to see them before the holidays...
Monday January 18th JJ Rassler's new band JJ & Thee Cuban Heels will be at Charlie's Kitchen
And Saturday January 23rd is a killer show at The Middle East Up with Bring The Knife (ex Destruct-A-Thon), Ashers, Razors In The Night, Motherboar, August Spies and Hannaford and The Heartstoppers
And looking into February... on Friday Feb 5 Doggfight U.S. , The Acro-Brats and Buried In Leather (who don't play around much anymore so you should catch this show) are at O'Brien's in Allston
also coming in February: Jonathan Richman is doing 3 shows (3 nights) at The Middle East Upstairs!!
And a Feelies reunion in March!

OK guys, that's it for this the first week in 2010...wow...and many more to you!!!
you can email us at: Miss Lyn email......