The BGN News Archive
January 5, 2015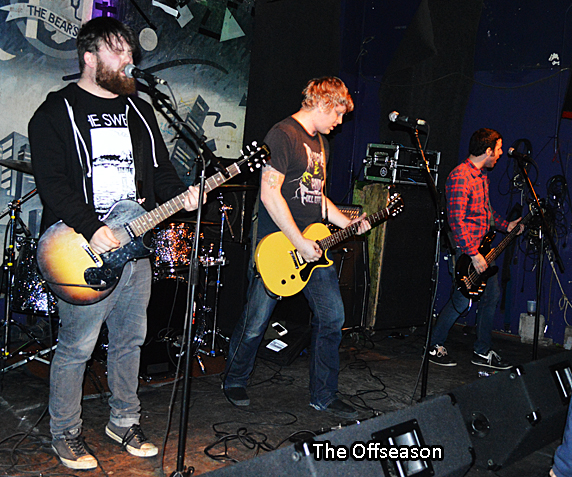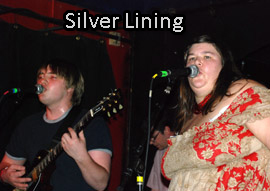 The real bad news we got at the end of the year was the sudden passing of Anna Price on December 26th. She was the singer of Silver Lining which never got the attention it should have. I can remember hearing her the first time and being stunned at how good she was. She was often compared to any number of great sixties female singers. Her husband also played in the band. We saw her a few times one was at the Middle East. It is very sad news. She was only 37 and had three children. Our condolences to her family. RIP Anna.
Now, Blowfish talks about some gigs he went to this past week: I went out Monday night but saw some music that wasn't suitable for inclusion here. I had better luck on Tuesday at TT's. I wanted to catch Offseason. I had seen them once before but after hearing their recorded material I felt like a missed something. They have a CD, EP and a split EP with New Jersey's Losing Streak. All the recordings are quality – no slap dash efforts here. I've been listening to them a bit and got hooked on a few songs. They are Pop Punk and the group fits in that genre pretty square.
TT's had about 35 people. The sets were going ahead of schedule so I missed a lot of Agree to Disagree from the South Shore which I had wanted to see. The three songs I heard revealed a rocking group who could pump out the pop punk. The guitarist was a busy player. There were lots of twists and turns in the songs which made them interesting and showed how well-rehearsed they were. I will check out a full set some time.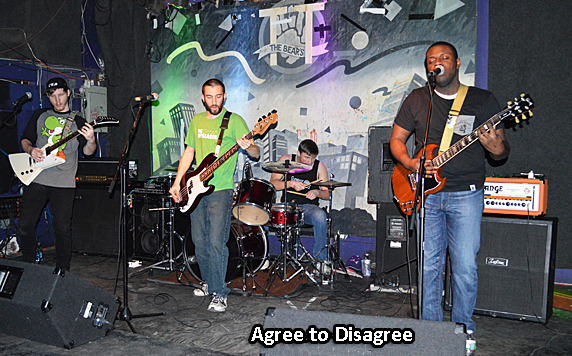 Agree to Disagree Offseason's music is very busy sounding with plentiful guitar lines, moving bass and lots of detail in the drumming. On top of that the songs are wordy. The lyrics are more like prose with not much repetition or strong rhymes. They talk about problems with friends, lovers and life. I like their emotional content. The singer has a distinctive tone you get to hang on to. I think it all works.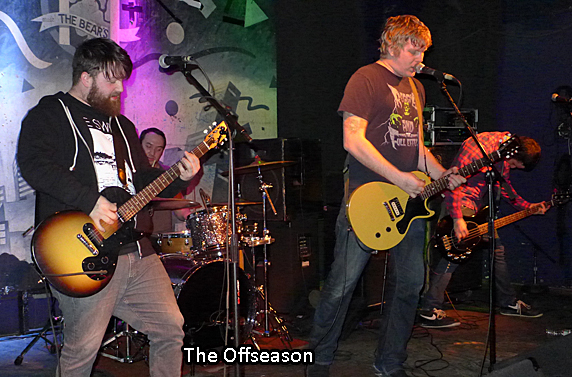 The recorded material is tidier than live, I guess one should expect that, but I'm glad I had digested the CD's, that helped me to appreciate them more. All the songs are fast passed and have a sense of urgency that pushes them forward. I got engrossed in it all and by the time they hit one of my favorites Living the Dream I was already loving the set. I'm years late on these guys but glad I found them.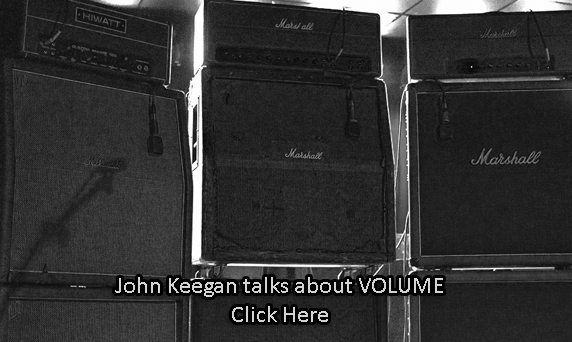 The Next Big Thing, the novel with the Boston punk scene as the backdrop, is now available as an audio book. It is available from audible.com, Amazon and iTunes. Terry Kitchen will read from the novel at the Loring-Greenough House, 12 South St., Jamaica Plain on Friday January 9. The reading begins at 7:30 PM and there is a suggested donation of $5; for more information visit www.loring-greenough.org.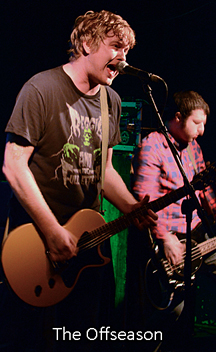 THIS Friday, January 9 -M.O.T.O. , Jay Allen & The Archcriminals, Hambone Skinny, Classic Ruins and Andy California at The Midway
THIS Friday, January 9 - Silver Screams, BDSX, Black Cheers & Jack Widows are at the Greek American Social Club in Union Square Somerville.
THIS Friday, January 9 Roy Sludge and Johnny Sciascia are out in Worcester at Vincent's
THIS Saturday January 10 there's an excellent early show at TT The Bear's with Embrionic (going on at 6PM) Randy Black and the Heathcroppers (on at 7PM) and Litehouse (@8PM)
THIS Saturday January 10 - then run over to PA's Lounge for Barrence Whitfield along with The Dave Marshall Band (10:30- 11:10) and Bee's Deluxe (9:30- 10:15) and the John Cacciatore Trio (8:30- 9:15) Here's the FB PAge
THIS Saturday January 10 Johnny Carlevale & The Rollin' Pins are at Terry O'Rielly's Irish Pub (45 Union Street ) in Newton. Since they are gearing up to record this year they are doing shows with multiples sets. Tonight its three sets of the Rolling Pins.
January 11 (Sunday) Spend your early evening (5pm showtime) with the fabulous Roy Sludge Trio at The Midway -only $5!!!
January 11 (Sunday) and Fireking is doing a residency at the Midway this month so stay there and check out Fireking along with The Knock Ups.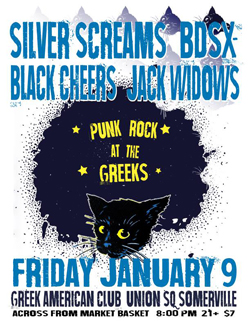 January 12 (Monday) Punk Rock Burlesque at The Midway!!! and on this very night it's their Second Anniversay so there's a special party goin' on!!
January 15 (Thursday) Powerslut, Fur Purse, Hammer and Snake and Axemunkee at O'Brien's
January 15 (Thursday) Kyle Neeson's Moving to California Rager! Kyle Neeson is the lead singer of Cocked and Loaded, now he's moving to California. Here's the bill: Quiggs (at 9PM) I Am Become Death (9:45) and Phantom Glue (10:30) (others TBA) Starting the night off and spinning between sets will be DJ Mark Francis of WMBR Late Risers Club
January 16 (Friday) The Memphis Rockabilly Band is at Johnny D's in Davis Square. (This is an early show!! Doors at 5:30 show is at 7:30. It's pre-Bim Skala Bim ) Hey Carl Perkins called them "the best rockabilly band I have ever seen."!!! And they include Billy Coover on lead guitar, sax and vocals, Roy Sludge on lead vocals, guitar, and keys, PJ Justice on upright bass and vocals and Judd Williams on drums. Not to be missed!!
January 17 (Saturday) Watts are at The Midway
January 17 (Saturday) Sidewalk Driver headlines at the Sinclair - also on the bill are The Organ Beats, Worshipper and Leo Leo
January 17 (Saturday) Up in Portland, ME the Bayside Bowl has a very interesting show and its FREE: The Flipsides, Litehouse and Britta Pejic et sa Band de Cons.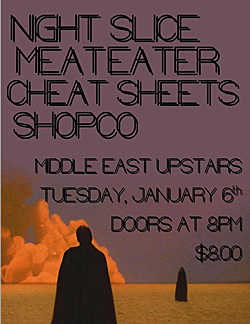 January 23 (Friday) a very Punk show at Club Bohemia at The Cantab with The F.U.'s, Urban Waste, Notox and Middle Son.
January 24 (Saturday) A great punk hardcore oi matinee show (4-8PM) at The Midway with Rat Trap, Blastmat, Barfight Champs, Pus and Aftermath. this is an all ages show.
January 25 (Sunday) - Fireking doing their residency at The Midway. This night they have The Wrong Chaneys on the bill with them.
January 30 (Friday) - Here's another Endation gig again!! We are blown away by them everytime we see them. So, at O'Brien's we have Bent Knee, Something Like A Monument, Left Hand Does and Endation - don't miss these guys they are amazing!
January 30 (Friday) Kingsley Flood headlines at The Sinclair along with The Grownup Noise and The Lawsuits
January 31 (Saturday) there's a killer ALL DAY show at The Midway...Mark Lind presents Boston's Burning 2. So Show One- 4PM All Ages features: The Welch Boys, Hudson Falcons, Burning Streets, Diablogato and Live Nude Girls playing between sets. Show Two - 9PM 21+ features: Stray Bullets, Hudson Falcons, OC45, New Red Scare and Art Thieves. It's $16 for an all day pass or $10 for a single show.
January 31 (Saturday) at Sally O'Brien's conveniently located in fabulous Union Sq Somerville - Muck and the Mires, Tsunami of Sound and The Shambolics.
February 1 (Sunday) Starts the Swindlers' residency at the Midway and on this day they have Charlie Dont Surf.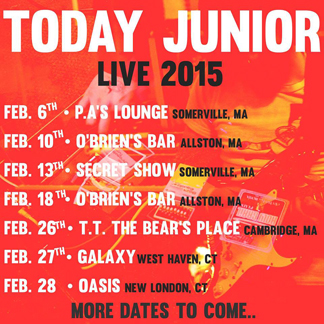 February 2, (Monday) Tigerman Woah!, Cactus Attack and the Radiator Rattlers are at Opus Underground in Salem, MA
February 7 (Saturday)- The Middle East has The Drax (Goddamn Draculas) Record Release Show along with Aquanutz, Township, Planetoid, and Party Bois
February 7 (Saturday) - The Midway has Bella's Bartok, The Sprained Ankles, The Pity Whores, Trashawk and Whoopi Sticks
February 13 (Friday)- Nice Friday the thirteenth show!!: The Cretins, Duck and Cover, Scrapes, and The Quins are at The Middle East Up this is a LeaguePodcast show
February 13 (Friday)- Tim Catz' 50th Birthday Party featuring White Dynomite, The Humanoids, Muck And The Mires, Worshipper and DJ sets by DJ Slim Jim at Great Scott's
February 16 (Monday)- Thee Icepicks (from Portland, ME), The Egos, The Boglins, & Tsunami Of Sound! are at Opus Underground in Salem, MA
February 20 (Friday) It's the Second Annual Lux Lives celebration of all thing Lux Interior and the Cramps!! at The Midway, who better to play this night than The Evil Streaks, Thee Icepicks and The Skeleton Beats...along with Kogar the Swinging Ape.
February 21 (Saturay) Midway Matinee with Urban Waste, Progree, Sick Joke, Honest John and Incidious - this is an All Ages show doors arte at 4PM.
February 23 (Monday) -The Ungraded, Quiggs, Duck & Cover and The Runouts are at Opus Underground in Salem, MA
February 28 (Saturday) One can never get enough Roy Sludge and he's at Johnny D's in Davis Square.
March 8 (Sunday) Mark your calendars! Gail Corcoran is putting on an all ages show at the Midway Cafe featuring... The Sheckies, The FUs, Jimmy Jacked, and Jagger Holly (members of the Hollywood Blondes and The Johnie 3!) And she's having a bakesale too!
March 28 (Saturday) - Township is at the Midway.
May 22 (Friday)- You have been warned - Book the flight now: Sleep Chamber!! Doing their only show in 34 years in Tel Aviv, Israel at UTC+02. Not only is this their first show in 34 years - its their LAST SHOW ever.
July 18 (Saturday) Mission of Burma opens for The Foo Fighters and the Mighty Mighty Bosstones at Fenway Park
and of course The New England Shake-Up! September 25,26,27 2015! Keep yourself updated at their FB page
CONTACT US AT.......misslynbgn @ yahoo.con Send us your gig listings, your news and anything else ya got!!
---