The BGN News Archive
January 6, 2020
Welcome to 2020!! To start the year off right we interviewed Des Desmond about his new Magic Room venue at the Norwood Space Center. If any of you out there have been to a show at the original space you know Des definitely has that magic touch that makes a place super special. We look forward to the opening which is planned for late spring/early summer.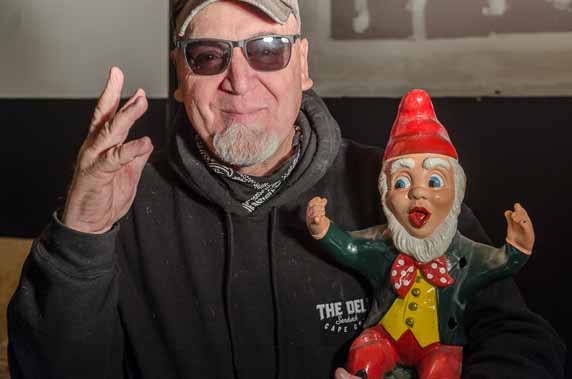 Des Desmond
Photo: John Keegan
Here are some excerpts from the interview:
BGN- Why way out here in Norwood? It's a long way from Brighton.
Des- We picked the space in Norwood because it has good bones, was cost effective out of the gate, has plenty of parking and we can get a beer and wine licenses! But we are mostly doing the performance space here because we'll be working with the David Beiber Archives on shows that involve celebrities at times because the space will act as a VIP spot for all kinds of acts as we will be showing a history of the artists' works many of the pieces coming directly from the Archives right next door.
The Magic Room will also be open to local bands and artists ... as always. We'll mix it up with all kinds for shows and art openings!
BGN- In addition to a psychedelic carnival look, I recall the Magic Room had fine, big sound and cool lights.
Des- I plan on keeping that weird ambiance that I'm known for! I plan on having a trippy looking venue, an intimate place that feels like a living room but also has that big sound!
Click the photos below for the whole interview and more photos.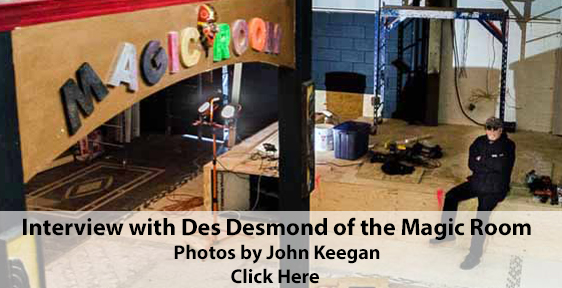 Now for music this past week......
Last time we saw Louzy play, lead singer Ryan had a bad landing on a big jump and he got carried away by two people. He was indeed hurt bad. It was a torn hamstring. He had an operation to fix it. We were glad to see him looking and walking fine at this Louzy show at the Midway last Saturday (12/28). He said his friends throw those BGN action shots in his face all the time to rib him.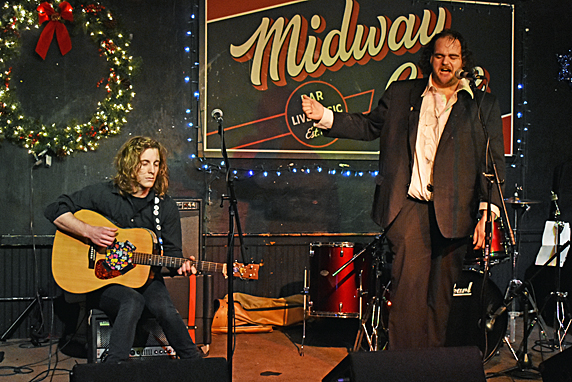 Sad Man
Photo: Blowfish
Between sets was Sad Man. Let's call it a two person performance piece. The front man gave an emotional retelling of his spiraling misfortunes that he blamed on his wife, Linda. The name Linda was invoked in increasingly unhinged rants. Meanwhile a seated, pale and deadpan guitarist strummed away. The end of the set would come when the tearing of the hair and shedding of the shirt could no longer quell his pain and he would jump off the stage and go out the door to the street, or once he ran to the back of the club and one could only hear the cry, "Linda" coming from that area.
Yes, that's what happened! Check the video below where we have several sections of the crazy rantings. Some of his rants are pretty funny.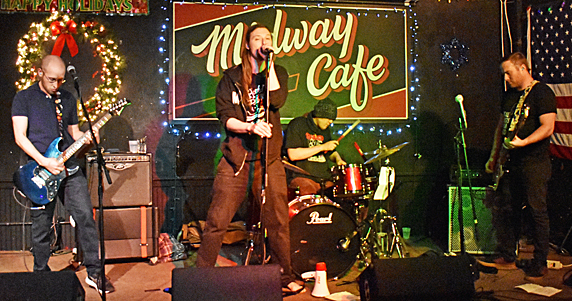 Circus Battalion
Photo: Blowfish
But first up for this show was Circus Battalion. We've followed them for a few years now. They are raw and punkish. Tak, who was on bass, is now the drummer. At the Midway he still had a problem with his arm but played anyway. Mike on vocals sang barefooted (he always does). He screamed and emoted, to make you take notice. Usually this is met with equal feedback from the audience but at the Midway there was only a handful of people, which sort of short circuited the dynamic ... to no fault of the band.
Mike latches on the lyrics which have to do with the horrors of bullfighting and running in the rat race. "Misery" is the traditional punk negative thing that we like a lot. They ended thei set with "Jet Boy, Jet Girl." They have a five song EP recorded and ready to come out soon.

Down Boy
Photo: Blowfish
Down Boy from Vermont played next. Their lead singer looks very young but plays and sings like a veteran. He's was real force up there on stage. The songs were movers that got your interest. They had a slight ska thing going every now and then.
The drummer got your attention with his busy and distinctive style. Somehow to us it sounded like he was playing twice as many drums as he actually had. We even checked out his drum kit and wondered where all the beats were coming from. We figured he had two bass pedals, so yeah, we did actually look, but he only had one. On their Facebook page they describe themselves as: "Sad Punk with a deathcore drummer." Whatever he is he is pretty amazing!!
Downboy has Live From Brian's Sandbox, a six song live recording on Bandcamp. Check it out these guys are good!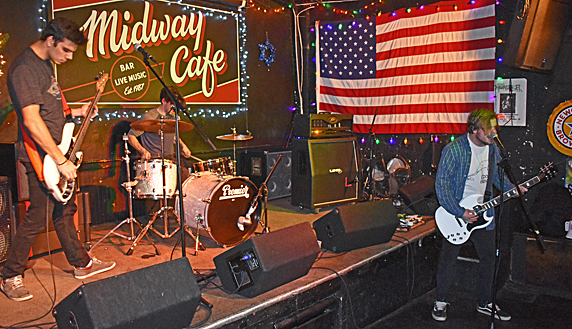 Louzy
Photo: Blowfish
Then it was time to get a dose of Louzy. The lead singer/guitarist Ryan set up on the floor and never got to the stage. The bass player was 50/50 on and off the stage. The first thing that we noticed was that the energy and volume were up. We know that Louzy try to make every show an event. Even with the sparse audience they managed to put some energy into the room. There was lots of head shaking that came with the razor guitar attack and the strong rhythm section.
We were getting a Nirvana vibe from some songs, including the one we captured on video below. We just love their overall sound, it thick and changing. It almost didn't matter what song they were playing. We just wanted more.
We put these guys on the list of bands that are keeping punk alive. It's your duty to keep them alive by going to their shows!!! Do it!
It felt better to see O'Brien's full for a punk/hardcore line up on Friday night. We saw all four bands.

Rage//Quit
Photo: Blowfish
The first band, Rage//Quit, was a hardcore band with fast tempos and screamo singing. They were a younger band. The bass player had a round smooth tone rather than a harsh one which gave their hardcore roar a deep and not unpleasant blast. That's not a small thing. Having a sound like that makes you want to hear more and would make you want to see them again, both of which was true for us.
Their album, Still Haunted, was just released this last October. Here it is on Bandcamp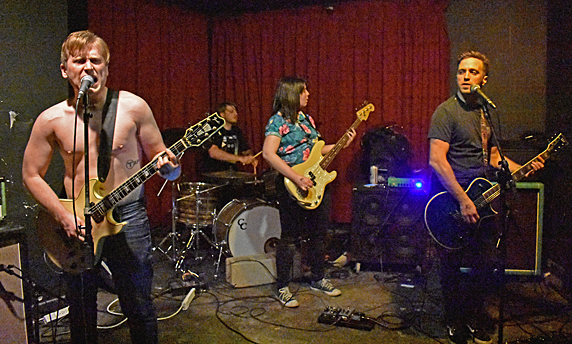 Tensor
Photo: Blowfish
We never saw the next band, Tensor, before but when they got on stage the singer/guitarist looked familiar. Sure enough he was the drummer for DNZL. We've absolutely marveled over his drumming for the past few years. Tensor was actually his group before DNZL and he wanted to get back to it.
Turns out he's a very accomplished guitar player also!! How do some people get all the talent?
Tensor is mostly punk, but there other things going on. The songs are, at the base, fast staccato chord riffs. The guitar playing had some metal leanings. The songs had lots of change ups. This was not easy music to play.
Another surprise was that the bass player, Catarina from Rage//Quit was in Tensors too. In Rage//Quit her playing was more on the simple side, but in Tensor she proved to have chops at the ready. She was fast and precise and was hitting double stops and chords along the way.
One of the best things about Tensor was that nasal vocal delivery which echoed a lot of our punk faves.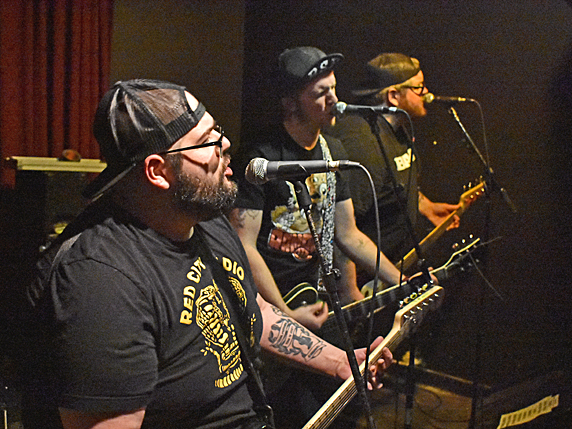 Loser's Circle
Photo: Blowfish
We've seen lots of good sets from Loser's Circle these last few years. This time they had a new drummer. He's actually the drummer they started with, so they've come full circle. Turns out this guy is dead perfect for the band. He had a lot of power and he transmitted that to the band which is always gung ho anyway. It resulted in the best set we've seen them play yet!! They were playing like they had something to prove and were having fun at the same time.
Half the set was news songs that are being recorded. The other half was from their first album Took Long Enough which is now looking like a Boston punk classic. They play those songs with the confidence of how good they know them to be.
All their material is melodic punk that hits hard but is easy to listen to. If you are a Boston music fan you should be all over this first album by now: here it is.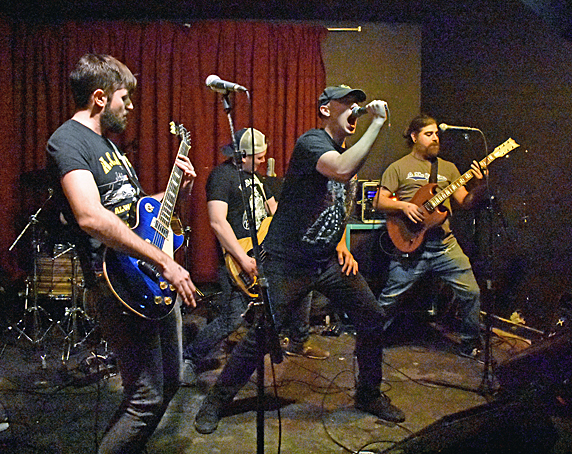 Oh The Humanity!
Photo: Blowfish
That set the stage for Oh The Humanity! They remind us of Actor|Observer in the fact that they are super tight, they have some metal leanings, they have a stand out singer and they have some emo in the vocals.
Kevin, the singer, became a father this year, that slowed up the recording of their next album and stopped them from playing out. They promised more shows and the album release this year.
They were as tight as ever. They couple that with volume and they produce a powerful blast. The songs are very detailed. They often have dedicated intros and mid-sections. The lyrics can be very wordy and have that emo component.
Like Loser's Circle they played half new material (and we can't wait to have that in recorded form!), and half older material. They ended with two songs, "Lola" and "Roadsick". We remember each time we heard those songs live because they gave us some of our favorite moments in a club: those moments when the band hits the line "My eyes were like video cameras" in Lola, and the line "Everything I am in spite of everything else" in Roadsick electrify the audience. It's musical magic, and to be there is to be one lucky punk. It doesn't get better than that.
What we loved about this show was that the audience was there from the first band to the last and gave them all their attention during the sets. There was no clearing out after a favorite band.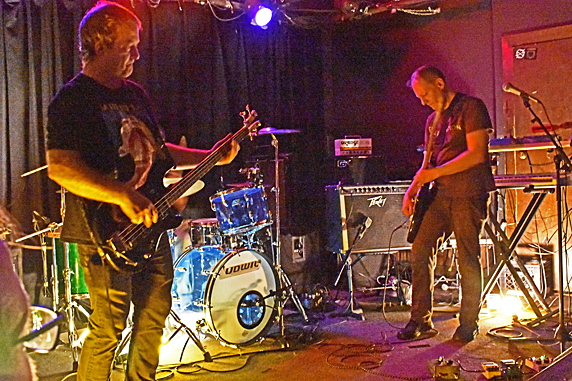 Minibeast
Photo: Blowfish
Saturday we made a fast hit to Great Scotts to take in Minibeast. We hate to let an opportunity go by to hear this intriguing group.
On their website they explain what they do: "get sturdy endless grooves percolatin', then plaster chanting and state altering instrumental tweaks on top and see what happens." That's what they do but it doesn't explain why it's so powerful and entertaining.
It was heartening to see a moderately full club of people taking on the challenging sound of the group. Peter Prescott took on the role of carnival barker, preacher or ringmaster to present his crackpot pronouncements. Peter has fully come from behind the drums in Mission of Burma to be a front man extraordinaire. That's a wonderful development.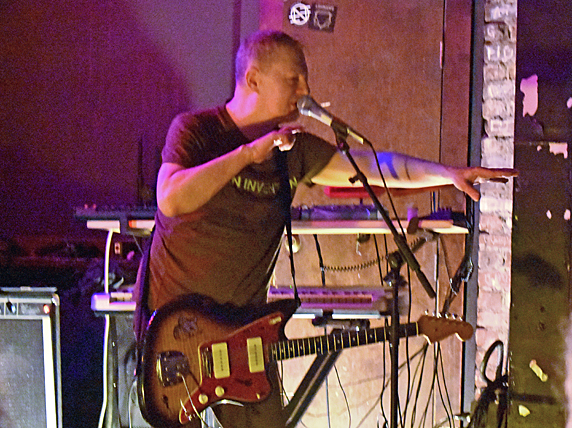 Peter Prescott - Minibeast
Photo: Blowfish
It doesn't take long when hearing Minibeast to understand that it's the rhythm section that is at the center of the group. The bass by Niels LaWhite is deep, pounding and repetitive. It's that repetitive groove that connects with the extraordinary drumming of Keith Seidel . Keith's drumming has few equals. He mimics the machine precision of programmed drums and then some. He sets up a contrapuntal concatenation that seems ominous and unrelenting.
Who else does this? No one that we can think of.
If you open your ears and plug into Minibeast you will be a rabid fan like we are.
Click Here for more band photos.
---
And in other news.......

Taking the City By Storm: The Birth of Milwaukee's Punk Scene! is "A documentary focusing on the progression of Milwaukee's Protopunk, Power Pop, Glam Rock, Punk, New Wave and Alternative Music scene from 1975 to 1985." It was supposed to be released in 2018 but hasn't made it that far yet. The trailer is well worth checking out. Here's their FB page for more info. The trailer is to the right.


Walter Lure has a book coming out in March 2020: To Hell and Back: My Life in Johnny Thunders' Heartbreakers, in the Words of the Last Man Standing. You can pre-order on Amazon here.

Powerslut is calling it quits. What?? It seems to us that they're getting more attention than ever. They say they are "starting a new project in the spring, tentatively titled Linnea's Garden".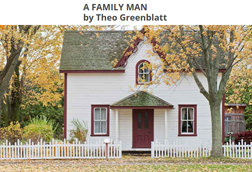 Theo Greenblatt has her story "A Family Man" published in Philadelphia's Cleaver Magazine. You can read it here.
Joanie Lindstrom got interviewed by Daniel Makagon for Razorcake magazine as part of their Sound Salvation series. Along with some Joanie background, it's a nice fast sweeping look at WTBS/WMBR and the Boston scene that goes back to almost the beginning. Read it on Razorcake.
Steve Prygoda's band Cold Expectations has a new release, "No Panic In My Veins" is available for streaming/listening on all major services like Apple Music, Spotify, YouTubeMusic, etc. You can also listen and download tracks on their Bandcamp page. And here is their Facebook page.
The band Malvina, from Brazil, has just released a new music video, "Hairesis". It's the 7th track of their album Hybrid War. It refers to the religious fundamentalism used by the far right in Brazil, US, Bolívia and being spread all over the world. This is a great punk song - have a listen here: Hairesis. And hgere is their Bandcamp page.

---
Mark you calendar for: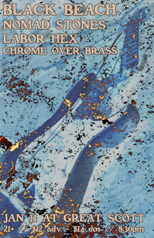 This Friday January 10 - All Mod Cons Final Show at Once, because of the huge response it hads been moved from the upstairs Lounge to the Ballroom. (See below for more info)
This Saturday January 11 -Black Beach / Nomad Stones / Labor Hex / Chrome Over Brass At Great Scott
Saturday January 11- Lyres (record release party) Middle East Up -early show at 6:30.
Friday January 24th - Death Pesos is playing in Pink Noise Studios in Somerville on Jan 24. Sounds interesting. Also on the bill are Mother Mammoth, Jessica Rabbit Syndrome and The Freqs - Music starts at 8 pm, BYOB - FB page
Saturday February 1 - Loser's Circle, DNZL, Chandler Cross at The Hong Kong
May 8, 9 & 10 - Salem Answers-Night: A three day music fest to celebrate and encourage the arts, magic, equality, and diversity of Salem! (listings below)
The Hoodoo Gurus are playing the Sinclair….on November 7 ….2020!! But lucky you ticket are already for sale!!
---
Here's some good shows coming up this week.....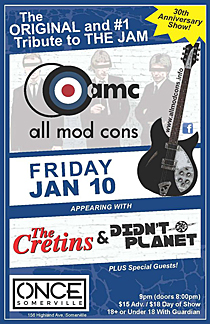 January 10 (Friday) All Mod Cons Final Show....this will be a special event...after 30 years and lots of shows in the UK All Mod Cons are planning a great night with great music and a host of local musicians getting together to celebrate the music of The Jam and the music of Boston. Also on the bill are The Cretins and Didn't Planet. Also, since the band Boy's Life twice played support for The Jam (at The Channel and the Orpheum), John Surette will take to the stage with All Mod Cons as his back up band to play a couple of Boys Life tunes and then a dive headlong into Private Hell to end it. It all happens at Once Lounge (upstairs) Music starts at 9PM. Tickets here. FB page
January 10 (Friday) Nomad Stones, Labor Hex, Chrome Over Brass at Opus Underground Salem
January 10 (Friday) The Mercy Case, Bystander, blindspot, Foxes at Koto Salem
January 10 (Friday) Meanmugg, The Gala, Billy Midol & Fat Knuckle Freddy at Geno's Portland, ME
January 11 (Saturday) Black Beach, Nomad Stones, Labor Hex, Chrome Over Brass at Great Scott FB page
January 11 (Saturday) Lyres (record release party) Middle East Up -early show at 6:30.
January 11 (Saturday) No Fucker (NY), Sadist, Innocent, Bakkara at The Hong Kong Harvard Sq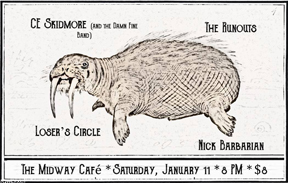 January 11 (Saturday) Nick Barbarian, Loser's Circle, The Runouts, CE Skidmore at The Midway
January 11 (Saturday) Motel Black, The Bind, Me In Capris at The Square Root
January 11 (Saturday) WhistleStop Rock Festival at Askew in Providence- this is the first Whistle Stop - Featuring: Heather Rose In Clover, The Knock Ups, The Chelsea Curve, PowerSlut, Kid Gulliver, The Cold Expectations, Justine and the Unclean. This is an EARLY show - doors are at 3PM, music starts at 4PM. For more on Whistlestop and upcoming gigs check out www.whistlestoprock.com
January 12 (Sunday) Hillbilly Holiday and Justine's Black Threads at Aeronaut in Somerville. EARLY show 2-6PM FB Page.
And further out there is.....
January 15 (Wednesday) Randy Black & The Heathcroppers Plough & Stars Residency 6-8 pm
January 16 (Thursday) The Inebriations, Church & Puppets at The Tavern at the End of the World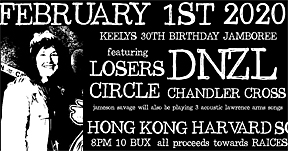 January 16 (Thursday) Camper Von Bethoven and Cracker winter tour at The Middle East Down.
January 18 (Saturday) Corin Ashley band afternoon matinee at Atwoods, 3-5PM
January 18 (Saturday) Triple Thick, Crunchtime, 1.4.5., Butterscott at The Midway 3-7PM matinee
January 18 (Saturday) Barrence Whitfield & The Savages, Muck and the Mires at The Middle East FB page and tickets
January 19 (Sunday) Barrence Whitfield & The Savages and Tiger Bomb at Sun Tiki Studios Portland, ME 8PM doors - FB page.
January 19 (Sunday) Brix 'N'Mortar, The Hangovers, Stubborn Hearts, Hellbound Hitman at Koto Providence RI MUSIC Starts at 6PM!!
January 19 (Sunday) Stoploss, Secret Spirit, F.U.'s, more TBA at The Thirsty First Tavern Lowell FB page 2-6PM and this is an ALL AGES show.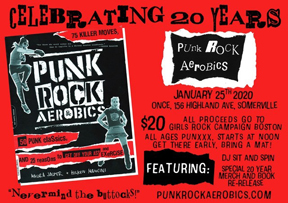 January 25 (Saturday) Punk Rock Aerobics 12-2:30PM at Once Ballroom
January 25 (Saturday) The Hi-End, Watts, Justine and the Unclean at The Square Root
January 25 (Saturday) The Ratz, Sonorous Rising, Rockin' Bob's Punk Band, T-Wreck at 33 Golden Street, New London, CT FB page for info
January 27 (Monday) il Mostro, Between Skies, Silver Screams at Charlie's Kitchen
February 1 (Saturday) Loser's Circle, DNZL, Chandler Cross at The Hong Kong
February 1 (Saturday) Stop Calling Me Frank,Greg Allen's Fringe Religion, Tsunami of Sound at The Square Root Roslindale
February 7 (Friday) Lucid Lynx, Above The Din, Luxury Deathrap, Heavy Hands at The Midway
February 7 (Friday) Immolators, Labor Hex, Wire Lines, Brain Vacuum at 13th Floor Music Lounge Florence MA.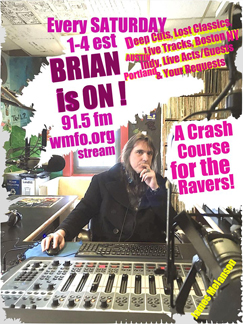 February 8 (Saturday) Murphy & The Mess, The Inebriations, the Deep State, Amoricans at The Midway - this is a 3PM Matinee show

February 8 (Saturday) SS*25, The Von Traps, The Lipstick Boys at Sally O'Brien's FB page

February 8 (Saturday) Scuzzy Yeti, IL Mostro, Z/28 and Wrought Iron Hex at The Midway

February 8 (Saturday) Nick And The Adversaries (CD Release), Jason Bennett and The Resistance, Triggered at The Middle East Up

February 8 (Saturday) Nat Freedberg & No Brainer at the Plough & Stars with special guests John Powhida's JPX to celebrate the release of Record Number Three on Rum Bar Records!

February 8 (Saturday) Confusatron, Escuela Grind, Willzyx, Lepra, Sores at Geno's Portland, ME

February 15 (Saturday) The Gala, Hambone Skinny, Zulu Lulu at The Square Root- this is an ALL AGES show

February 16 (Sunday) Stop Calling Me Frank, State of the Union, The New Frustrations, The Steamies at The Midway - matinee 3-7PM

February 16 (Sunday) HardCore Stadium presents Fuming Mouth, High Command, Raw Radar War, Suffer on Acid, Mangled - Middle East Up 7PM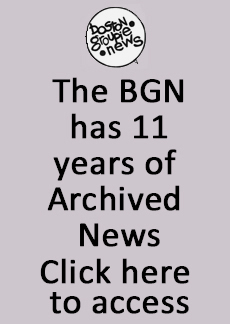 February 21 (Friday) Set Fire, The Gala, Motel Black, Gene Dante and The Future Starlets at Koto in Salem
February 22 (Saturday) Justine's Black Threads EP Release Party w/Two Fathoms Down at Atwood's Tavern - this is a 3-%PM show.
February 22 (Saturday) Rum Bar Records Anniversary Show with The Dogmatics - 11:00 PM, Muck and the Mires - 10:00 PM, The Dirty Truckers - 9:00 PM at The Square Root
February 23 (Sunday) Sick Minds, Skytigers, Color Killer, Nine Votes Short - 2-6PM matinee and ALL AGES at Thirsty First in Lowell
February 24 (Monday) Dead Bars at Charlie's Kitchen
February 28 (Friday) LUX LIVES East Coast 2020 with The Evil Streaks, The Demon Seeds, Thee Benevolent Tarots and DJ Kogar the Swinging Ape playing Lux and Ivy's Favorites all night long! at Opus Underground Salem. FB page.
February 29 (Saturday) DJ Easy Ed presents: Lynnette & the Sundowners, The Barley Hoppers, Easy Ed's Record Hop at The Midway for a 3-7PM matinee show.
February 29 (Saturday) PowerSlut "Fun With Junk" Release Party...AND...WhistleStop Rock Fest featuring The Chelsea Curve, Cold Expectations, Field Day, Heather Rose In Clover, Justine and The Unclean, Lockette, Kid Gulliver, The Knock Ups, The Shang-Hi-Los, and Tiger Bomb! EARLY show 3PM - Midnight mat Once Somerville.
March 13 (Friday) This is Night 1 of a 2-night Whistle Stop Rock festival in Salem!! Featuring: The Knock Ups, The Cold Expectations, The Chelsea Curve at Koto Salem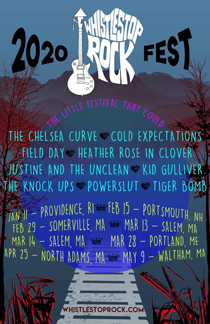 March 14 (Saturday) This is Night 2 of a 2-night Whistle Stop Rock festival in Salem!! Featuring: Kid Gulliver, Heather Rose In Clover, Justine's Black Threads... And special guests: The Dents!! at Koto
March 21 (Saturday) POST PUNK II with Chuck Ferreira, Duncan w Johnson, Anthony Kaczynski at Sally O'Brien's
March 27 (Friday) Little Caesar, Diablogato, Little Billy Lost, Pink Mahalares at Koto Salem
March 28 (Saturday) Bombpops, MakeWar, Pass Away, In the Meantime at The Hong Kong
March 28 (Saturday) The Zulus at The Paradise
March 28 (Saturday) WhistleStop Rock Festival Portland with Tiger Bomb, Heather Rose In Clover, The Knock Ups, PowerSlut, The Chelsea Curve, Kid Gulliver, Justine and the Unclean at Sun Tiki Studios 6PM start!!! FB page
April 3 (Friday) Kid Gulliver, The Steamies, The Winter Project, A Bunch of Jerks at The Jungle
April 4 (Saturday) Uncomfortables, DNZL, Joe Division, The Damaged at the 13th Floor Music Lounge, Florence MA
April 19 (Sunday) The Undertones at The Paradise
April 25 (Saturday) WhistleStop Rock Festival Western Massachusetts - featuring: Heather Rose In Clover, Kid Gulliver, The Cold Expectations, OTP and special guests State Of The Union at HiLO North Adams - FB page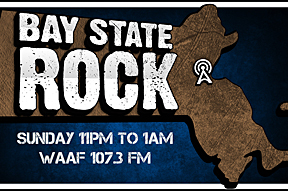 May 8 (Friday) Salem Answers-Night 1: This is a music fest to celebrate and encourage the arts, magic, equality, and diversity of Salem! 7-9 at Koto: Accoustic sets with Pink Malahares, CoffinSalesman, Jenn Lombari - 9:30 to close at Koto: Salem Wolves, Oh The Humanity!, Radio Compass, Bad Larry's....9:30 to Close at Opus: Marianne Toilet and the Runs, Losers Circle, Red Ledger, Hyber, Subourban Sunrise FB page
May 9 (Saturday) Salem Answers-Night 2: 7-9 at Koto: Acoustic sets with Live Nude Girls, C.Murray, C.Okeeefe - 9:30 to close at Koto: Diablogato, Brix'N Mortar, Hellbound Hitmen, Skytigers, Motel Black...9:30 to Close at Opus: The Gala U.S., Z28, The Von Traps, The Downhauls FB page
May 10 (Sunday) SalemAnswers-Night 3: 7-9 at Koto: Accoustic sets with Carissa Angelo, Opus, Vilanvs, - 9:30 to close at Koto: Stiff Propisition (Glamtastic covers members of Bacterial Husk, Sexcrement, and Brix'N Mortar), Master of Beers (Metallica), Aces High (Iron Maiden), Warthog (Ramones ). FB page
May 16 (Saturday) Baabes, The Knock Ups, Mister Vertigo, Motel Black at The Jungle
CONTACT US AT....misslynbgn@yahoo.com Send us your gig listings, your anything else ya got!! You want your CD reviewed?? Contact us for that too.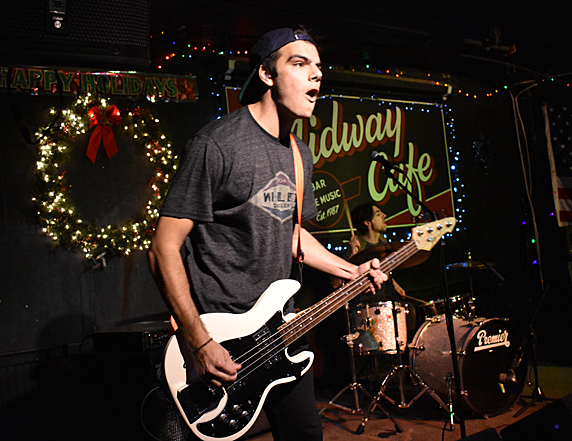 Louzy
Photo: Blowfish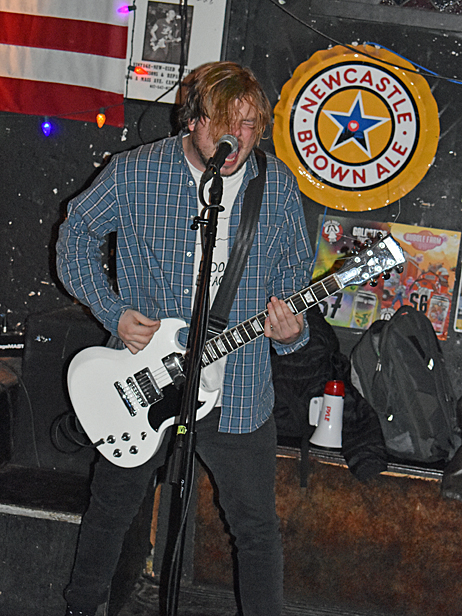 Louzy
Photo: Blowfish

Down Boy
Photo: Blowfish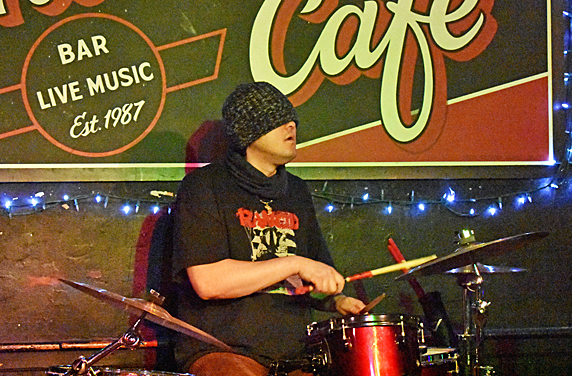 Tak - Circus Battalion
Photo: Blowfish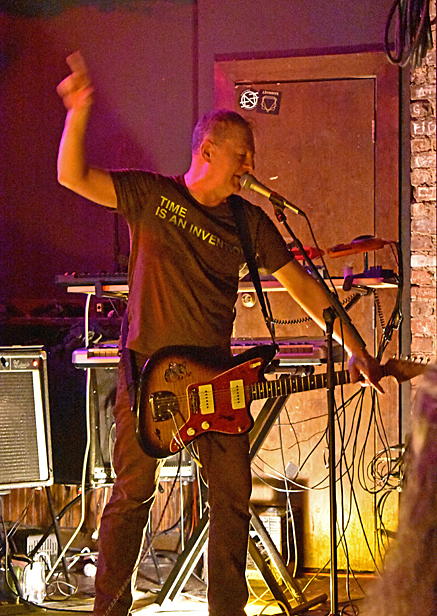 Peter Prescott - MiniBeast
Photo: Blowfish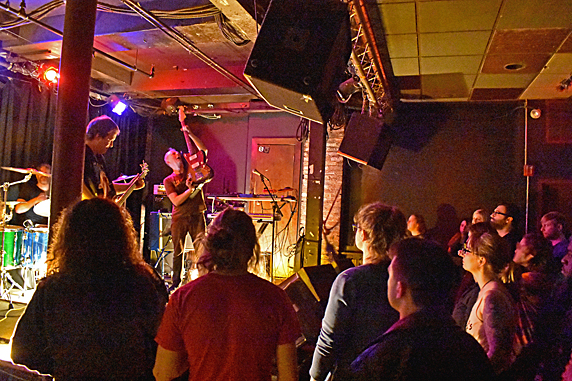 MiniBeast
Photo: Blowfish

Oh the Humanity!
Photo: Blowfish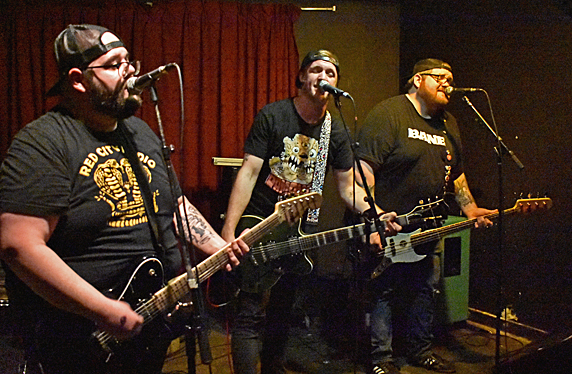 Loser's Circle
Photo: Blowfish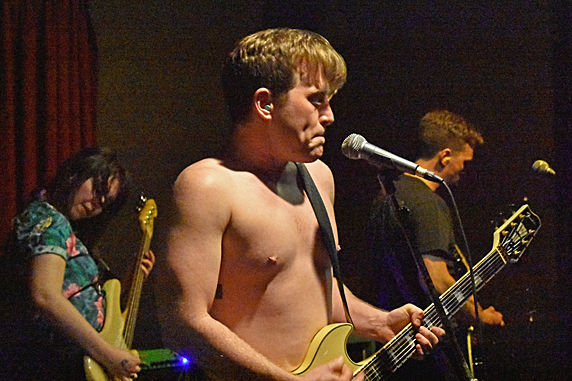 Tensor
Photo: Blowfish