The BGN News Archive
January 7, 2012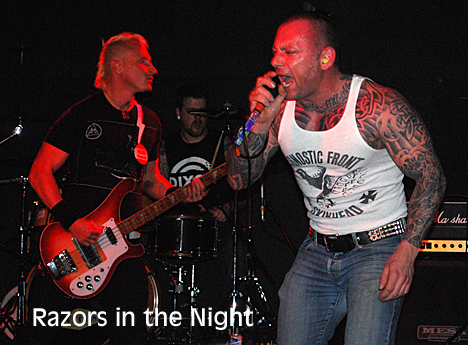 First off we want to say yeah it's a new year alright and in 2012 Rick Coraccio quietly "retyred" from the Lyres. Rick has begun a series of his awesome 'journal entries' called The Lyres Chronicles in which he shares his feelings about being a Lyre and his decision to stop....we just got his first installment so click here to read it...it's really a great read AND is accompanied by some amazing photos and memorabilia!!
Now what did we do this past weekend? .... A comparably mild winter night made it easy to get out. We headed for The Brighton Music Hall (in Allston) for the Benefit for Brenda Wynne. The place still looks like Harper's Ferry to me and that's not bad, it's a nice set up with a large raised stage with plenty of floor space and side rooms.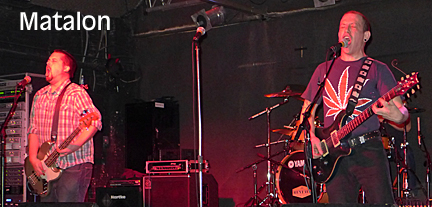 There was a good amount of people but not crowded. Matalon was on. They were very loud to the point where the ticket person held up a sign with the ticket price on it because you couldn't hear a thing. Am I complaining? No, I like it. That's what I was looking for.
Matalon self describes themselves as not punk, not metal, and not grunge which begs the question - what are you? I'm with them though, they are a modern style power trio (let's say) and they gave a good dose of rock.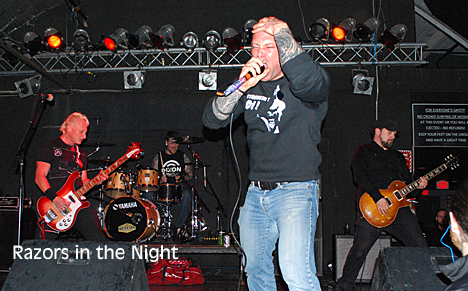 We see Swid the bass player for Razors in the Night go on stage to set up. Just seeing this guy does two things. One makes me laugh - he's done a lot of on stage antics. Two- get my expectations up - he's always a major part of a great band.
Not long before a few intro words from Troy the singer and the Razors are into a powerful set. To me this was the best set by them- ever. I loved all the songs and the playing was inspiring. The Razors' songs are characterized by positive and uplifting lyrics and they ring true tonight. The motivating anthems are a perfect solution to the winter blues. Troy is proactive singer not content with the raised stage; he's soon on the floor with people doing a pile up on him to shout out the choruses. His energy on the floor seemed to say MOSH people MOSH even though there is a sign that says NO MOSHING over the stage. There was a little but nothing too bad, a good compromise to the club I'd say.
They had a new song called "You've Been Doored" which is about the bike/car interface which was a winner. I'd like to hear that on the radio.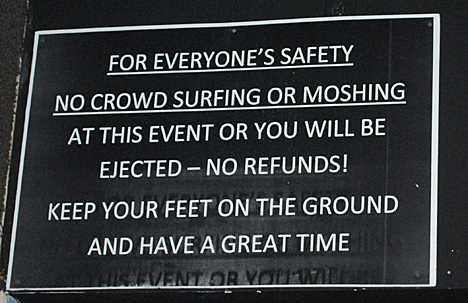 2013 is in full swing now - there's good stuff coming up:
This Thursday Jan 10 there's also a good show at Church with Brian Carpenter & The Confessions, Do Not Forsake Me Oh My Darling and Endation
But wait 1/10 is Bob Colby's second Second Thursday at Radio with Nina Violet, The Milkman's Union and Uranium Daughters that Thursday too!
Friday January 11th Radio (Up) has Muck & The Mires and Township and Malibu Lou will be DJing that night too! And at The Middle East Up there's Lyres, Satin Kittens, Triple Thick and Radio Control.
This Saturday is a busy one!: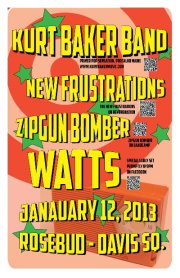 It's Powerpop night over at The Rosebud on Saturday 1/12 with Watts, The New Frustrations and The Kurt Baker Band and The Zipgun Bombers - and note that Watts goes on promptly at 9PM for a special early set this night!!and if that's not your thing
at Radio (down) that night there's -Psycho, Kilslug, Impenitent Thief, and The Burnouts
if that's not your thing there's Black Fortress of Opium at The Midway in JP...
also on the airwaves on 1/12 I hear there's a Charlie Farren Interview on WMFO - Brian Young and his show A Crash Course for Ravers will featuring the ever handsome and cute Charlie Farren from 1-4PM that day. AND Charlie has a band together with Jon Butcher! Called, of course, Farren-Butcher! Wow talk about a trip down memory lane!
M.O.T.O. and Classic Ruins are at The Plough & Stars on Friday Jan.18! The Ruins haven't played in Boston (or anywhere much) since Bob Colby's birthday back in August! This will be a good setting to catch them!
also the 18th at the Midway: General Assembly presents The Lost Electricity Acoustic Tour featuring the Turbo ACs (Kevin and Mikey Millionaire w/special guests), Lenny Lashley's Gang of One, Brian McGee of Plow United, and Chris Rosenquest of The Tower and The Fool
And don't forget-Mission of Burma at Sinclair on Saturday January 19th
Sunday January 27th there's a surf music show at The Midway with Tsunami of Sound AND Surfer Joe and his Boss Combo - from Italy!!
You may have noticed there was no Upper Crust New Year's Show this 2012…well as they state quite clearly on their website: "As is often their wont, The Upper Crust have withdrawn from the hubbub and hurly-burly of high society and retired to the privacy of their estates. Their Lordships are notorious for vanishing in this manner-sometimes quite abruptly between the intermediate stages of a twelve-course meal, and often for long stretches at a time-leaving their friends and followers in cruel and careless suspense as to when they shall reappear."…so friends you can take comfort in the fact that the lordships will appear exactly one month later - on January 31st on the stage at Precinct in Union Square Somerville.
It looks like there was a problem with the link we had in here last week for the The Shotglass Killers at the historic 100 Club London back in June, On the same bill with Rat Scabies and Brian Jones from The Damned? He wrote about it for us.... Episode 257 of the Paranoid Squirrel features the entire Scabies & James and the Shotglass Killers set as well at the 100 Club. Click here or go to the ParanoidSquirrel.com
And in case you missed Adam Ant when he played a while back here in Boston, old friend Deborah Staines sent us a link to Adam Ant on the Jools Holland SHow on New Years eve! Love the glasses!
EMAIL US AT.......misslynbgn@yahoo.com