The BGN News Archive
January 7, 2019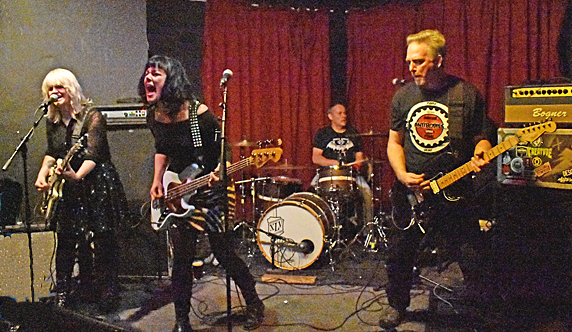 The Dents at O'Brien's
Photo: Blowfish
---
Maybe it was burn out from Tuesday's New Year Eve celebrations but there were few people at the Barrence Whitfield show at Thunder Road on Thursday. There was enough to fill the seats but that's it. Maybe it was because it wasn't billed as Barrence Whitfield and the Savages.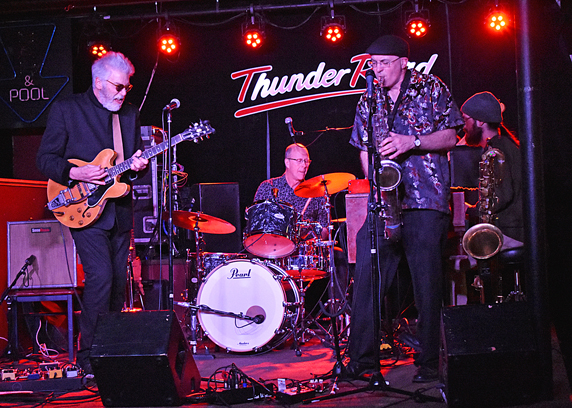 Four Piece Suit
Photo: Blowfish
Barrence played with a group called Four Piece Suit. The band without Barrence did the first set. It was mostly instrumentals done very professionally. They said during the set that they used to record soundtrack songs for Sex and the City and they did a few of those songs. In fact they had a studio band presence about them.
The songs were not 3 minute surf songs, the arrangements took the themes to many variations and were longer. They had a jazzy feel at times especially when the organ player soloed. It looked like a Hammond of some sort and it had a Leslie cabinet, something we haven't seen on stage in a while. They ended with Georgie Fame's "Yeah, Yeah" which typified the pop/soul/jazz style. Video above.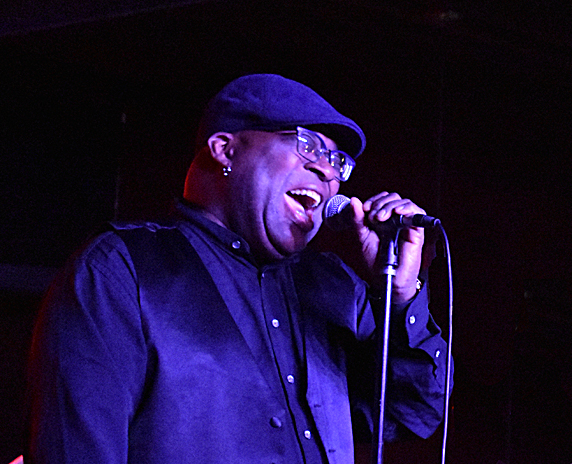 Barrence Whitfield
Photo: Blowfish
When Barrence joined up they got harder and grittier and the rock and soul was more pronounced. It's irresistible: the audience and the band got swept up in the Whitfield magic. It didn't seem like a last minute get together for a show. The band seemed well rehearsed. Barrence started with a few of his patented wild man screams and it was off to 90 minutes of rock and soul.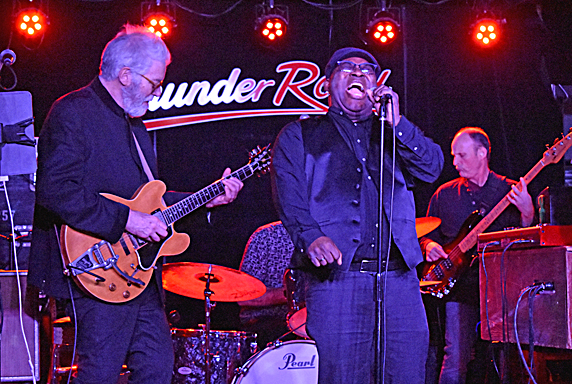 Barrence Whitfield
Photo: Blowfish
They played some obscure covers that we didn't know. They played some songs from his albums that we did know, like "Go Ahead and Burn", "Stop Twistin' My Arm", "Bip Bop Bip", "Fat Mama", and "Dust on My Needle". Then they did a few surprises like: Tom Jones' "It's Not Unusual" (Video below), Nick Lowes' "What's So Funny About Peace, Love and Understanding" and they finished with the Stones' "Sympathy for the Devil".
It was a generous set. Barrence remarked a few time about the small audience but he gave it all and promised the club would be packed next time he played and he's probably right about that. To us it felt like a special private show.
Friday was a bill that we could not pass by: Blame It On Whitman, Duck & Cover, The Dents and OC45 at O'Brien's. It wasn't sold out but there was a good crowd and they were very vocal all night for every band.
We missed Blame It On Whitman. They've been gigging steady lately after what seemed a gap of time. We hear more and more people asking about them and trying to see them. We saw them at their first show in July 2017 just when they morphed from another group - Jumper!. We've seen them three times since and know they are worth checking out.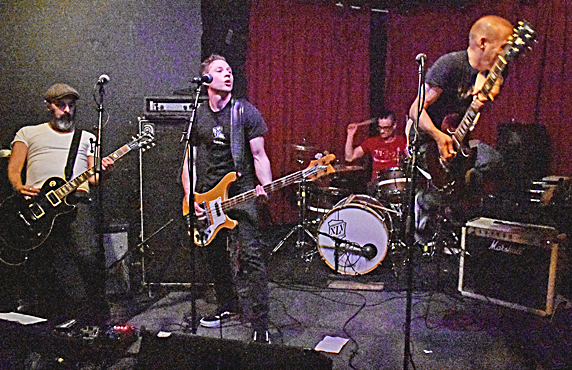 Duck & Cover
Photo: Blowfish
We got there in time for Duck & Cover who did their familiar set packed with songs we love. Up close the guitar work is so sharp and ringing. The thing about Duck & Cover is that they are good on all levels: they work so well as a group, the individual strengths all serve the group sound, the songwriting helps drives the sonic barrage, and the singing is distinctive.
Those are reasons why they are so many people's favorite punk band. They ended the set with what has become a local classic by now - "Stand Corrected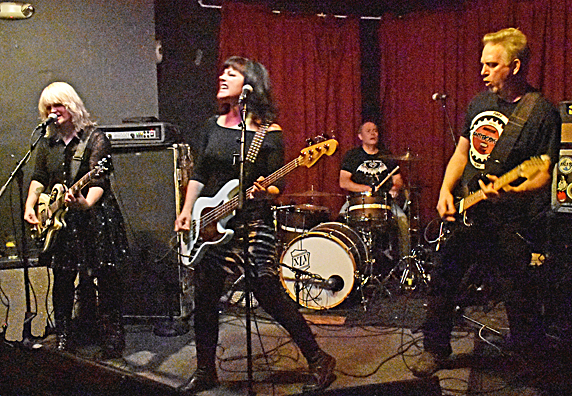 The Dents.
Photo: Blowfish
Every now and then, and we don't know what drives it, The Dents pop up for a show, like they did for this. As usual they sounded like they never split up. They actually sounded better than a large percentage of working bands. The thing we usually forget, and were pleasantly by surprised again, is the mix of Jen and Michelle's voices. That sound brings back not only The Dents' heyday but the days of the Abbey. That nostalgia was very much there for us.
Chirs Brat, Jen and Michelle
Photo: Blowfish
They did their old material and then the songs from the Return of the Dents 2018. They broght up Chris Brat to sing along for a song.
Guitarist Craig Adams was crazy good all during the set and then took it to another level in the change-up last song. The song had a different feel from the entire set. It had a repetitive bass line and settled into a sort of space jam where Craig had license to run the fingerboard and as a result headed into some nonlinear riffage with a slicing tone. It was the highlight of the set for us. More Dents please in 2019!!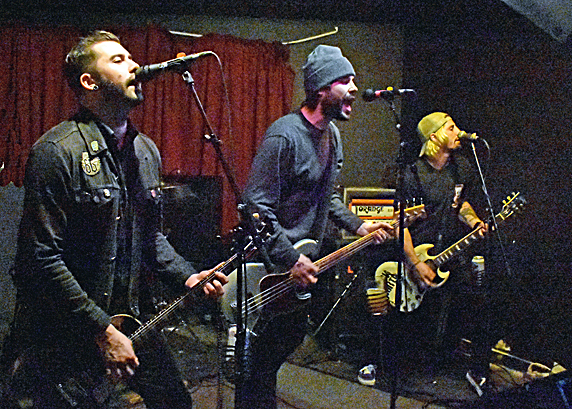 OC45
Photo: Blowfish
That left OC45 to try to make an impression after three other good sets. Their answer – blast it out.
They started with one of their best songs and our favorite too – "This Bottle's Got Your Name On It". There is unexpected sensitivity in the lyrics that make it different than most songs that have that punk wall of sound at the base. At O'Brien's there was so much raw energy on stage that some of the songs' subtlety was lost. The Political "Keep Your Guns" though fed off the high fury. But the band was all about pumping out the power and mission accomplished on that. It was a set to just get in there and suck up the spectacle.
That was a nice bill someone put together!!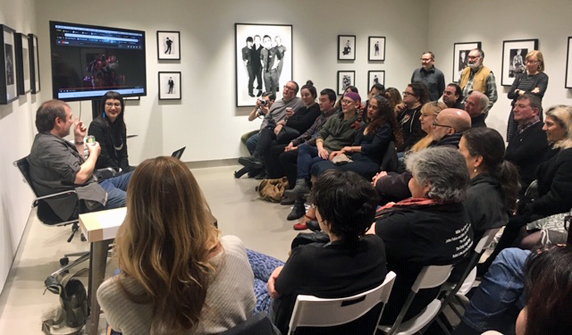 The Leica Gallery's Rebels show
Photo: Miss Lyn
On Friday night we also headed over to the closing reception for Richard Young's punk photo show Rebels at The Leica Gallery downtown.
Young is a celebrity photographer, but was based in London in the 70s and caught the London Punk Rock scene in its prime. The show is relatively small, about 20 photos. But they are stellar and include The Clash, X-Ray Spex, Siouxsie and the Banshees, Blondie, The Ramones, Gaye Advert, The Damned. There was a great studio pic of the Pistols and one of them outside signing their contract with EMI. Another stand out was the Ramones with Marc Bolan.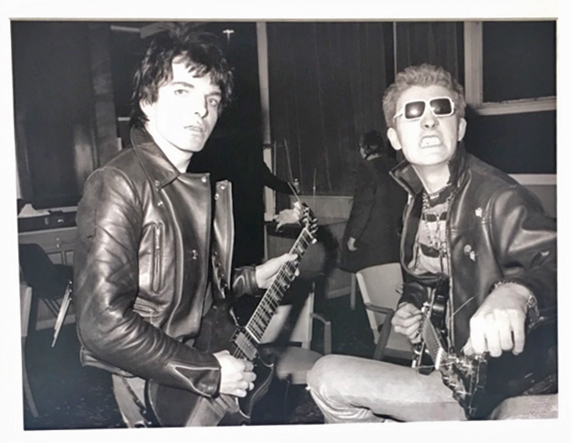 Brian James and Captain Sensible
Photo: Richard Young
The two hour reception was really a talk about the history of punk rock lead by the Leica Gallery Curator Anabel Vázquez Rodríguez and local rock photographer Paul McAlpine, They showed an awesome video of the Spanish Punk band Vulpess (formed in 1982) doing their song Me gusta ser una zorra
The place was fairly full, which was great! In the crowd we saw David Beiber, Joanne K and Brian Coleman. But it seemed to be a lot of people really into the idea of Punk and many that were there during the early days like 1977 and 78.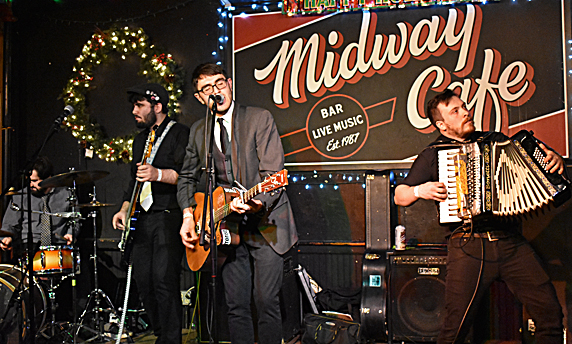 Coffin Salesman
Photo: Blowfish
Now a little catch up here: we hit the Thrash n' Bang Christmas Party on Dec 23. We're just getting to it now because last week we did our yearly review.
The show was at the Midway, another nice afternoon gig. We caught just a little of Coffin Salesman. There' always a little different line up each time we see them. We think and hope they find a wide audience in 2019.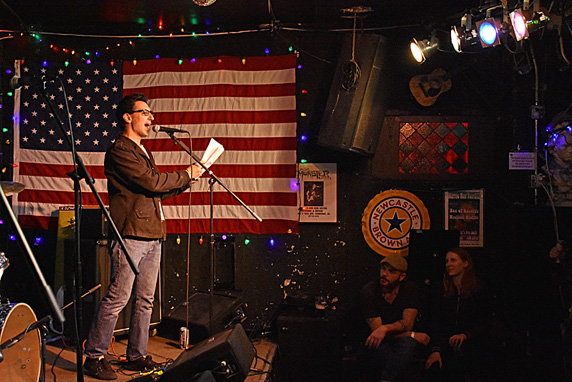 Jake Tringale
Photo: Blowfish
The poet Jake Tringale was there and got up to read a few times. He read a poem by Slimedog who has been writing poetry all along at Thrash n' Bang http://www.thrashnbang.com/category/short-stories
The take away from that is Jake is also good at reading other people poems. We're hoping to see Jake more in the future. He brings something different to the shows.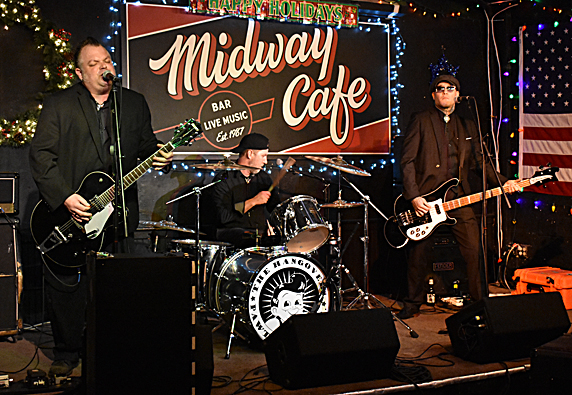 The Hangovers
Photo: Blowfish
We thought we were seeing the McGunks but it was The Hangovers. The Bob, vocals and guitar, is in both bands. They put in a no bull, straight up punk set. The drummer had an easy touch that belied the fact that he was hitting the drums way hard. He had some power fills. He had our ear most of the time. Catch him in the video below.
They said they wanted to do a Christmas song, so they played the Sex Pistols "Bodies"!!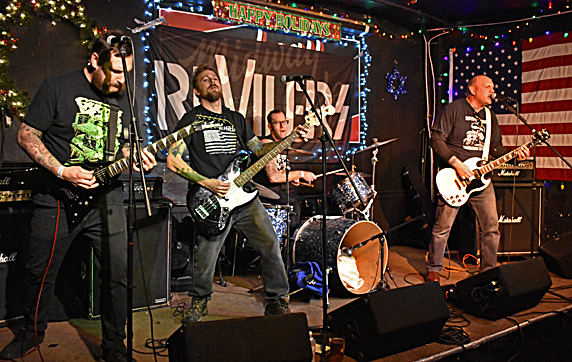 The Revilers
Photo: Blowfish
Then The Revilers took no time at all to get the hardcore raging. They have a powerful attack. Nick Hebditch is on bass and basically every band Nick is in is worth seeing.
We headed out even though there was more to go. We don't like to miss this yearly celebration and we are so glad Thrash n' Bang is out there. We of all people, know it's not easy keeping a web site going.
More band photos below the show listings.
John Keegan headed nort on Friday to Koto in Salem and saw Little Billy Lost, 61 Ghosts, Thee Fighting Fish and Jones Creek. Click the photos below for a review, photos and a video.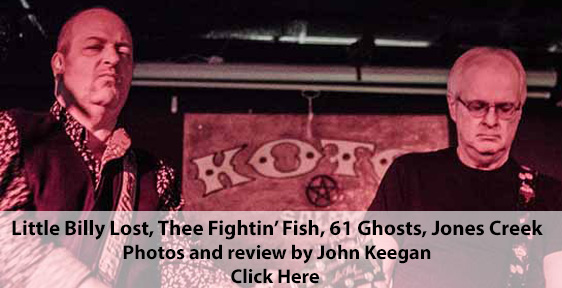 John Keegan also has lined up his favorite photos from 2018 into a slide show with some Duck & Cover as a soundtrack. See the video below.
---
And in other news.....
We did our BGN Yearly Review last week. As part of that we posted a few things on our Facebook page that are not on the site here so it's a good idea to hit our Facebook page to see those posts.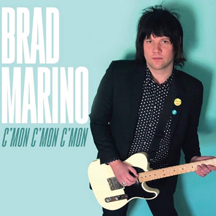 In preparation for an album release Brad Marino of The Connection has released a song called "C'Mon C'Mon C'Mon" and it's another on our Top Ten Songs
And get this – Brad plays all the guitars, bass and drums. Wow. It's a catchy song and just over 2 minutes. Way to go. We're waiting for more. Listen to C'mon C'mon C'mon here
Club Bohemia at the Cantab is back in action. They are actively looking for bands so all you bands out there, contact them and get a show!! This is a wonderful turn of fate. Mickey Bliss is back in action. Contact them on Facebook at Club Bohemia or Contact us via email for phone number if you are interested.
Same goes for the revamped Tavern at the End of the World - so contact Natalie Flanagan on Facebook about shows there!
2018 was really the year for Stop Calling Me Frank. A long overdue album and constant good live shows have got them attention. Rum Bar just gave Spider In My Bear a free release. Hear it here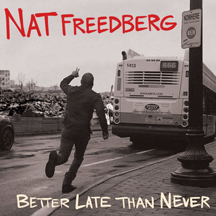 The Nat Freedberg upcoming album Better Late Than Never is looking better again judging by the song Rum Bar has released entitled "All My Love". And you guessed it…it's in our Top Ten Songs! All of Nat's work is part of Boston punk history and this album is shaping up to be one his best.
Skybar is going to have Nat as a guest on his Rising show (WMFO 91.5,Tuesday 8pm) on January 15 before Nat does his album release party at Once on Jan 19 with Justine and the Unclean and Watts. We hear this show will be in the lounge and not the main club room.
We are a year late on this, but still not to be missed. The Monsieurs make a Christmas video (for 2017) of their song "At the Hop". The Monsieurs are part of Debauch A Rico on Feb 15-16-17, 2019.
The Chills show at the Middle East on Feb 20th has been moved to the Downstairs, which means tickets are selling.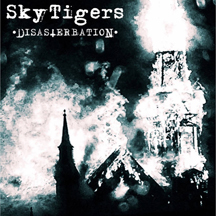 There's metal in their thrash and punk. It's Sky Tigers. We like the hard slamming attack. The 6 song effort on Bandcamp never lets up. For the season they have "Keep Christ in Christmas (and Out of Rock n' Roll)". It takes serious commitment to put out a song like "Truth Decay", our fave and in our Top Ten Songs , and Nobody Puts a Baby in a Dumpster (Stillborn in the U.S.A.). What must they be like live? We'd 'love to see them! To hear it all with a Motorhead cover go to their Bandcamp page.
There are always unusual band names out there but just glancing at the upcoming O'Brien's gigs for the next month gets a few laughs: See Through Dresses, The New Restaurants, The Incomparable Liam Neesons, Monkeys of a Bygone Era, Northeast Traffic, Amenorrhea (an abnormal absence of menstruation.), Me in Capris and Temporary Eyesore. As one band name has it: The Jokes on Us.
---
Here's some good shows coming up this week.....

January 8 (Tuesday) Rock and Roll Trivia w/ Erin & Brett at The Sinclair 8PM
January 8 (Tuesday) Kenne Highland, Death Pesos, VAT, Doctor Finnegan's Circus at The Midway
January 10 (Thursday) Mr Airplane Man & Triple Thick are at Atwood's
January 11 (Friday) Not A Wasted Night: A Benefit for Chris Doherty of Gang Green at the Paradise. More info to come. Keep an eye on the Facebook page for updates. Tix are $25 and you knwo this is a great cause!! You can buy tix here. Here's a list of performers so far: Slapsdhot, The Dogmatics, The Outlets, Unnatural Axe, White Dynomite, F.U.'s, Springa, Worm
January 11 (Friday) Red Arlington, A Bunch Of Jerks, HIXX and Ski Bunny at O'Brien's in Allston.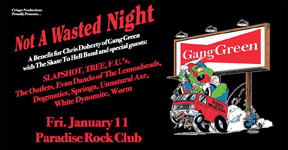 January 12 (Saturday) Punk Rock Aerobics - A benefit for Girls Rock Campaign Boston! at ONCE Ballroom Noon to 3PM FB page.
January 12 (Saturday) Dave Yanolis, Crow Follow, The First Supper & Trusty Sidekick - at The Midway its a 3-7PM matinee show
January 12 (Saturday) IL Mostro (CD release) w/ Cortez, Scuzzy Yeti & Wrought Iron Hex at O'Brien's
January 12 (Saturday) Gene Dante And The Future Starlets, The Gala, Tiger Bomb, Smitt E. Smitty at Once Somerville.
January 12 (Saturday) Beware The Dangers Of A Ghost Scorpion! w/ Spenser Gralla at Atwoods Tavern
January 12 (Saturday) The Joe Zippo Memorial Show at KOTO in Salem. Featuring: Hub City Stompers, Michael Kane & the Morning Afters, Brix'n Mortar, COB and Matt Wall will be playing in between sets.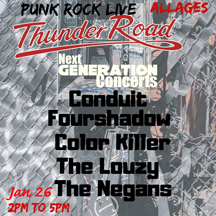 January 12 (Saturday) Restraining Order, Envision, Antagonize, Brother, Pummel at AS220 Provi RI
And further out we have......
January 17 (Thursday) The next Buy Me Boston book event is at the Boston Public Library 6-8 PM Here's the FB page.
January 17 (Thursday) Boston Emissions presents: PowerSlut, Stars Like Ours, Dark Wheels at Once Somerville.
January 18 (Friday) Tsunami of Sound, Keytar Bear, The Chelsea Curve and Little Billy Lost at Sally O'Brien's in Somerville.
January 18 (Friday) The Imposers, The Radiator Rattlers, Tigerman Woah, Graneros at The Worthen Attic in Lowell.
January 18 (Friday) Billy Connors Project, Stigmatics,Thigh Scrapers at Koto in Salem.
January 19 (Saturday) A Crash Course For The Ravers show has BAABES in to chat and spin tracks. 1pm to 4pm WMFO 91.5FM (http://www.wmfo.org/popout_player.php?bitrate=256)
January 19 (Saturday) The Gobshites, Time Out Timmy, Mongorellis, Punk Band, and Jimmy Jacked at the Midway for a 3-7PM show.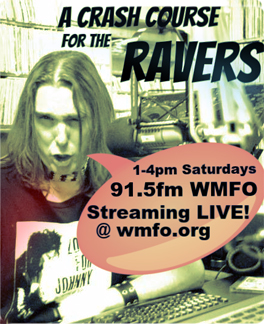 January 19 (Saturday) Nat Freedberg, Watts, Justine and the Unclean, Duck & Cover at Once Somerville
January 19 (Saturday) 77 Everythings, Rolling Stony, Thee Fightin' Fish- Club Boho
January 19 (Saturday) Franklin's Birthday Bash at Hotel Vernon w/ MK & The Morning Afters, Origin Story, Coffin Salesman, Chris Murray and more - only $5!!!
January 20 (Sunday) Midwinter MessAround at the Plough 4-6PM Check out the FB page for who is playing.
January 25 (Saturday) Stoploss, Step 13, Sonic Libido, State Of The Union at The Thirsty First Tavern in Lowell.
January 29 (Tuesday) Richard Lloyd solo show at City Winery Boston
January 29 (Tuesday) Gutter Demons, The Evil Streaks, and Diablogato at Shaskeen Pub Manchester, NH
February 1 (Friday) Kid Gulliver, The Knock Ups and Muck and the Mires at Sally O'Brien's
February 1 (Friday) The Cryptics, The FUs, Secret Spirit, Triggered at UnchARTed in Lowell.
February 2 (Saturday) Welch Boys Annual Ron Holbrook Memorial Show - proceeds go to The Pine Street Inn...featuring The Welsh Boys, Ice Cold Killers, Blue Bloods and Rockin' Bob Punk Band...at Great Scott.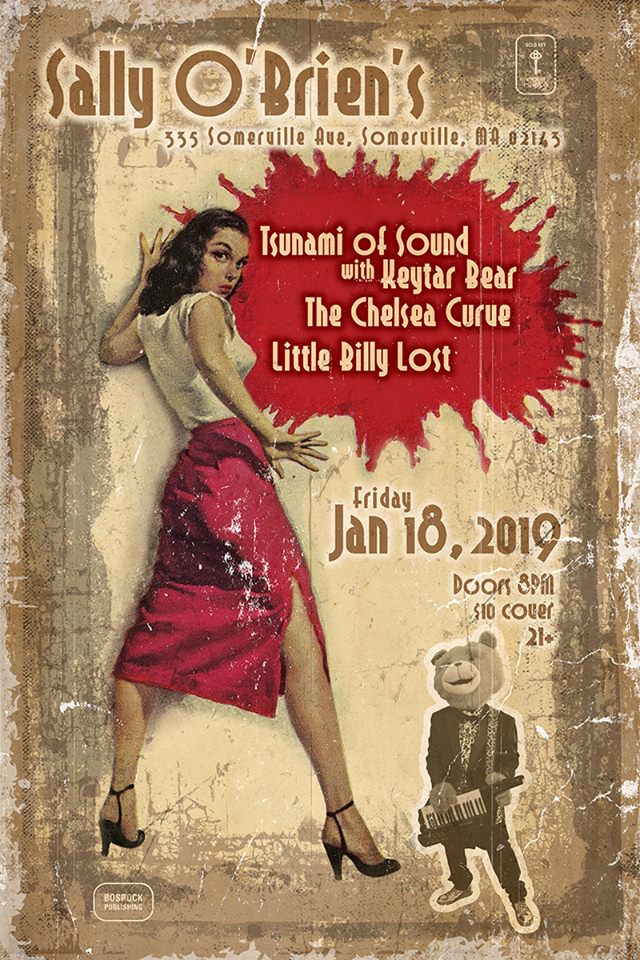 February 2 (Saturday) Art Thieves, Bundles, Stolen Wheelchairs, Blatch at the Midway 8PM show
February 2 (Saturday) The Natty D's, Satch, CE Skidmore, Garbage Point at the Thirsty First Tavern in Lowell.
February 8 (Friday) Hey Zeus Record Release & Listening Party (Argonauta Records) with Motherboar, Cocked N Loaded, Labor Hex at Once Somerville.
February 8 (Friday) Murphy's Law at the Middle East
February 9 (Saturday) Thee Fightin' Fish, Club Linehan A Go Go, The Billy Connors Project, and Paul Caporino of M.O.T.O. at The MIdway for a matinee show 3-7PM
February 9 (Saturday) Lux Lives East Coast 2019 with The Evil Streaks, Jittery Jack & Amy Griffin, Hambone Skinny - and DJ Kogar the Swinging Ape playing Lux and Ivy's Favorites all night long!at Opus Underground Salem
February 16 (Saturday) Stop Calling Me Frank, A Bunch of Jerks, The Knock Ups, and Tsunami of Sound are at The Midway for a matinee show 3-7PM.
February 16 (Saturday) The Chills are at The Middle East Up moved to Feb 20 - ME DOWN.
February 16 (Saturday) DNZL, Flatlager, Loser's Circle, KCUF at The Midway for a matinee show 3-7PM
February 19 (Tuesday) Gang Of Four at Once Ballroom!
February 16 (Wednesday) The Chills are at The Middle East DOWN.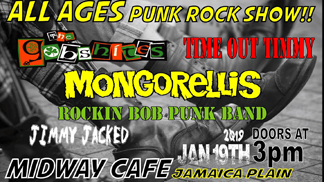 February 23 (Saturday) JPx (John Powhida) and Nat Freedberg's Devil Rockin' Band at Union Tavern which is what used to be PA's Lounge in Union Square Somerville.
February 23 (Saturday) Kid Gulliver, Circus Trees & The Hi-End at Out of the Blue Gallery in Allston.
March 2 (Saturday) Robin Lane & The Chartbusters CD Release Show. its at The Burren
March 2 (Saturday) The Gala, Muck and The Mires, The Evil Streaks, Baabes at O'Brien's - wow that is a GREAT line up!!
March 23 (Saturday) Tigerman Woah, Cactus Attack, Coffin Salesman, Nick The Barbarian at Opus Underground
May 24 (Friday) The Undertones at Once Ballroom
CONTACT US AT....misslynbgn@yahoo.com Send us your gig listings, your news and anything else ya got!! You want your CD reviewed?? Contact us for that too.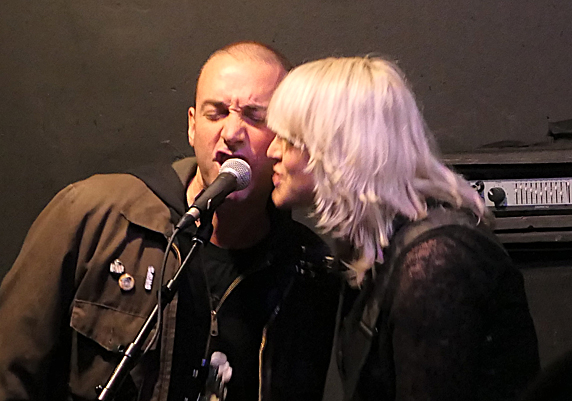 Chris Brat and Jen
Photo: Blowfish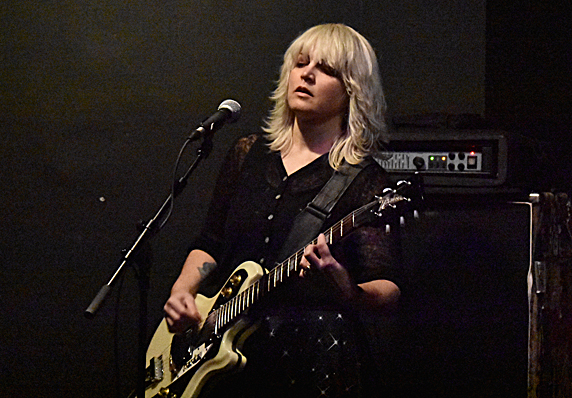 Jen - The Dents
Photo: Blowfish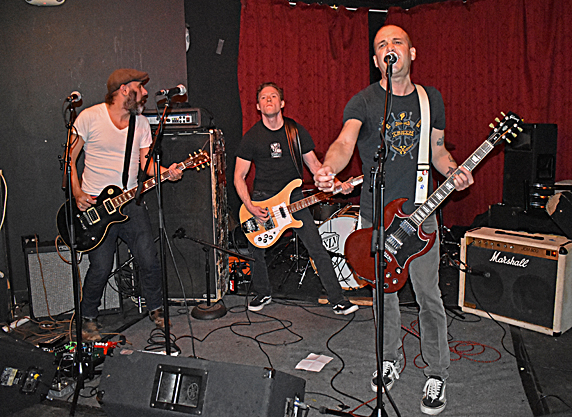 Duck & Cover
Photo: Blowfish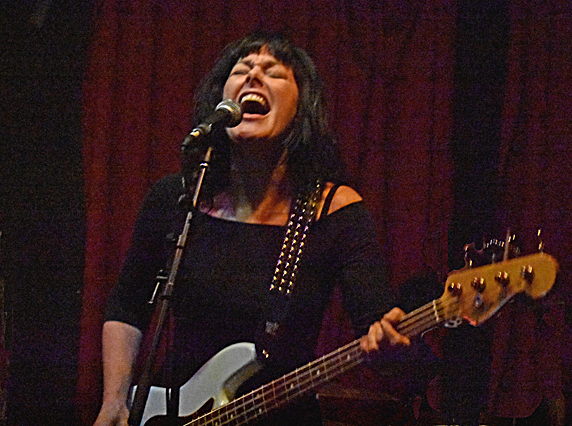 Michelle - The Dents
Photo: Blowfish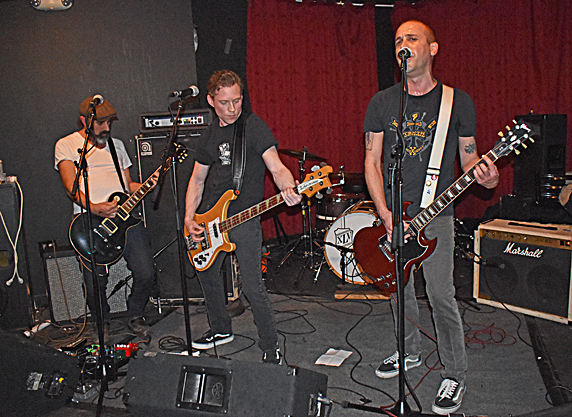 Duck & Cover
Photo: Blowfish
OC45
Photo: Blowfish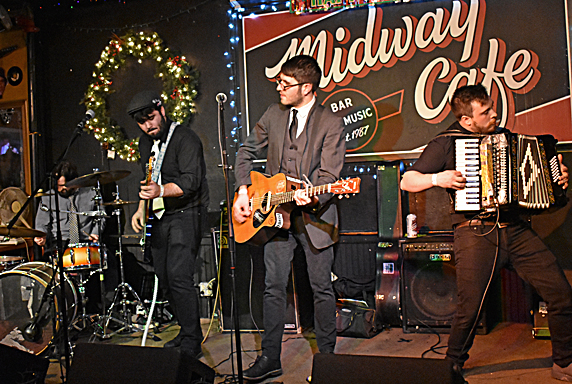 Coffin Salesman
Photo: Blowfish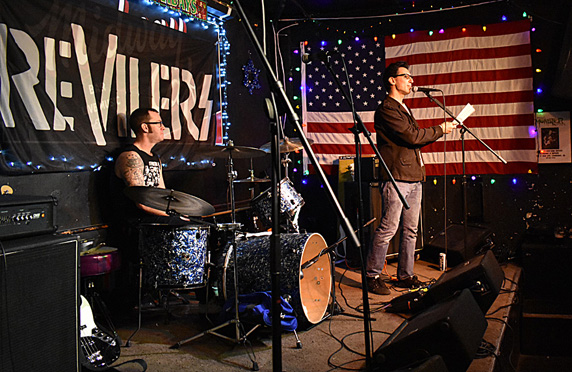 Jake Tringale
Photo: Blowfish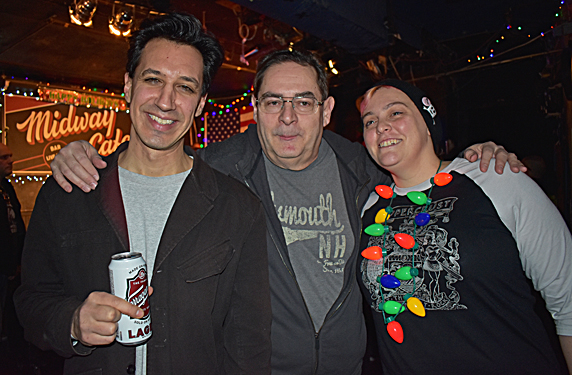 Jake Tringale, Slimedog and Jo.
Photo: Blowfish