The BGN News Archive
January 8, 2018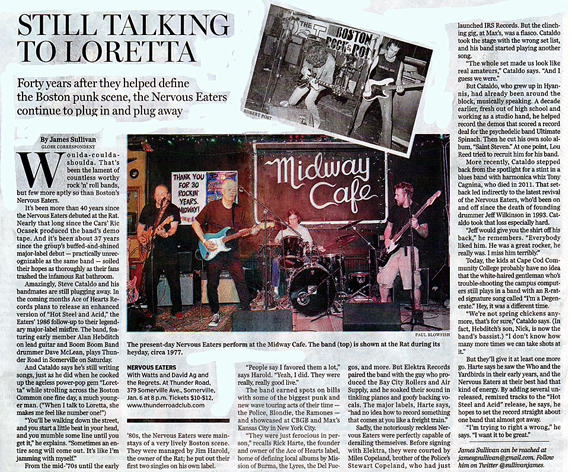 Nervous Eaters in the Globe
The Nervous Eaters got a nice holiday gift with a half page article in the Globe on Friday 1/5, by James Sullivan. He used their Saturday show at Thunder Road to do a retrospective of their career. Then he focused on the rerelease of Hot Steel and Acid on Ace of Hearts which will contain six songs that were done at the time but not included on the album because the Eaters wanted it to rock hard 100% of the time. The thinking was that it would correct the disappointment of their first 'yellow' album. Like we just saw in Boys From Nowhere, Rick Harte is the hard working producer who never gives up till the finished work is killer. We're sure this new version of Hot Steel will be a stunner.
We were also very pleased that the main photo of the current band was from the Boston Groupie News! (YAY Blowfish!!-ed) It was paired with a 1977 photo by Robert Post. Our photo was from the Midway Dirty Thirty Celebration in July!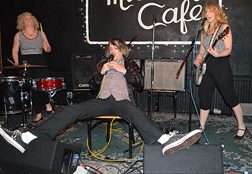 And The Monsieurs got a great review of their new album Deux in the Boston Herald!!: "Deux" is a furious sonic assault, from the opening feedback burst of "Burning Flame" to the screaming crescendo of "My War." Some would call it punk. They wouldn't be wrong, but it sounds to me like garage rock with zero inhibitions. The Monsieurs don't care about sneering like punks. Instead, they write nice hooks (listen to "Suburban Girls" and "At the Hop"), then burn them down through excessive volume, speed and energy." Read it all here.
There never has been a lot of Boston punk in Maximum RocknRoll magazine. But here it is 2018 (OK, so it's actually the December 2017 issue.) and there is a six page article on Willie Loco Alexander! It's done by Garrett Caples and it's a nice review of Willie's career from the Lost up to now. We never get enough Willie stories.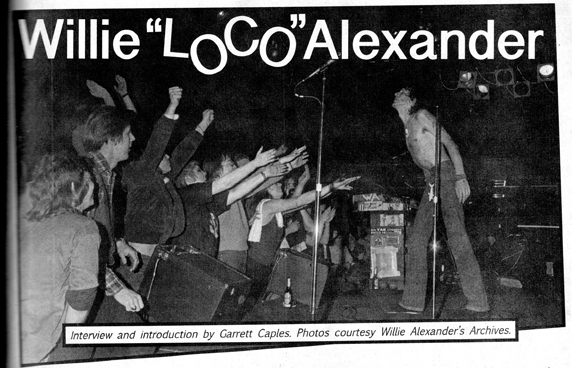 Willie Loco Alexander in Maximum Rocknroll

The references to Boston are usually in Al Quint's column. Also in the issue Al spends a page and half going over his memories of The Rat and its general history. That's good reading too!!

In Los Angeles the women are speaking up and they are getting recorded. The Women of Rock Oral History Project is fundraising (https://www.facebook.com/events/2043243539245053/ ) with a panel discussion and live performances at Zebulon Café Concert in LA so they can record the experiences of female band members they feel have

been overlooked in other histories. When you see the list of women you would have to agree. The center for this is the Woman of Rock website. Check out the video trailer there to get a good idea of the women involved. Local connection - the trailer is edited by Sofia Cacciola who used to be in the Boston duo Do Not Forsake Me Oh My Darling.

Here in Boston we had Andrew Szava-Kovats who did the Woman Who Rocked Boston DVD & book. He had an open calling where he invited all who wanted to contribute. That video is still available on Amazon as is the book, even in a Kindle edition ($4.99!) Paperback is only $10.99 and worth it!

And Please Kill Me has just published its Punk Rock Was Not a Boy's Club - Part 2...which also features women in punk rock. Part 2 is here includes Annie Golden from the Shirts, Exene Cervenka and Alice Bag among others. ...and Part 1, which was published in November 2017 includes Joan Jett, Poison Ivy and Tish and Snooky Bellomo among a host of others as well.

Boston Emisions posted their favorite songs of the year. That's important because any band they play can be in the Rumble. Test Meat's "If You Wanna", which is on our Top Ten list is there. Another one that we like a lot is by Hi I'm DEBRA called "Overdrive" and it's just a demo. ....check out the Boston Emissions' Faves of 2017 here.
The Strypes seemed like they would rule the world when we first saw them at Great Scott's in March of 2014. They had a lot of momentum. After that they seemed to fall off the map for a while. Now they have a show lined up at the Brighton Music Hall on March 28. You can buy tix here.
Boston Calling May 25-27 has announced their line up. Only local acts we can see are Weakened Friends and Belly. Enimen, The Killers and Jack White are headlining.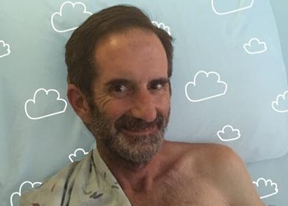 If you are friends with Chris Doherty (Gang Green) on FB you may have seen his posts back on October about how he was in the hospital for three weeks. He got quite sick and has been out of work since. There is now a Go Fund Me page for us to help Chris and his family out during this really tough time: "It's been almost 3 months without a paycheck and the medical bills along with all the other day to day bills has been a serious financial strain on him and his family so I wanted to start this to help relieve some of that pressure. He's been a great friend and given us so many great shows over the years, I figured this is the least we could do. Thanks in advance for your donation and Chris and his family are sincerely grateful. All donations are going directly to Chris and his family. " You too can donate here.

Despite the insane cold, John Keegan got out on Saturday night. He even did a Jamaica Plain club hop from Deep Thoughts to the Midway. Click below for the chilly yet heart warming details.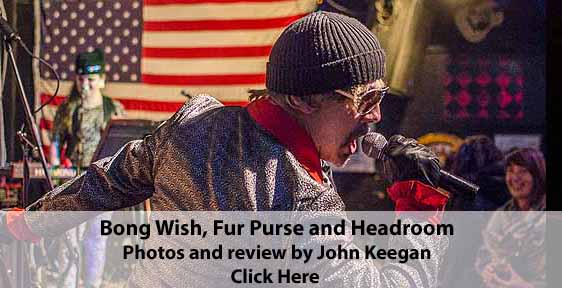 ---
Here's some good shows coming up .....
January 9 (Tuesday) The Hi-End, Ski Bunny and Monty's Lobster at O'Brien's
January 13 (Saturday) Stop Calling Me Frank, State of The Union, The Johns, Angel Martins at The Midway for a early show at 4:00 PM
January 13 (Saturday) Lyres, Paul Collins Beat, Boston Cream at Thunder Road FB Page
January 13 (Saturday) Pop Nite w/ Greg Allen's Fringe Religion, Tiger Bomb, Pop Gun - at Bayside Bowl Portland, ME. FREE SHOW!
January 14 (Sunday) The Black Souls, Crunch Time, I Wish I Could Skateboard, Vanishing Point at The Midway for a early show at 4PM
And further out we have...
January 20 (Saturday) -Five Bands Five Bucks! Matinee at The Midway! with The Grommets, Cotton Candy, the invisible hours, Kermit's Finger, The Instamatics at 4PM
January 20 (Saturday) Muck & The Mires, Tiger Bomb, Duck & Cover at The Dover Brick House, New Hampshire. 8:30 PM
January 20 (Saturday) Punk Rock at the Chit Chat with Jonee Earthquake, The Radiator Rattlers, The Grubs, The Imposers and The Lipstick Boys at the Chit Chat in Haverhill.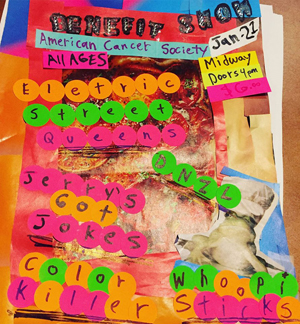 January 21 (Sunday) Punk Benefit Show for American Cancer Society with Electric Street Queens, DNZL, Jerry's Got Jokes, Color Killer, Whoopi Sticks at The Midway 4PM matinee show....check out the FB page for info on the Benefit!!
January 22 (Monday) U.S. Bombs, Wimpy Rutherford & The Cryptics, The FUs - at the Dover Brickhouse Dover, NH - Here's the FB page
January 26 (Friday) The Melatonins, Mars, Sue's Guitar, Heather & Johnny at O'Brien's Pub
January 27 (Saturday) Red Mantis, Silver Screams, Wrought Iron Hex & Greylock at O'Brien's
January 27 (Saturday) Il Mostro, Mercury On Mars, Uncomfortables, Silver Screams at O'Brien's Pub ,
January 30 (Tuesday) Zip-Tie Handcuffs, Julep, Stuyedeyed, Birdgangs at O'Brien's
February 2 (Friday) It's a double shot of The Dirty Truckers with Michael Kane & the Morning Afters, The Dirty Truckers (first shot), Tad Overbaugh, The Dirty Truckers (2nd shot) at O'Brien's
February 3 (Saturday) Isolations, Rictus Grin, WIMP, Ratz, Whoopi Sticks at Club Bohemia at The Cantab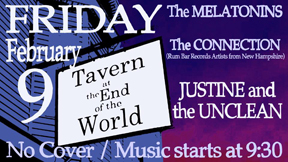 February 9 (Friday) The Melatonins, The Connection, Justine and the Unclean at the Tavern at the End of the World
February 9 (Friday) The Bentmen are at Once Ballroom
February 10 (Saturday) The Classic Ruins, TJ Wheeler, Black Cat Road at Bayside Bowl, Portland ME. Free Show! Starts 8:30 Sharp!
February 11 (Sunday) The Thigh Scrapers, State of The Union, Pop Gun, Lily Black for an early show at 4PM at The Midway
February 12 (Monday) Rocker Zine's Rock n Roll Trivia at Once. With Brett Milano and Erin Amar. Starts at 7Pm
February 15 (Thursday) Major Stars, Black Helicopter & Henry Owings at Once Ballroom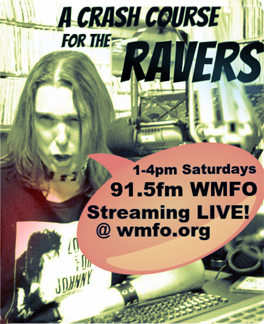 February 17 (Saturday) MOTO, Crunchtime, State of the Union, Little Billy Lost & the Cocks of the Walk at Tavern at the End of the World
February 17 (Saturday) Damn why isn't this in Boston?? LUX LIVES at Koto in Salem with SPiTZZ, Evil Streaks, Tsunamibots. FB Page
February 23 (Friday) The Dirty Truckers "Best of" double shot release party with very special guests: Tad Overbaugh & The Late Arrivals and Michael Kane & the Morning Afters
February 24 (Saturday) A Bunch of Jerks, Muck & the Mires, Jay Allen & The Archcriminals, Hambone Skinny at The Midway 9PM show
March 2 (Friday) Damon & Naomi, Thalia Zedek and Kevin Robert Thomson at The Lily Pad Inman Square 7-10PM
March 2 (Friday) Fat Togue Music presents! .Black Helicopter, Blackletter and more TBA- check the FB page for updates.
March 3 (Saturday) Peter Perrett (of The Only Ones) at The Brighton Music Hall FB page for tix etc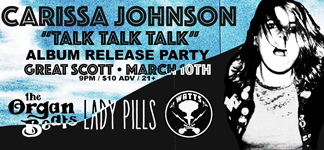 March 10 (Saturday) Carissa Johnson Talk Talk Talk Album Release at Great Scott also on the bill: The Organ Beats, Lady Pills, and Watts!
March 14 (Wednesday) Clan Of Xymox and Stoneburner at Once
March 14 (Wednesday) Dropkick Murphys, Agnostic Front & Bim Skala Bim at The State Theatre, Portland, Maine FB PAGE!
March 23 (Friday) Barrence Whitfield & the Savages at the Middle East!! FB page and tix link here.
CONTACT US AT....misslynbgn@yahoo.com Send us your gig listings, your news and anything else ya got!! You want your CD reviewed?? Contact us for that too.