The BGN News Archive
January 9, 2012
We got some details on The Classic Ruins CD they've been working at Q Division in Davis Square for a few months. It's about ten or so songs; mostly covers, a couple of new originals by Frank Rowe and one from Jeff Crane.
They made a 'test burning' of is "Forget About It", written by Billy Borgioli and once recorded by the Varmints. Frank says "Billy is still one of us really, and most of us were Varmints at one time or another. Our arrangement is different, but not radically so. We burned a bunch of discs with a picture of ruined old cars printed on them, by Kathy Chapman, and handed them out at the Q Division Christmas show.
We also put out a Christmas song for D.J.'s called "Scrooge's Body Shop" and a Charlie Chesterman song called "Theo's El Camino" for Charlie's benefit online album. " Well hopefully there'll be something soon that we can all get our hands on!!!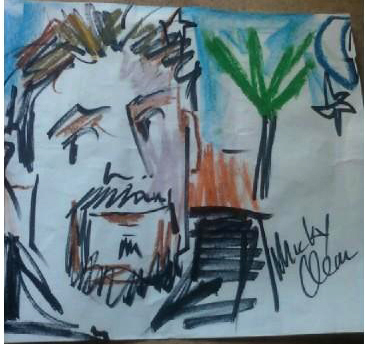 Real Kids drummer Jimmy Birmingham has been vacationing down in Ft. Lauderdale, Florida and of course had to make a stop at The Elbo Room, one of the places where Mickey Clean hangs out and draws people. Jimmy told Mickey what band he was in so Mickey wanted to draw Jimmy...above you can see the original Mickey Clean drawing of Jimmy!! I must say Jimmy is a true fan of Boston music as well as a awesome drummer and to show his dedication...he is still in the Real Kids and great news folks ....The Real Kids are in "rehearsal mode...practicing for an upcoming CD with new and rerecorded older RK tunes." We'll let you know as soon as we hear more!!
Mickey Clean and Jimmy Birmingham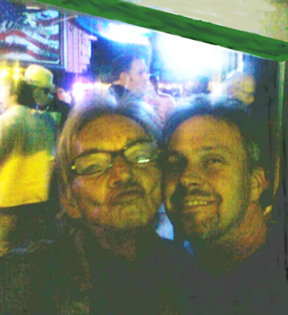 SO here's what we see on the agenda for shows coming up: On Friday Jan 13, The Remains are a Brighton Music Hall with Roy Sludge

On Saturday January 14th first off The Downbeat 5 and the Invisible Rays are at Radio - this is the first show JJ Rassler has done since h is accident last summer!!! SO let 's all wish him well big time!

Also on 1/14 - Jeff and Jane Hudson are playing at Club B-10 out at Mass MOCA....I'm thinking that is most likely worth the drive!!! Check out the MAssMOCA site for info and a trip back to the 80's with a video of Jeff & Jane performing back then.....and remember The Rentals??? They were so cool and ahead of their time!

Johnny Barnes has been playing a lot in the Fairhaven and New Bedford area. His guitar is still on fire playing blues rock. Here's a new video of him playing I Am the Blues.

Now if you stay in Boston there's The Illyrians and Sourpuss at The Plough on the 14th

Two nights of MOB at The Brighton Music Hall in January (20 & 21st)....

Out in Worcester Classic Ruins and Lyres at Ralph's on the 21st

And here's an excellent show at Cantab Club Bohemia Saturday 1/28 w/Cadillac Heart & Reddy Teddy & Hixx

And just down the street, on the 28th The Darlings are at The Plough...

Email us with your latest news, We would love to hear from you!!...misslynbgn@yahoo.com