The BGN News Archive
January 9, 2017
Afterplace
Photo: Blowfish
We saw just one song by the Electric Octopus last August that interested us and it's taken us six months to finally catch a whole set. It was Tuesday at O'Brien's who have had constantly good booking lately.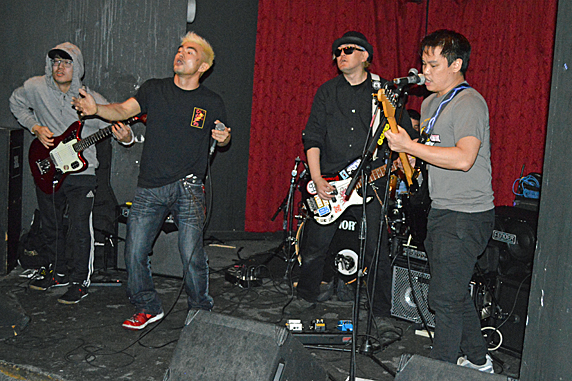 Electric Octopus
Photo: Blowfish
Electric Octopus has a great stage presence and their followers are big time boosters who love to dance. There were about 35 people there and they were into it. The main thrust of their music is pop punk but they do the whole spectrum in between and they pepper that with any other genre they want. They stick in a short section of ska or a verse of rap. There are other things more far afield like Japanese pop that I don't have knowledge of but seems to be in there. These things give the music a kitsch factor. It's junk culture, and low brow music mashed up.
Electric Octopus
Photo: Blowfish
They sing half in Japanese and half in English.That is just cool. The songs in Japanese have such lilting melodies that it doesn't interfere with appreciating the songs. Some of those had sing-a-long choruses that everyone joined in on. They delivered the pop punk well and there were some fuzzed up lead lines that had notable hooks.
And then they seem like such nice guys. What's not to like here? They should be on some bills with bands that might expose them to a wider audience as a next step.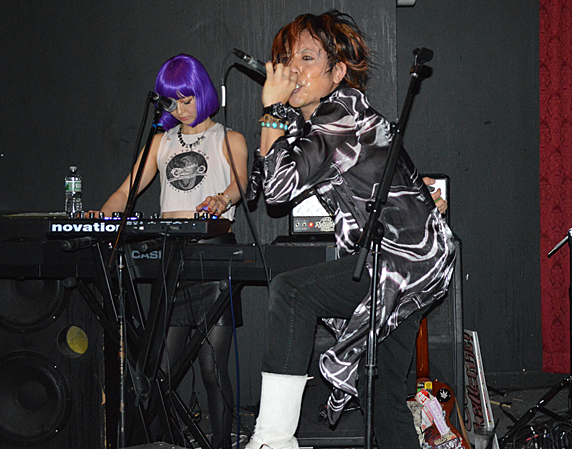 Afterplace
Photo: Blowfish
The final band of the night which I didn't see were from Japan. The other band I saw was Asterplace from NYC and describe themselves as a Japanese Anime Rock Band. They were cartoony in a fun way. The keyboard player really looked like an Anime character with the purple hair.
They have an over the top stage show. They put a big silver box in front of the stage where the lead singer often perched. At O'Brien's…I mean it's such a small place. I was afraid he was going to hit his head on the lights but he didn't.
The music was not far from the Electric Octopus. It also had a pastiche of styles but they dipped big into bubblegum and had more emotive ballads. One problem was the off key vocals. They were way off at the beginning but did get better by the end of the set. All the while the music just bounced along.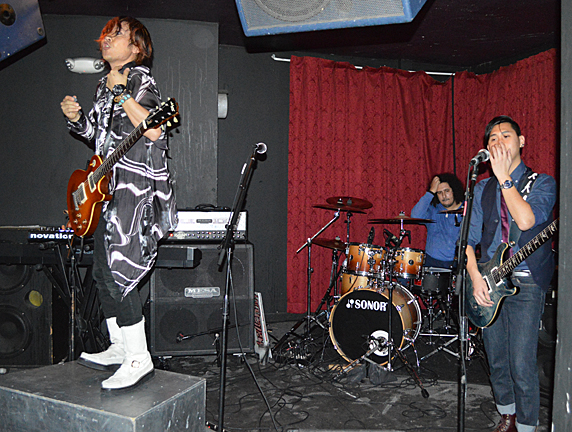 Afterplace
Photo: Blowfish
They hit a high mark with a cover of Smells Like Teen Spirit. It began with a well done piano intro before it slammed into the familiar guitar riff. They pumped it out for a while and they brought it down in the middle. At that point they asked everyone to crouch down low and everyone did. It was an odd sight. This is in the video below. Earlier they had everyone jump and they did that too. The Electric Octopus contingent was dancing around the column in the middle of the floor. You gotta love those guys.
Asterplace had a song where they held up placards, shades of Ed Moose Savage doing Milk Crate Takeover. They ended with Blitzkriegs Bop.
It was a good time all around.

Asterplace
Smells Like Teen Spirit


Asterplace
Dance party


Electric Octopus

To remind you and to keep the pressure on ourselves to finish the project we give you a photo by John Keegan of John Felice during our interview just before Christmas. It takes a while to get the transcription done.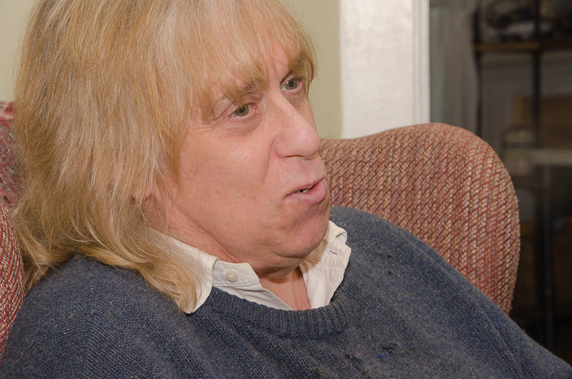 John Felice
Photo: John Keegan
And in other news.....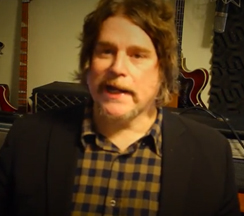 This is a new year so let's talk about new starts. One year ago Corin Ashly had a big stroke. He has worked his way back and now has a new album. He tells the story here .....It is inspiring. His new album can be downloaded at PledgeMusic
And kicking off the New Year Allston Pudding captured Diarrhea Planet doing a killer Teenage Wasteland on New Years Eve……..check it out here.
There's a new documentary in the works called Underground Inc. that looks at 90s Punk/Metal/Alternative music. Bad Religion is in there and Steve Albini is interviewed. Check out their Kickstarter page for info!
Joanie Lindstrom's 30th anniversary show has hit a glitch .....The Record Company backed out so now she is looking for a place to have the party.
Still check out WMBR on Thursday 1/26 as she does an extra stretch from 8AM to 2PM as part of her "1,560 Thursdays on WMBR" celebration.
Shiny Beasts have come out with a new video to greet the new year. It's another in a growing list of their songs about food and drink. Hairoun
Jan Crooker has created a bunch of GIFs from his Boston band films. They'll perk up your Facebook feedů.. Boston Flashpoint GIF's
Here's some good shows coming up .....
January 13 (Friday) We all love Tommy White from Unnatural Axe and The Beachcombers and of course we know he was one of the kids in the old PBS show called Zoom! Well he's making a doc of his experience on said show so catch a FREE screening of his documentary in progress on the development and continuing interest in the PBS network's #1 show for kids. Get the straight dope from director Tommy White. With Patton Oswalt, Jane Lynch, Jon Stewart, Kevin James and many more. How did it go? "You gotaa Zooma Zooma Zooma Zooma Zoom!!" 6-7PM MIT Stata Center, classroom 32-124. (go to mit.edu and click on Maps to see how to get there)
January 13 (Friday) Lyres, The Charms, the modifierS at The Middle East Up.
January 13 (Friday) Club Linehan A Go Go, Kenne Highland Band, Freeky and Funklee at the Out of the Blue Gallery Too Mass Ave Central Sq.
January 14 (Saturday) after all your holiday indulgences its time for Punk Rock Aerobics 12NOON at Once
January 14 (Saturday) Now here's a show you won't want to miss Brian Young's A Crash Course for the Ravers (WMFO 95.1FM 1-4PM) has Andy California as a guest.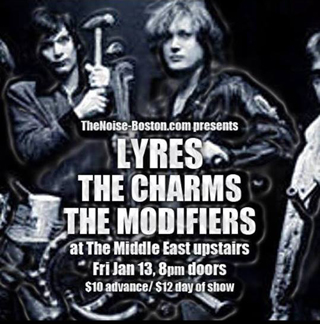 January 14 (Saturday) Special afternoon show at Atwood's Tavern to celebrate the release of the"Jittery Jack meets Darrel Higham platter" - there's be two rockin' sets, copies will be for sale...no cover but a minimum $5 donation is suggested. Atwood's has awesome food too!
January 14 (Saturday) Go Blank, The Martians, Loser's Circle and Black Cheers are at O'Brien's
January 14 (Saturday) Sidewalk Driver, Goddamn Draculas, Party Bois & Swivel at Great Scott's
January 14 (Saturday) Real Kids in Wistah!! at Ralph's
And further out......
January 19 (Thursday) Aeronaut Brewery's 2nd Annual Beers for Books- join Room to Read and Aeronaut as we help raise money for literacy and gender-equality in education in the developing world. The event will feature a live jukebox! Here's how it works: 1) Request a song: 1 song = $1 = 1 book
2) Drink: delicious Aeronaut beer, 3) Support: a great cause! There will also be a raffle and a silent auction including gift certificates to various local restaurants, trinkets from Nepal, and more. 100% of proceeds will go directly to helping children and girls with Room to Read! Sounds good to us!
January 20 (Friday) The 50th Anniversary of the Boston Tea Party opening is at the Verb Hotel. Friday Jan 20 from 5 to 8. " Join the Music Museum Of New England for a commemoration of the Tea Party 50th anniversary on Friday, January 20, 5-8pm, at The Verb Hotel and Hojoko Japanese tavern, 1271 Boylston Street (opposite Fenway Park). Whether you went to any shows at the Tea Party, or wish you had, let's all get together to celebrate good music and good times, and to enjoy the rock memorabilia at The Verb."
January 20 (Friday) The Lights Out, Gene Dante & The Future Starlets, Zip Tie Handcuffs and The Sun Lions at the ArtsEmerson Black Box series at Emerson/Paramount Center, Jackie Liebergott Black Box Theatre - 559 Washington St Boston (Link)
January 21 (Saturday) Vibrate with the Cranktones at Atwood's Tavern (Cambridge St Cambridge) this is a 4-6PM show. And stay for dinner the food is awesome at Atwood's. We really enjoyed their last show there.
January 21 (Saturday) HayBaby, Creaturos, MiniDresses and Jack as part of the ArtsEmerson Black Box series at Emerson/Paramount Center, Jackie Liebergott Black Box Theatre - 559 Washington St Boston (Link)
January 24 (Tuesday) Adam Ant is at The Wilbur
January 27 (Friday) Ska and Punk night at the Midway with Hobo Chili, Stray Bullets, Losers Circle, Crime Spree and Gant!
January 29 (Sunday) The reskedged Rockerzine Trivia Night is happening ....Join Erin & Brett for some fun times at Zuzu... 6:30 - 9pm FB page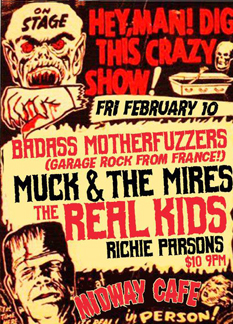 January 29 (Sunday) Black Beach, Hairspray Queen, Idiot Genes and Thee Cavemyn at O'Brien's
February 4 (Saturday) Oh this is gonna be a GREAT show!!: OC45 (CD Release/Tour Kickoff), On The Cinder (NY), Fast Times and Back Door Key (it's also their EP Release) at The Midway (FB page here)
February 9 (Thursday) we love this stuff its always fun!! Karaoke Underground at O'Brien's in Allston. The Karaoke Underground is for punk and indie rock fans who love to scream, yelp, croon, bark and sometimes even sing their favorites from artists like Black Flag, Modest Mouse, the Misfits, Cat Power, the Pixies, Dead Kennedys, Sleater-Kinney, Pavement, Joy Division, Fugazi, Guided By Voices and many more. It's video karaoke with onscreen lyrics, a stage, you -- and the chance to sing great songs you just can't find anywhere else. Full catalog of songs here.
February 10 (Friday) BadassMotherfuzzers, Muck & the Mires,The Real Kids, Richie Parsons at the Midway
February 10 (Friday) The Upper Crust, Watts and Petty Morals are at Great Scott
February 13 (Monday) The Monsieurs Howardian and JoJo and the Angry Girls are at ZUZUs
February 17 (Friday) Lux Lives East Coast is coming again -this event is in Salem at Koto, on the bill are Thee Fabulous Itchies, The Evil Streaks and The Nebulas. Here's the FB Page Lux Lives is a chance for Bands and DJ's and fans to come together to celebrate the life of Lux Interior. Since it's inception, Lux Lives East Coast has raised over $10,000.00 for Lux and Ivy's favorite charity Best Friends Animal Society. This is a GREAT event all around!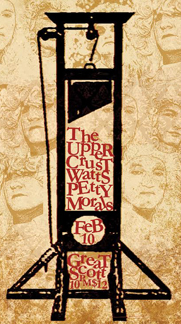 February 24 (Thursday) Zip Tie Handcuffs Hey Zeus, Wolfsmyth, The Tenafly Vipers at O'Brien's Pub
February 25 (Friday) The Billy Connors Project is @ the Cantab with Corrola Deville and Jimmy Bez.
March 3 (Friday) Robyn Hitchcock at Once
March 8 (Wednesday) The Sheckies, Mongorellis, The Prozacs, Meat Depressed at Koto in Salem
March 10 (Friday) Agent Orange, The Queers, & Guttermouth at ONCE Ballroom FB page
March 18 (Saturday) The Digs EP release party, with JRV, Carissa Johnson, Psychonaut Underground at Middle East Up. FB page
April 1 (Saturday) The Upper Crust, Sidewalk Driver and When Particles Collide as part of the ArtsEmerson Black Box series at Emerson/Paramount Center, Jackie Liebergott Black Box Theatre - 559 Washington St Boston (Link)
May 29 (Monday) Teenage Bubblegums, Jagger Holly, Mongorellis, Jimmy Jacked at Opus Underground in Salem
June 1 & 2 (Thurs & Fri) Reverand Horton Heat at Once in Somerville
CONTACT US AT....misslynbgn@yahoo.com - Send us your gig listings, your news and anything else ya got!!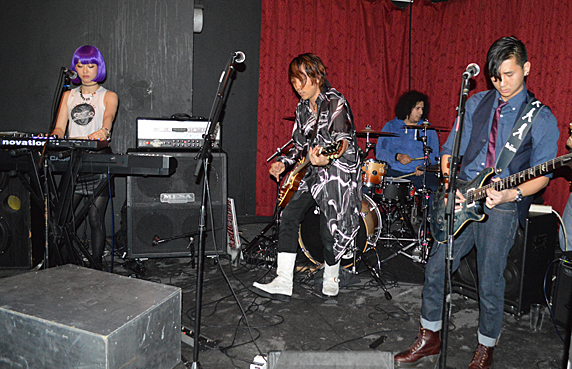 Afterplace
Photo: Blowfish