The BGN News Archive
January 10, 2010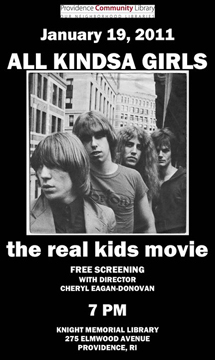 Excellent weekend coming up: at O'Brien's on Friday, January 14th is The F.U's with Rampant Decay and a special set with Rico Petroleum with Psycho!!
next night; on Saturday the 15th is the Noise's 30th Anniversary show at Precinct with a great line up: The Coffin Lids, Sprained Ankles, JJ + The Cuban Heels, Jay Allen and The Archcriminals and Corolla Deville
Also on the 14th, over at The Cantab downstairs is Classic Ruins with special guests The Fagettes (are these guys getting band name ideas from penis Fly Trap or something? ugh another really bad band name!) but this is the new band for Ryan Major, who was the guitarist for Red Invasion, so go check 'em out!!
On Wednesday January 19th The Knight MemoriaL Library in Providence, RI is putting on a showing of Cheryl Eagan-Donovan's All Kindsa Girls at 7PM. This is the DVD Release party so to speak. And you can finally FINALLY order the DVD on-line at Controvery Films ....
Worth the drive if you are near the area and this place has lots of very cool stuff happening. Eric Law told us they had Tesco Vee speaking about his book and next month Cheetah Chrome is going to speak about his book A Dead Boy's Tale which came out last year.
Thursday January 27th has a good show over at PA's Lounge with The 7Cs, Hello Ninja, Tail & Litehouse....
Pretty much guaranteed to be an incredible show; on January 29 is The Konks, The Tampoffs, Tunnel of Love and Triple Thick at Great Scotts ...wow that is one hell of a line up and I think this may very well be The Konks final show.....a sad thought!!
Fox Pass got a great review in the Patriot Ledger from their gig at the Beachcomber. It covers all the good stuff we know about them. Patriot Ledger article on Fox Pass.
This is a fantastic Ramones video. It's a practice session from 1975....Gabba Gabba Great...Ramones Video 1975
Hey keep in touch huh?? click click click