The BGN News Archive
January 11, 2010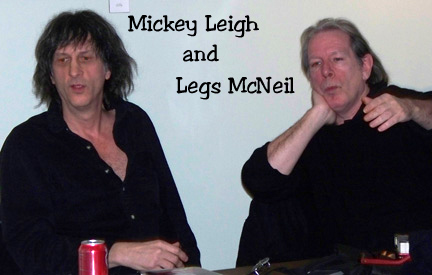 Mickey Leigh (Joey's brother) and Legs McNeil were reading from their latest book "I Slept with Joey Ramone" this past Friday night....I did get there but was a little late...they were fielding questions from audience of punkers curious to find out things about Joey and the rest of the band. .....they told some interesting stories. Mickey said Joey had multiple psychological problems: hearing voices and severe OCD as well as a host of physical issues. Poor Joey, such a sweetie and he sure as hell came a long way for a kid the doctors didn't have much hope for in the beginning...shows ya what they know!!!
And we wanna make mention of the loss of another well loved friend on the scene..R.I.P Jimmy Marcucci aka: Magoo - from the North Shore...he passed away this New Year's Day. Magoo was a roadie for the Dawgs, The Real Kids and The Nervous Eaters. He was often jumping up and playing harmonica and played in a few Northshore bands: Tony & The Mechanics, Nothing Pretty, The Hooded Baracuda's (w/Stanley Clark, Alpo, Pete Taylor) and many, many more. RIP Magoo!!!
Now we gotta keep going ...there's music out there to be heard....and things to see..in case you haven't heard there is a Rock n Roll Poster Exhibit at Space 242 with over 200 posters on display from many well known poster artists and for bands like Beastie Boys and Bad Religion. Space 242 is very cool, run by the folks at the Weekly Dig and easy to get to , right off Harrison Ave in the SOWA district...check out the link above for times and directions!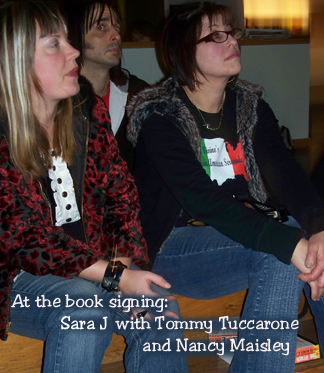 Friday Jan 15th the Beantown Boozehounds with Ten Pints In, The Tin Thistles, and Bottles Of Sorrow are at the Beachcomber in Quincy...
same night, Friday the 15th, but in town at O'Brien's in Allston,, is a show worth checking out...Continental (this is Rick Barton's newest band) and Bombsquad Larry (the long overdue offspring of former FreeZe bass player, Pete Soszynski) and Frank Booth's Car....
and this Saturday Jan 16th is Shakespeare Riots, Top Heavy, The Vogon Poets and The Doom Buggies at The Cantab in Cambridge...
then into next week...
Monday January 18th JJ Rassler's new band JJ & Thee Cuban Heels will be at Charlie's Kitchen
And Saturday January 23rd is a killer show at The Middle East Up with Bring The Knife (ex Destruct-A-Thon), Ashers, Razors In The Night, Motherboar, August Spies and Hannaford and The Heartstoppers
and of course there's a Nancy Neon Night at the Cantab Saturday Jan 30th with LSD Enigma, The Varmints and a special set by The Crybabies...I say that only because they hardly ever play out so check 'em out this time!
Nancy is also working on a Rat Reunion with lots of cool bands for April at Church... we'll keep you posted as things firm up on that!
And looking into February... on Friday Feb 5 Doggfight U.S. , The Acro-Brats and Buried In Leather (who don't play around much anymore so you should catch this show) are at O'Brien's in Allston
also coming in February: Jonathan Richman is doing 3 shows (3 nights) at The Middle East Upstairs!!
And a Feelies reunion in March! OK guys, that's it for this the first week in 2010...wow...and many more to you!!!
you can email us at: Miss Lyn email......