The BGN News Archive
January 12, 2009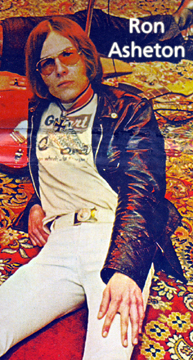 Well first and foremost we have to mention the passing of Ron Asheton. He can know he was in one of the most influential and pivotal bands EVER!! And that is quite a legacy. The Stooges issued their first statement following the death of guitarist Ron Asheton. Iggy Pop, Ron's brother Scott and bassist Mike Watt issued a statement memorializing their fallen comrade. It reads:
"We are shocked and shaken by the news of Ron's death. He was a great friend, brother, musician, trooper," the statement read. "Irreplaceable. He will be missed. For all that knew him behind the fašade of Mr Cool and Quirky, he was a kind-hearted, genuine, warm person who always believed that people meant well even if they did not. As a musician Ron was The Guitar God, idol to follow and inspire others. That is how he will be remembered by people who had a great pleasure to work with him, learn from him and share good and bad times with him."
....Here's a clip of a recent Stooge's show , they do "I Wanna Be Your Dog" Also, Ron of note re-Boston is that covered Kenne Highland's "Best Bette" !
Now coming up for music is ..the very big show:
Friday 1/16 Magic Christian,( featuring Cyril Jordan of Flamin' Groovies, Clem Burke of Blondie, Eddie Munoz of Plimsouls), along with The Prime Movers, Muck & The Mires , Lyres.. and Watts..
This show is made even more "big" coz it's the LAST show for the Prime Movers!! Yup, they are calling it quits. I've heard rumblings for a while but it has finally happened.. .so get to the show to see the Prime Movers for the LAST TIME this Friday!!!!
I voted Cam Ackland as one of my "Top Three Guys in Tight Pants" for the Noise... so girls it's your last chance to ogle Cam on stage ..in the Movers anyway...we hope he starts another project soon!
TT The Bear's Place Friday January 23rd is The Have Nots, The Allstonians and The New Alibis (any aspiring drummers out there, go see Jesse Meyer in the New Alibis!!)
Saturday Jan 24th is WOW!!! The Neighborhoods and Mission of Burma in one gig! At the Somerville Theater folks!
Now we know that's a big show too but there ARE other shows that night and we got a bit of shameless self promotion about a Frank Rowe solo show...and I'm printing it in its entirely cuz I have always said Frank Rowe was a wicked smaahht guy and it is really a great read:
"On Saturday, January 24th, Frank Rowe will offer up his solo acoustic act at The Midway, in Boston's quaint Jamaica Plain district, as the opener for onetime great Andy Pratt,whose hit 'Avenging Annie' is surpassed in obscurity only by the solo work of Rowe himself. As anyone immersed in 'the scene' will instantly realize, this show in its remote venue will occur at the same time as the centrally-located spectacular Neighborhoods/Mission of Burma show at Somerville Theater, an historic event which will live on in the memories of all but those misguided souls who find themselves mired at the Midway. On that night, when the sole members of the Midway audience will doubtless be blasted derelicts who have come out of the sleet to masturbate or swill themselves into insensibility, Frank Rowe will take the stage and bleat out a dozen or so mediocre ballads in his dreaded anemic 'folk' voice while Andy rides it out across the street at Doyle's with a bowl of stew and a Sammy. His beer empty and his soup gone, Andy will look at his watch, decide it's time to go on, and tough it out in the face of those who couldn't get in at the big show at Somerville Theater. By this time Rowe will be sitting on an Orange Line train, looking at his reflection in the opposite window, and wondering if he can make the last Winthrop bus at Orient Heights. On the other hand, it could be great. Come see for yourself. Ta, fr "......
Another choice on that night is Church with: BLOWW (Boston League of Women Wrestlers) and Vagiant...and Psycho.
And hey the Cantab is FINALLY Having some good gigs!!! Must be coz of the Abbey close....they can't help but put together some good shows, ha ha....as an example: Fri 1/23- The Brooklyns; The Darlings; The Young Tremors and Nicolas DiSpagna (9). ..
Sat 1/24 is The Beatle (I guess if you really wanna sound foolish you call your selves the beatles without the s, hmmm) ; The Coffin Lids ; The Throwaways and Yes We Can Tab (I guess if you really want a gig you use the name of a club in your bands name, hmmm).
And then on Thursday 1/29 is The Twisted Rico Revue with Red Invasion(um, excuse me RI are too good for Thursdays, they should have a saturday headline slot!!), Sins of America; VulGarity; and Mechelle Zydenbos.....
By the way I voted Joey Boy of Red Invasion as my number one Guy in Tight Pants for 2009 for the Noise..of course...I mean there is NO question!
But I digress...and of course Saturday January 31st is the return of Kenne Highland with Highland/Moore at the Cantab. This is Kenne with Jody Urbati doing all the songs from the band Kins Theys Ashamed Of..also on the bill is The New Frustrations, Hixx and Cello Chix.....
and we heard from Jonathan Paley...he wants everyone to check out Violet and Anya...produced by none other than J Paley himself and soon to be released on Ramo Records. Check this link: Anya'n'Violet BFF
Ok my friends...til next week..take care and please do email me just click the link and write me... Oh yeah here's the LINK !!!
ML