The BGN News Archive
January 14, 2012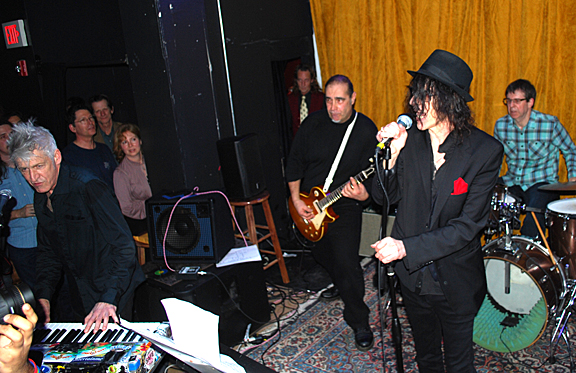 Click to go to WILLIE LOCO's 70th Birthday Party
Well as you know by now, coz we had to keep our mouths shut before hand, Annie Rearick threw an amazing all-star surprise party for Willie Alexander's 70's birthday this past Saturday Jan 12th. WHAT a night it was!!! We got to see a ton of bands pay loving tribute to the #1 Boston musician Willie Loco. You can go to our Willie Bday Party page to see all the pics and read about the amazing night and guests that got on stage that night. Here's some notes from that night though: All told there were more than 20 bands/musicians/special guests up on stage at various times that evening to perform Willie songs and even some of their own. We are not gonna see a night like that one for some time to come...if ever again! Jimmy Harold was there and he talked about the Live At Rat CD and he said it sounds great it made him get all teary eyed when he first heard it. It sent him back in time to those days when The Rat was our home. He also bemoaned the loss of the Live at The Rat Two tapes. Maybe someday they will be found....The Real Kids were on the set list but they did not show...we hope everything is OK with John Felice!!.... I was standing there talking to someone and all of a sudden someone throws his arm around my neck..its Mike Quaglia…the original Neighborhoods drummer!! He flew up from Florida for this gig…it was great to see him.....And someone tapped me on the shoulder- it's Mach Bell!! Oh how we miss him! He's got his band called Bag O'Nails that plays around the South Shore, glad to know he's back on stage!!...and who's that I saw?? I think I remember those two people called Boby Bear and Anya...yup - they actually made it out for a night and Boby got up on stage a couple times as well. GOOD to see them both out again!!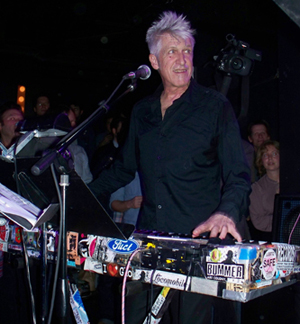 M.O.T.O. and Classic Ruins are at The Plough & Stars this Friday Jan.18! The Ruins haven't played in Boston (or anywhere much) since Bob Colby's birthday back in August! This will be a good setting to catch them! And if Frank Rowe's performance at the WA Bday is any indication he'll in fine form!
also the 18th at the Midway: General Assembly presents The Lost Electricity Acoustic Tour featuring the Turbo ACs (Kevin and Mikey Millionaire w/special guests), Lenny Lashley's Gang of One, Brian McGee of Plow United, and Chris Rosenquest of The Tower and The Fool
And don't forget-Mission of Burma at Sinclair on Saturday January 19th
Sunday January 27th there's a surf music show at The Midway with Tsunami of Sound AND Surfer Joe and his Boss Combo - from Italy!!
You may have noticed there was no Upper Crust New Year's Show this 2012... BUT they will do a show one month late on Thursday, January 31st on the stage at Precinct in Union Square Somerville.
On Friday March 1 - The Dirty Truckers and John Powhida's International Airport are at Johnny D's in Davis Sq.
Big Dipper is back together and have a new album out! They are at the Middle East (down) on Saturday February 2nd with Chris Collingwood of Fountains Of Wayne
Dead Kennedys are at Middle East Down on Monday March 11- what a great show- also on the bill are The Welsh Boys, The Cryptics and Burning Streets.
Oh no!!! Billy Joel Night at Radio???? OK that's a trip back in time I may not want to take...but check out the line-ups for the evening...definitely makes it worth showing up:
Heart Attack Ack Ack Ack: featuring Julie Two Times, Kevin Pickering, Josh Pickering, Mel Lederman. Only The Bad Die Old featuring Baker, Brookhouse, Lynch from Dirty Truckers, John Sheeran from Township, Linda Shore from Muck and the Mires, and Alan Levesque then there's The Brinkleys: featuring Kerri-Ann Richard, Jay Frigoletto, Anngelle Wood, Paul Gallo, Mark Dantini, and Seager Tennis and The Root Beer Raggers: featuring members of the Alrighters and the Larkin Brigade. This all happens on Friday March 1st...so mark your calendars up for that one!!
And later in March Nick Cave is at the Orpheum- already got tix for that!!
We also want to remind you that John Surette's (Boy's Life) Kickstarter project as only FOUR DAYS left (ends this week on the 16th!) Its for his Punk Rock Opera Tomorrow The World...You can check out his mini doc (only 7 minutes and good!) about it here too.
On a sad note: Guitarist Dave Cuneo passed away unexpectedly on Jan.9. Dave was a longtime member of Worcester's Rick Blaze & The Ballbusters, whose alumni include Carl Biancucci and Jeff Crane (Classic Ruins), Cheryle Crane (The Crybabies) and Cathy Cah (Musclecah). Great guy, great guitarist! RIP,Dave
EMAIL US AT.......misslynbgn@yahoo.com